California Hiking Trails
• Searchable Index •
Each hike is listed only once. Trailhead access information (in parentheses) and areas visited or nearby are itemized in green; other features photographed or referenced are shown in gray.
Locations are prioritized as follows:
National parks • National monuments • Federal wilderness areas
State parks • Recreation areas
Highways • Mountain summits
Regions
Other
Example: a hike to Conness.Lakes includes a visit to the Hoover.Wilderness; so that is where the walk is listed. It is further associated with Tioga.Pass, Eastern.Sierra, and proximity to SR-120; a search for any of those key words would find the Conness.Lakes link.
Searchable regions and features:
(parks, wildernesses and recreation areas by name)
(highways by number)
Yuba.Pass • Donner.Summit • Echo.Summit • Carson.Pass • Sonora.Pass • Tioga.Pass • Lake.Tahoe • Eastern.Sierra • Western High.Sierra • Feather.River • North.Coast • Bay.Area • Foothills.• Pacific.Crest Trail • John.Muir Trail • Tahoe.Rim Trail • Western.States Trail • South.State • Wheelchair-accessible.
---
To initiate a keyword search:
Press F3 or Ctrl-F
Enter text (lowercase)
Repeated use of Enter will scroll through occurrences of matching text
Click on any keyword to access the indicated hiking page;
then use Alt-LeftArrow or click on your browser's Back-Arrow icon to return

• National Parks •
DEATH VALLEY NATIONAL PARK
Golden Canyon #323, 2016 [Death Valley NP] (SR-178, SR-190, Furnace Creek) gower gulch · manly beacon · panamint range
KINGS CANYON NATIONAL PARK
Mist Falls #56, 2009 [Kings Canyon NP] (SR-189, Zumwalt Meadows) south fork kings river
LASSEN NATIONAL PARK
Brokeoff Mountain #191, 2012 [Lassen NP] (SR-89, Brokeoff Mountain TH) lassen peak · helen lake
Bumpass Hell #290, 2015 [Lassen NP] (SR-89, Bumpass Hell TH) helen lake · crumbaugh lake · cold boiling lake
Lassen Peak #291, 2015 [Lassen NP] (SR-89, Lassen Peak TH) brokeoff mountain · helen lake · lake almanor · mount shasta
Mill Creek Falls #67, 2009 [Lassen NP] (SR-89, Kings Creek TH) crumbaugh lake · cold boiling lake brokeoff mountain · diamond peak · bumpass mountain
PINNACLES NATIONAL PARK
Balconies Cave Loop #228, 2014 [Pinnacles NP] (SR-146, Chaparral Visitor Center) machete ridge · balconies cave
High Peaks Loop #227, 2014 [Pinnacles NP] (SR-146, Bear Gulch Nature Center) bear gulch cave · bear gulch reservoir · condor gulch
REDWOOD NATIONAL PARK
Lady Bird Johnson Grove #348, 2017 [Redwood NP] (US-101, Bald Hills Road)
Tall Trees Grove #344, 2017 [Redwood NP] (US-101, Thomas Kutchel Visitor Center, Bald Hills Road) howard libbey tree · hyperion tree
Trillium Falls #347, 2017 [Redwood NP] (US-101, Davidson Road)
SEQUOIA NATIONAL PARK
Crescent Meadow Loop #91, 2010 [Sequoia NP] (Generals Highway, Crescent Meadow TH) log meadow · tharp log
Monarch Lakes #217, 2013 [Sequoia NP] (SR-198, Three Rivers, Mineral King) silver city · sawtooth peak · empire peak · mineral peak crystal lake · chihuahua mine
Moro Rock #90, 2010 [Sequoia NP] (Generals Highway, Moro Rock TH) great western divide · san joaquin valley
Tokopah Falls #92, 2010 [Sequoia NP] (Generals Highway, Tokopah Falls TH) middle fork kaweah river · tokopah valley · the watchtower
Watchtower Trail #218, 2013 [Sequoia NP] (Generals Highway, Wolverton TH) the watchtower · tokopah valley · heather lake · aster lake · emerald lake
YOSEMITE NATIONAL PARK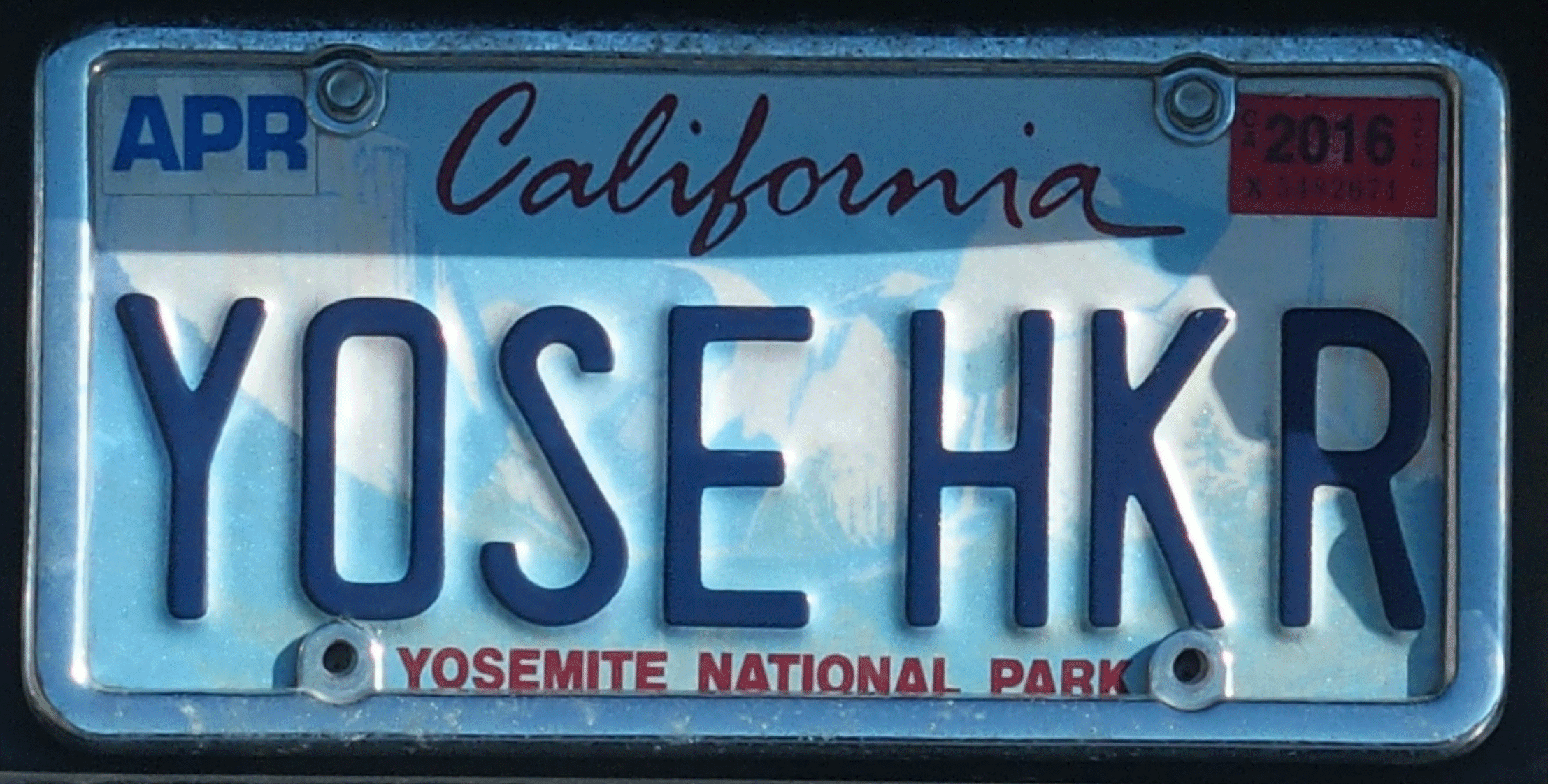 Budd Lake ~ Cathedral Lakes Loop #61, 2009 [Yosemite NP] (SR-120, Tuolumne Meadows) john muir trail · budd creek · cathedral peak · eichorn pinnacle · pacific crest trail echo peaks · unicorn peak · cockscomb · tresidder peak · matthes crest
Chilnualna Falls #342, 2017 [Yosemite NP] (SR-41, Wawona) chilnualna creek cascade · wawona dome
Columbia Finger Loop #182, 2012 [Yosemite NP] (SR-120, Tenaya Lake) cathedral lakes · cathedral pass · john muir trail · mildred lake · tenaya peak · pacific crest trail · medlicott dome · cathedral peak · tresidder peak · echo peaks · clark range · clouds rest · half dome · matthes crest · mount hoffman · eichorn pinnacle
Columbia Finger Loop #368, 2017 [Yosemite NP] (SR-120, Tenaya Lake, Medlicott Dome climbers' lot)
Delaney Meadow ~ Lembert Dome Loop #286, 2015 [Yosemite NP] (SR-120, Tuolumne Meadows) dog lake · cathedral peak · puppy dome · white mountain · false white mountain · mount dana · mount lyell
Devils Dance Floor #203, 2013 [Yosemite NP] (SR-120, Tamarack Campground) tamarack creek · big meadow fire · clark range · yosemite valley
Gaylor Lakes Loop #41, 2008 [Yosemite NP] [Tioga Pass] (SR-120, Tioga Pass) lower granite lake · cathedral peak
Gaylor Lakes ~ Granite Lakes Loop #287, 2015 [Yosemite NP] [Tioga Pass] (SR-120, Tioga Pass) granite lake · gaylor lake · gaylor peak · peak 11091 ·cathedral peak · lembert dome · mount dana · ellery lake · saddlebag lake · mount lyell
Grand Canyon of the Tuolumne River #94, 2010 [Yosemite NP] (SR-120, Tuolumne Meadows) pacific crest trail · tuolumne falls · white cascade · glen aulin · le conte falls · waterwheel falls · california falls · little devils postpile · quarry peak
Half Dome #135, 2011 [Yosemite NP] (Yosemite Valley, Happy Isles) john muir trail · mist trail · vernal falls · nevada fall · merced river · emerald pool · silver apron · little yosemite valley · sub dome · cable route · liberty cap · north dome · el capitan · clouds rest · mount watkins · glacier point · mount starr king · tenaya canyon · pywiack cascade
Kuna Crest Lakes Loop #132, 2011 [Yosemite NP] [Tioga Pass] (SR-120, Mono Pass TH) parker pass creek · spillway lake · helen lake · dana fork tuolumne river · bingaman lake · kuna lake · mammoth peak · mono lake · mount gibbs
Lembert Dome #117, 2011 [Yosemite NP] (SR-120, Tuolumne Meadows) cathedral peak
Liberty Cap #343, 2017 [Yosemite NP] (SR-120, Yosemite Valley, Happy Isles) vernal falls · illillouette falls · nevada fall · mist trail · john muir trail · half dome · mount broderick · mount florence · yosemite falls · sierra point
Lukens Lake #318, 2016 [Yosemite NP] (SR-120, Yosemite Creek area)
Medlicott Dome & Mariuolumne Dome #224, 2013 [Yosemite NP] (SR-120, Tuolumne Meadows) john muir trail · cathedral peak · eichorn pinnacle · lower cathedral lake tresidder peak · tenaya lake · half dome · mount hoffman · tenaya peak · white mountain · lembert dome · fairview dome · unicorn peak
Medlicott Lakes #305, 2016 [Yosemite NP] (SR-120, Tenaya Lake) medlicott dome · lower cathedral lake · lake of the domes tenaya peak · tresidder peak · mariuolumne dome · cathedral peak
Mono Pass #356, 2017 [Yosemite NP] (SR-120, Tioga Pass) dana fork tuolumne river · golden crown mine · lower sardine lake · summit lake mammoth peak · kuna peak · kuna north crest · spillway lake · mount gibbs
Mount Dana Approach #358, 2017 [Yosemite NP] (SR-120, Tioga Pass) dana meadows · mammoth peak · north peak · mount conness · cathedral peak · gaylor peak · upper granite lake · lower gaylor lake · saddlebag lake
Mount Hoffman #128, 2011 [Yosemite NP] (SR-120, May Lake) half dome
Mount Watkins #99, 2010 [Yosemite NP] (SR-120, Olmsted Point TH) tenaya canyon · hidden lake · half dome · clouds rest · mount hoffman · pywiack cascade
North Dome & Indian Ridge Arch #202, 2013 [Yosemite NP] (SR-120, Porcupine Creek TH) old shoe arch · clouds rest · sentinel dome · basket dome · diving board · quarter domes · el capitan · illilouette falls · yosemite valley · half dome · subdome
Obata Lake #189, 2012 [Yosemite NP] (SR-120, Tuolumne Meadows) elizabeth lake · unicorn peak · johnson peak
Panorama Trail #156, 2012 [Yosemite NP] (Glacier Point) illillouette fall · nevada fall · vernal falls · happy isles · john muir trail · liberty cap · half dome
Puppy Dome & Pothole Dome #337, 2017 [Yosemite NP] (SR-120, Tuolumne Meadows) dana fork tuolumne river · lembert dome · cathedral peak · cockscomb · unicorn peak · eichorn pinnacle · mount conness
Pywiack Cascade #121, 2011 [Yosemite NP] (SR-120, Olmsted Point) tenaya canyon · half dome · clouds rest
Sierra Point #81, 2010 [Yosemite NP] (Yosemite Valley, Happy Isles) merced river · vernal falls · nevada fall · illilouette falls · upper yosemite falls
Spillway Lake #22, 2007 [Yosemite NP] [Tioga Pass] (SR-120, Mono Pass TH) parker pass creek · kuna crest
Taft Point #32, 2008 [Yosemite NP] (Glacier Point Road) fissures · yosemite falls · el capitan
Taft Point #120, 2011 [Yosemite NP]
Tenaya Creek Waterslide Overlook #304, 2016 [Yosemite NP] (SR-120, Sunrise TH) tenaya canyon · tenaya peak · mount hoffman
Tuolumne Falls & Pothole Dome #68, 2009 [Yosemite NP] (SR-120, Pothole Dome) tuolumne river · little devils postpile · john muir trail
Tuolumne Grove #319, 2016 [Yosemite NP] (SR-120, Crane Flat) tunnel tree
Upper Yosemite Falls #279, 2015 [Yosemite NP] (Yosemite Valley, Camp 4) upper yosemite falls · yosemite valley · yosemite lodge · half dome
Vernal Falls & Nevada Falls #31, 2008 [Yosemite NP] (Yosemite Valley, Happy Isles) mist trail · silver apron · emerald pool · john muir trail · clark point · liberty cap
Vogelsang Pass #130, 2011 [Yosemite NP] (SR-120, Tuolumne Meadows High Sierra Camp) vogelsang lake · hanging basket lake fletcher peak · gallison lake · simmons peak · mount lyell · mount mcclure · mount florence · cony crags · half dome · lewis creek · bernice lake · quartzite peak · emeric lake · rafferty peak
Wapama Falls #83, 2010 [Yosemite NP] (Hetch Hetchy Reservoir) o'shaughnessy dam · tueeulala falls · kolana rock · hetchysburg address
Yosemite Creek Traverse #160, 2012 [Yosemite NP] (SR-120, Yosemite Creek TH) yosemite falls · yosemite valley · half dome
---
• National Monuments •
BERRYESSA SNOW MOUNTAIN NATIONAL MONUMENT
Zim Zim Falls Overlook #298, 2016 [Berryessa Snow Mountain NM] [Coast Range] (Knoxville Road, SR-128, Lake Berryessa) zim zim creek
DEVILS POSTPILE NATIONAL MONUMENT
Rainbow Falls #64, 2009 [Devils Postpile NM] [Eastern Sierra] (US-395, Mammoth Lakes) middle fork san joaquin river
GIANT SEQUOIA NATIONAL MONUMENT
Nobe Young Falls #89, 2010 [Giant Sequoia NM] [Western High Sierra] (SR-150, Porterville) alder creek · nobe young creek
---
• Wilderness Areas •
ANSEL ADAMS WILDERNESS
Dana Plateau Attempt #252, 2014 [Ansel Adams Wilderness] [Eastern Sierra] (SR-120, Tioga Lake) glacier canyon · mount dana
Gem Lake #122, 2011 [Ansel Adams Wilderness] [Eastern Sierra] (SR-158, June Lake) silver lake · rush creek · agnew lake · carson peak · mount lyell
Mammoth Crest #181, 2012 [Ansel Adams Wilderness] [Eastern Sierra] (US-395, Mammoth Lakes) crystal crag · crystal lake · lake george mary lake · minarets · banner peak · sharktooth peak · ritter range · horseshoe lake
Parker Lake #123, 2011 [Ansel Adams Wilderness] [Eastern Sierra] (SR-158, Lee Vining) june lakes loop · kuna peak
San Joaquin Ridge #169, 2012 [Ansel Adams Wilderness] [Eastern Sierra] (US-395, Mammoth Lakes) deadman pass · minarets · ritter range · mammoth mountain · rosalie lake · banner peak · shadow lake · olaine lake · san joaquin mountain · white wing mountain
BUCKS LAKE WILDERNESS
Gold Lake #155, 2012 [Bucks Lake Wilderness] [Feather River Region] (SR-70 / Oroville-Quincy Highway, Bucks Lake) silver lake · jacks meadow pond
CARSON-ICEBERG WILDERNESS
Bull Run Lake ~ Heiser Lake Loop #93, 2010 [Carson-Iceberg Wilderness] (SR-4, Mosquito Lake) stanislaus meadow · bull run peak
Clark Fork Trail #206, 2013 [Carson-Iceberg Wilderness] (SR-108, Strawberry) clark fork stanislaus river · the iceberg · boulder lake
Elephant Rock Lake Loop #353, 2017 [Carson-Iceberg Wilderness] (SR-4, Lake Alpine) rock lake · north fork stanislaus river · leavitt peak
Noble Lake #248, 2014 [Carson-Iceberg Wilderness] (SR-4, Ebbetts Pass) pacific crest trail · ebbetts peak · silver peak · tryon peak
Pacific Crest Trail, Sonora Pass #311, 2016 [Carson-Iceberg Wilderness] (SR-108, Sonora Pass) sonora peak · dardanelles · tower peak · sweetwater range
Pacific Valley #137, 2011 [Carson-Iceberg Wilderness] (SR-4, Pacific Valley TH) pacific creek · bull run peak
Sword Lake #69, 2009 [Carson-Iceberg Wilderness] (SR-108, Dardanelle) the dardanelles
CASTLE CRAGS WILDERNESS
Castle Dome Trail #80, 2010 [Castle Crags Wilderness] [North State] (I-5, Dunsmuir) castle crags state park · mount shasta
DESOLATION WILDERNESS
Cascade Basin Loop #87, 2010 [Desolation Wilderness] [Lake Tahoe] (SR-89, Tallac TH) cascade lake · cascade falls · cascade creek · eagle lake · granite lake · snow lake · south maggies peak · azure lake · mount tallac · jakes peak · emerald bay
Desolation Valley Loop #20, 2007 [Desolation Wilderness] [Tahoe Region, Echo Summit] (US-50, Echo Lake) lake of the woods · desolation lake · chain lake · channel lake · lake aloha · pacific crest trail · ralston peak · pyramid peak
Enchanted Pools #127, 2011 [Desolation Wilderness] (US-50 / Wrights Road, Kyburz) wrights lake · south silver creek · boomerang lake · island lake crystal range · little pyramid peak
Floating Island Lake #18, 2007 [Desolation Wilderness] [Lake Tahoe] (SR-89, Tallac TH) lake tahoe · fallen leaf lake · mount tallac
Gertrude Lake #16, 2007 [Desolation Wilderness] (US-50 / Wrights Road / Kyburz) wrights lake · south silver creek creek · crystal range
Grass Lake #85, 2010 [Desolation Wilderness] [Lake Tahoe] (SR-89, Fallen Leaf Lake) lily lake · susie lake falls
Half Moon Lake #250, 2014 [Desolation Wilderness] [Lake Tahoe] (SR-89, Fallen Leaf Lake) glen alpine resort · pacific crest trail · dicks peak · mount agassiz · pyramid peak
Lake Sylvia #10, 2007 [Desolation Wilderness] (US-50, Wrights Road, Kyburz) lyons creek trailhead · pyramid peak
Lyons Lake #308, 2016 [Desolation Wilderness] (US-50, Wrights Road, Kyburz) lyons creek trailhead · pyramid peak
Maud Lake #161, 2012 [Desolation Wilderness] (US-50, Wrights Road, Kyburz) wrights lake · beauty lake · jones fork silver creek · rockbound pass
Mount Tallac #190, 2012 [Desolation Wilderness] [Lake Tahoe] (SR-89, Tallac TH) floating island lake · cathedral lake · fallen leaf lake · lake tahoe · pyramid peak · freel peak · gilmore lake · lake aloha · middle mountain · middle velma lake · cascade lake · emerald bay
Pyramid Peak #186, 2012 [Desolation Wilderness] (US-50, Twin Bridges) rocky canyon · gefo lake · osma lake · toem lake · ropi lake · mount agassiz · mount price · lake aloha · noelle lake · mozelle lake · lovers leap
Ralston Peak #198, 2013 [Desolation Wilderness] (US-50, Camp Sacramento) pyramid peak · mount agassiz · desolation valley · lake of the woods · lake aloha · lake tahoe · fallen leaf lake · ralston lake · tamarack lake · cup lake
Ropi Lake #164, 2012 [Desolation Wilderness] (US-50, Twin Bridges) pyramid creek · horsetail falls · avalanche lake
Secret Lake #251, 2014 [Desolation Wilderness] (US-50, Wrights Road, Kyburz) wrights lake · grouse lake · blue mountain · hemlock lake · smith lake
Silver Dagger Lake #13, 2007 [Desolation Wilderness] (US-50, Wrights Road, Kyburz) wrights lake · twin lakes · island lake · little pyramid peak
Smith Lake #38, 2008 [Desolation Wilderness] (US-50, Wrights Road, Kyburz) grouse lake
Susie Lake #58, 2009 [Desolation Wilderness] [Lake Tahoe] (SR-89, Fallen Leaf Lake) glen alpine · pacific crest trail
Tyler Lake #254, 2014 [Desolation Wilderness] (US-50, Wrights Road, Kyburz) wrights lake · gertrude lake · little pyramid peak · enchanted pools
Umpa Lake Loop #33, 2008 [Desolation Wilderness] (US-50, Wrights Road, Kyburz) wrights lake · enchanted pools · south silver creek · island lake · twin lakes · boomerang lake · silver dagger lake · little pyramid peak
Velma Lakes ~ Dicks Lake Loop #157, 2012 [Desolation Wilderness] [Lake Tahoe] (SR-89, Emerald Bay) eagle lake · fontanillis lake · dicks lake · pacific crest trail dicks peak · phipps peak · mount tallac
DINKEY LAKES WILDERNESS
Dinkey Lakes Reprise #360, 2017 [Dinkey Lakes Wilderness] [Western High Sierra] (SR-168, Shaver Lake) mystery lake · swede lake · fingerbowl lake · island lake · second dinkey lake · south lake first dinkey lake · three sisters
Rock Lake #314, 2016 [Dinkey Lakes Wilderness] [Western High Sierra] (SR-168, Shaver Lake) first dinkey lake · second dinkey lake · rock lake · three sisters
GRANITE CHIEF WILDERNESS
Twin Peaks Approach #225, 2013 [Granite Chief Wilderness] [Lake Tahoe] (SR-89, Barker Pass Road, Homewood) pacific crest trail · tahoe rim trail · tahoe nf ellis peak · freel peak · jobs sister · lyon peak · needle peak · granite chief · squaw peak
HOOVER WILDERNESS
Conness Lakes #129, 2011 [Hoover Wilderness] [Tioga Pass, Eastern Sierra] (SR-120, Saddlebag Lake) twenty lakes basin · harvey monroe hall natural area · greenstone lake · steelhead lake · mill creek · potter lake · cascade lake · z lake · hummingbird lake black mountain · north peak · excelsior mountain · mount conness · conness glacier
Conness Lakes #188, 2012 [Hoover Wilderness] [Tioga Pass, Eastern Sierra]
Conness Lakes #257, 2014 [Hoover Wilderness] [Tioga Pass, Eastern Sierra]
Gardisky Lake #185, 2012 [Hoover Wilderness] [Tioga Pass, Eastern Sierra] (SR-120, Saddlebag Lake Road) mount conness · tioga peak · lee vining creek · mount dana
Green Lakes #162, 2012 [Hoover Wilderness] [Eastern Sierra] (US-395, Bridgeport) east lake · epidote peak · page peaks
Horse Creek Canyon #95, 2010 [Hoover Wilderness] [Eastern Sierra] (US-395, Bridgeport) sawtooth ridge · twin lakes · matterhorn peak · dragtooth · the cleaver · the doodad robinson peak
Hunewill Lake #136, 2011 [Hoover Wilderness] [Eastern Sierra] (US-395, Bridgeport) tamarack basin · tamarack lake · monument ridge · crater crest · bridgeport reservoir
Lundy Canyon (part) #40, 2008 [Hoover Wilderness] [Eastern Sierra] (US-395, Lee Vining) mill creek · shepherd crest · lundy lake
Lundy Canyon #131, 2011 [Hoover Wilderness] [Eastern Sierra]
Oneida Lake #221, 2013 [Hoover Wilderness] [Eastern Sierra] (US-395, Lee Vining) south fork mill creek · blue lake · crystal lake · oneida lake · lundy lake · lake canyon black mountain · lundy canyon
Treble Lake Loop #180, 2012 [Hoover Wilderness] [Tioga Pass, Eastern Sierra] (SR-120, Tioga Pass) lee vining creek · bennettville mine · shell lake · fantail lake · spuller lake · slate creek · maul lake · green lake · harvey monroe hall natural area white mountain · mount conness · tioga peak · mount dana
Twenty Lakes Basin #1, 2006 [Hoover Wilderness] [Tioga Pass, Eastern Sierra] (SR-120, Saddlebag Lake) greenstone lake · mill creek · steelhead lake · odell lake · z lake · hummingbird lake · lundy pass · lake helen · wasco lake · shamrock lake · excelsior lake mount conness · conness glacier · north peak
Twenty Lakes Basin, short loop #96, 2010 [Hoover Wilderness] [Tioga Pass, Eastern Sierra]
Virginia Lakes #98, 2010 [Hoover Wilderness] [Eastern Sierra] (US-395, Lee Vining) blue lake · cooney lake · virginia creek · frog lakes · dunderberg peak · camiaca peak · whorl mountain · virginia peak · summit lake · epidote peak · black mountain
Warren Fork Lee Vining Creek #354, 2017 [Hoover Wilderness] [Eastern Sierra] (SR-120, Tioga Pass) gardisky lake falls
JOHN MUIR WILDERNESS
Big Pine Lakes #355, 2017 [John Muir Wilderness] [Eastern Sierra] (US-395, Big Pine) glacier lodge · first falls · second falls · first lake · second lake · third lake temple crag · inconsolable range
Bishop Lake #126, 2011 [John Muir Wilderness] [Eastern Sierra] (SR-168, South Lake) bishop creek · long lake · timberline tarns · saddlerock lake · spearhead lake hurd peak · mount goode · hurd lake · mount agassiz · bishop pass
Blue Lake #289, 2015 [John Muir Wilderness] [Eastern Sierra] (SR-168, Lake Sabrina) donkey lake · north fork bishop creek · piute crags · mount thompson · white mountains
Chocolate Lakes Loop #288, 2015 [John Muir Wilderness] [Eastern Sierra] (SR-168, South Lake) chocolate peak · ruwau lake · long lake · hurd peak · mount goode · cloudripper · picture puzzle
Duck Pass #253, 2014 [John Muir Wilderness] [Eastern Sierra] (US-395, Mammoth Lakes) coldwater campground · arrowhead lake · skelton lake · barney lake · red lake duck lake · pika lake · cracked crag · lake mary · mammoth mountain
Hidden Lakes of Little Lakes Valley #205, 2013 [John Muir Wilderness] [Eastern Sierra] (US-395, Tom's Place) mosquito flat · rock creek · eastern brook lake · long lake · heart lake · marsh lake · mack lake · lost lake · box lake · big fish lake · little fish lake · long lake · chickenfoot lake · heart lake aspen fire · pipsqueak pinnacles · bear creek spire
Kearsarge Pass #310, 2016 [John Muir Wilderness] [Eastern Sierra] (US-395, Independence) onion valley · gilbert lake · heart lake · big pothole lake · little pothole lake · flower lake kearsarge pinnacles · kearsarge lakes · bullfrog lake · mount bago · owens valley
Lamarck Lakes #70, 2009 [John Muir Wilderness] [Eastern Sierra] (SR-168, North Lake) grass lake · muriel peak · mount lamarck · table mountain · piute crags
Little Lakes Valley #65, 2009 [John Muir Wilderness] [Eastern Sierra] (US-395, Tom's Place) mosquito flat · mack lake · marsh lake · heart lake · ruby creek · gem lake · chickenfoot lake · rock creek · box lake · pyramid peak · mount morgan · treasure peak · pipsqueak spire · mount dade · mount starr
McGee Creek #125, 2011 [John Muir Wilderness] [Eastern Sierra] (US-395, Crowley Lake) horsetail falls · mount baldwin · mount aggie
Piute Pass #222, 2013 [John Muir Wilderness] [Eastern Sierra] (SR-268, North Lake) north fork bishop creek · loch leven · piute lake · piute crags summit lake · humphreys basin · glacier divide · table mountain
Ruby Lake #167, 2012 [John Muir Wilderness] [Eastern Sierra] (US-395, Tom's Place) mono pass trail · little lakes valley · ruby creek · rock creek marsh lake · heart lake · box lake · hidden lakes · mount morgan · mount agassiz · bear creek spire
Treasure Lakes #168, 2012 [John Muir Wilderness] [Eastern Sierra] (SR-168, South Lake) lower treasure lake · first upper treasure lake · south lake dam
KAISER WILDERNESS
George Lake #313, 2016 [Kaiser Wilderness] [Western High Sierra] (SR-168, Kaiser Pass Road) upper twin lake · lower twin lake · kaiser peak mount ritter · banner peak · the minarets
MOKELUMNE WILDERNESS
Behind Winnemucca Lake #205, 2013 [Mokelumne Wilderness] [Carson Pass] (SR-88, Carson Pass) winnemucca lake · elephants back · pacific crest trail round top · caples lake · freel peak · hawkins peak
Carson Pass to Red Lake Road #359, 2017 [Mokelumne Wilderness] [Carson Pass] (SR-88, Carson Pass) frog lake · elephants back · pacific crest trail · round top · hawkins peak red lake · forestdale divide road
Elephants Back #14, 2007 [Mokelumne Wilderness] [Carson Pass] (SR-88, Carson Pass) frog lake · winnemucca lake · pacific crest trail · round top · woods lake
Elephants Back #34, 2008 [Mokelumne Wilderness] [Carson Pass]
Emigrant Lake #97, 2010 [Mokelumne Wilderness] (SR-88, Caples Lake) emigrant trail · melissa coray peak · covered wagon peak · the sisters
Kinney Lakes ~ Ebbetts Peak Loop #63, 2009 [Mokelumne Wilderness] [Ebbetts Pass] (SR-4, Ebbetts Pass) sherrold lake · dorothy lake · pacific crest trail · raymond peak
Melissa Coray Peak #315, 2016 [Mokelumne Wilderness] (SR-88, Caples Lake) emigrant trail · kirkwood ski resort · covered wagon peak · emigrant lake the sisters · silver lake · fourth of july lake · carrie lochan
Round Top Summit #19, 2007 [Mokelumne Wilderness] [Carson Pass] (SR-88, Carson Pass) pacific crest trail · frog lake · winnemucca lake · round top lake · the sisters
Round Top Reprise #285, 2015 [Mokelumne Wilderness] [Carson Pass]
Winnemucca Lake Garden Loop #249, 2014 [Mokelumne Wilderness] [Carson Pass] (SR-88, Carson Pass) frog lake · pacific crest trail · elephants back round top · the sisters · caples lake · martin point
Winnemucca Lake Loop #60, 2009 [Mokelumne Wilderness] [Carson Pass] (SR-88, Carson Pass) pacific crest trail · frog lake · kit carson monument · round top
Woods Lake Loop #23, 2007 [Mokelumne Wilderness] [Carson Pass] (SR-88, Woods Lake) winnemucca lake · round top lake · elephants back · round top
Woods Lake Loop #42, 2008 [Mokelumne Wilderness] [Carson Pass]
MOUNT SHASTA WILDERNESS
Brewer Creek Trail #281, 2015 [Mount Shasta Wilderness] (SR-89, McCloud) mount shasta · ash creek butte
TRINITY ALPS WILDERNESS
East Boulder Lake Loop #216, 2013 [Trinity Alps Wilderness] (SR-3, Callahan) lower boulder lake · east boulder lake · upper boulder lake · middle boulder lake · pacific crest trail big marshy lake · castle crags · billys peak
WHITE MOUNTAIN WILDERNESS
White Mountain Peak #184, 2012 [White Mountain Wilderness] (SR-168, White Mountains) barcroft station · pace laboratory · mcafee meadow natural research area chalfant valley · mount dubois
---
• Other Parks & Recreation Areas •
AUBURN STATE RECREATION AREA
American Canyon #52, 2009 [Auburn SRA] [Foothills] (SR-193, Cool) american canyon creek · hoboken creek · western states trail · poverty bar
Codfish Falls #26, 2008 [Auburn SRA] [Foothills] (I-80, Weimar) codfish creek canyon · north fork american river · weimar
Foresthill Bridge Area #229, 2014 [Auburn SRA] [Foothills] (SR-49, Auburn) north fork american river · foresthill bridge · lake clementine trail
Lake Clementine Loop #229, 2014 [Auburn SRA] [Foothills] (SR-49, Auburn) north fork dam · north fork lake
Lake Clementine Trail #26, 2008 [Auburn SRA] [Foothills] (SR-49, Auburn) north fork american river · foresthill bridge · confluence
Olmstead Loop #55, 2009 [Auburn SRA] [Foothills] (SR-49, Cool)
Training Hill Loop, aka Pointed Rocks Trail #152, 2012 [Auburn SRA] [Foothills] (SR-49, Auburn) no hands bridge · western states trail · pig farm trail · olmstead loop trail · middle fork american river · foresthill bridge
BIG BASIN STATE PARK
Skyline to the Sea Trail #200, 2013 [Big Basin SP] [Bay Area] (SR-1, Santa Cruz) waddell beach · berry creek falls · walk across california
Waterfalls Loop #301, 2016 [Big Basin SP] [Bay Area] (SR-1, Santa Cruz) berry creek falls · golden falls · silver falls · statue of responsibility
CRONAN RANCH REGIONAL TRAILS PARK
Cronan Ranch #104, 2011 [Cronan Ranch Regional Trails Park] [Foothills] (SR-49, Coloma) haynes creek · down and up trail · west ridge trail · love comes softly movie · michael landon · south fork american river
CRYSTAL BASIN RECREATION AREA
Bassi Falls, Eldorado NF #29, 200 [Crystal Basin RA] (US-50, Ice House Road) bassi creek
Jay Bird Canyon Falls, Eldorado NF #53, 2009 [Crystal Basin RA] (US-50, Peavine Ridge Road) silver creek canyon · jay bird powerhouse
South Fork Silver Creek, Eldorado NF #57, 2009 [Crystal Basin RA] (US-50, Ice House Reservoir) kayak run · nose job · quadruple bypass · offramp · skyscraper
FOLSOM LAKE STATE RECREATION AREA
Salmon Falls Loop #226, 2014 [Folsom Lake SRA] [Foothills] (US-50 / Salmon Falls Road) monte vista trailhead, salmon falls · south fork american river
GOLDEN GATE NATIONAL RECREATION AREA
Tennessee Valley Loop #302, 2016 [Golen Gate NRA] [Bay Area, North Coast] (SR-1 / Tennessee Valley Road, Mill Valley) tennessee cove · pirates cove · muir beach
JEDEDIAH SMITH STATE PARK
Jedediah Smith State Park #345, 2017 [Jedediah Smith SP] [North Coast] (US-101, Crescent City, Howland Hill Road) boy scout tree · smith river · stout grove
LAKES BASIN RECREATION AREA
Jamison Lake Loop #247, 2014 [Lakes Basin RA] (SR-70, SR-49, Graeagle) plumas-eureka state park · grass lake · wades lake · jamison lake · rock lake · jamison mine · mount elwell
Mount Elwell #133, 2011 [Lakes Basin RA] (SR-70, SR-49, Graeagle) gold lake road · big bear lake · little bear lake · cub lake · long lake
Sierra Buttes Lookout #255, 2014 [Lakes Basin Recreation Area] (SR-49, Bassetts, Gold Lake Highway) packer saddle · young american lake · sardine lakes · tamarack lakes
MALIBU CREEK STATE PARK
Malibu Creek State Park #324, 2016 [Southern State] (US-101, Calabasis) goat buttes · century lake · m*a*s*h · planet of the apes
MONTGOMERY WOODS STATE NATURAL RESERVE
Montgomery Woods State Natural Reserve #350, 2017 [Montgomery Woods SNR] [North Coast] (US-101, Ukiah) montgomery tree
MOUNT DIABLO STATE PARK
Mount Diablo State Park Traverse #194, 2013 [Bay Area] (I-680, Macedo Ranch) clayton · donner canyon · walk across california · suisun bay · san francisco bay
MOUNT TAMALPAIS STATE PARK
Dipsea Trail ~ Steep Ravine Loop #84, 2010 [Mt. Tamalpais SP] [Bay Area, North Coast] (US-101, Mill Valley) pacific ocean · dipsea race
NORTH TABLE MOUNTAIN ECOLOGICAL RESERVE
North Table Mountain Ecological Reserve #231, 2014 [North Table Mountain Ecological Reserve] [Foothills] (Cherokee Road, Oroville) hollow falls · catamount falls · lower ravine falls · coal canyon · phantom falls beatson corral · beatson hollow · beatson falls · cherokee road
North Table Mountain Ecological Reserve #299, 2016 [North Table Mountain Ecological Reserve] [Foothills] (Cherokee Road, Oroville) flag falls · flag canyon · hidden falls · phantom falls
North Table Mountain Ecological Reserve #337, 2017 [North Table Mountain Ecological Reserve] [Foothills] (Cherokee Road, Oroville) hollow falls · phantom falls
POINT REYES NATIONAL SEASHORE
Alamere Falls #154, 2012 [Point Reyes National Seashore] [North Coast] (SR-1, Bolinas) palomarin trailhead · pacific ocean
Bear Valley Trail Loop #282, 2015 [Point Reyes National Seashore] [North Coast] (SR-1, Point Reyes Station) bear valley ranch visitor center · sky trail · coast trail · mount wittenberg arch rock · pacific ocean
Tomales Point #320, 2016 [Point Reyes National Seashore] [North Coast] (SR-1, Point Reyes Station) pierce point ranch · tomales bay · mcclures beach · mount wittenberg dillon beach · pacific ocean
PRAIRIE CREEK REDWOODS STATE PARK
Fern Canyon #346, 2017 [Prairie Creek Redwoods SP] [North Coast] (US-101, Davidson Road) gold bluffs · james irvine trail
SOUTH YUBA RIVER STATE PARK
Independence Trail East #280, 2015 [South Yuba River SP] [Foothills] (SR-49, Nevada City) arch rock · excelsior mine canal · wheelchair-accessible
VAN DAMME STATE PARK
Pygmy Forest Loop #349, 2017 [Van Damme SP] [North Coast] (SR-1, Mendocino, Little River Airport Road) fern canyon
---
• Highways & Summits •
SR-4 & EBBETTS PASS
Pacific Valley, Stanislaus NF #137, 2011 (SR-4, Pacific Grade Summit) bull run peak
SR-49 & YUBA PASS
Devils Postpile, Tahoe NF #72, 2009 [Foothills] (SR-49 / FR-25, Downieville) eureka diggina road · cal-ida scales road · sierra buttes · sierra valley
Haskell Peak, Tahoe NF #73, 2009 [Yuba Pass, Feather River Region] (SR-49 / Gold Lake Road, Bassetts) sierra buttes · sierra valley
US-50 & ECHO SUMMIT
Bloodsucker Lake, Eldorado NF #74, 2009 (US-50 / Wrights Road, Kyburz) lyons creek trailhead · blue mountain
Cody Lake, Eldorado NF #88, 2010 (US-50 / Packsaddle Road, Strawberry) camp cody · pyramid peak
Government Meadow, Eldorado NF #119, 2011 (US-50 / Silverfork Road, Kyburz) caples creek · jake schneider meadow
Horsetail Falls, Eldorado NF #21, 2007 (US-50, Twin Bridges) pyramid creek
Lovers Leap Loop, Eldorado NF #187, 2012 (US-50, Strawberry) pony express national historic trail · monk's rock rocky canyon · pyramid peak
SR-70 & FEATHER RIVER REGION
Chambers Creek Falls, Plumas NF #82, 2010 [Feather River Region] (SR-70, Pulga) granite creek · silver creek canyon · chambers peak · bald eagle mountain
Feather Falls, Plumas NF #54, 2009 [Feather River Scenic Area] (SR-70 / Oroville-Quincy Highway, Feather Falls) lumpkin road
I-80 & DONNER SUMMIT
Around English Mountain, Tahoe NF #283, 2015 (SR-89, FR-07, Bowman Lake Road) lake faucherie · canyon creek · weil lake · meadow lake road french lake · black buttes · sierra buttes
Castle Peak ~ Basin Peak Loop, Tahoe NF #183, 2012 [Donner Summit] (I-80, Boreal Ridge) pacific crest trail · devils oven lake · peter grubb hut carpenter valley · mount lola · sand ridge lake · warren lake · mount rose
Crooked Lakes Trail, Tahoe NF #8, 2007 (I-80, SR-20, Bowman Lake Road) feely lake · carr lake · penner lake · peak 7264 culbertson lake · upper rock lake · shotgun lake
Donner Pass Snowsheds, Tahoe NF #312, 2016 (US-40, Donner Summit) donner peak
Donner Peak & Mount Judah, Tahoe NF #316, 2016 (US-40, Donner Summit) pacific crest trail · lake mary · donner lake · lake angela · tinker knob anderson peak · van norden meadow · castle peak · sugar bowl · donner ski ranch
Euchre Bar, Tahoe NF #151, 2012 (I-80, Alta) north fork american river · giant gap
Fisher Lake Overlook, Tahoe NF #303, 2016 (I-80, Yuba Gap) salmon lakes trailhead · loch leven lakes · fisher lake · natalie lake devils peak · basin peak · castle peak · anderson peak · tinker knob
Flora & Azalea Lakes, Tahoe NF #246, 2014 [Donner Summit] (I-80, donner summit rest area) pacific crest trail · castle peak · donner lake · mount rose
Glacier Lake Loop, Tahoe NF #43, 2008 (I-80, SR-20, Bowman Lake Road) grouse ridge · downey lake · black buttes · haystack mountain · sanford lake
Glacier Lakes Trail, Tahoe NF #7, 2007 (I-80, Cisco Grove) sterling lake · mossy pond
Grouse Ridge Road, Tahoe NF #5, 2007 (I-80, SR-20, Bowman Lake Road) sanford lake · downey lake
Loch Leven Lakes Trail, Tahoe NF #4, 2007 (I-80, Big Bend) big bend trailhead
Loch Leven Lakes, Tahoe NF #6, 2007 (I-80, Yuba Gap) huysink road trailhead · salmon lake
Loch Leven Lakes, Tahoe NF #39, 2008 (I-80, Big Bend) big bend trailhead
Loney Meadow, Tahoe NF #284, 2015 (I-80, SR-20 / Bowman Lake Road) bullpen lake · lower rock lake · upper rock lake · peak 7264
Long Lake - Palisades Creek Trail, Tahoe NF #9, 2007 [Donner Summit] (I-80, Soda Springs) cascade lakes · devils peak
Mount Lola, Tahoe NF #12, 2007 (SR-89, FR-07 / Meadow Lake Road, Truckee) white rock lake · bowman lake · independence lake · castle peak
Palisade Creek Trail Hunt, Tahoe NF #197, 2013 [Donner Summit] (I-80, Soda Springs) pahatsi road · cascade lakes · devils peak · long lake tinker knob · anderson peak · lyon peak · castle peak
Penner Lake, Tahoe NF #124, 2011 (I-80, SR-20, Bowman Lake Road) crooked lakes trail · carr lake · feely lake · peak 7264 fall creek mountain · rock lake · culbertson lake · grouse ridge lookout
Summit Lake, Tahoe NF #166, 2012 [Donner Summit] (I-80, Westbound) rest area trailhead
Tinker Knob, Tahoe NF #199, 2013 (SR-89, Truckee) coldstream trail · pacific crest trail · tahoe rim trail mount rose · needle peak · lyon peak · sierra buttes · lake tahoe · dicks peak · jacks peak · pyramid peak · mount agassiz · mount price
Troy Ponds, Tahoe NF #351, 2017 [Donner Summit] (I-80 frontage Road, Troy Road) devils peak · snow peak · castle peak
Wagon Wheel Lake Loop, Tahoe NF #201, 2013 (SR-89, FR-07 / Meadow Lake Road, Truckee) meadow lake · baltimore lake · french lake · english mountain · black buttes · castle peak · basin peak · old man mountain · fordyce lake
Warren Lake Overlook Loop, Tahoe NF #165, 2012 (SR-89, FR-07 / Meadow Lake Road, Truckee) white rock lake · paradise lake · paradise meadow · pacific crest trail · castle peak · mount lola
SR-88 & CARSON PASS
Devils Lake, Eldorado NF #71, 2009 (SR-88, Bear River Reservoir)
Granite Lake Loop, Eldorado NF #158, 2012 (SR-88, Plasse's Resort) silver lake · hidden lake · minkalo trail · thunder mountain
Horsethief Canyon, Humboldt-Toiyabe NF #86, 2010 (SR-88, Woodfords Canyon) horsethief meadow · hawkins peak
Little Round Top & Showers Lake, Eldorado NF #367, 2017 [Carson Pass] (SR-88, Carson Pass) schneider cow camp · dardanelles lake · round lake · pacific crest trail · two sentinels meiss lake · round top · horsetail falls · pyramid peak · freel peak · stevens peak · red lake peak
Machado Postpile, Eldorado NF #196, 2013 (SR-88, Kit Carson Lodge) silver lake · squaw ridge · summit meadow lake · devils hole lake thimble peak · covered wagon peak · melissa coray peak · thunder mountain
Margaret Lake, Eldorado NF #59, 2009 (SR-88, Kirkwood) two sentinels
Meiss Lake, Eldorado NF #17, 2007 [Carson Pass] (SR-88, Carson Pass) upper truckee river · meiss family cabin · pacific crest trail · red lake peak · round top
Pickett Peak Approach, Humboldt-Toiyabe NF #452, 2017 [Carson Pass] (SR-88/89, Burnside Road) hope valley · hawkins peak · round top · the sisters · red lake peak · stevens peak waterhouse peak · raymond peak
Red Lake Peak, Eldorado NF #159, 2012 [Carson Pass] (SR-88, Carson Pass) meiss country · red lake · upper truckee river hawkins peak · thunder mountain · martin point · caples lake · two sentinels · round top · elephants back
Shealor Lakes, Eldorado NF #11, 2007 (SR-88, Silver Lake)
Showers Lake, Eldorado NF #66, 2009 [Carson Pass] (SR-88, Carson Pass) meiss lake · pacific crest trail · stevens peak
Silver Fork Potholes, Eldorado NF #306, 2016 (SR-88, Silver Lake) silver fork american river · thunder mountain
Thunder Mountain, Eldorado NF #15, 2007 (SR-88, Kirkwood) martin point · two sentinels · kirkwood ski resort · silver lake
SR-108 & SONORA PASS
Sardine Falls, Humboldt-Toiyabe NF #163, 2012 (SR-108, McKay Creek)
---
• Regions •
FOOTHILLS OF THE SIERRA
Bald Rock Canyon, Plumas NF #193, 2013 [Feather River Region] (SR-162, Oroville) bald rock dome · middle fork feather river
Big Bald Rock, Plumas NF #3, 2007 [Feather River Region] (SR-162, Oroville)
Buttermilk Bend #2, 2007 (SR-20, Bridgeport) south yuba river
Devils Postpile, Tahoe NF #72, 2009 (SR-49, Nevada City)
Duncan Peak Lookout Loop, Tahoe NF #220, 2013 [Foothills] (Foresthill Divide Road, Foresthill) robinson flat · little bald mountain anderson peak · tinker knob · lyon peak · needle peak · granite chief · castle peak
Fleming Meadow Loop, Eldorado NF #153, 2012 (US-50, Jenkinson Lake) mormon emigrant trail · blue gouge mine road
Hite Cove, Sierra NF #192, 2013 (SR-141, Mariposa) savage's trading post · hite's cove · south fork merced river · california poppy photography
Mumford Bar Trail, Tahoe NF #118, 2011 (Foresthill Divide Road, Foresthill) north fork american river
South Yuba River, Tahoe NF #44, 2008 (SR-49, Nevada City) edwards crossing
Stevens Trail, BLM land #116, 2011 (I-80, Colfax) north fork american river · iowa hill road
University Falls, Tahoe NF #195, 2013 [Foothills] (SR-193, Georgetown) wentworth springs road · pilot creek falls
Wabena Petroglyphs, Tahoe NF #366, 2017 [Foothills] (Foresthill Divide Road, Foresthill) soda springs road · robinson flat · wabena point wabena falls · north fork american river · snow mountain · tinker knob · granite chief
LAKE TAHOE BASIN
Dardanelles Lake, Eldorado NF #321, 2015 [Lake Tahoe] (SR-89, Meyers) big meadow · tahoe rim trail · waterhouse peak · mount tallac
Ellis Peak, Tahoe NF #103, 2010 [Lake Tahoe] (SR-89, Tahoe City) blackwood canyon road · barker pass road loon lake · twin peaks · pyramid peak · mount agassiz · mount price · genoa peak
Freel Peak Loop, Eldorado NF #219, 2013 [Lake Tahoe] (US-50, Meyers) pioneer trail · fountain place · fountain face · armstrong pass · freel pass trimmer peak · trout creek · tahoe rim trail · hope valley
Round Lake, Eldorado NF #292, 2015 [Lake Tahoe] (SR-89, Meyers) big meadow · tahoe rim trail
NORTH COAST
Cataract Falls, Marin County #150, 2012 [North Coast, Bay Area] (US-101, Fairfax) lake alpine · cataract creek · the grotto · laurel dell
NORTHERN STATE
Mount Eddy, Shasta-Trinity NF #134, 2011 [North State] (I-5, Weed) parks creek trailhead · deadfall lake · mount shasta · black butte
---
• Miscellaneous •
Buckeye Canyon, Humboldt-Toiyabe National Forest #309, 2016 [Eastern Sierra] (US-395, Bridgeport) buckeye creek · sawtooth ridge
Emma Lake, Humboldt-Toiyabe National Forest #317, 2016 [Eastern Sierra] (US-395, Bridgeport) little walker road · mount emma · sweetwater range
Fairy Falls, Spenceville Wildlife Area #45, 2009 [Central] (SR-70, Camp Far West Reservoir) shingle falls · beale afb
Judge Davis Trail, Cache Creek Natural Area #30, 2008 [Central] (SR-20, Williams)
Stebbins Cold Canyon Reserve, Vaca Mountains #28, 2008 [Central] (SR-128, Winters) blue ridge trail · john vlahos homestead · lake berryessa
Stebbins Cold Canyon Reserve, Vaca Mountains #51, 2009 [Central]
Stebbins Cold Canyon Reserve, Vaca Mountains #300, 2016 [Central]
Trona Pinnacles, California Desert National Conservation Area #322, 2016 [South State] (SR-178, Trona)
Vasquez Rocks Natural Area Park, Los Angeles County #293, 2015 [South State] (SR-14, Palmdale)