Crooked Lakes Trail
Tahoe NF
June 11, 2007
Having arranged a first-ever outing with friend Phil who is even more ancient than I (by two years), I selected this hike because it is relatively close to home, already snow-free according to the Forest Service, and the trail is new to me.
After walking the old road from the parking lot next to Carr Lake, the Round Lake Trail begins in earnest along the southern shore of Feely Lake. At this juncture, Phil realizes that he has forgotten to pack a water bottle, so I lend him one of mine. He has plenty of water in a camel pack, but no convenient drinking container.

Feely Lake Dam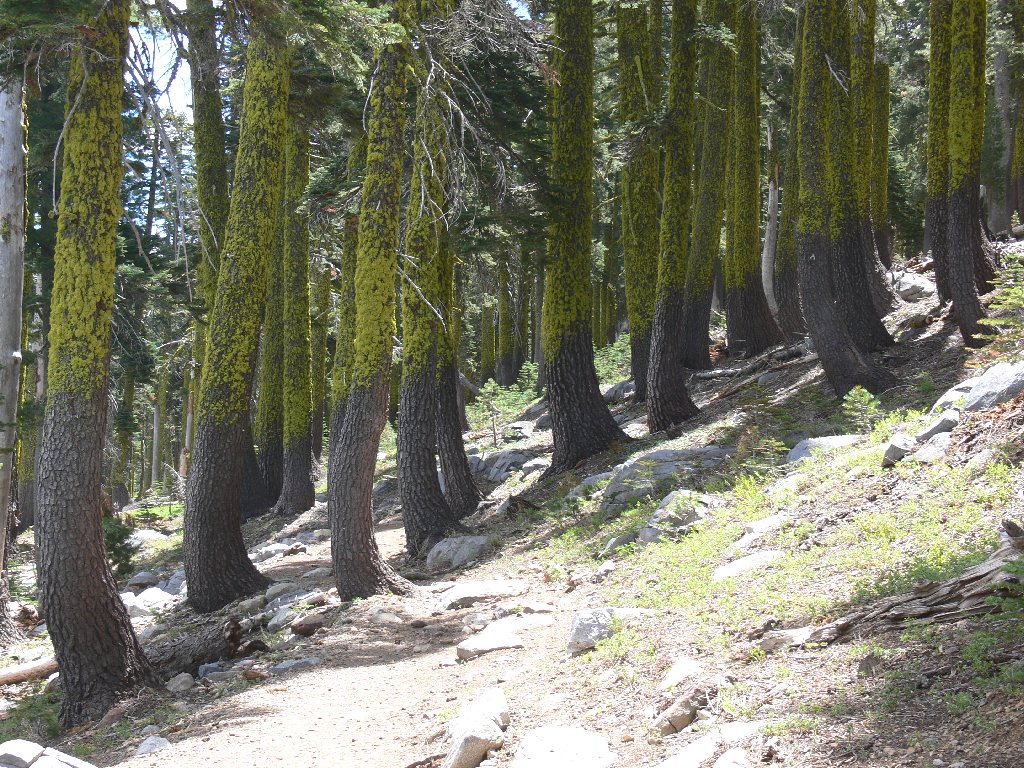 Along the shoreline
About a mile in, our route takes a 90-degree left turn at Round Lake and proceeds northward on the Crooked Lakes Trail, leading shortly to Island Lake, the area's biggest.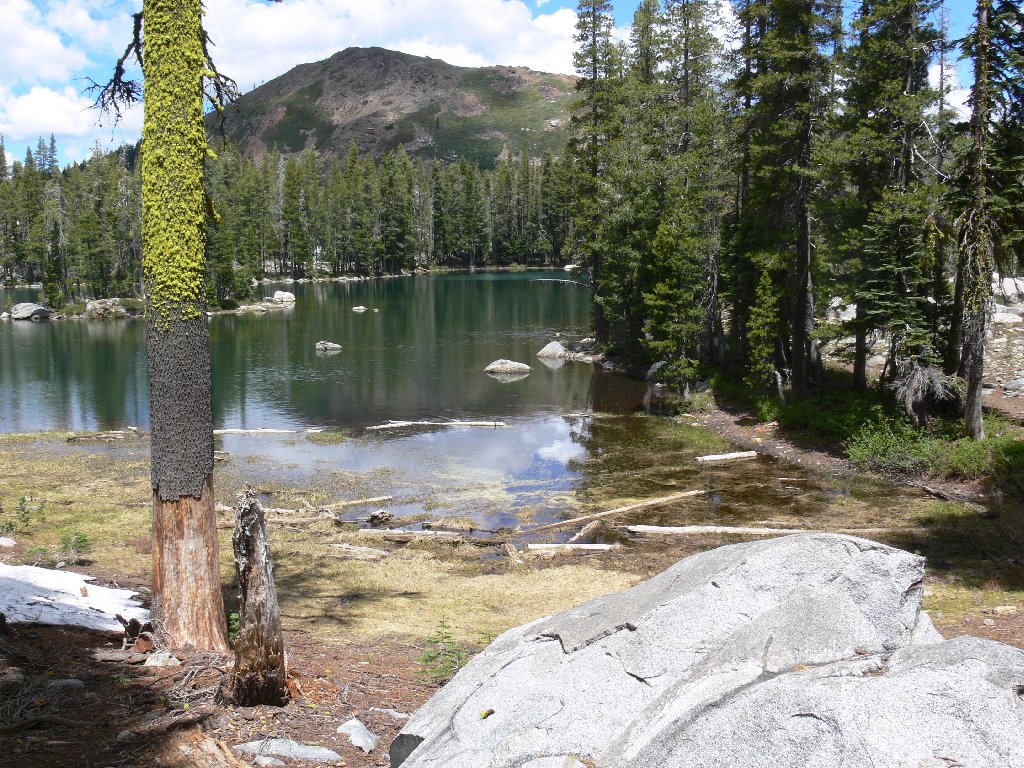 Round Lake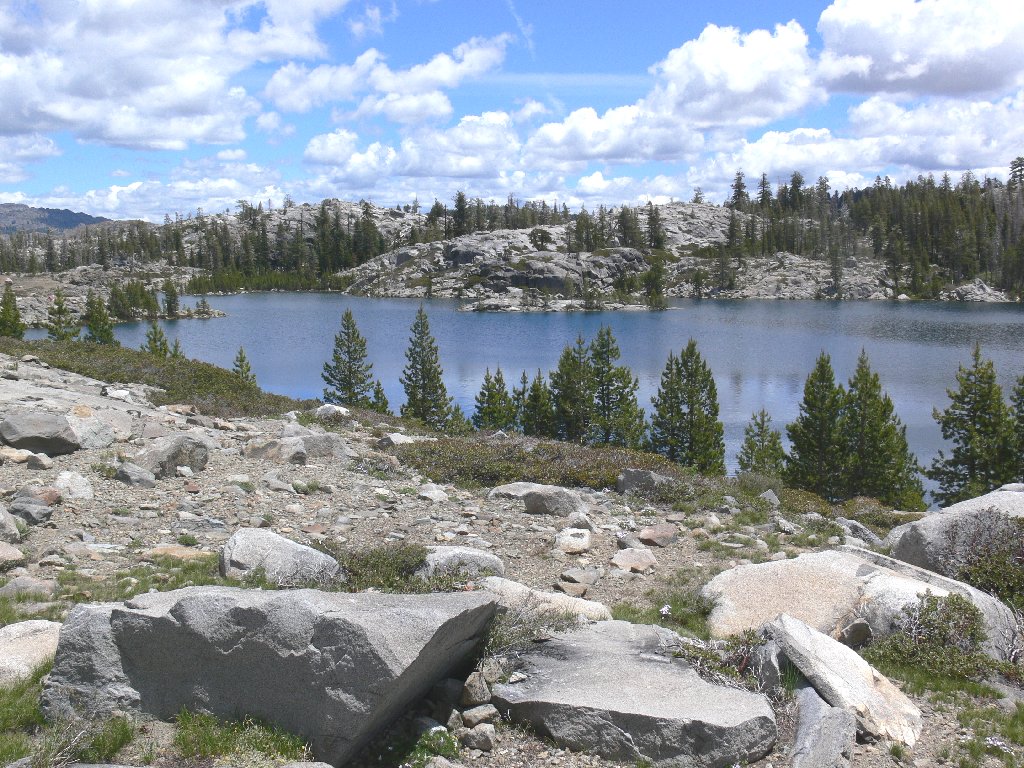 Island Lake
At about this time Phil's camera malfunctions; so responsibility for photographic records of this journey now rests with me and my trusty Panasonic. This mossy spot was the most colorful spot on the entire walk.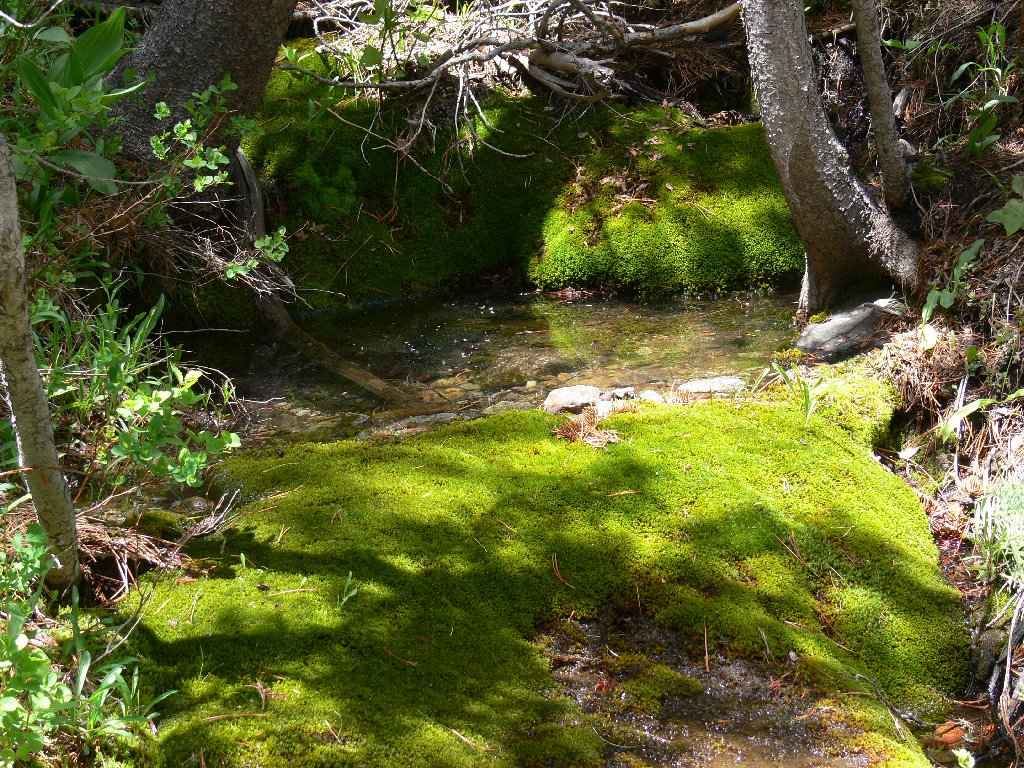 A rare green spot
A short climb up a small series of switchbacks is easily negotiated. At the top we rest briefly, then press on. A quarter of a mile later I am compelled to backtrack and retrieve my walking stick, which awaits me patiently at the previous stop.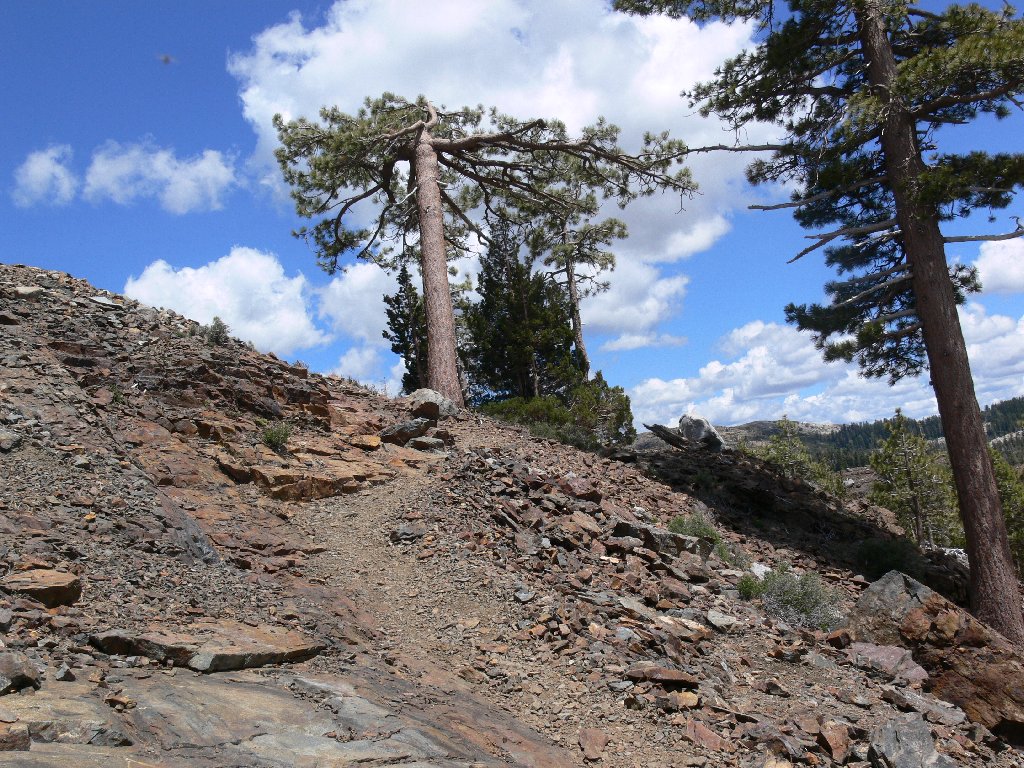 Ascending the switchbacks
Almost without realizing it, we arrive at Penner Lake, the tentative destination. We are three miles from the trailhead — three and a half for me. This lake is gorgeous! It clearly is the area's premier attraction. The local mixture of red rocks and gray-white granite is quite appealing.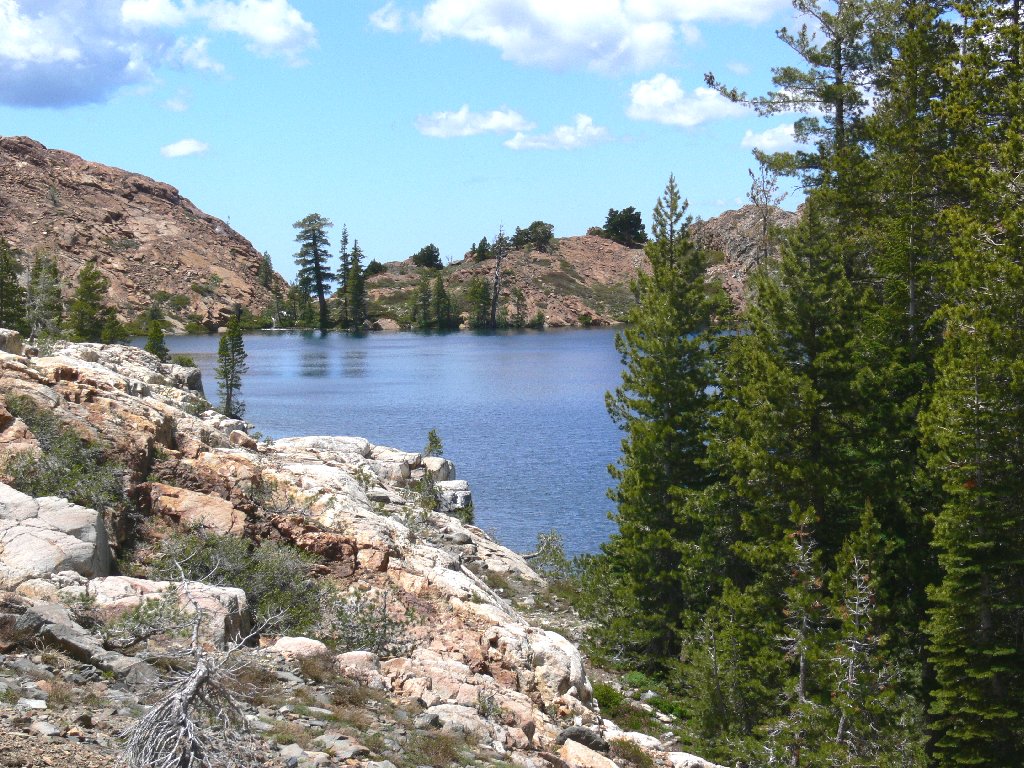 Penner Lake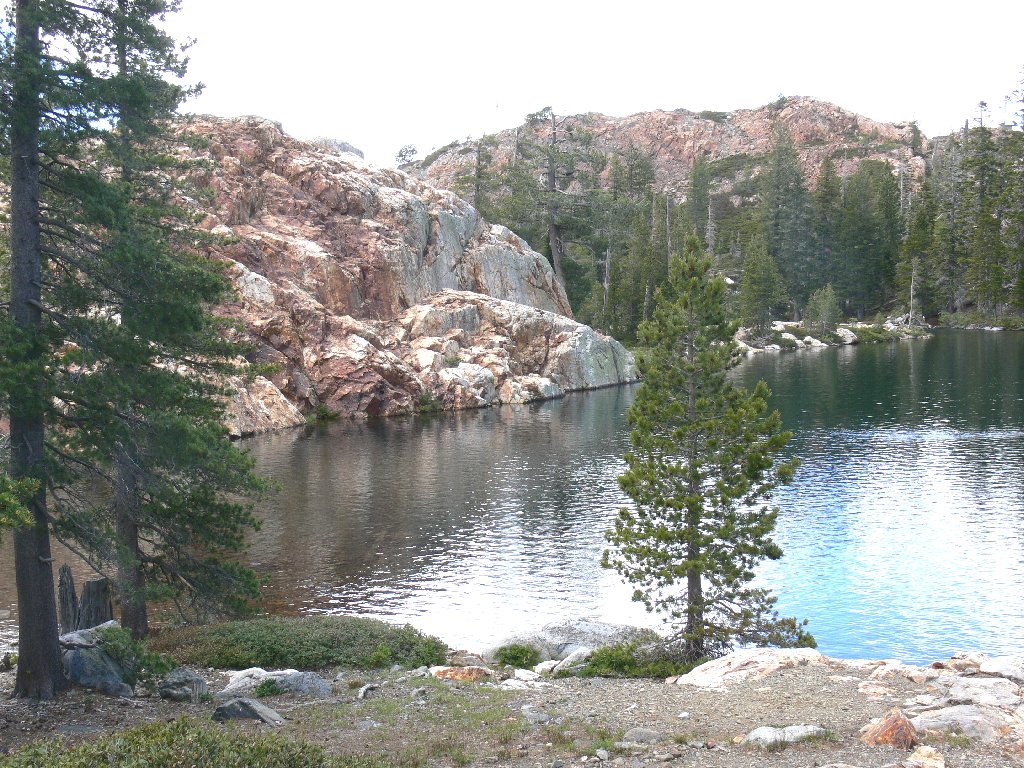 Crown jewel of the Crooked Lakes
Our trek continues up another series of switchbacks, until I spot an inviting little hill to our left. My partner is game; so off we go. There is another reason for accessing this high point that Phil doesn't yet know about; I have saved it as a surprise.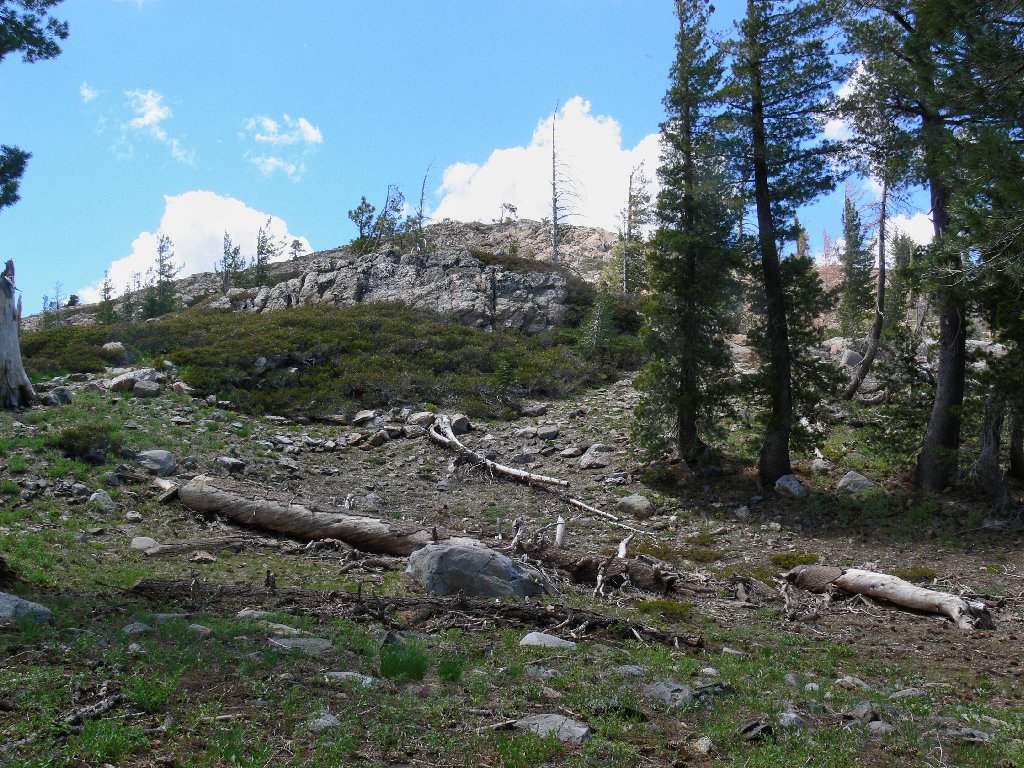 Peak 7264
On our way up the hillside, the vista begins to unfold. The always awesome Sierra Buttes dominate the skyline to the north, with Upper Rock Lake in the foreground. We also get a first look at Shotgun Lake, some 500 feet below us to the east.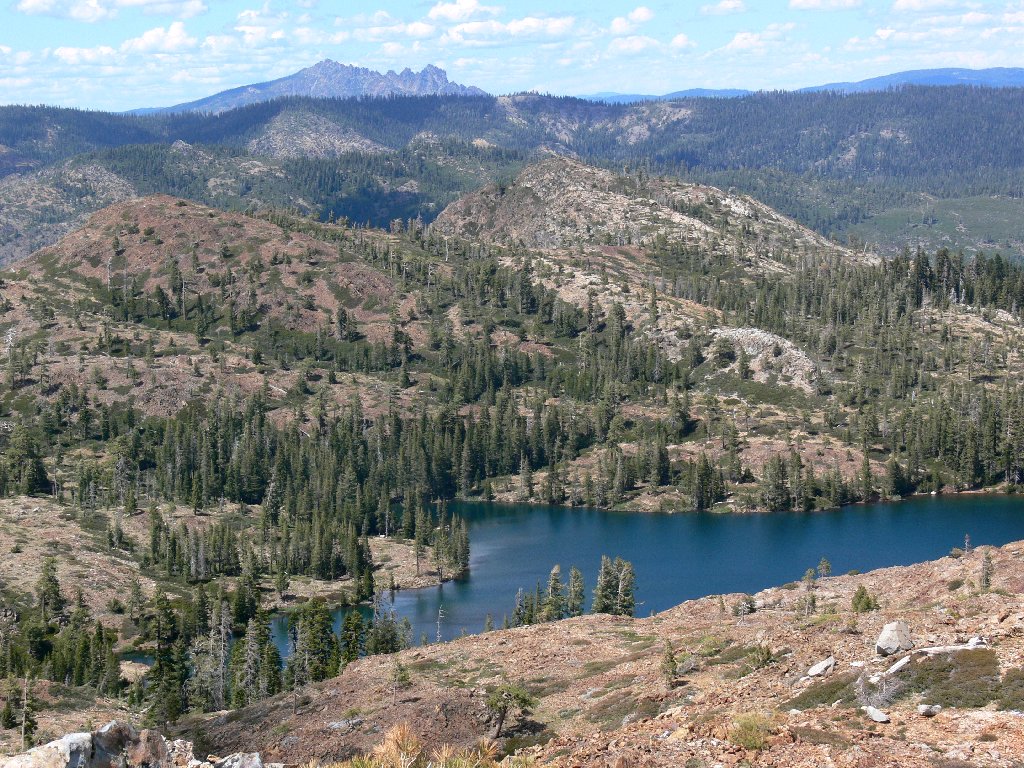 Sierra Buttes and Upper Rock Lake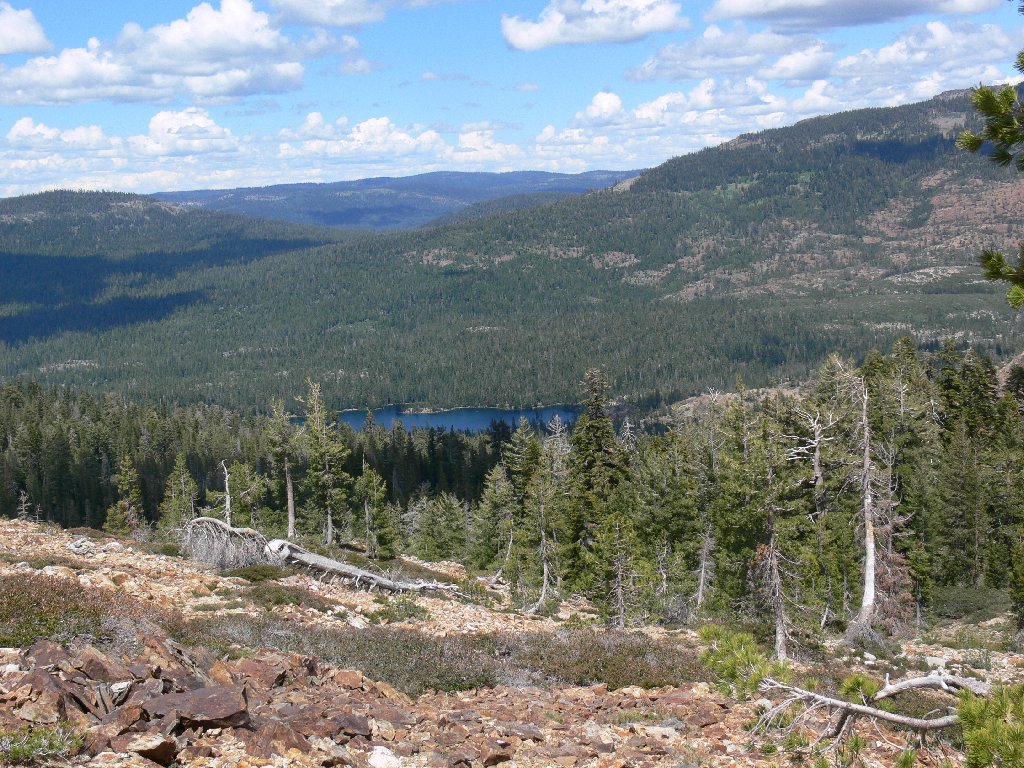 Shotgun Lake
Doubtless a simpler route was available, but negotiating the section in the photo wasn't as hairy as it might look; I found it great fun. Phil reaches the summit first, because I am busy taking pictures.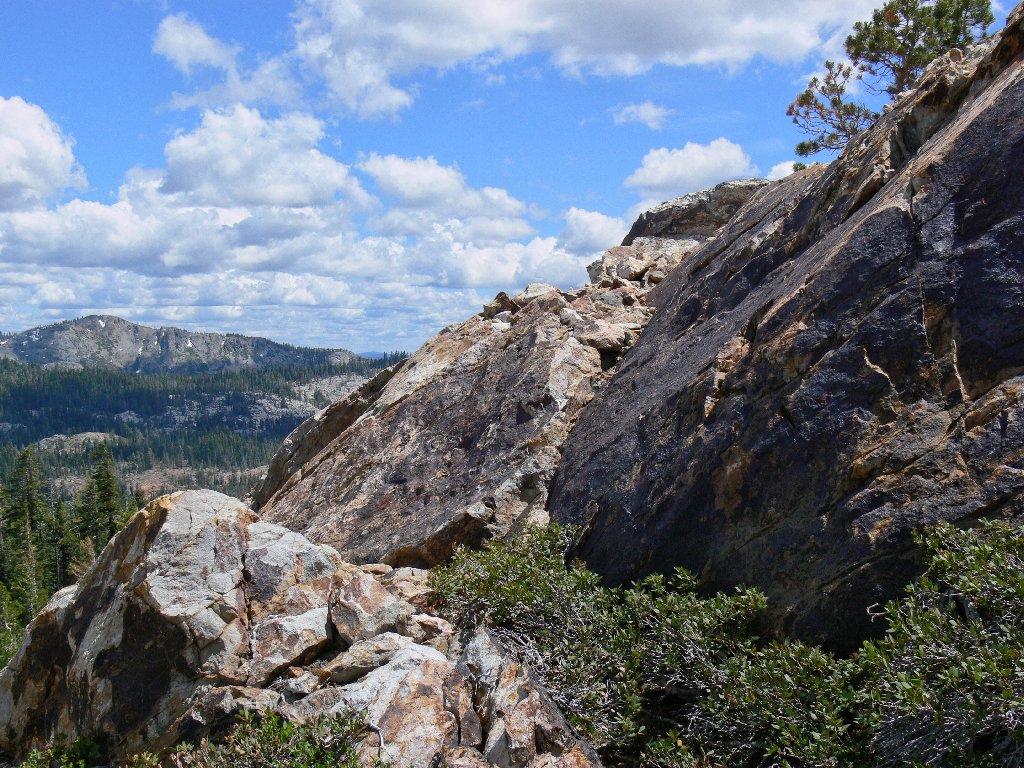 Our route up the hill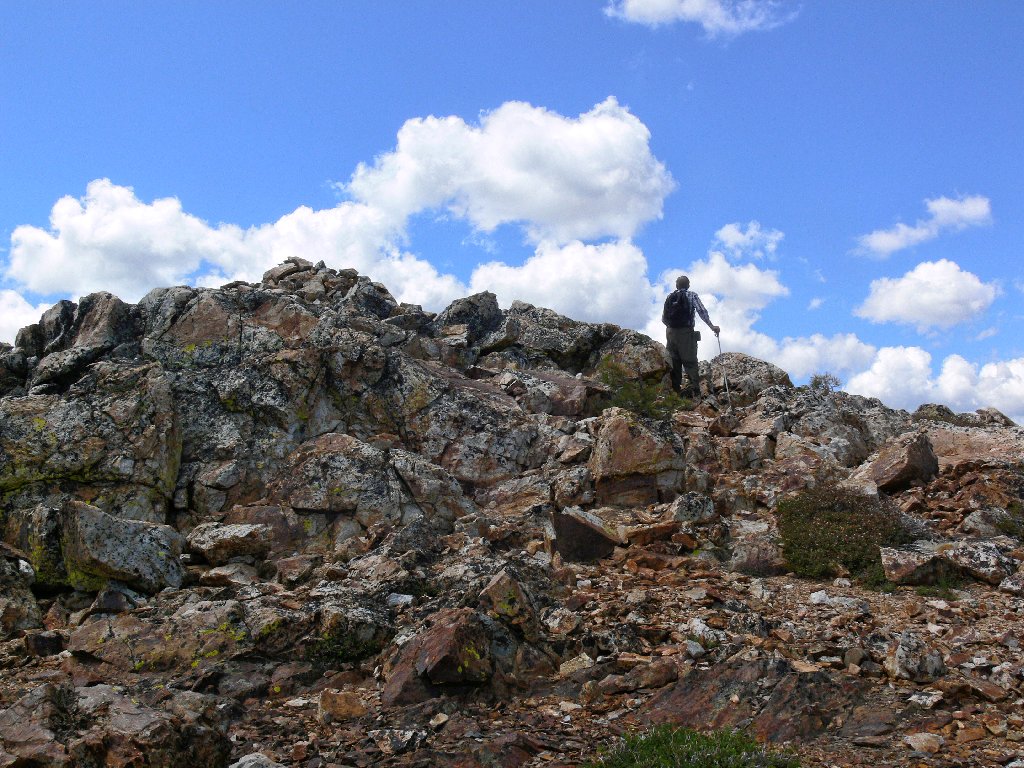 Nearly at the summit
It is glorious up here! Not only is there a 360-degree view, but this is a geologically noteworthy location as well. Phil and I happen to be standing right on the Sierra Crest, and the ridge between the two lakes below is a part of the Great Divide. Penner Lake on the left drains ultimately into the Truckee River, which flows to the Nevada desert; Culbertson Lake, some 453 feet lower, sends its waters to the Pacific Ocean by way of the South Yuba and Sacramento Rivers. These bodies reside in different worlds — so near, yet so far.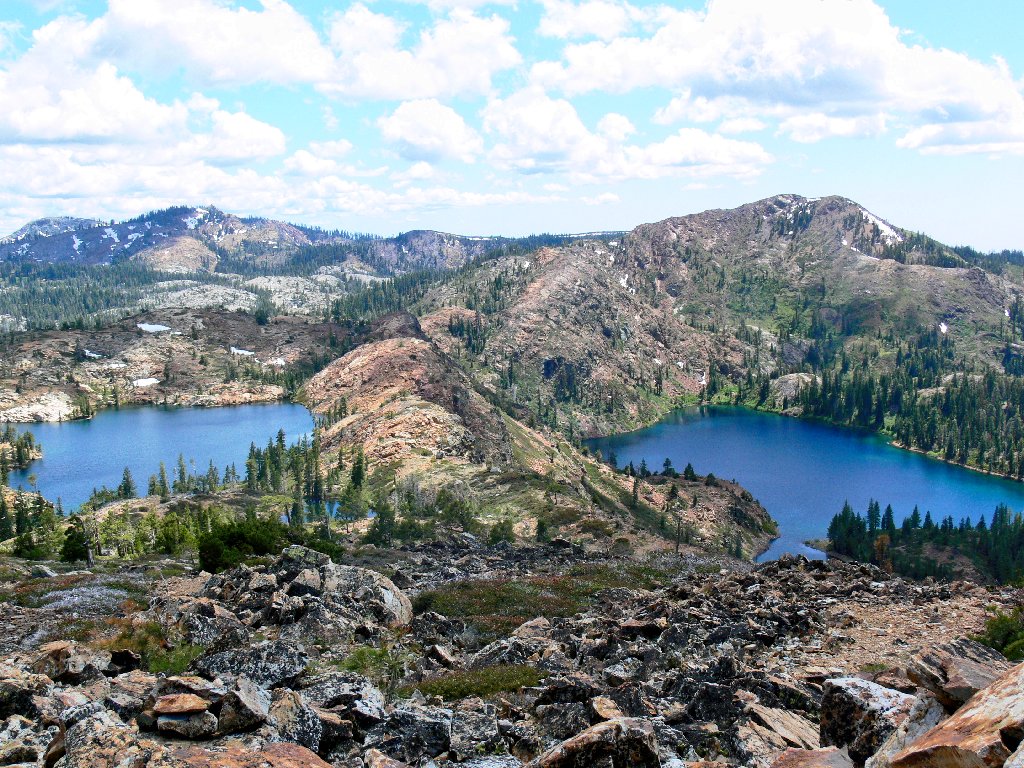 Amazing Penner and Culbertson Lakes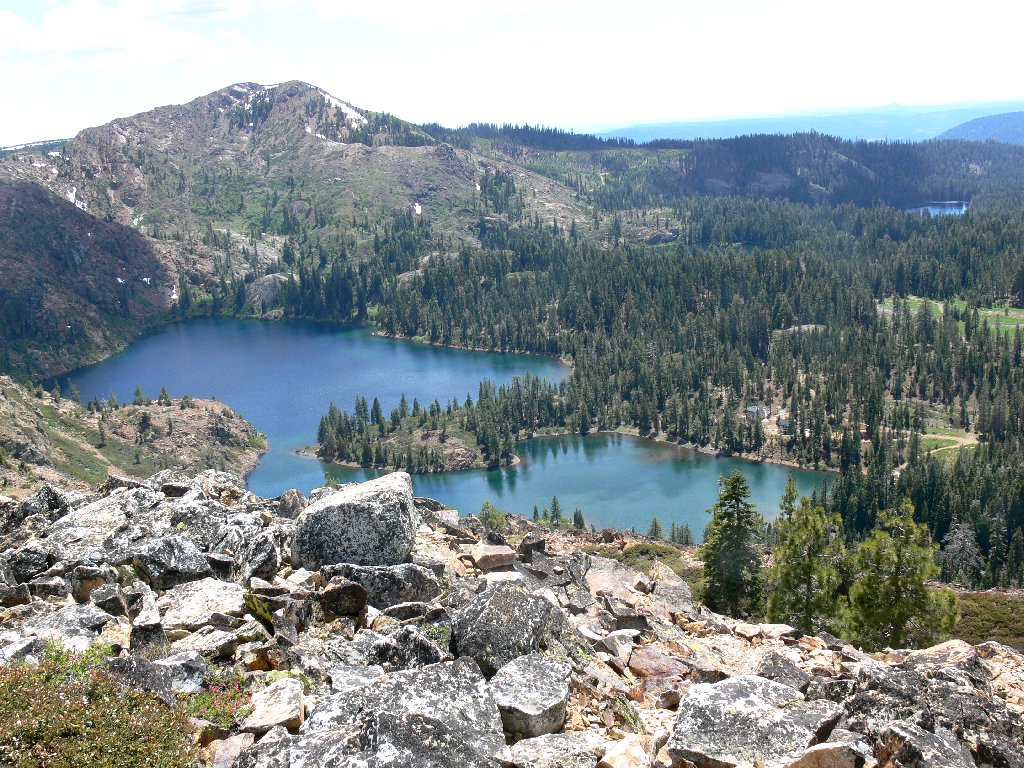 Culbertson Lake, with one of the Lindsey Lakes in the distance
A telephoto view of Sierra Buttes reveals the old fire lookout at the top, which I understand is no longer in service. Enterprising hikers are welcome, however; I resolve to ascend the scary metal staircase to that viewpoint soon. Although the distance to the mountain is less than twenty miles to a crow, it's a two-hour drive.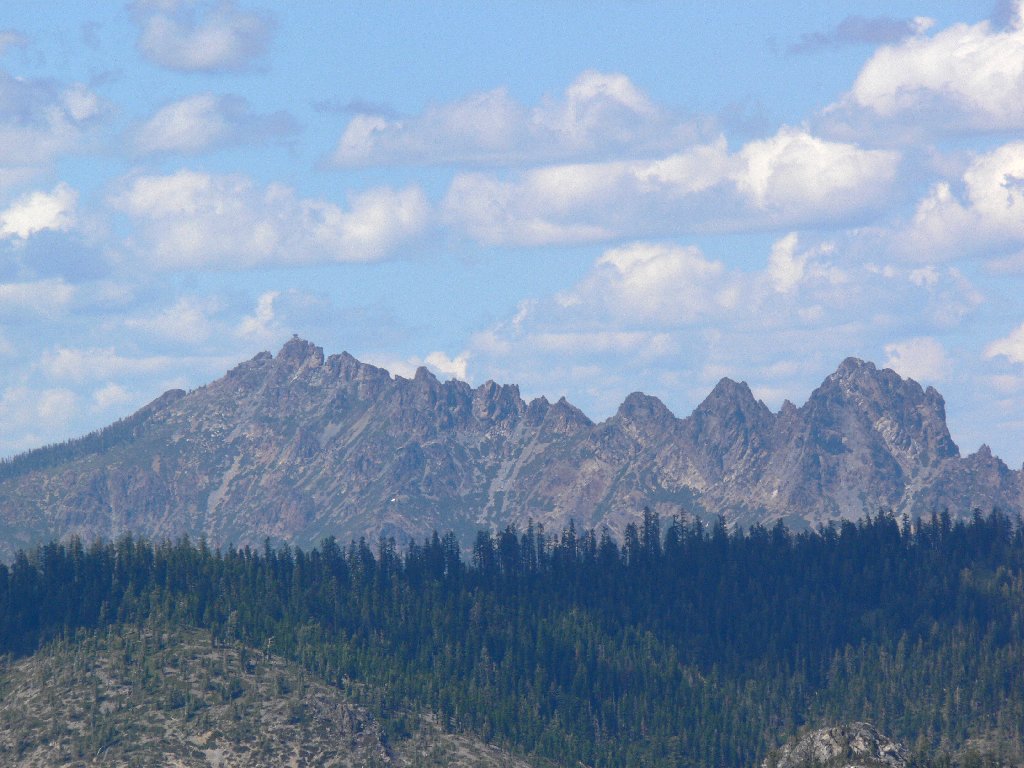 Zooming in on Sierra Buttes, 8591*
It is difficult to leave this perch, as the scenery is quite grand. At last, we scramble down the talus slope in the general direction of Penner Lake, thereby shortcutting the trail.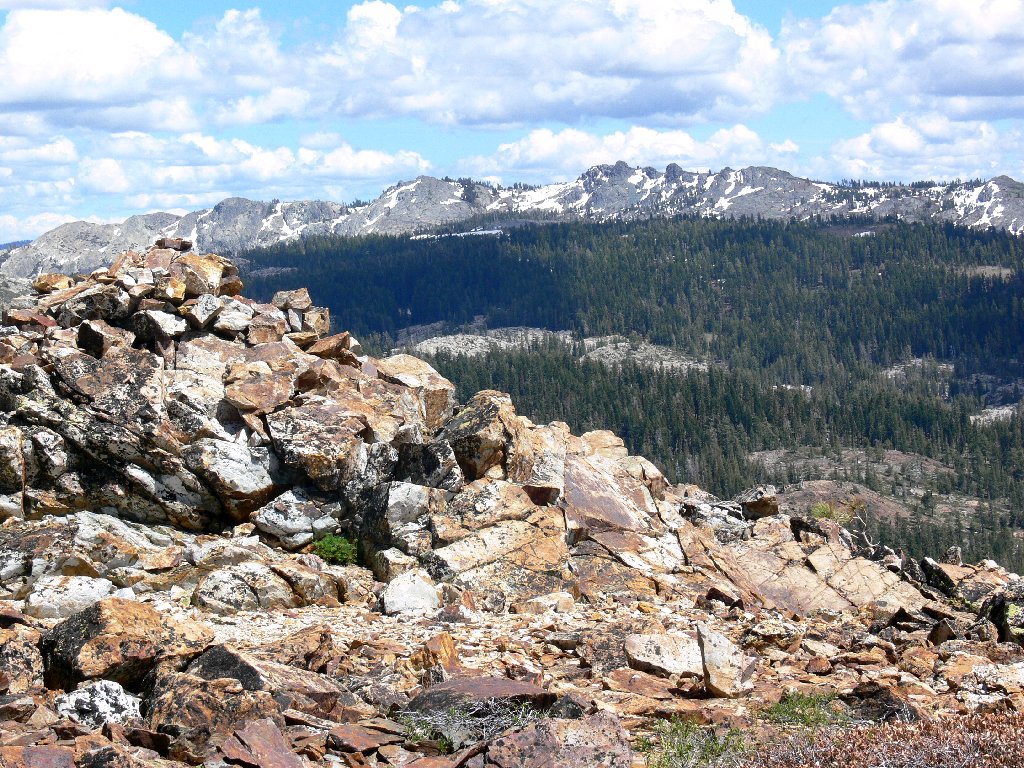 Black Buttes to the southeast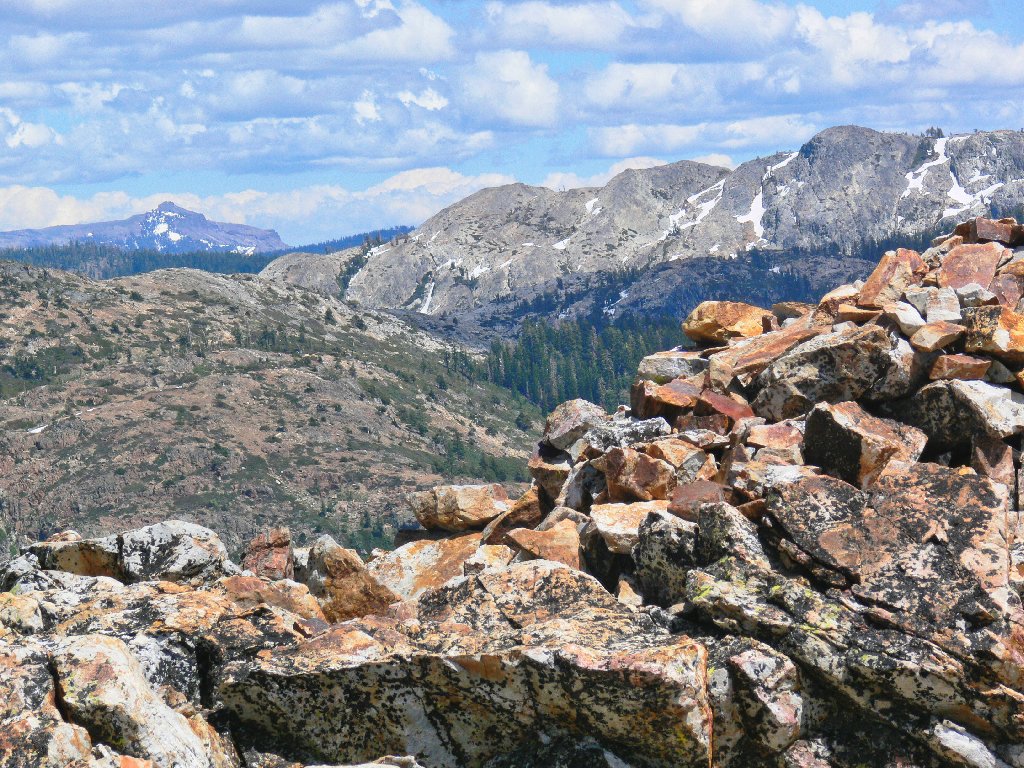 Castle Peak in the distance
A nostalgic look back at Penner Lake and our little hilltop leaves me highly satisfied with this outing.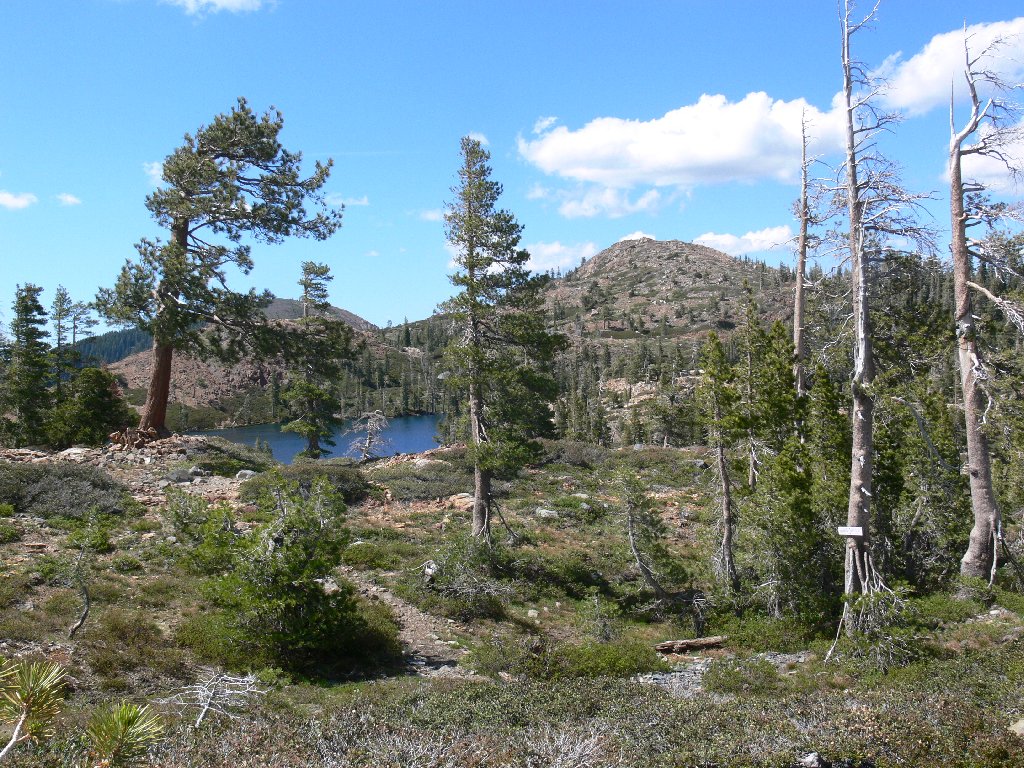 Penner Lake and Peak 7264
On the trail ahead is what appears to be a father-son duo, the only humans we have seen all day.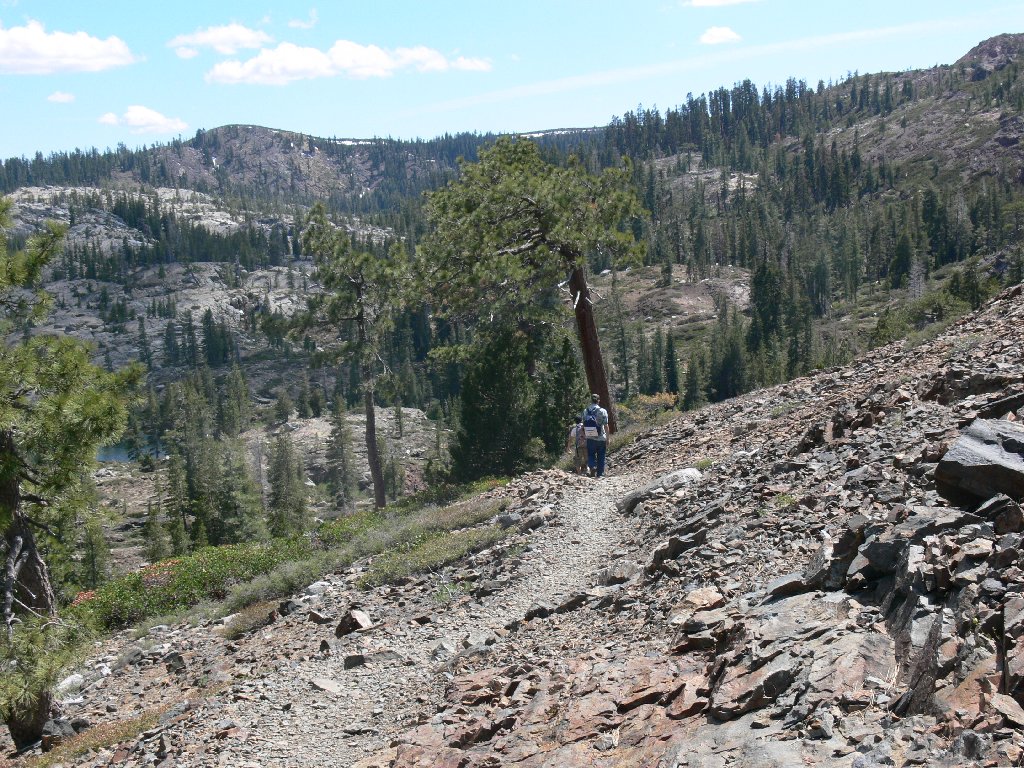 On the return
There is plenty of time to photograph what little local flora there is, because Phil is searching for a hat that he had dropped earlier. A final traverse beside Feely Lake ends our trek.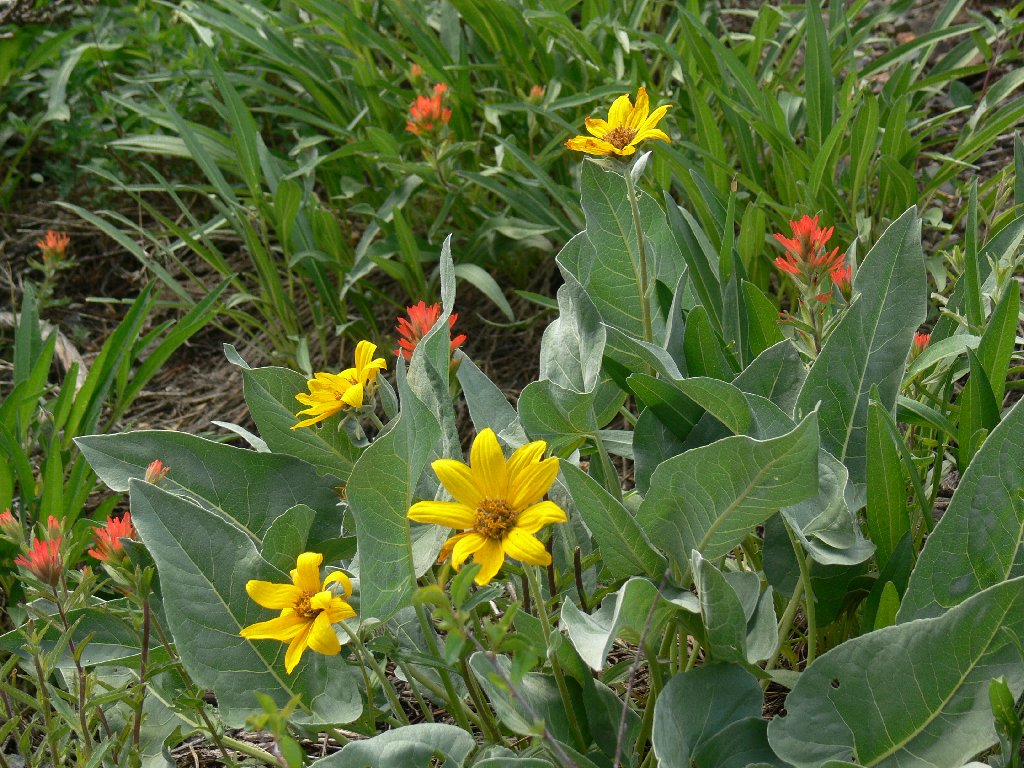 Mule Ears and Paintbrush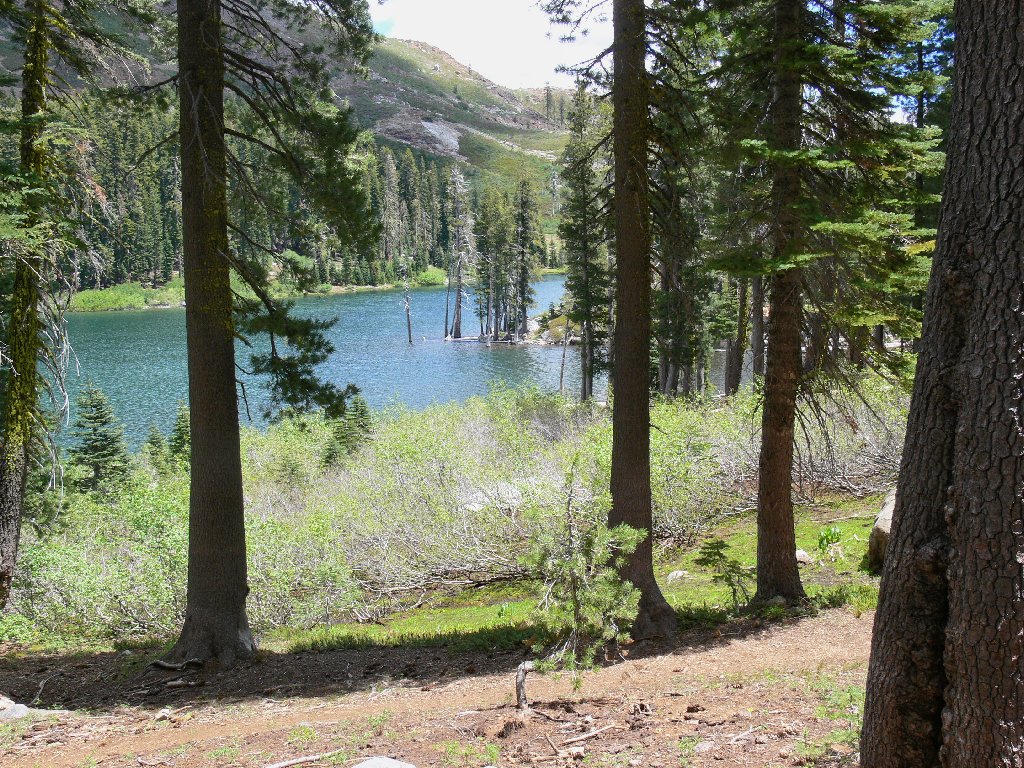 Feely Lake

§: Ted's Tip: don't even think about visiting this area without a short climb to some moderate high-point such as Peak 7264. So much scenery would otherwise be missed completely. At the very least, do scale the little ridge at the northwest corner of Penner Lake, to get a view of beautiful Culbertson Lake directly below.
For the record, Phil never did find his hat. Also for the record, it's "FEELY,", not "FEELEY" as is shown incorrectly in many trail guides, some road signs, and even on the Forest Service map. Online research reveals that Nevada County official documents, original topographic maps, and even obscure documents such as 130-year-old sepia photographs from the U.C. Berkeley Library all designate "Feely". The lake's namesake didn't change the spelling of his own surname; so there is no justification for altering the designation of the reservoir either. To their credit, contributors to Google Earth seem to have gotten it right.
Trailhead: 3 miles of bumpy road, off Bowman Road, 8½ miles north of SR-20
Distance: 7 miles, including the hilltop option
Elevation: 6720' to 7260'
Hikers encountered: 2
Rating: 6