Silver Dagger Lake
Desolation Wilderness
June 27, 2007
The big forest fire on Angora Ridge near South Lake Tahoe reportedly is 40% contained and is projected to be fully under control in six days. That's pretty good, I suppose, considering that the conditions for this holocaust have been developing for 150 years. With some trepidation I drive up the hill to Wrights Lake, which is barely ten crow-flies miles from the conflagration. My enterprise is rewarded, however; the sky is nice and blue, and the air does not smell of smoke. In contrast to my Mount Lola excursion two days ago, there is no indication that anything is amiss on the far side of the Sierra crest.
Last September, all the creeks were dry in this area. That made for a disappointing trek, because I know how special it can be here when the waters are flowing. As last winter's precipitation in this region was only half of normal, it seems prudent to visit now before it is too late.
The Twin Lakes Trail begins modestly enough as a stroll along the lush lakeside. A few big flies are around, but they soon disappear. A horde of mosquitoes is hanging around at the wilderness boundary; an application of repellent sends them scurrying down to Wrights Lake to regroup and await my return.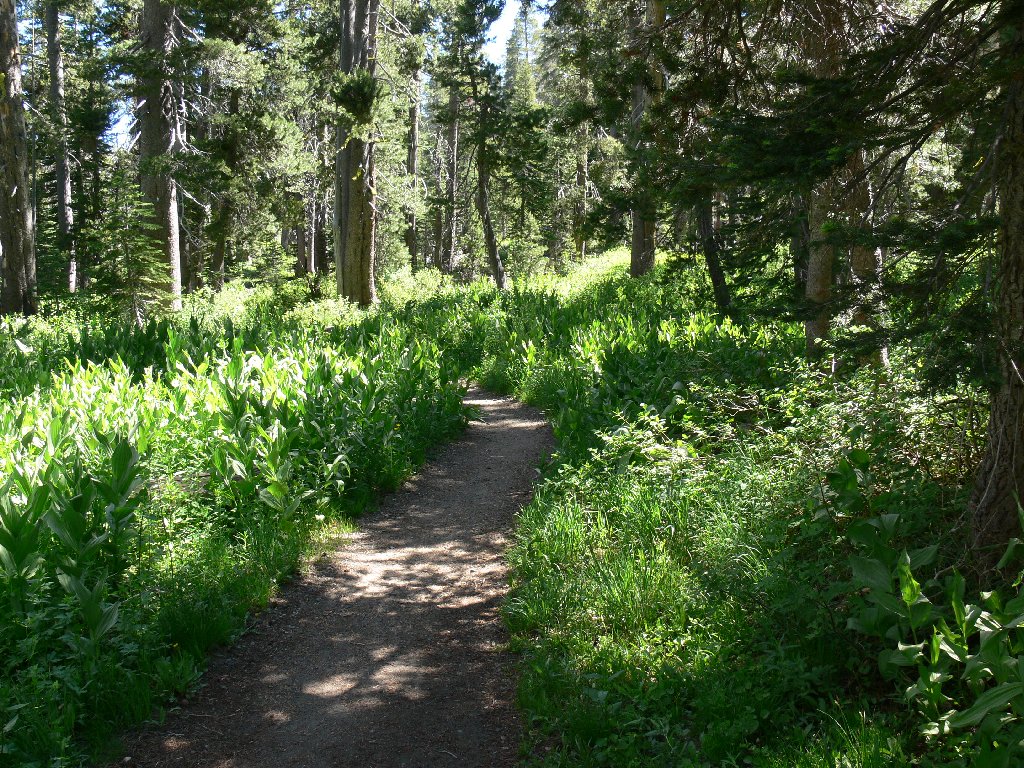 Wrights Lake environs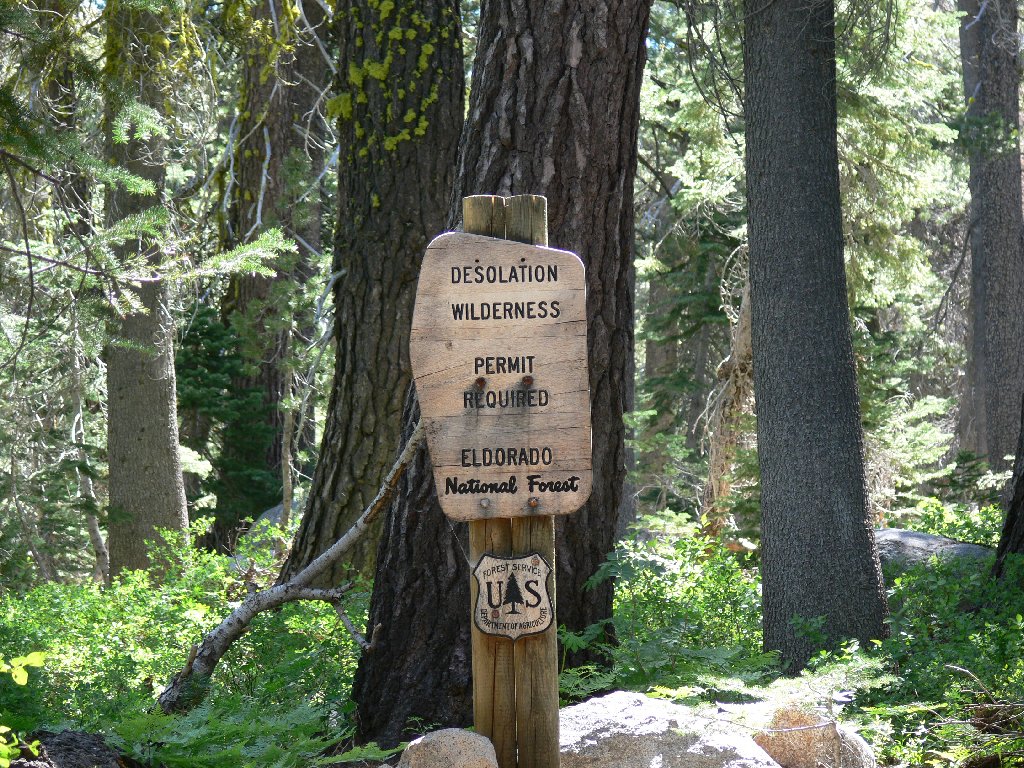 This place is anything but desolate
Although Wrights Lake already is more than a mile away and I am halfway to Twin Lakes, the fun is just beginning. In every direction, northern checkerspot butterflies are frolicking among the yellow daisies. Attempts to capture their antics on film are but moderately successful.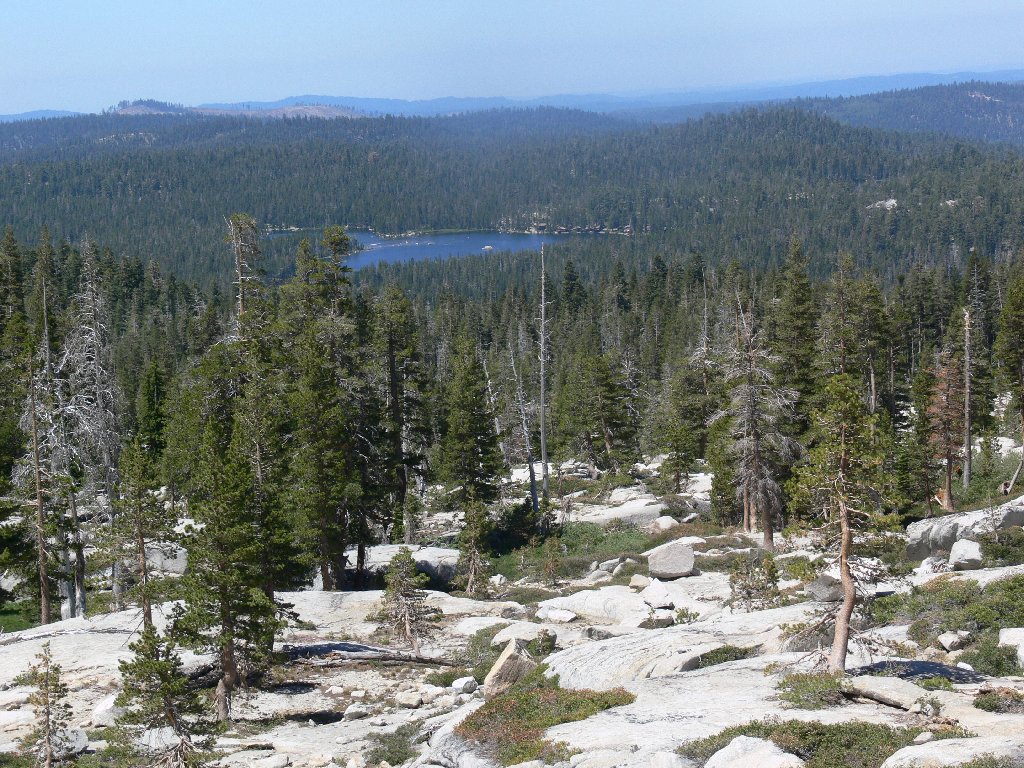 Wrights Lake to the west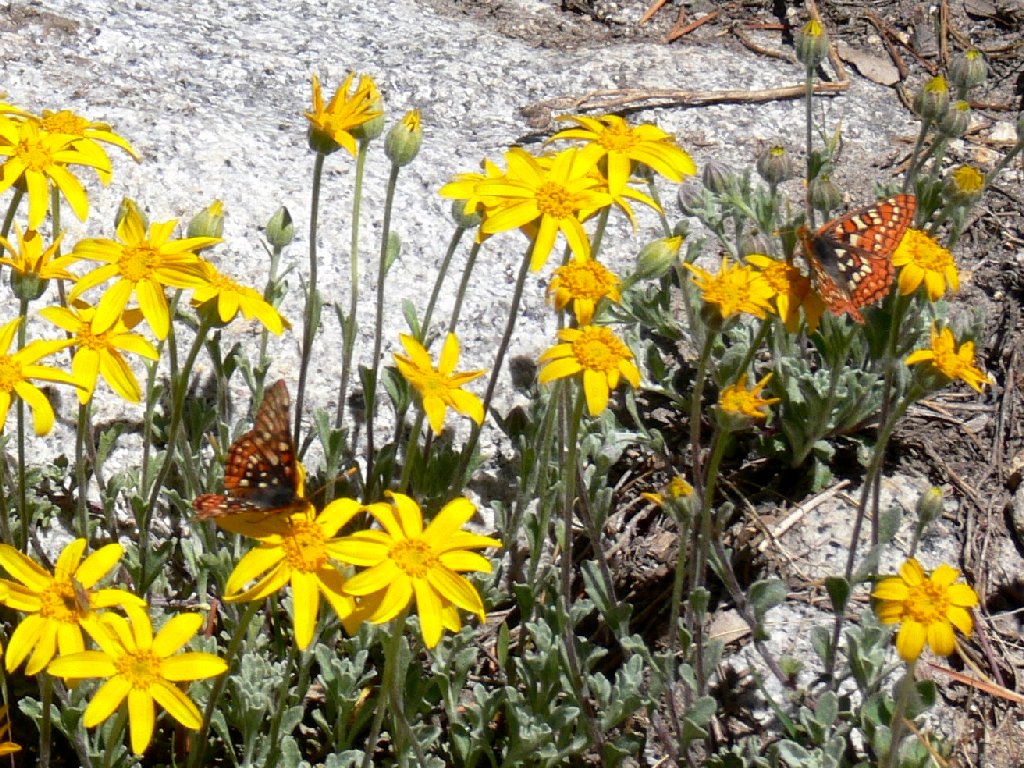 What a life!
The trail crosses the Smith Lake drainage and heads north. Electing to follow the creek eastward proves not to be such a great choice, because soon it is necessary to scale a talus slope to a high point in order to get some bearings. A panorama of the Twin Lakes basin unfolds below. On the other side of what locals call the Gray Wall is Desolation Valley itself. Someday I must make the 650-foot ascent and peek down. Doubtless the views of Clyde Lake and Lake Aloha would be quite something.
It proves necessary to scramble carefully down another 200 feet of rock pile to reconnect with the trail. Looking back at the slope, I marvel at how much extra work I sometimes create for myself. Oh well, it's all in the name of exploration.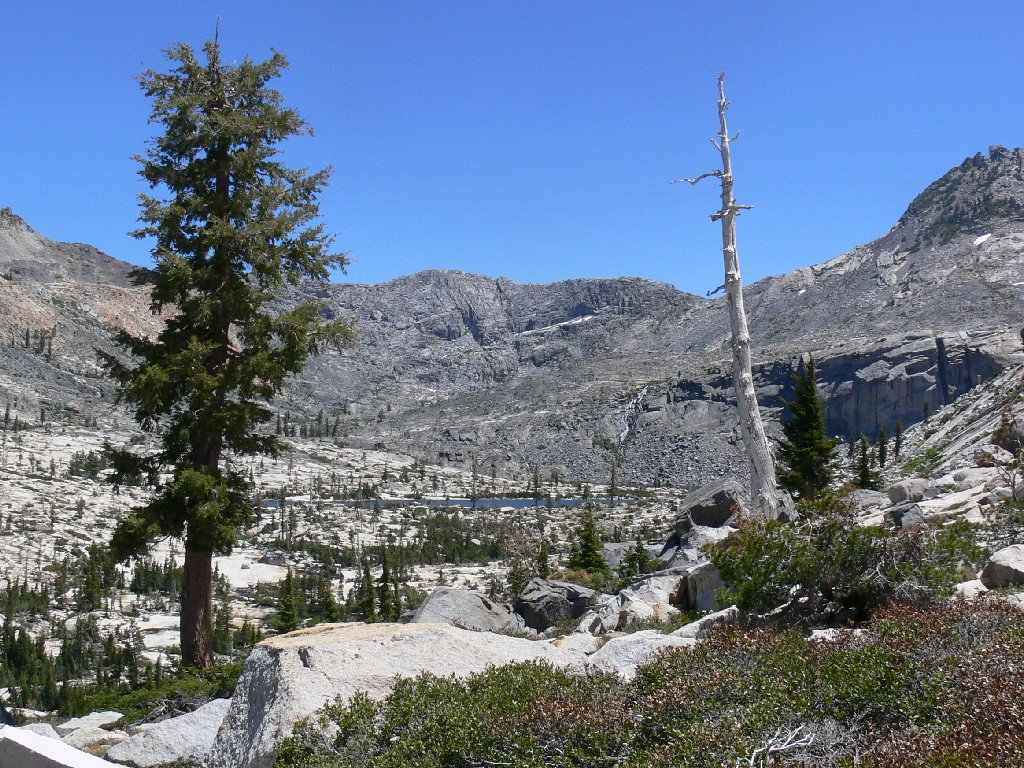 Twin Lakes and the Sierra crest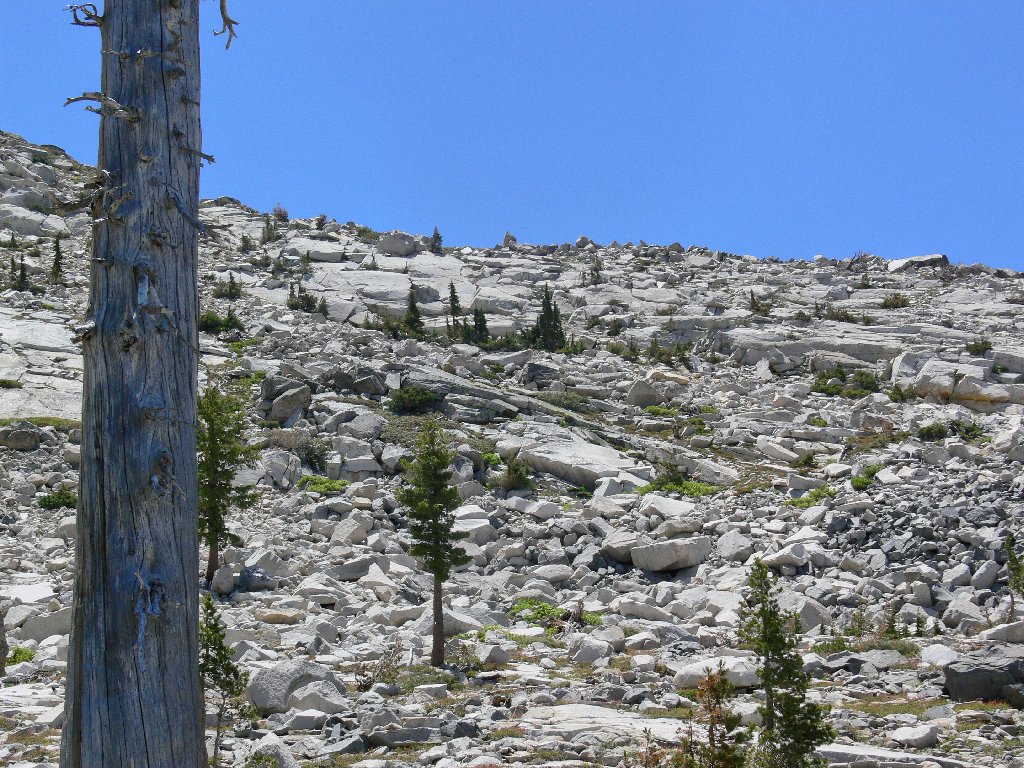 Not the easiest route
From here it is a short distance to the meadow, which features some ponds on a bigger creek which drains the entire cirque. At some point a familiar, yet indescribable, feeling overcomes me; it is the realization that I have entered a garden paradise.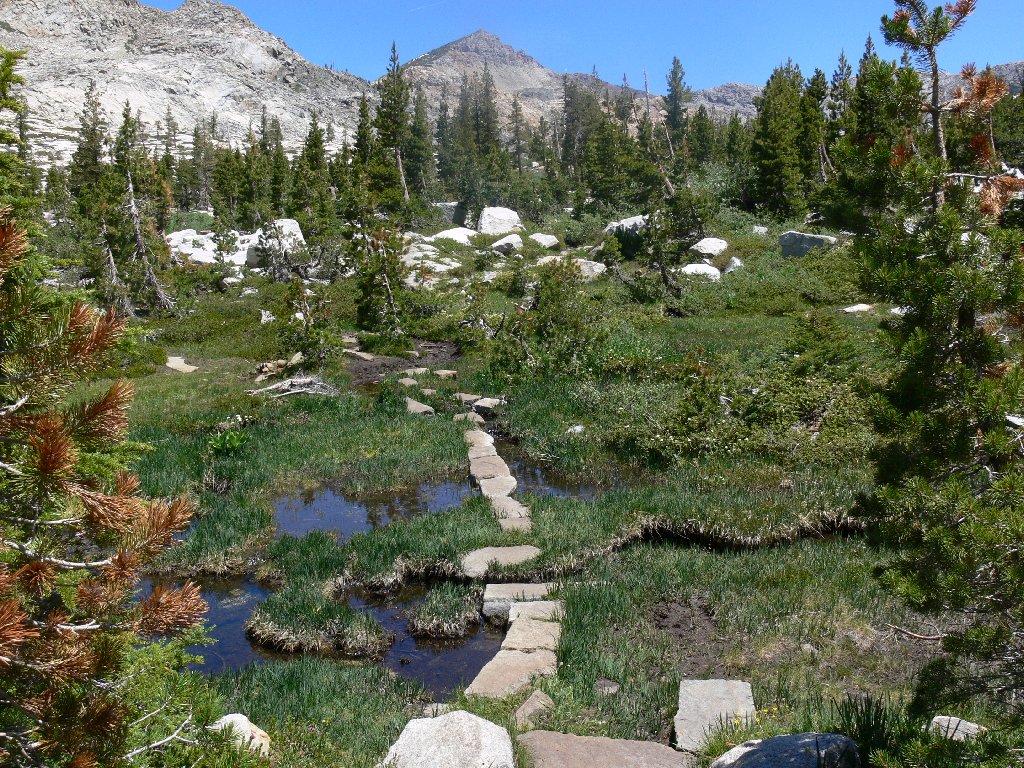 Gateway to nirvana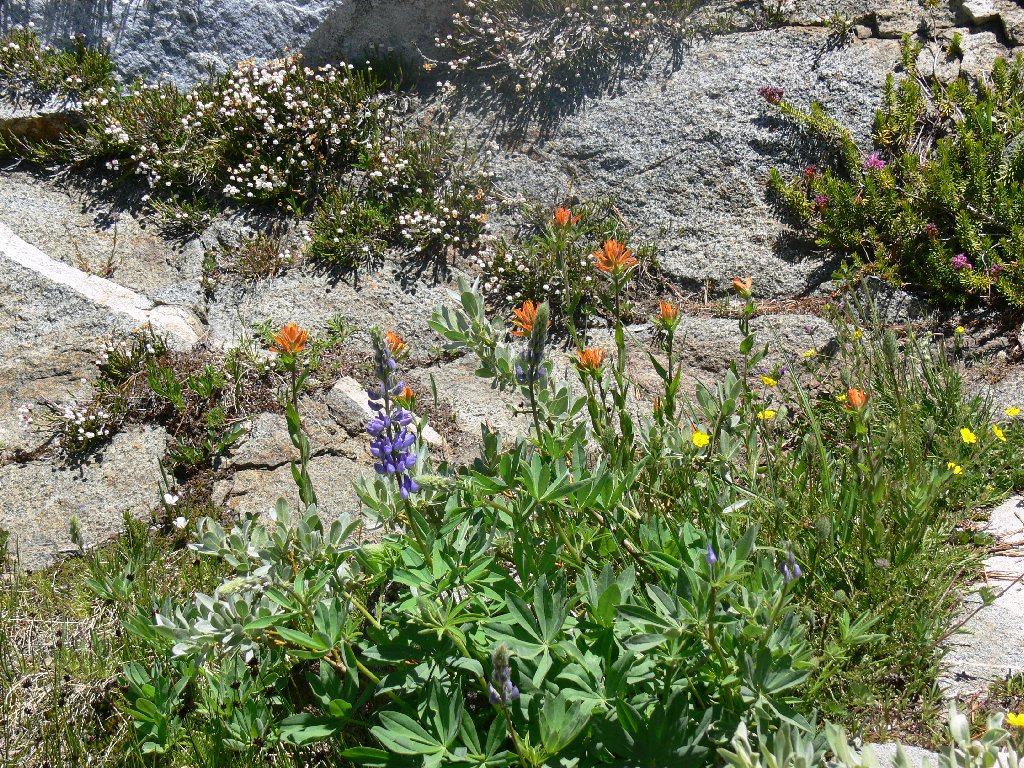 Typical garden scene
Both red and white mountain heather are everywhere, and the lupine and paintbrush are out in force as usual. Little Pyramid Peak in the background is looking as photogenic as ever. Several marmots scurry about, and within a few minutes I am at the shore of Twin Lakes. A tricky creek crossing necessitates using the jutting end of a dead tree as a springboard to the nearest dry rock.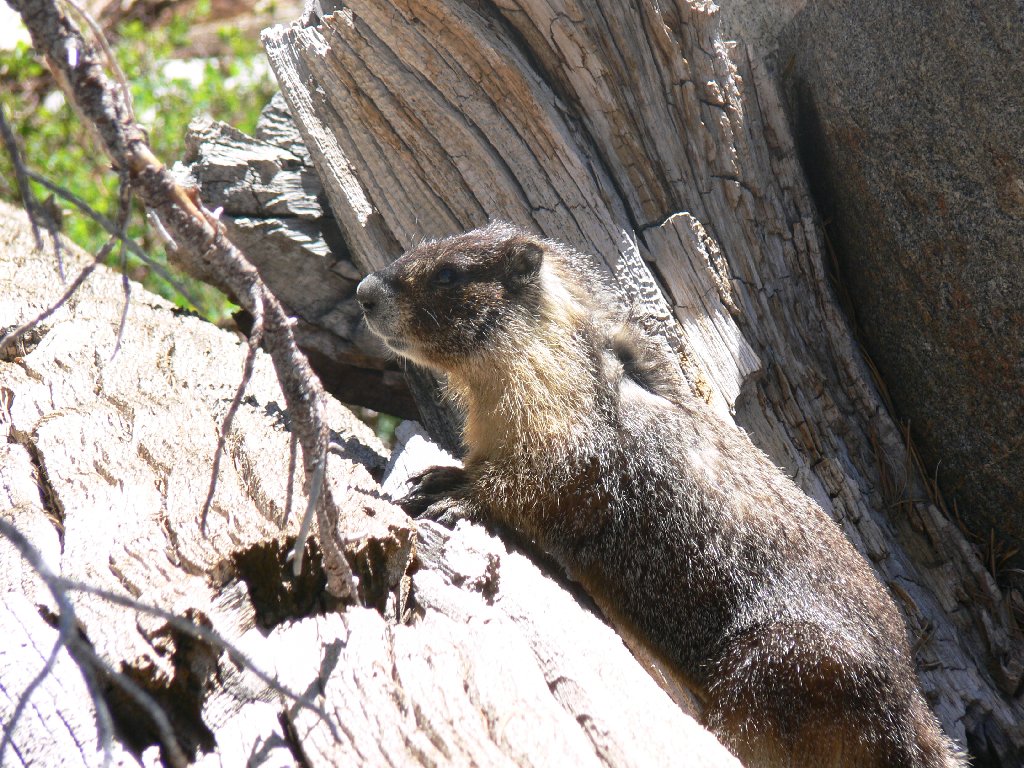 A furry friend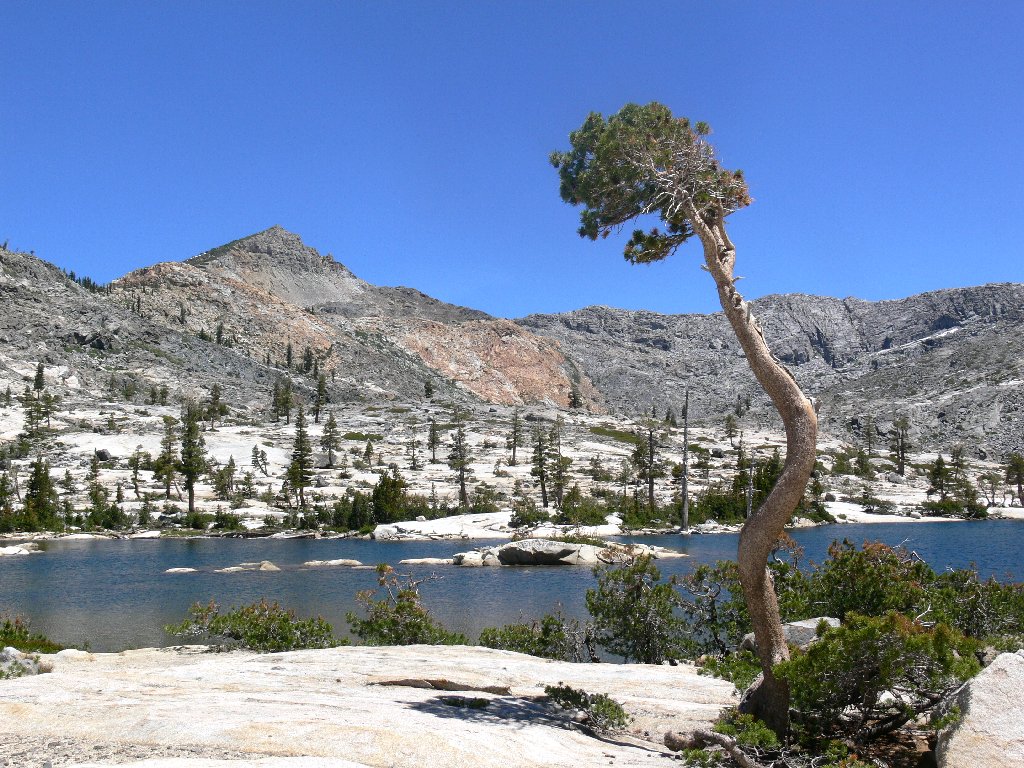 Twin Lakes and Little Pyramid Peak, 9441'

Just barely passable without getting wet
From here there is a chain of tiny lakes. Just after passing a giant cairn assuring me that I am not lost, I leave the trail to head directly toward the big cascade for a photo. The falls have been noisier and more voluminous in wetter times; but as long as water is flowing, all is well.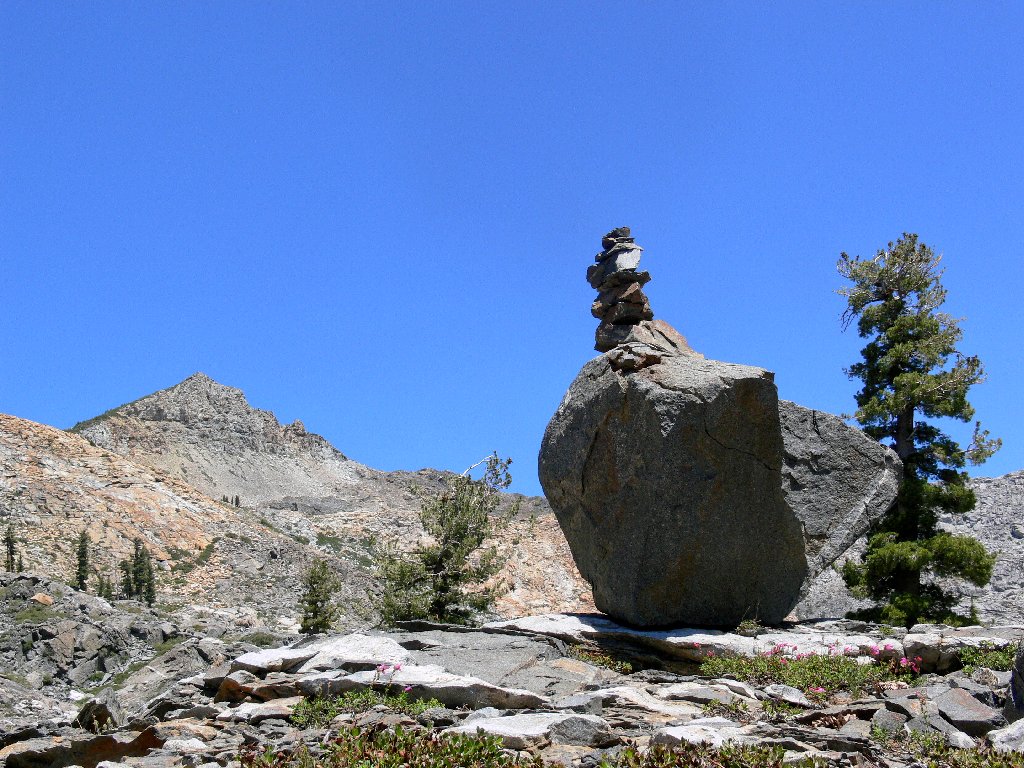 No chance of losing the trail here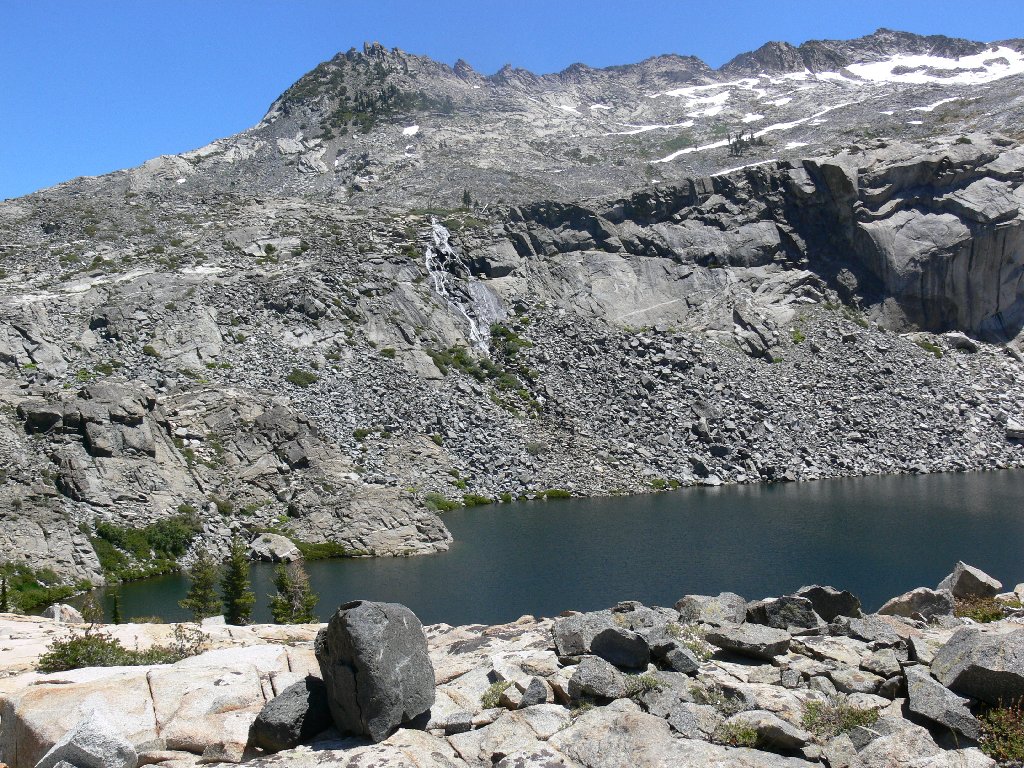 The cascade above Upper Twin Lake
The geology of this area is especially evident, including stuff right on the trail. There is a great variety of rock strata here. I wish I were more knowledgeable on this topic.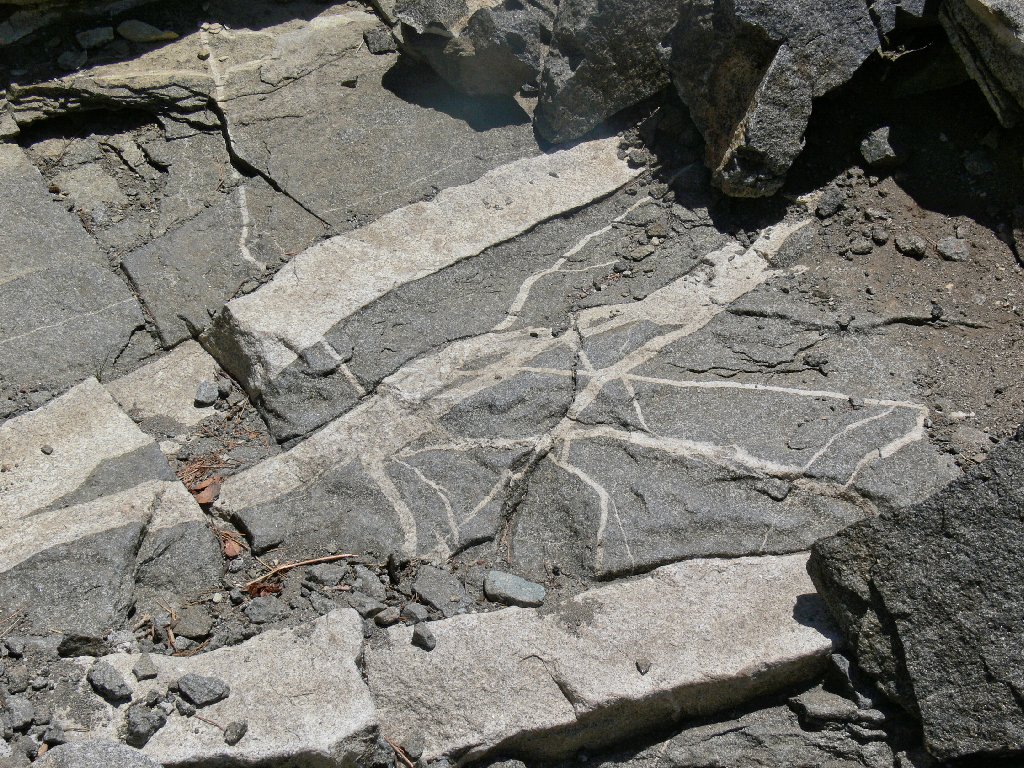 Amazing geology at my feet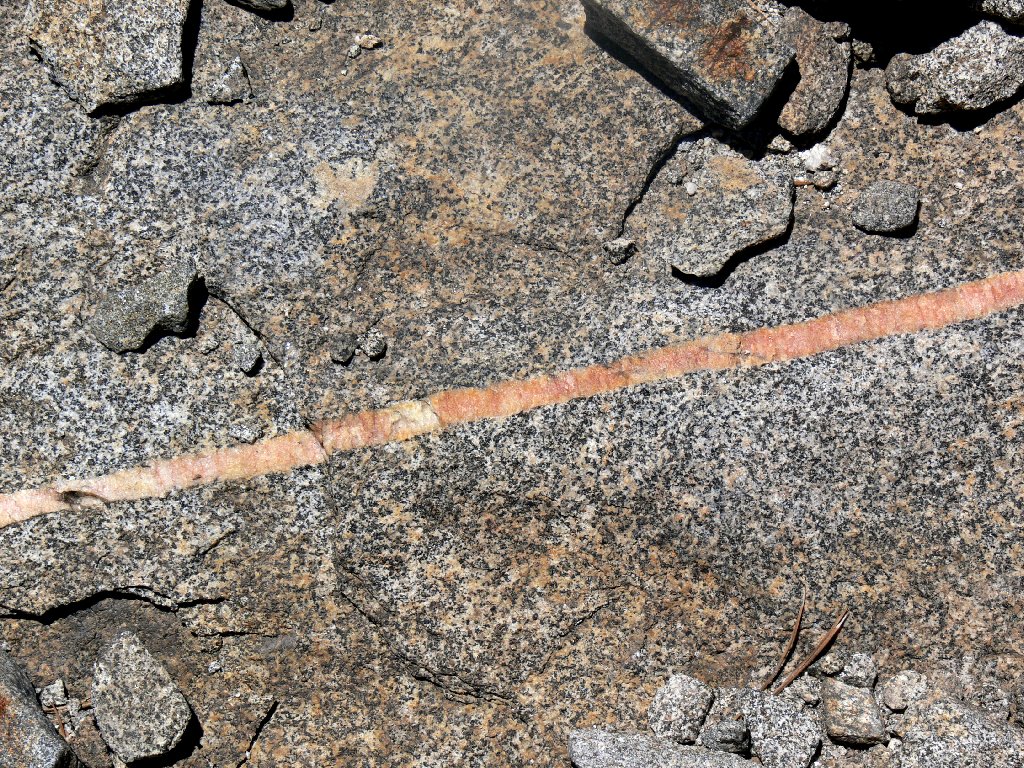 Dikes come in a variety of colors
Veering left takes me to the western edge of Island Lake, with the remains of a glacier hanging above at the apex of the Crystal Range. The amazing summit block on the high point above is unnamed, yet certainly is worthy of a closer view; but this stop is brief, as it is not the final destination. Proceeding directly toward the slanted snow bank across the way, I happen to know that it is a stairway to one of the most precious spots in the northern Sierra.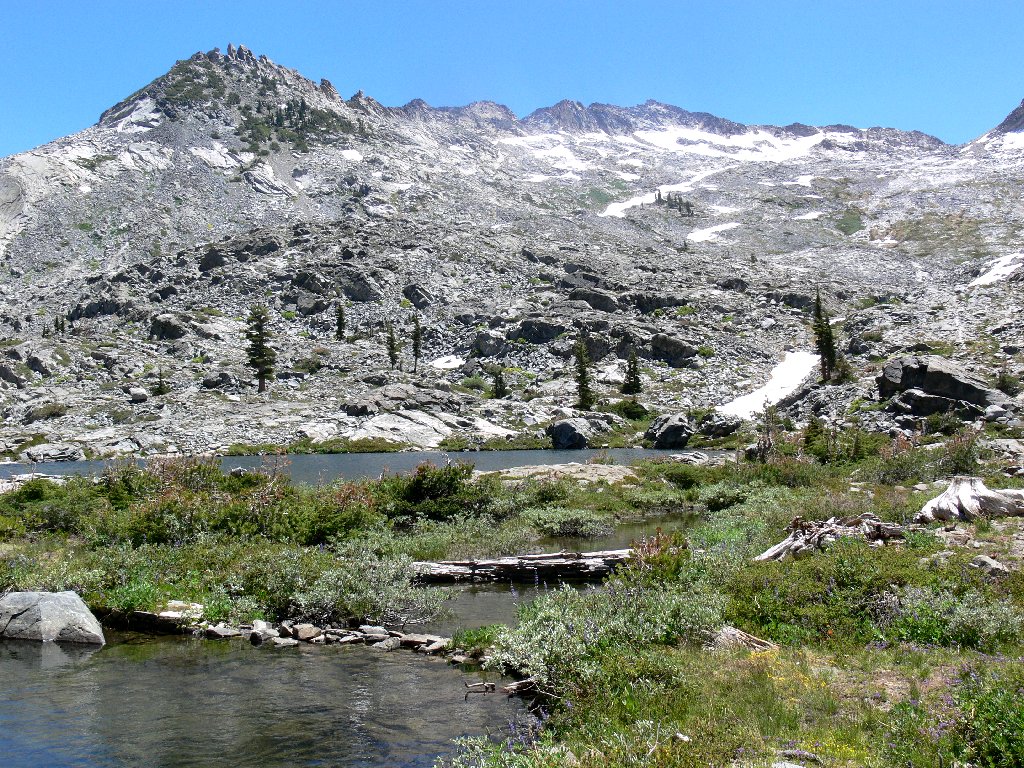 Island Lake and the Crystal Range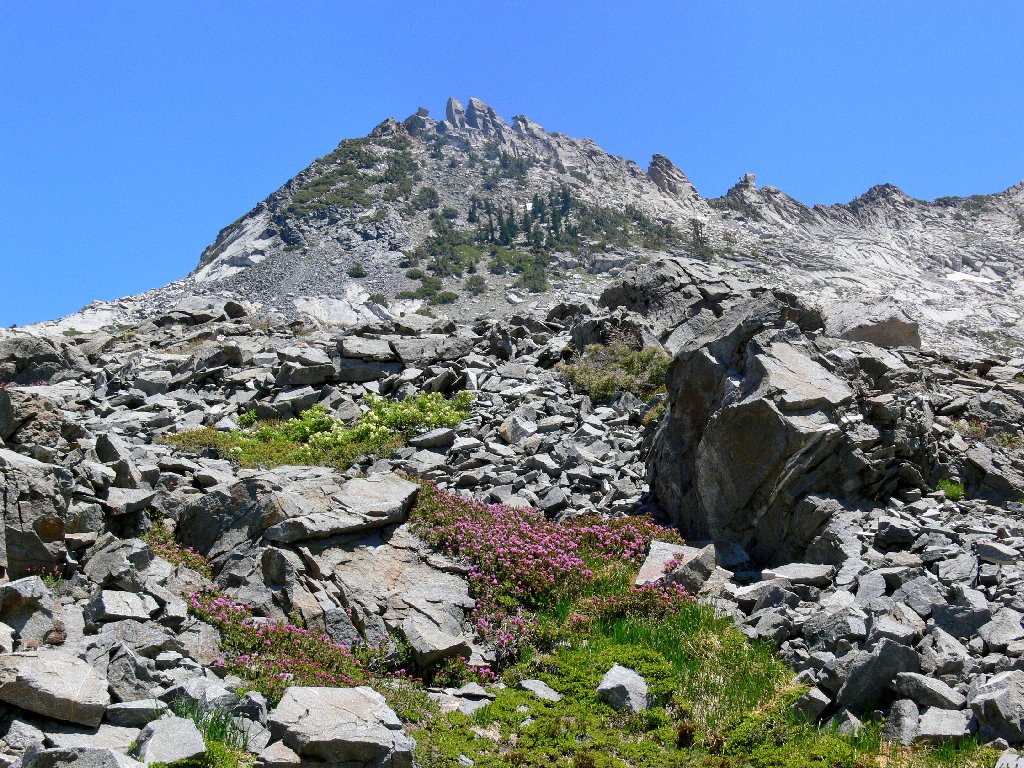 Spectacular Peak 9438 actually is considered the northern shoulder of Mount Price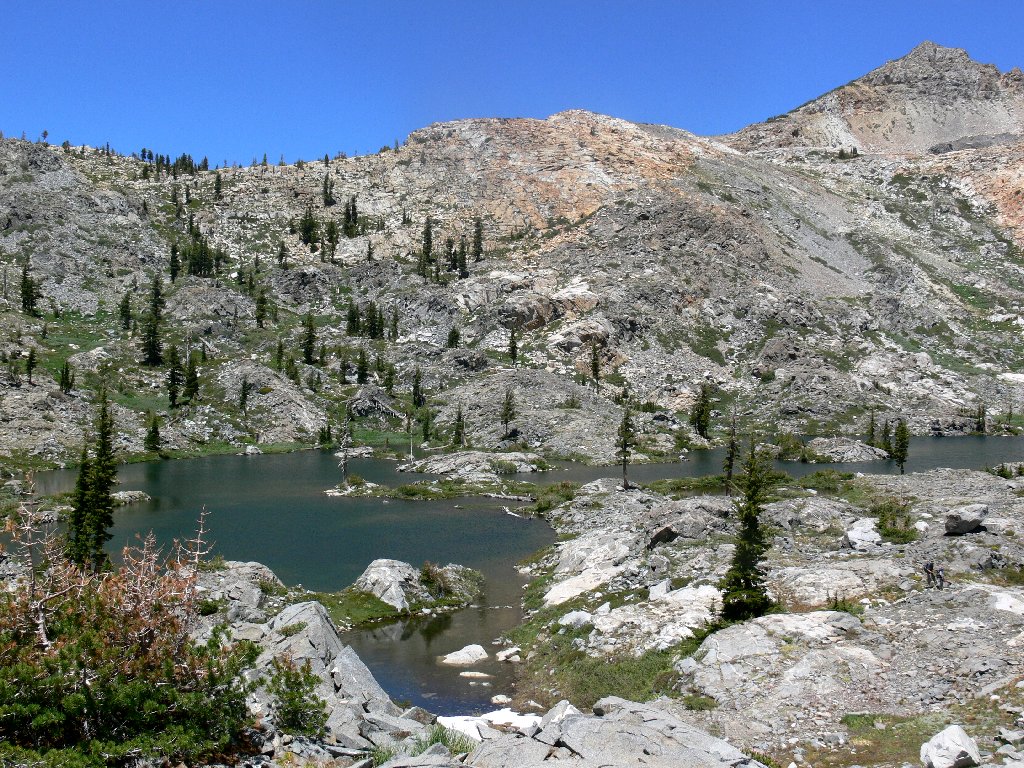 Island Lake and Little Pyramid
Silver Dagger Lake, so named by some writer for its shape, is a rare gem. There is no reference to this body of water in most hiking guides that feature this area. So seemingly secret is the tarn that it doesn't even appear on some maps. It's my guess that the majority of visitors to Island Lake return home unaware that they were but a few steps from the prettiest place they never saw.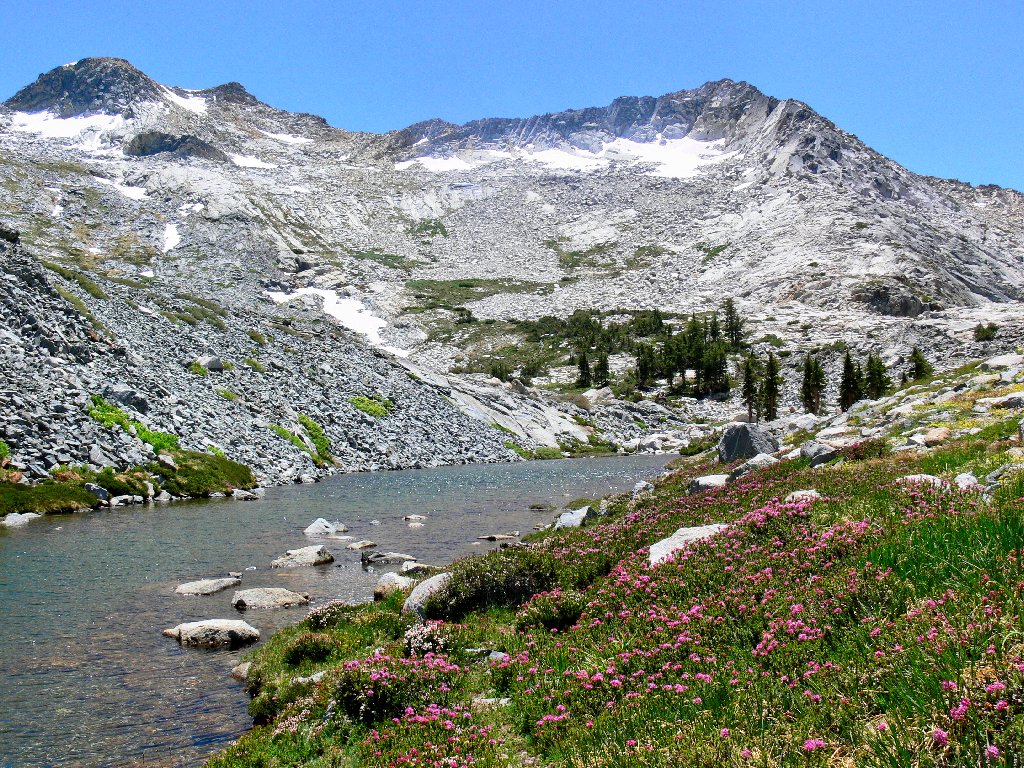 Silver Dagger Lake, looking south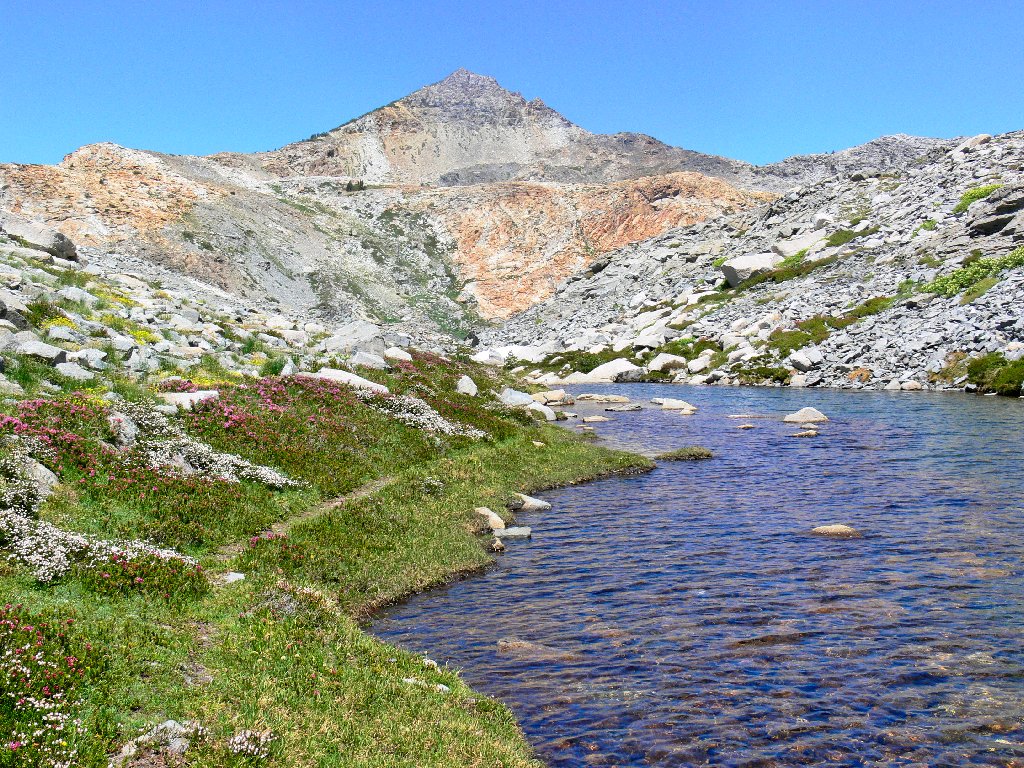 Silver Dagger Lake, looking north
I tread gingerly along the delicate shoreline trail so as not to disturb the gorgeous red and white mountain heather. The view northward provides something of an optical illusion. Island Lake actually lies down and out of sight between this lake and the orange slope!
A mere hundred feet downstream is a small round pond that just happens to lie right at the top of the big cascade! Walking over to the edge of the cliff provides a sterling view of Twin Lakes, together with a not-so-great reminder of Sacramento Valley smog.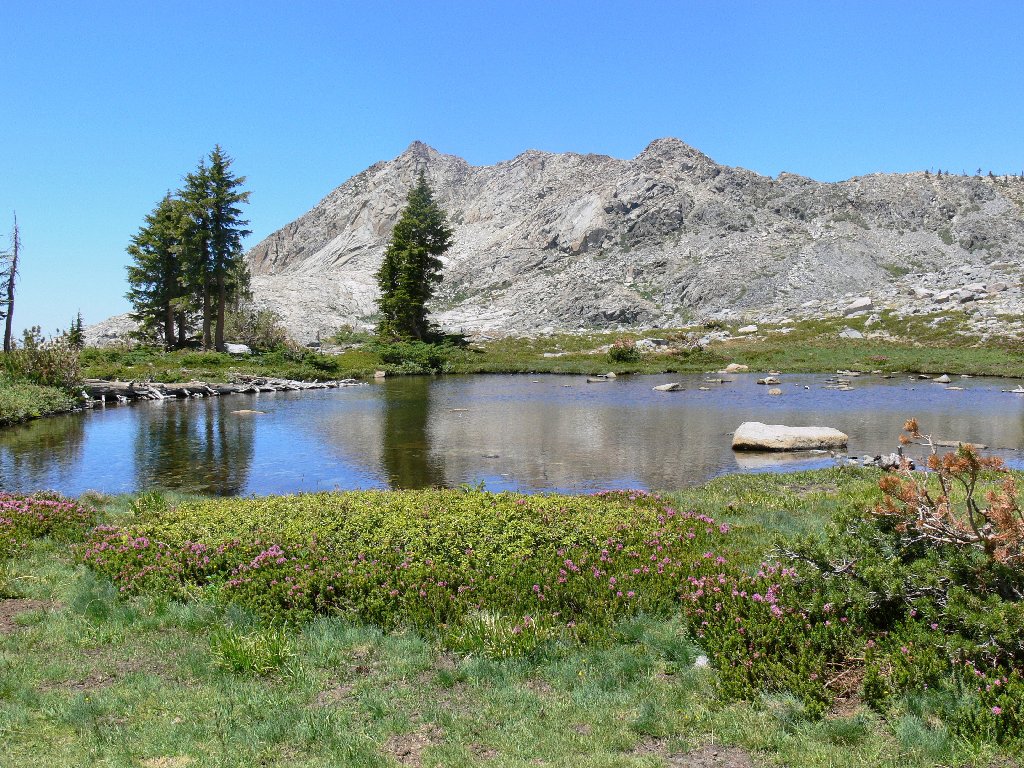 At the top of the waterfall, with Peak 8925 behind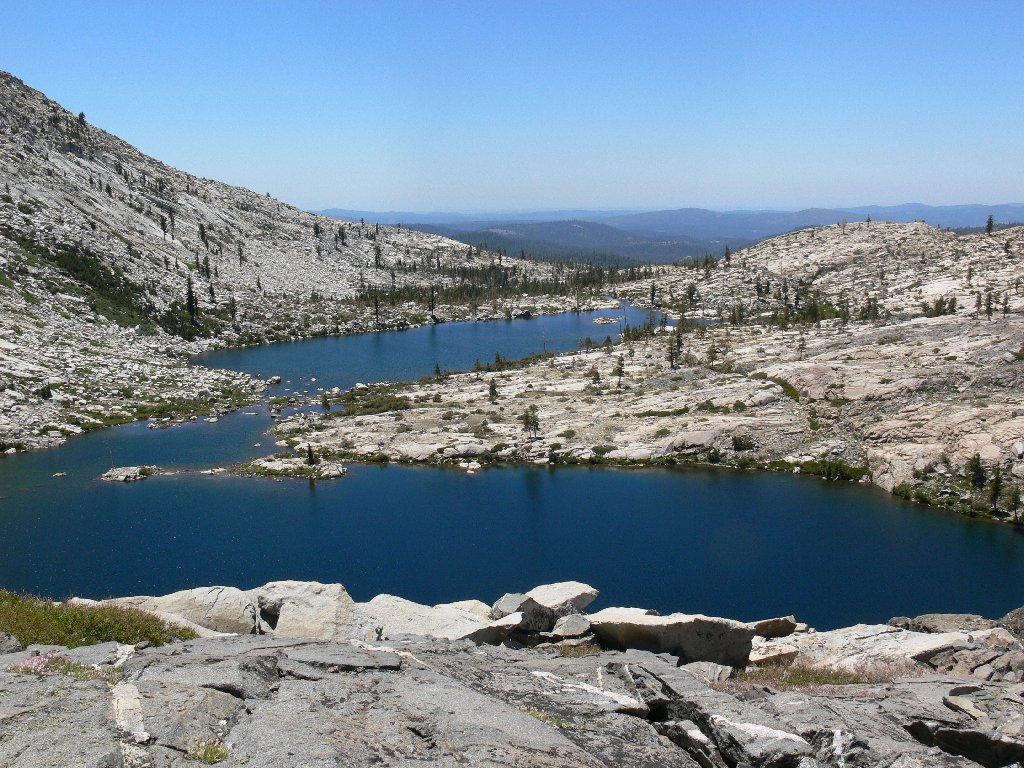 Twin Lakes
It is necessary to scramble down the rock slope in order to view the falls. Having come this far, I decide to clamber down the rest of the way toward the trail, saving some mileage in the process. After the first fifty feet or so of drop, the going is easy. A creek crossing and a hillside climb achieve a vantage point for a good look back at the cascade.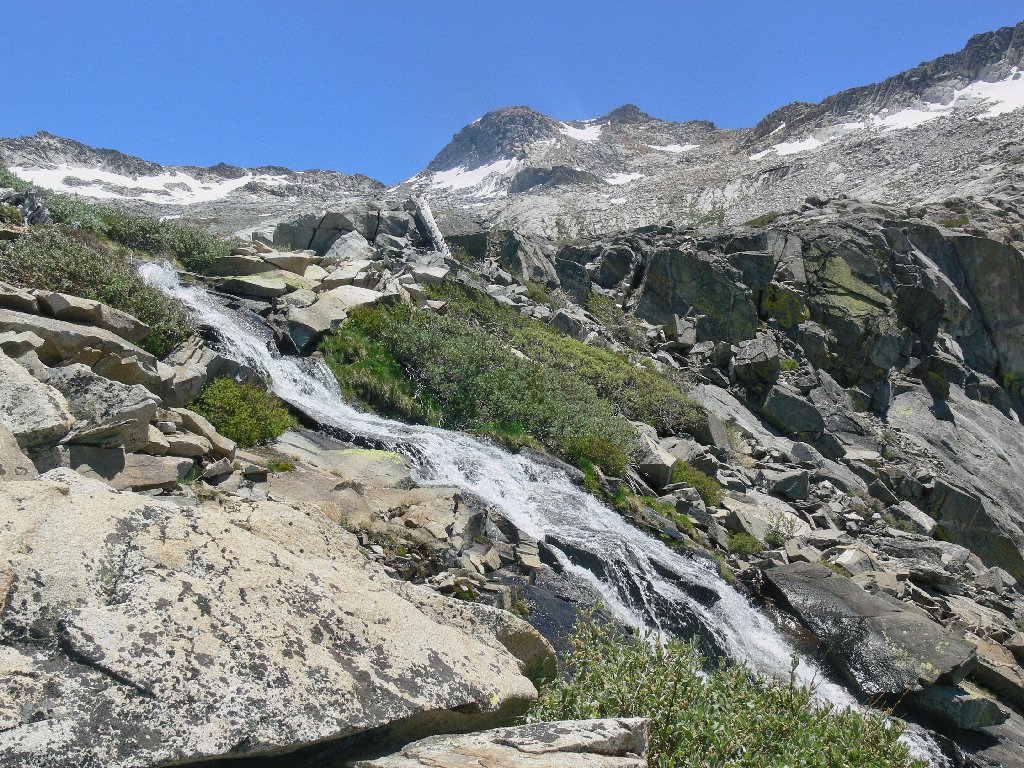 Beside the cascade, with Peak 9656 above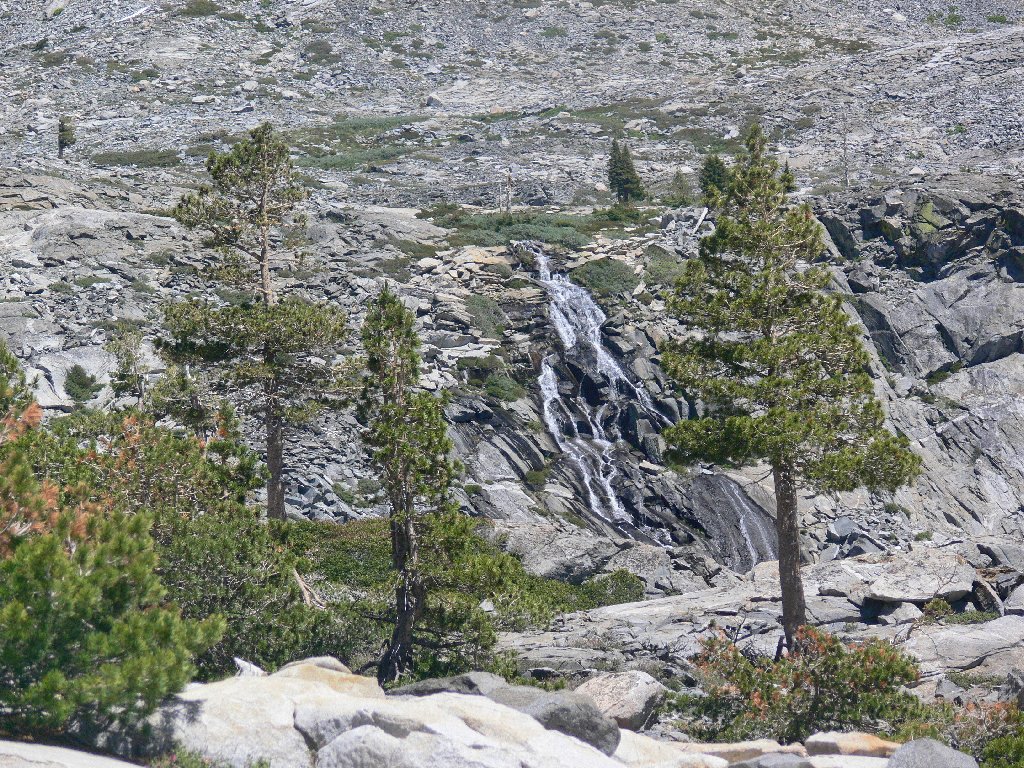 Last view of the falls
A sudden feeling of dismay overcomes me, as I realize that my walking stick is missing! Scouring my brain for an image of when it was last used, I cannot recall having it even as far back as the cross-country venture on the other side of the meadow. I have been without my stick for two hours, and it wasn't even missed. Go figure.
It must have been those damnable mosquitoes. When stopping to apply the juice, I might have left my stick there. Oh well, it cost only sixty bucks, and now I actually seem to be enjoying the freedom of not having to carry anything in my hands. Perhaps I won't rush to replace it.
Anyway, it's time for the return leg. At the Twin Lakes dam, I forgo that crazy crossing area and continue down the northern side of the creek hoping for some photo opportunities, as this route enables me to remain closer to the water. The expansive granite slabs around here were awash in cascades quite recently; doubtless this place was quite spectacular a few weeks ago. I find a nice spot for a picture of the creek, seemingly spilling right out of Little Pyramid Peak. The dark pink penstemon are abundant today, adding a lot of color to the landscape.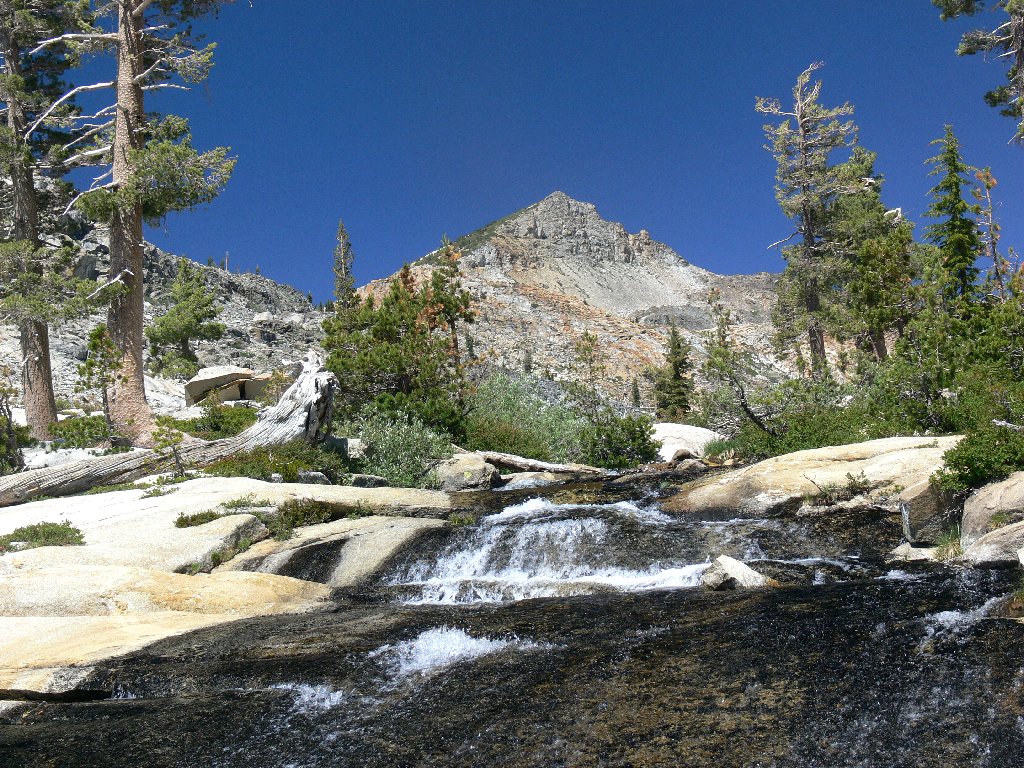 Running water is the very best thing!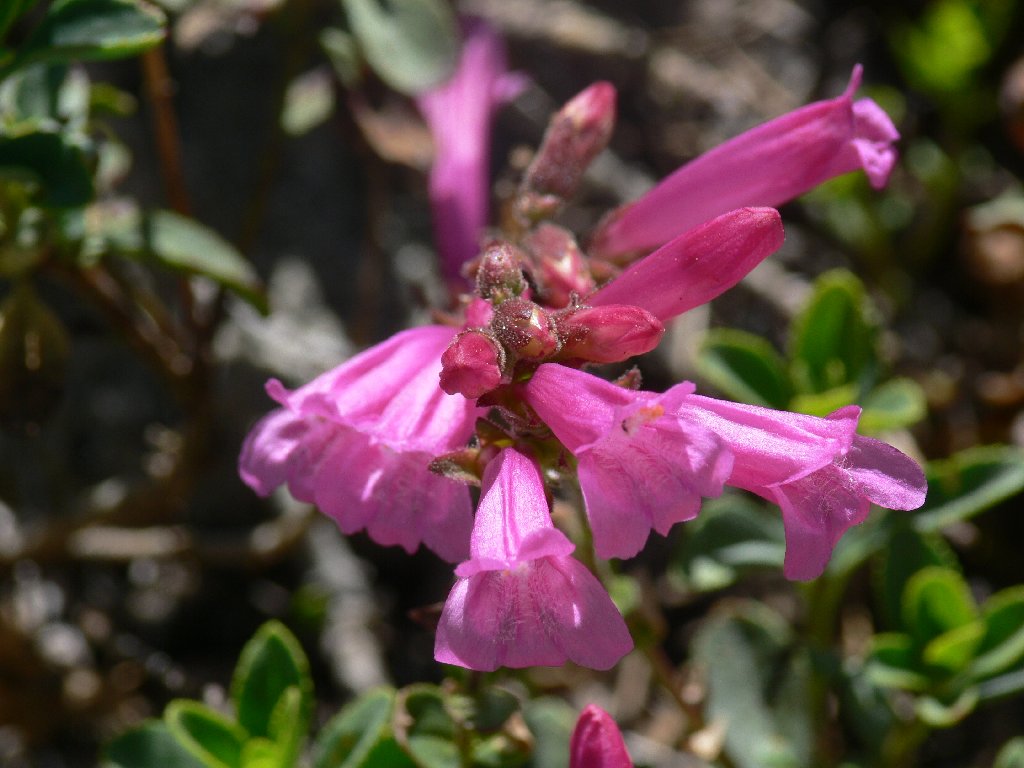 Mountain Pride are the most colorful flowers on today's trail
I continue downstream for nearly a quarter-mile before finding a place to cross. A five-foot jump from one big rock to another is necessary, so I zip up my pack and go for it. This is the portion of the trail that was missed earlier in deference to a detour through the talus. Anticipating the possibility of finding something new and exciting, I soon encounter two beautiful spots on the stream.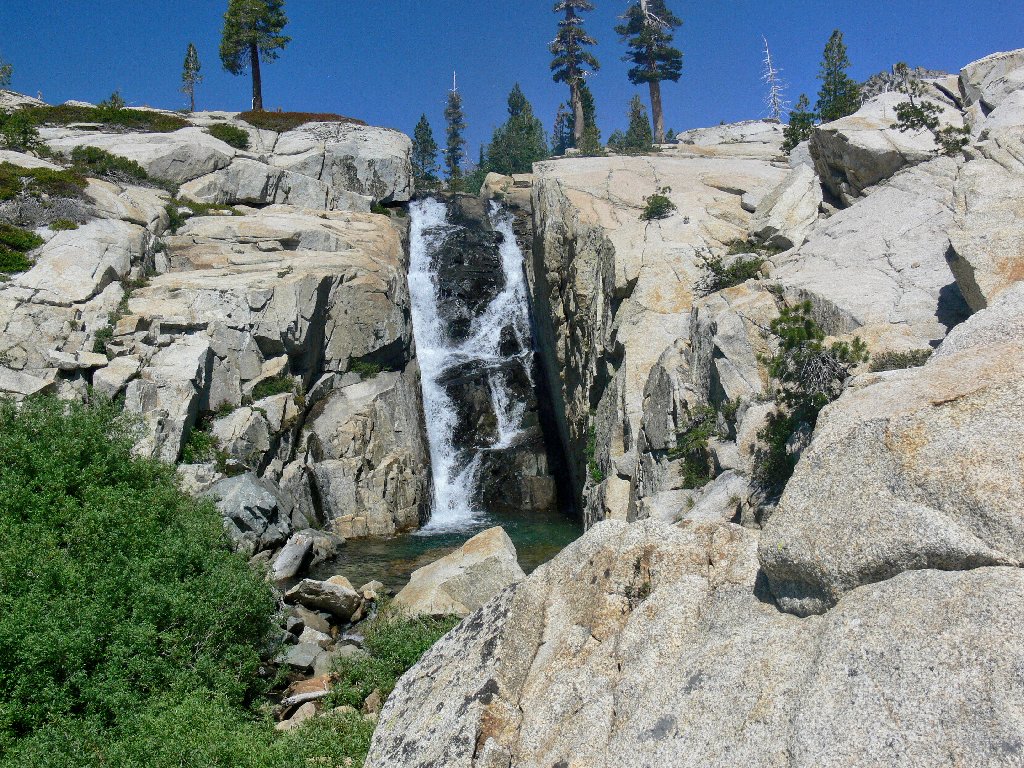 A uniquely configured waterfall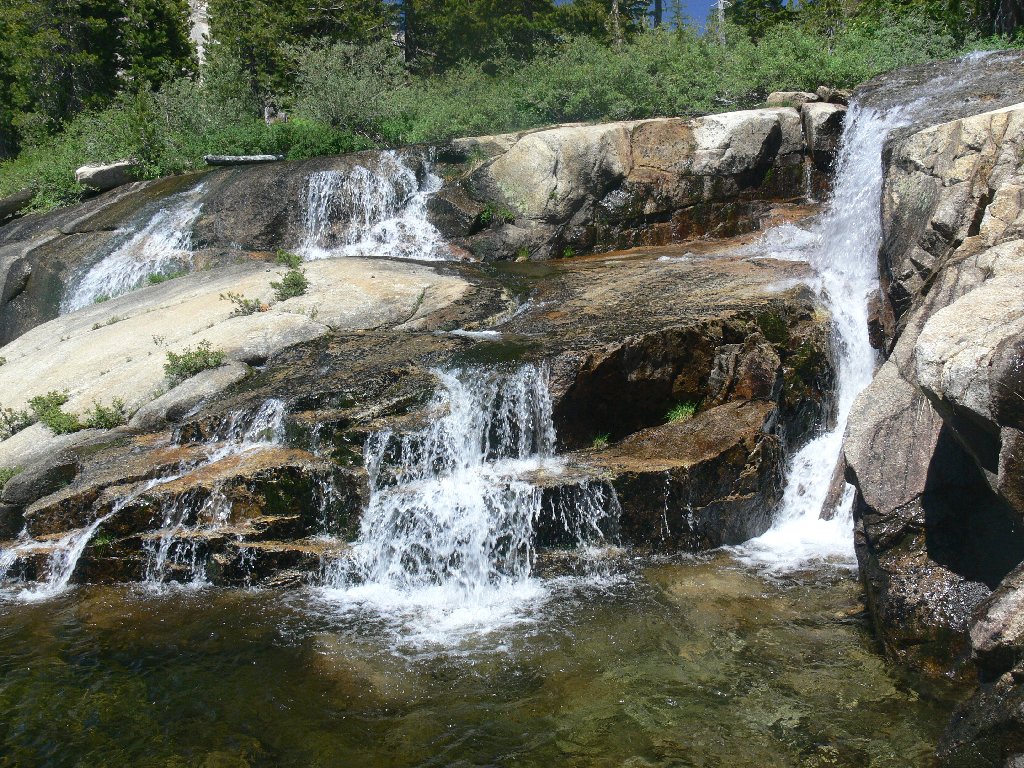 I wouldn't mind having this in my back yard
At this point the trail leaves the big creek for good. It remains only to retrace my steps to the trailhead. No walking stick appears at the wilderness boundary; too bad. Plenty of afternoon remains to capture some local flora, such as the daisy-like fleabane. Besides, it is necessary to kill some time in order to outwait the rush-hour traffic in Sacramento. Near Wrights Lake, a last photo is somewhat hurried, as I am being swarmed by a bevy of revenge-minded blood-letters — which of course was their plan all along.

Every flower has a resident caretaker

Sierra Mariposa Lily

§: What a beautiful day this has been! I do believe that Silver Dagger Lake is my favorite spot north of Yosemite.
Trailhead: 5 miles east of Kyburz on US-50, then 8 miles north on Wrights Road
Distance: 8 miles, including detours
Elevation: 6960' to 8290'
Hikers encountered: 12
Rating: 8 (higher in a good-water year)