Twenty Lakes Basin Loop
Hoover Wilderness
September 8, 2006
Having stayed overnight in the convenient little town of Lee Vining, I head out early up the beautiful Tioga Pass Road. Although this eastern approach to Yosemite isn't nearly as interesting or exciting as it was forty years ago, when it featured numerous switchbacks and a one-lane bridge that hung hammock-like off the side of a cliff, it still is spectacular today. A couple of miles short of the park entrance, a road sign points to the right toward Saddlebag Lake.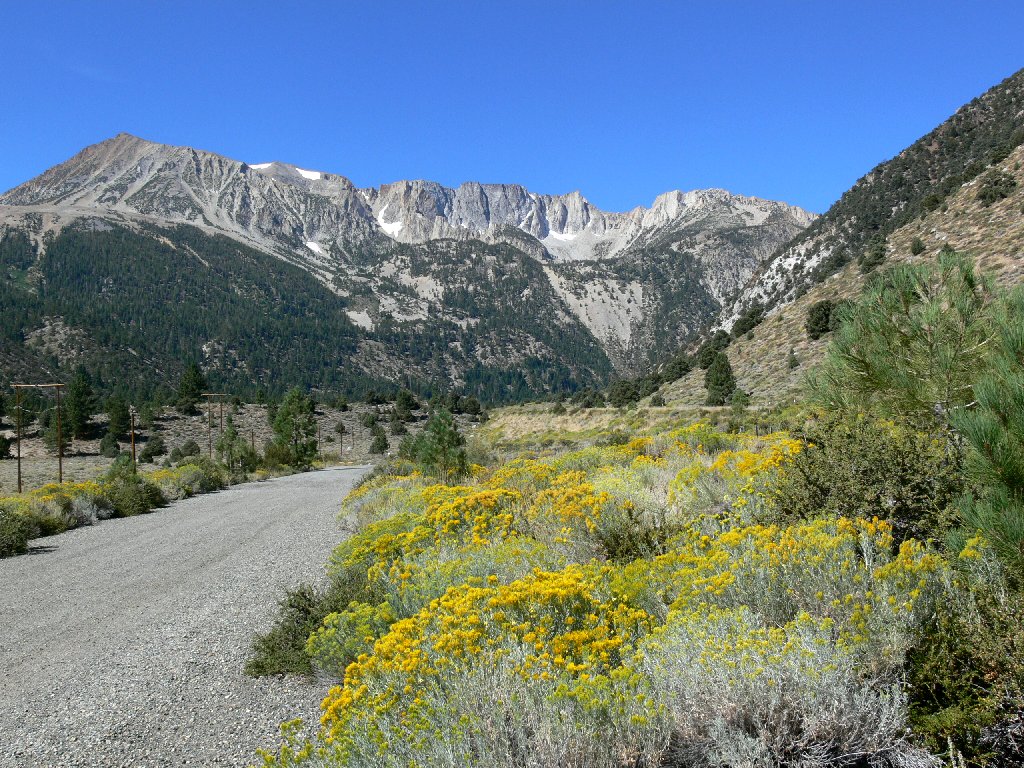 Approaching Tioga Pass
A tiny cafe at the marina provides a satisfying pancake breakfast. Eating at an outdoor table, I await the boat taxi which will whisk me across the lake and save three round-trip miles of relatively uninteresting walking. Saddlebag Lake itself is not the reason for coming here.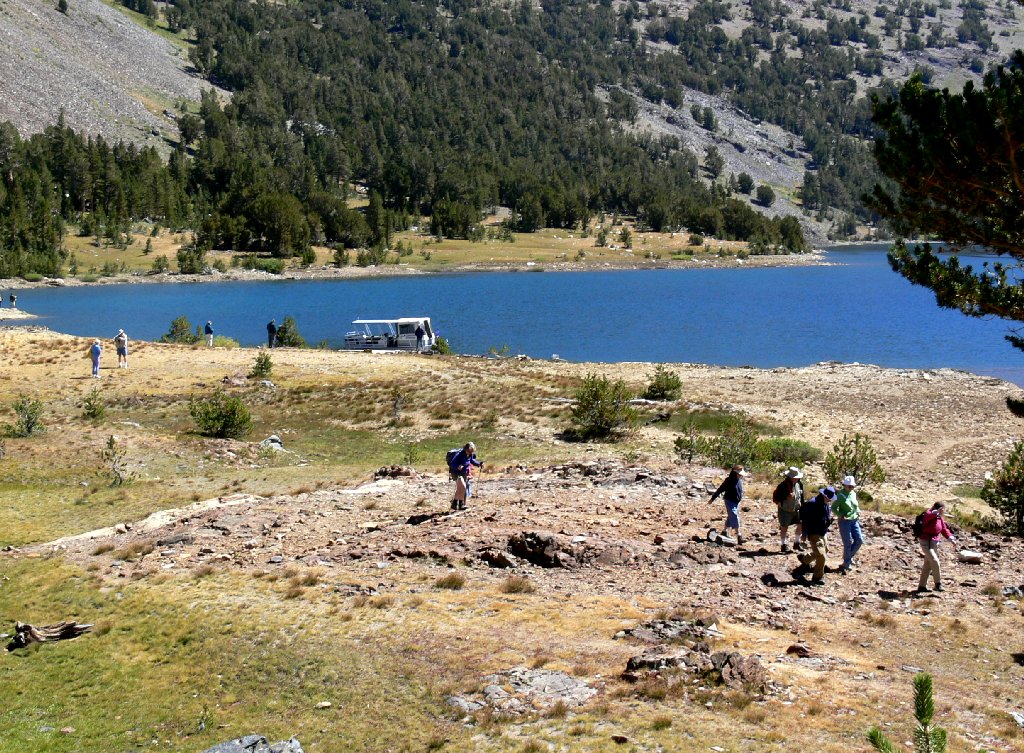 The boat taxi is quite popular
It is a perfectly calm, delightful 60° as I hit the trail. Immediately after crossing into the Hoover Wilderness, the first scenic stop is Greenstone Lake, with lopsided North Peak dominating the background.

Greenstone Lake
Not much farther ahead is the skinny, yet charming Wasco Lake, behind which looms Mount Conness and its accompanying glacier. Behind that spectacular ridge lies Yosemite Park.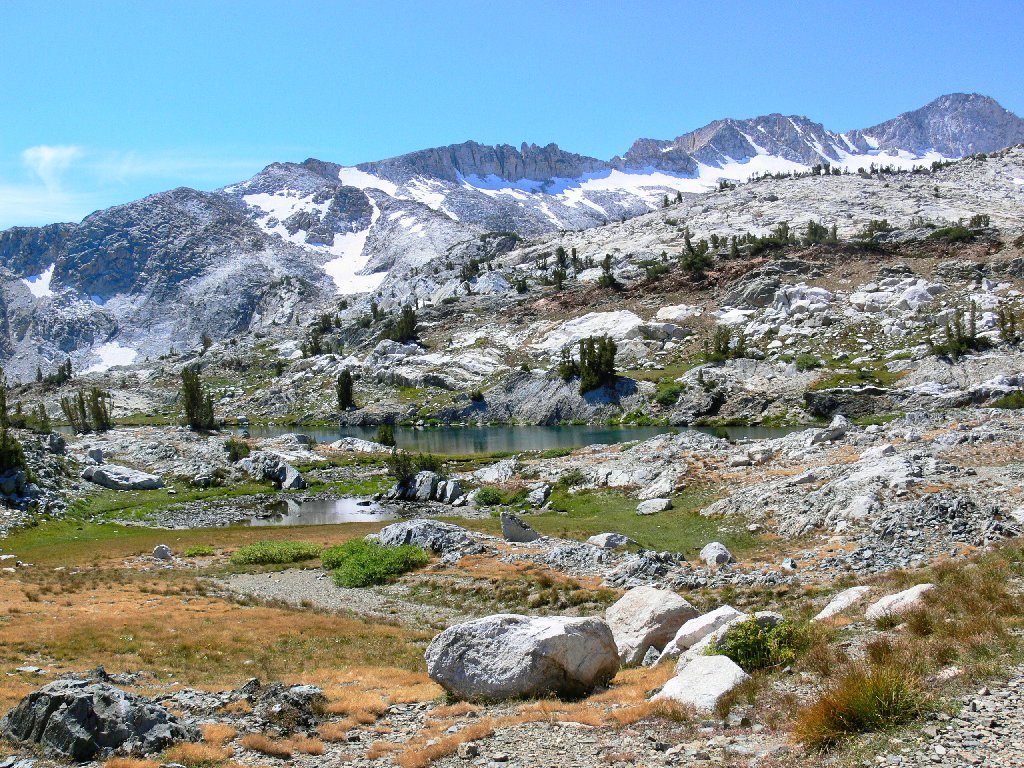 Conness Glacier and Mount Conness, 12590*
A look back down the trail reveals a wonderful trio of lakes lined up for my camera. Interestingly enough, these bodies drain southward into Tioga Canyon, whereas most of the basin's water flows northward into Lundy Canyon. Either way, the water winds up supporting the brine shrimp and seagulls in Mono Lake to the east.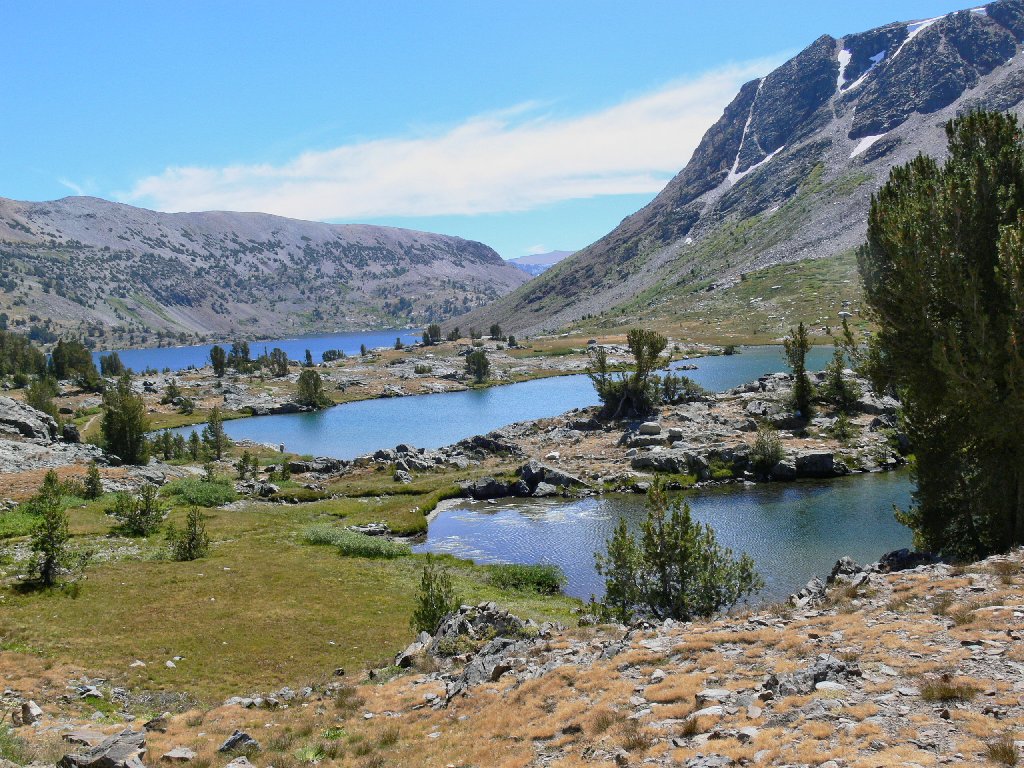 An unnamed pond, then Greenstone Lake, then Saddlebag Lake
Not bad for Great Basin scenery, eh? The $9 boat ride already has paid for itself, and I haven't walked a mile yet!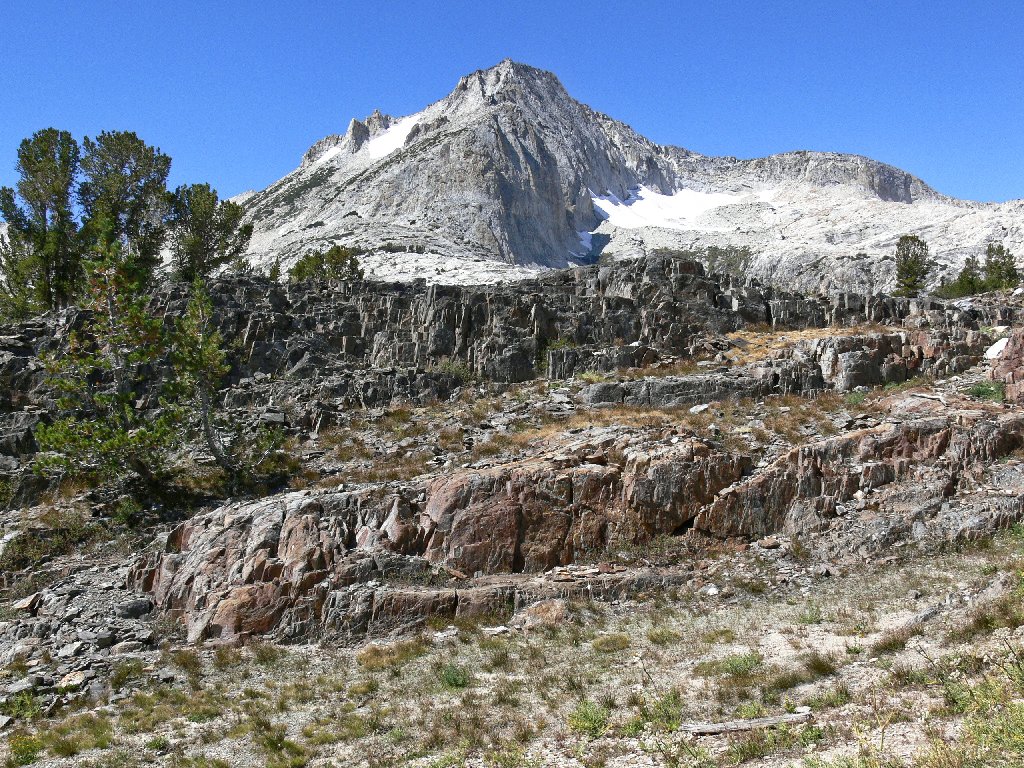 North Peak, 12242*
The trail runs due north past the mountain to Steelhead Lake, which sports its own waterfall. There is more to explore between here and the peak; but for some reason I have decided to stay on the main loop today.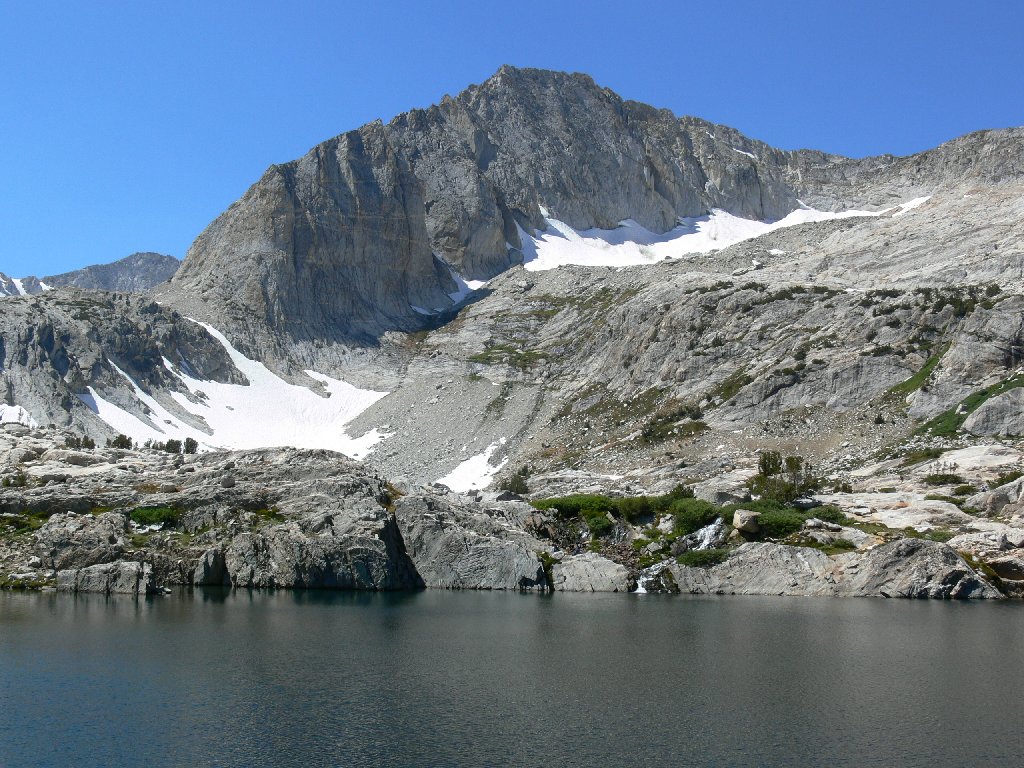 Steelhead Lake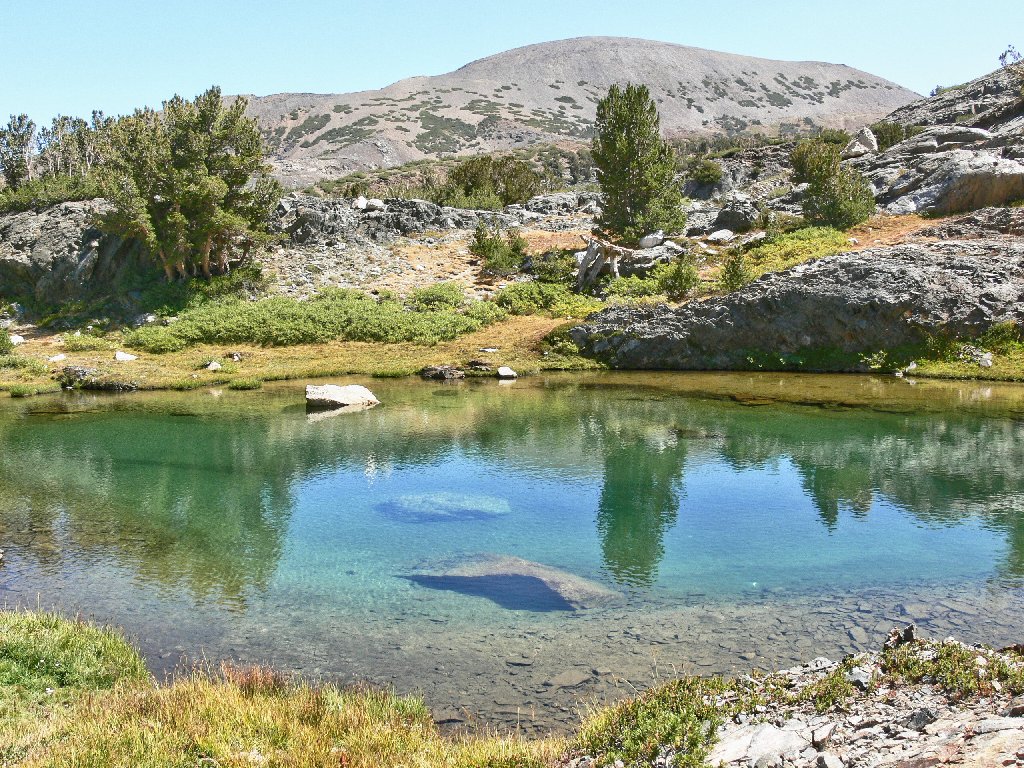 An unnamed pond in front of the Tioga Crest
A tricky log crossing turns the trail eastward alongside Excelsior Lake. In this area are the only flowers I would see today.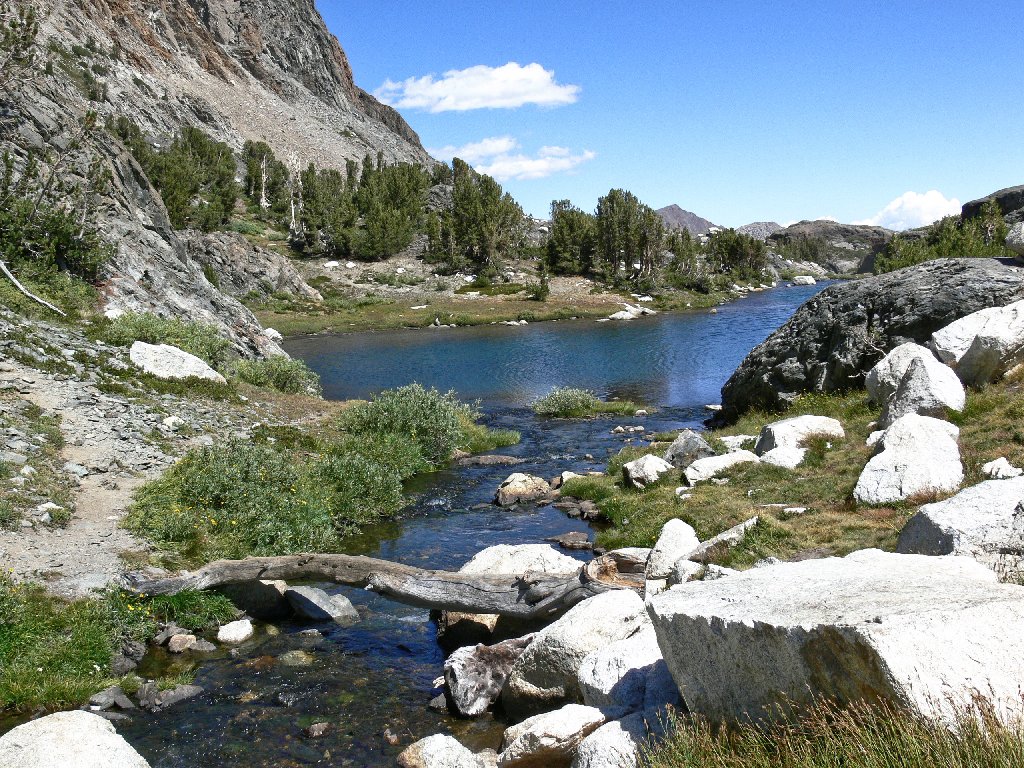 Crossing to Excelsior Lake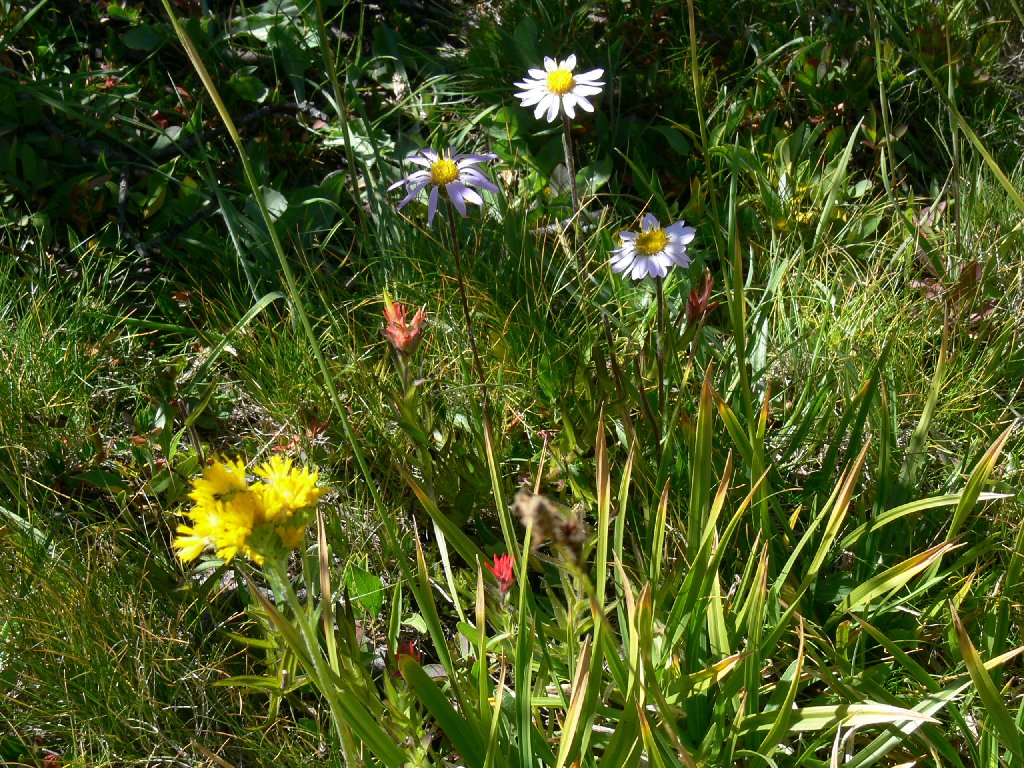 Asters, Daisies, and Paintbrush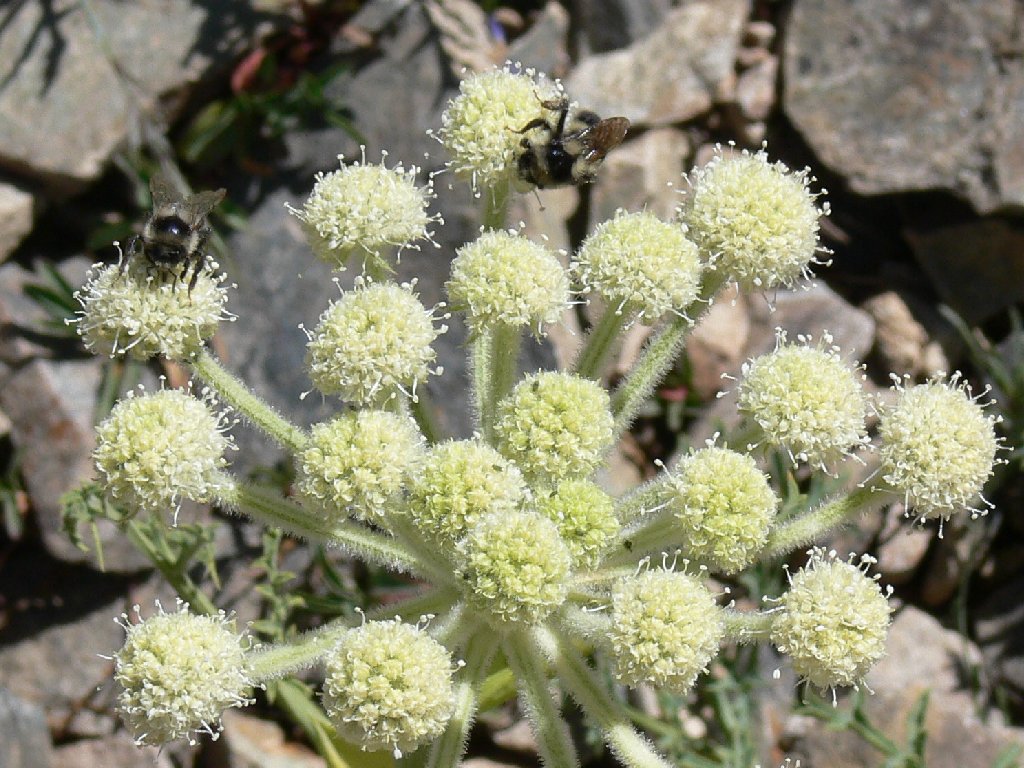 Ranger's Buttons
The path disintegrates into a rough talus jumble, through which one can barely make out a route used by others. Having nice protective boots would have been a big plus here. My lightweight hikers are not getting the job done.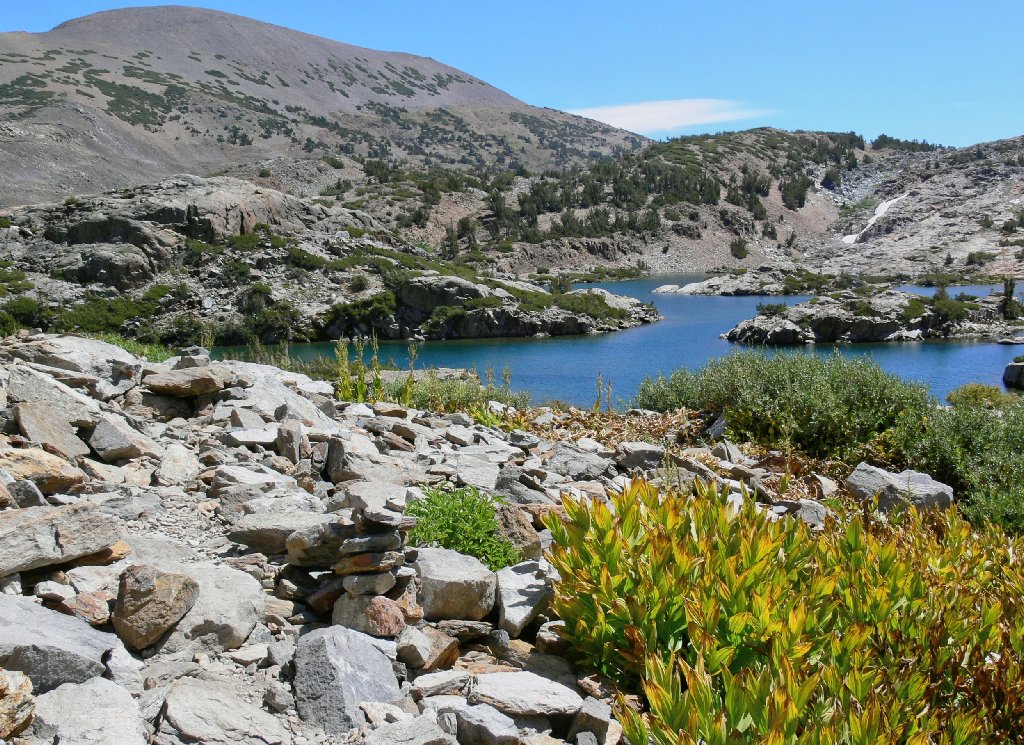 Shamrock Lake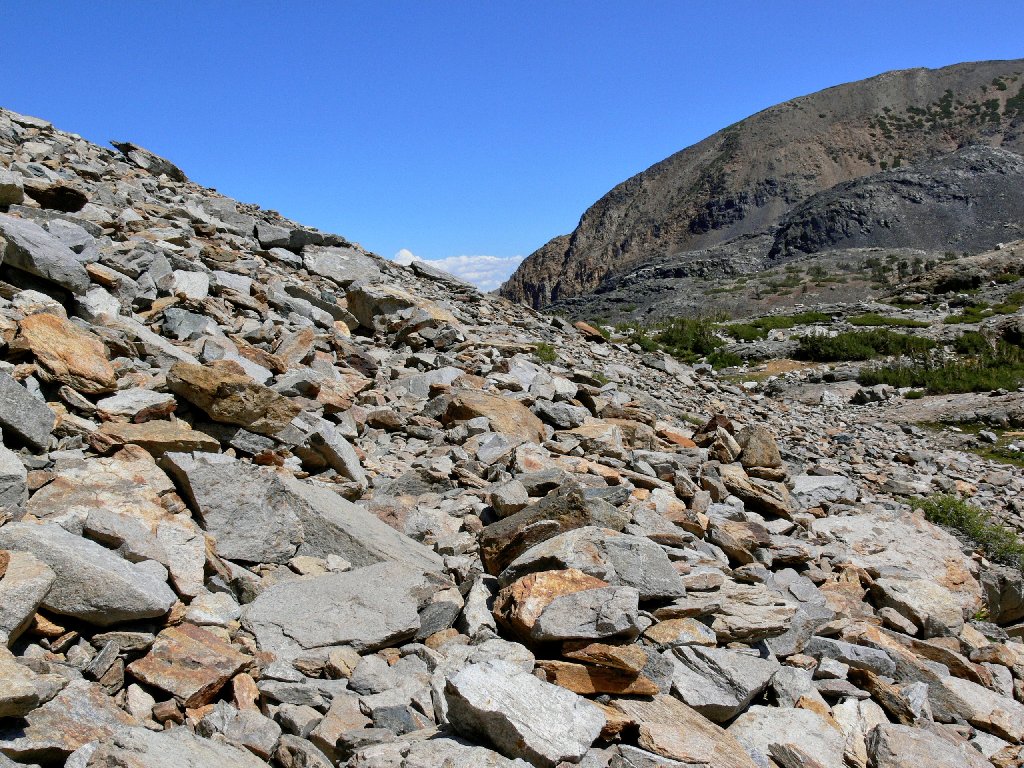 The trail is wherever one chooses to make it
At the northeast corner of today's route is Lake Helen — verdant on one side, yet starkly arid on the other.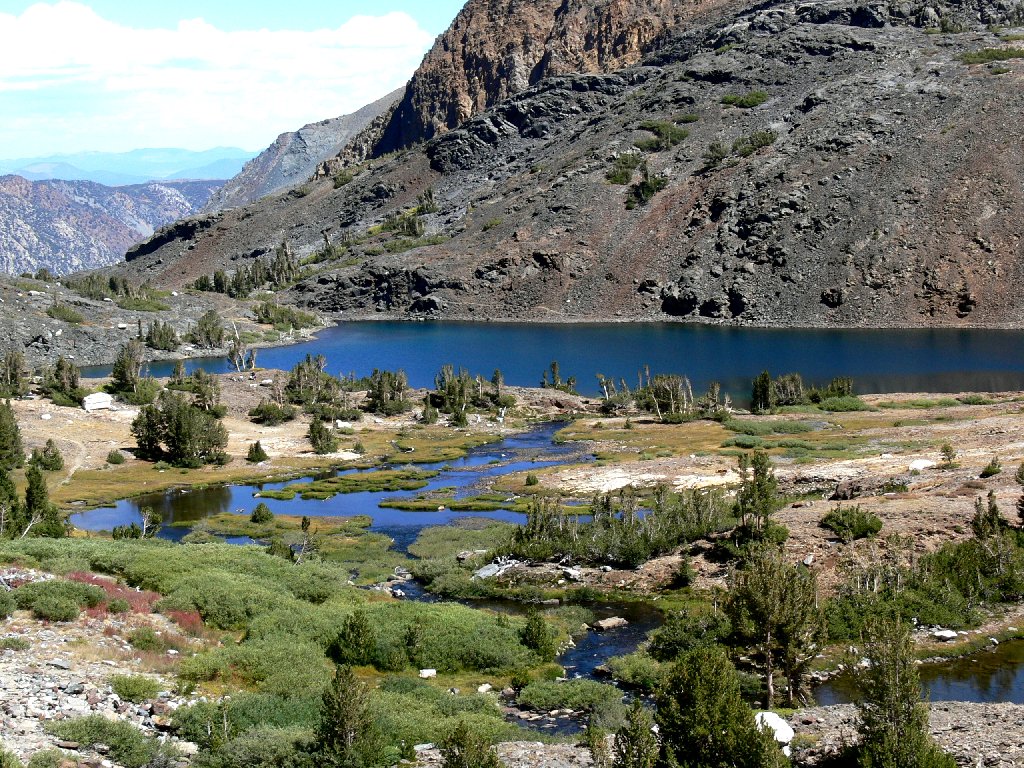 Approaching Lake Helen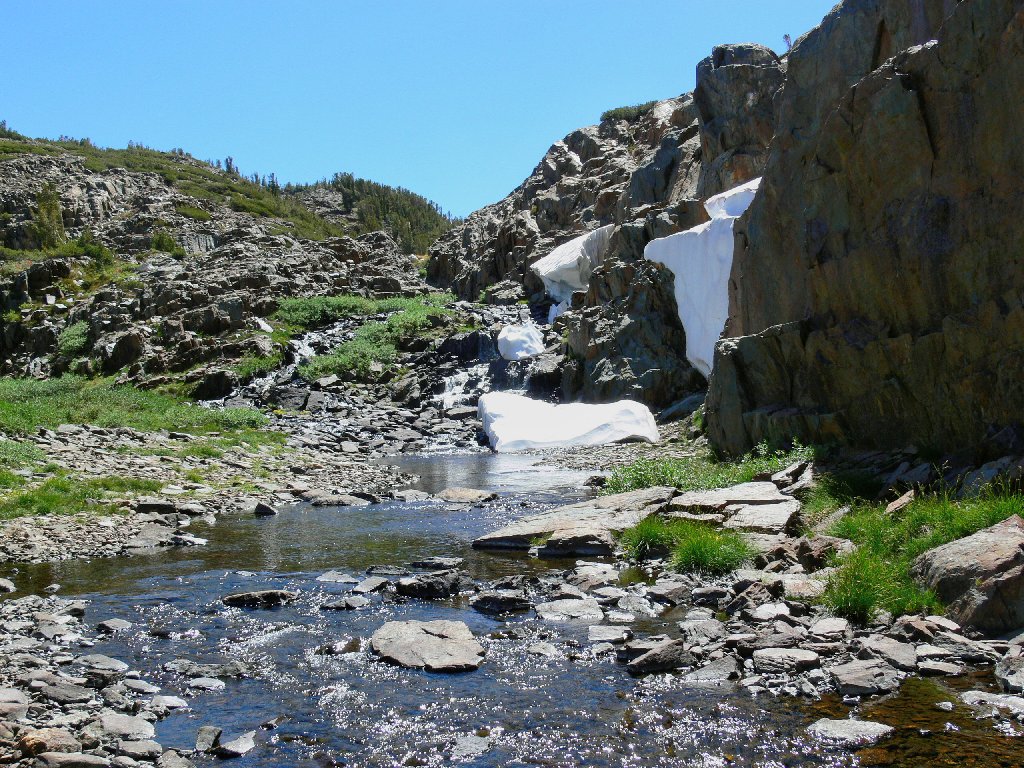 Snow banks linger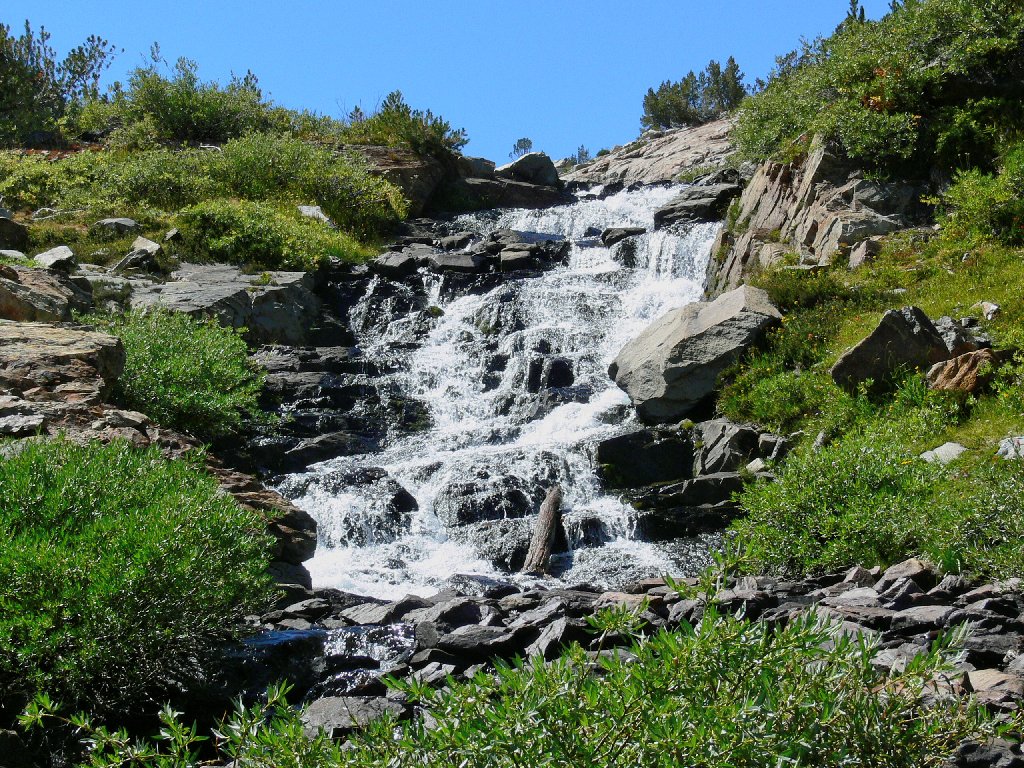 Falls on Mill Creek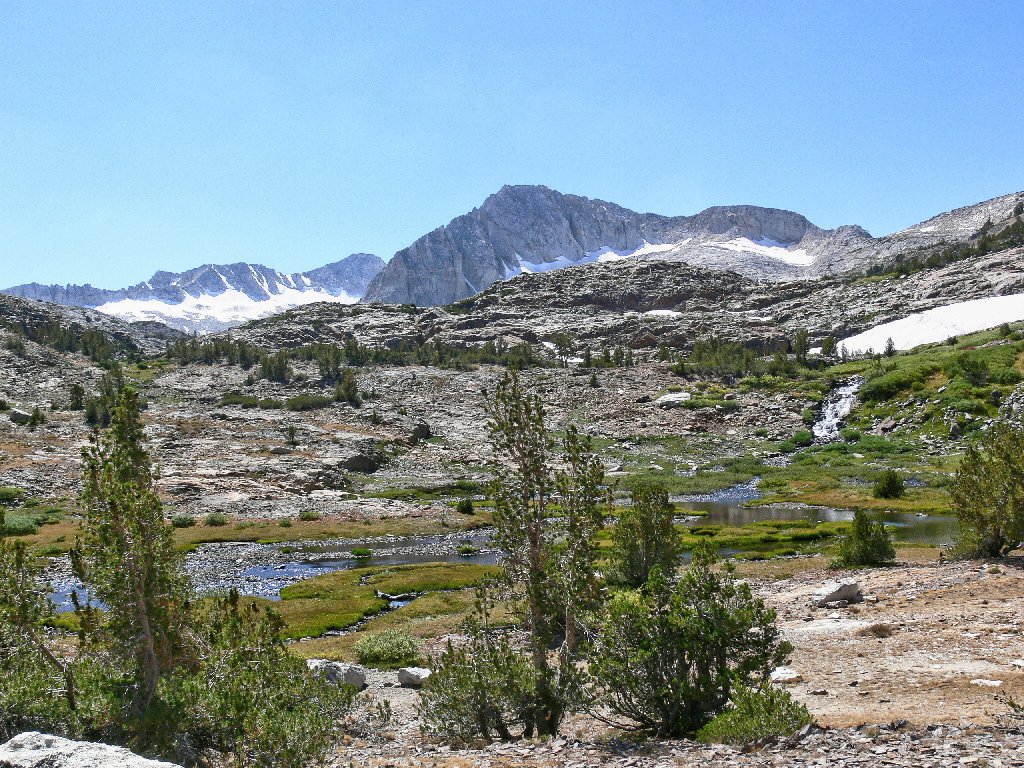 Conness Glacier and North Peak
Lake Helen outlets northward into Lundy Canyon. There are some awesome cascades just a mile down in that direction; but that's the stuff of another hike.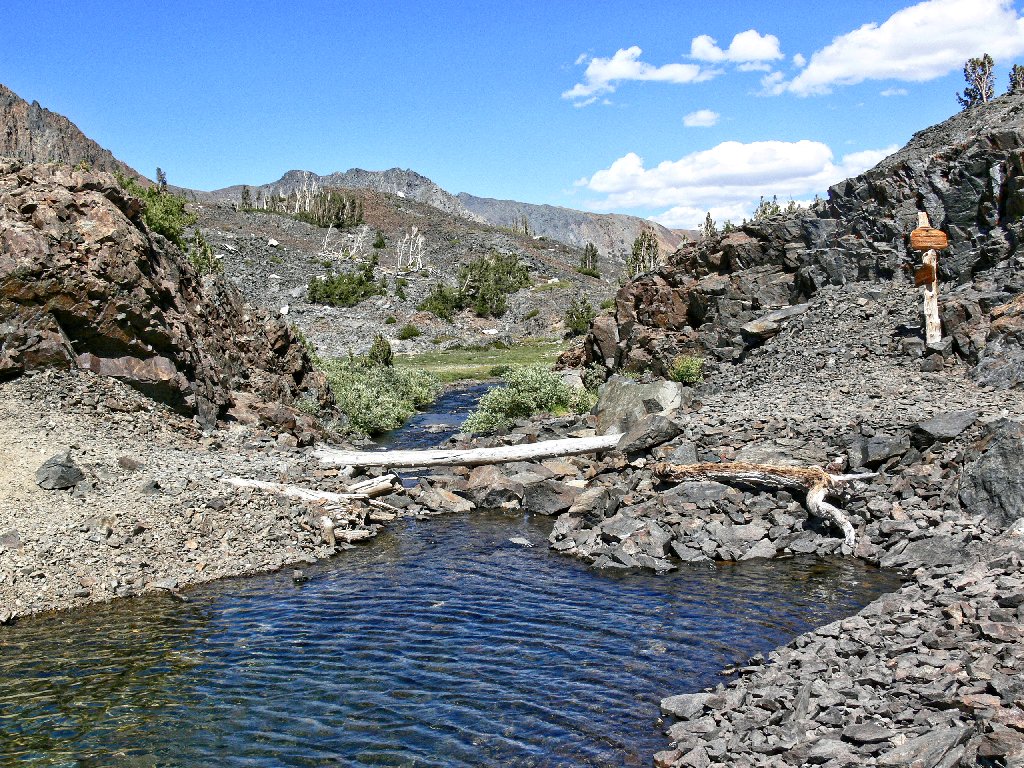 Junction to Lundy Canyon
The trail turns south, skirting the lake shore with barely room for a footpath. A jumble of scree is negotiated on the slope of Lundy Pass. Although they aren't visible in the photo, a couple of hikers are enjoying a snack underneath the snow bank.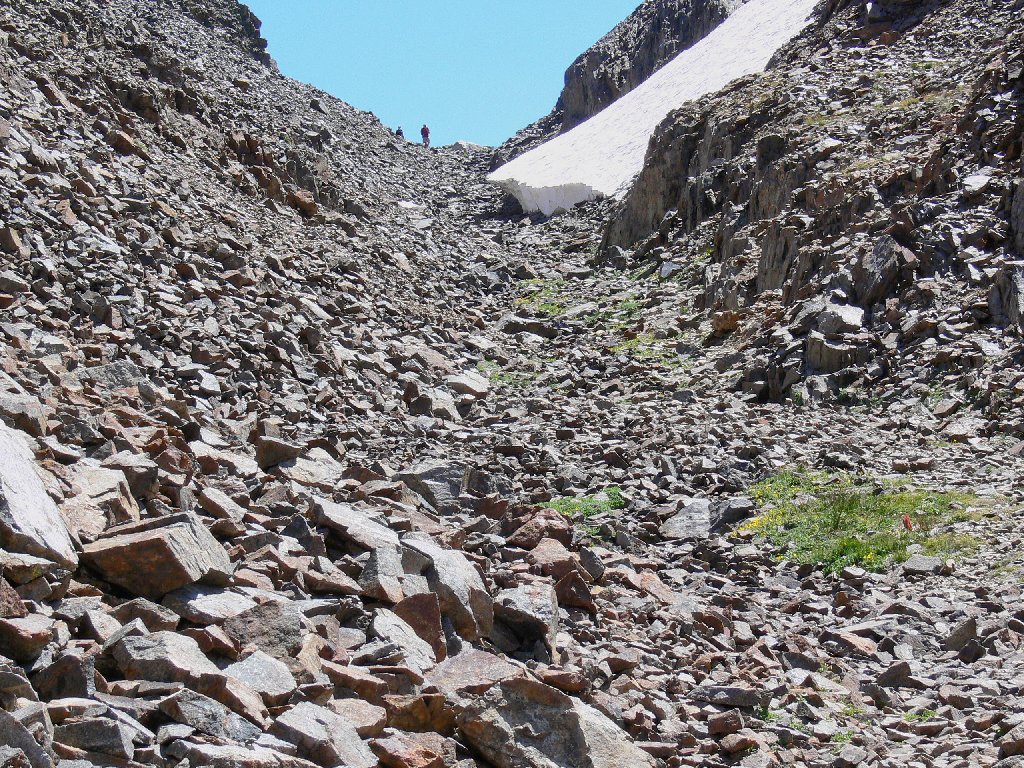 Lundy Pass
At the top of the pass I take a backward glance at Lake Helen. The route ahead is much drier than on the western side of the basin.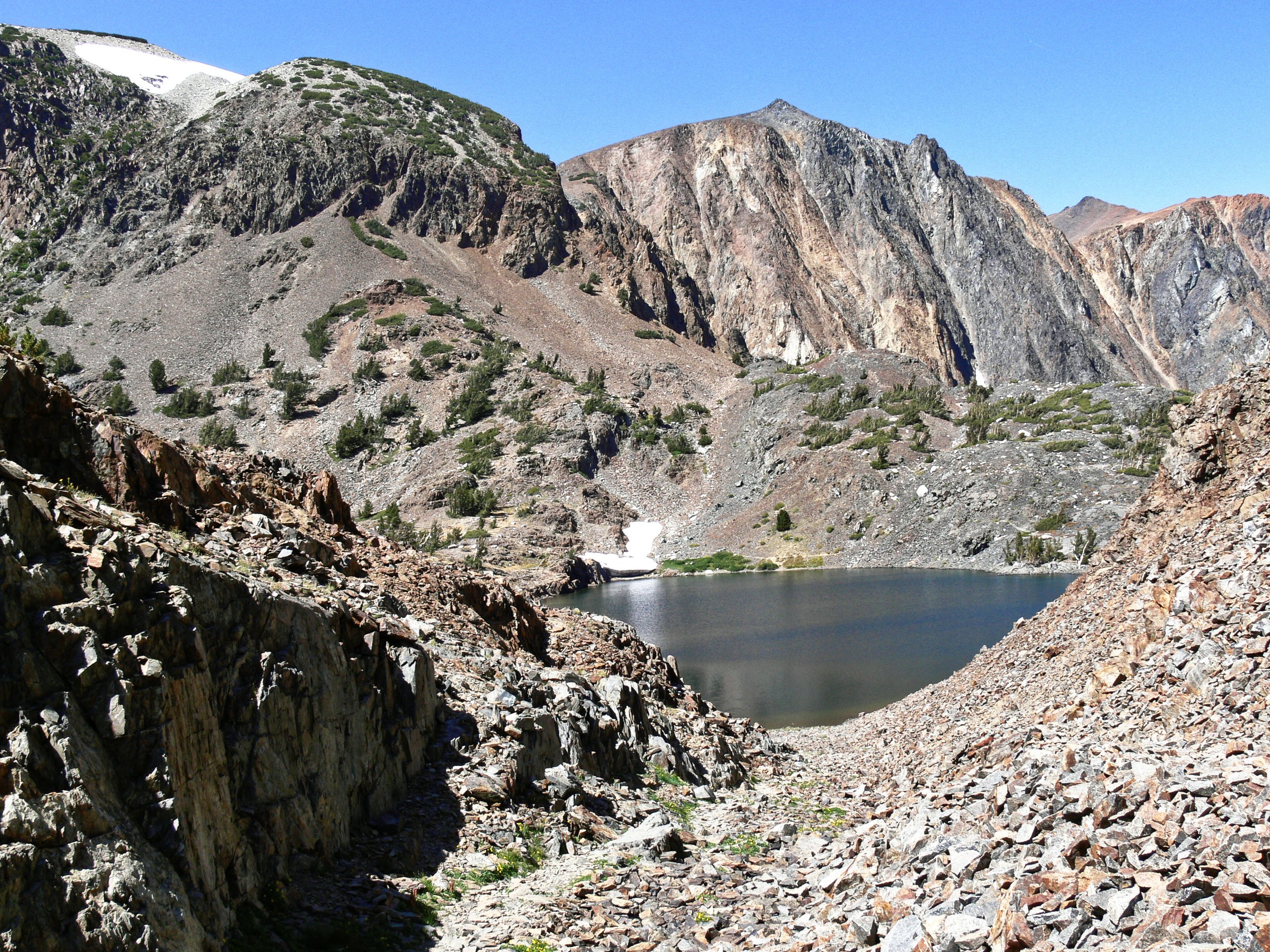 Lake Helen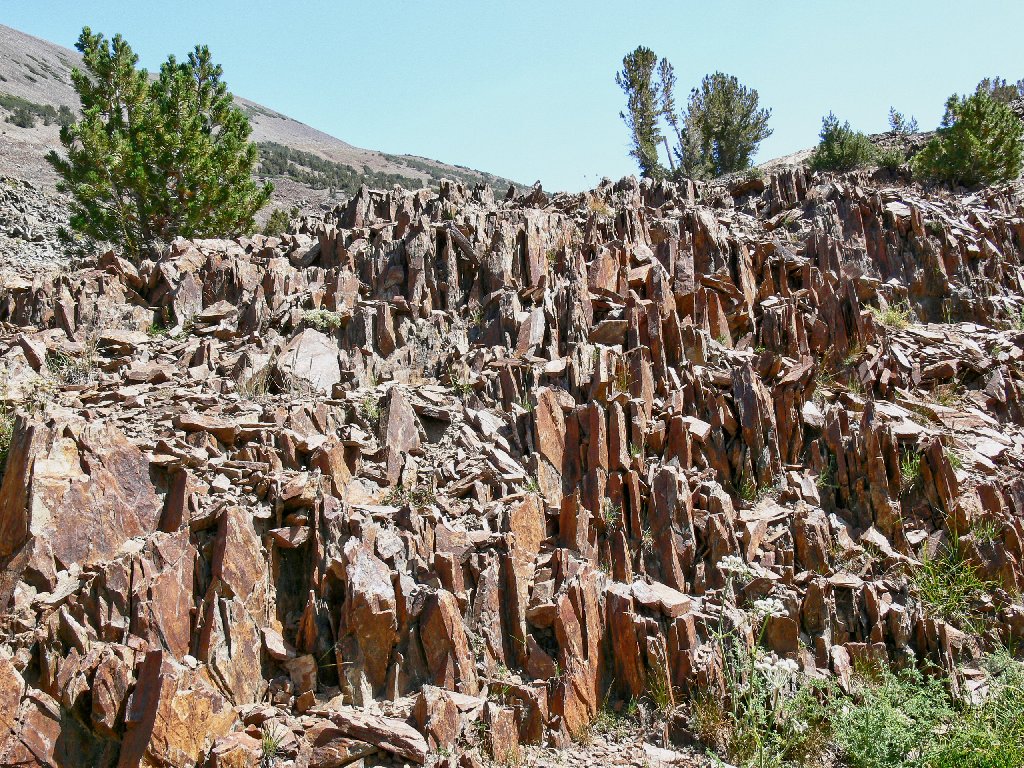 Interesting geology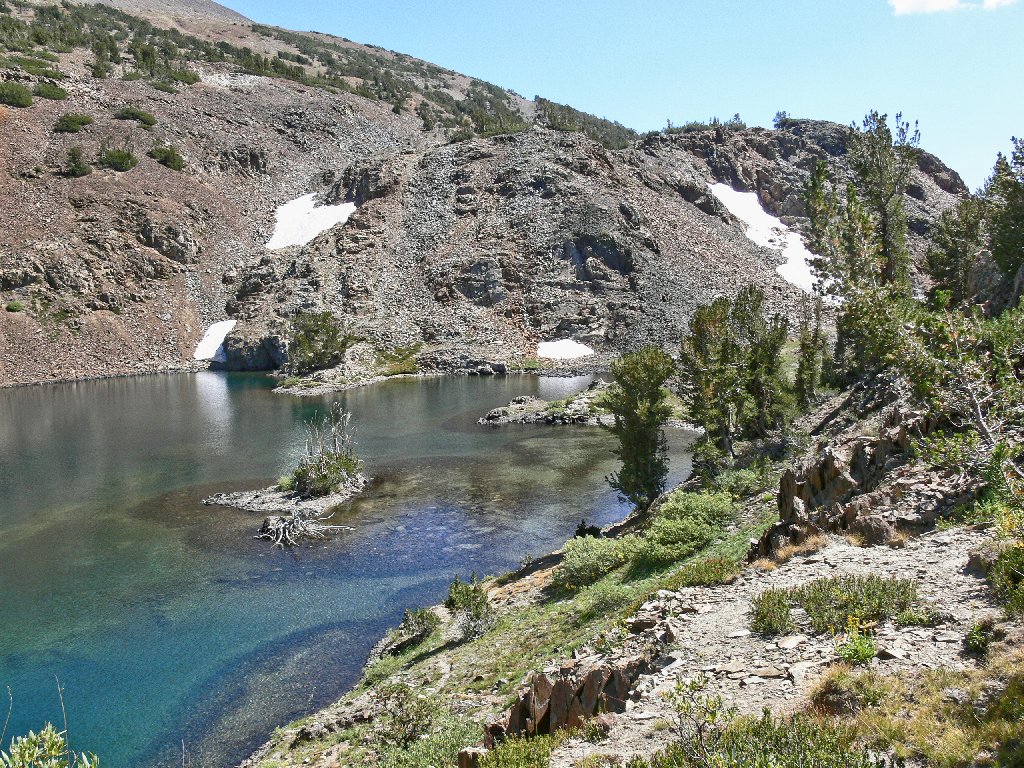 Odell Lake
This loop route bypasses a number of other lakes which are not visible from the established trail, such as Twin Lakes and Z Lake. I must detour and visit them sometime.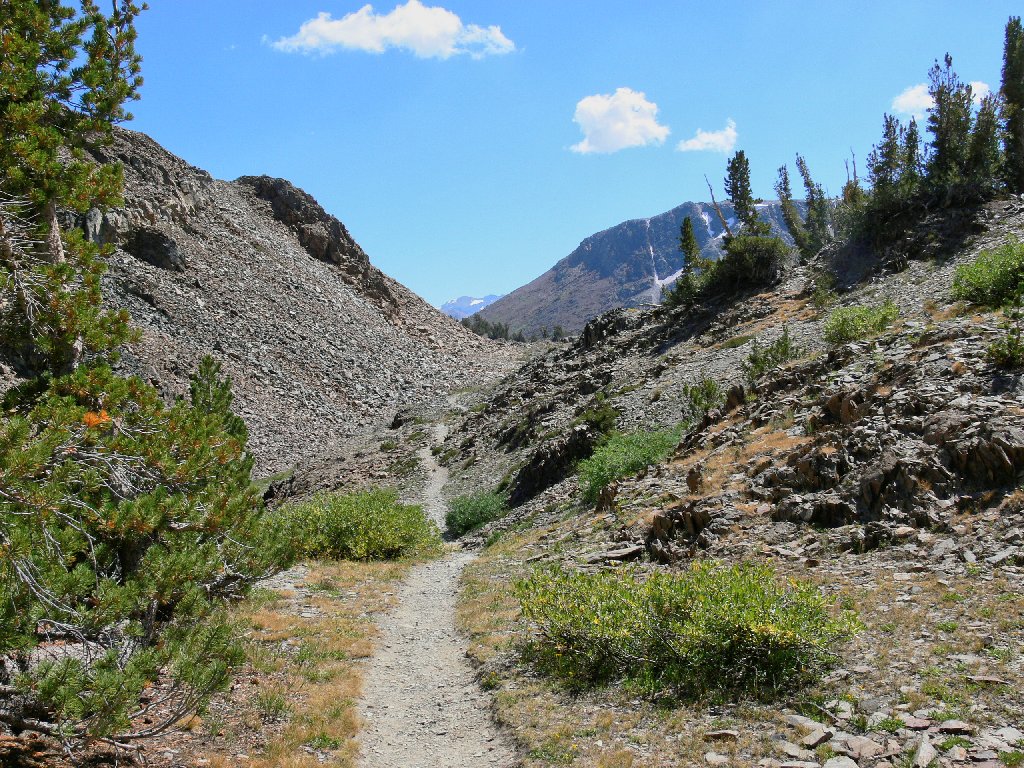 A lonesome stretch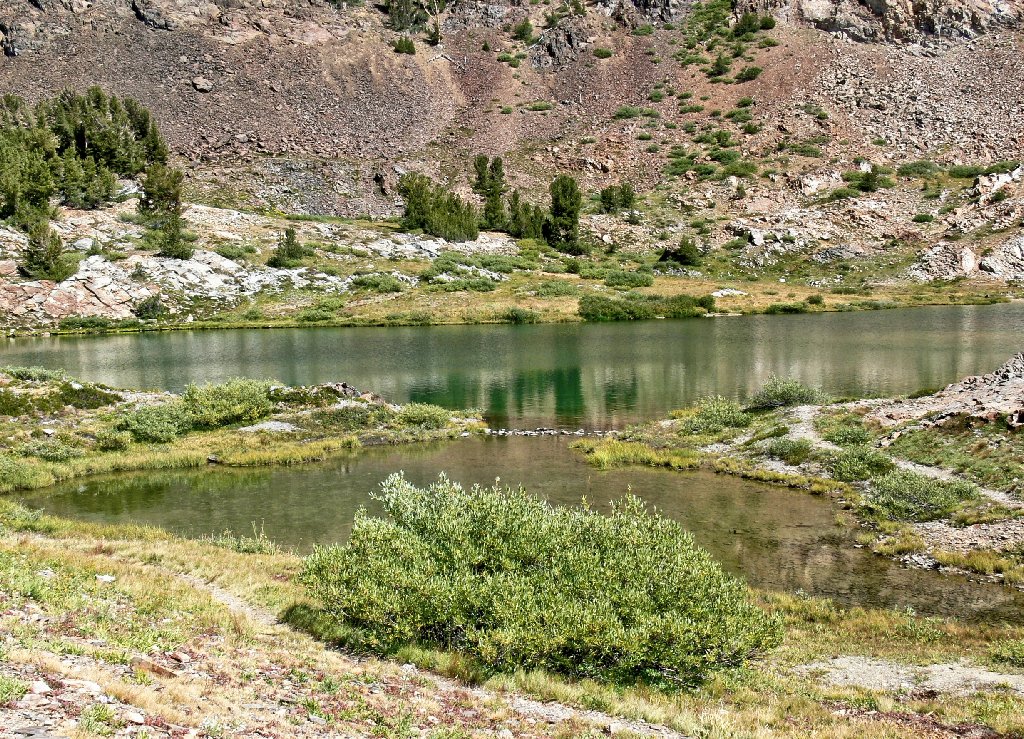 Hummingbird Lake
As the ubiquitous Mount Dana comes into view six miles to the south, I resolve to climb it sometime before I grow too old to make it. They say it can be a life-altering experience.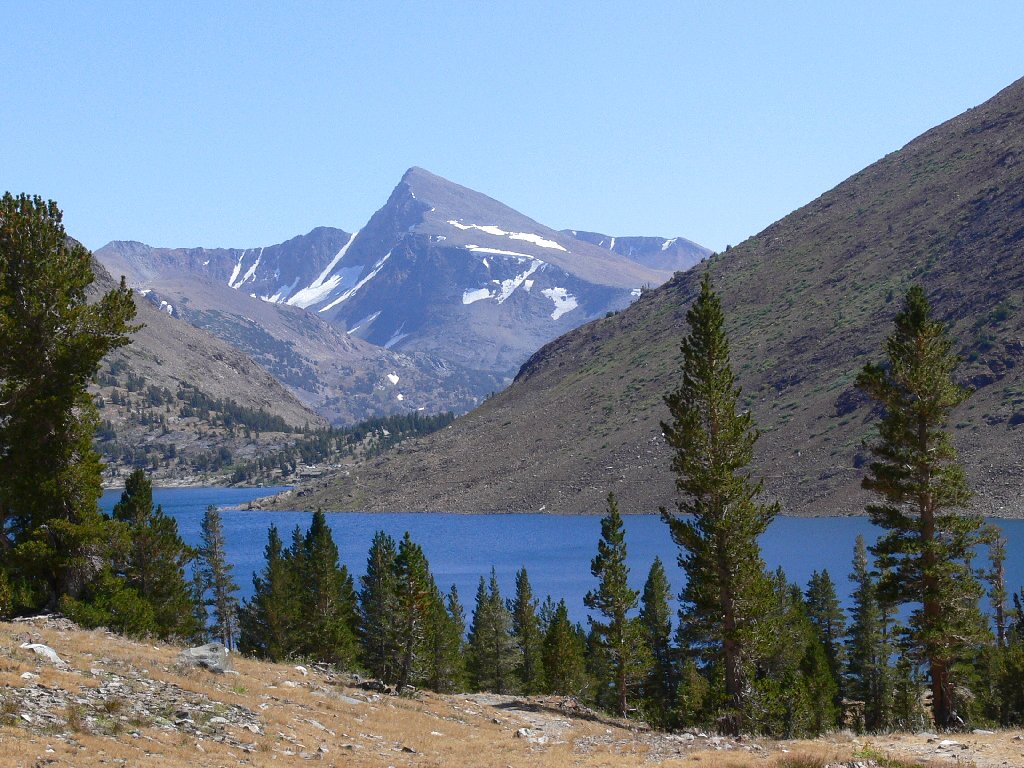 Mount Dana, Yosemite's second-highest at 13057*
I arrive at the boat dock an hour ahead of schedule; I guess I should have done some more exploring. Although my ticket is for a later reservation, the next boat to show up has some spare room. This is good, because home is five hours away.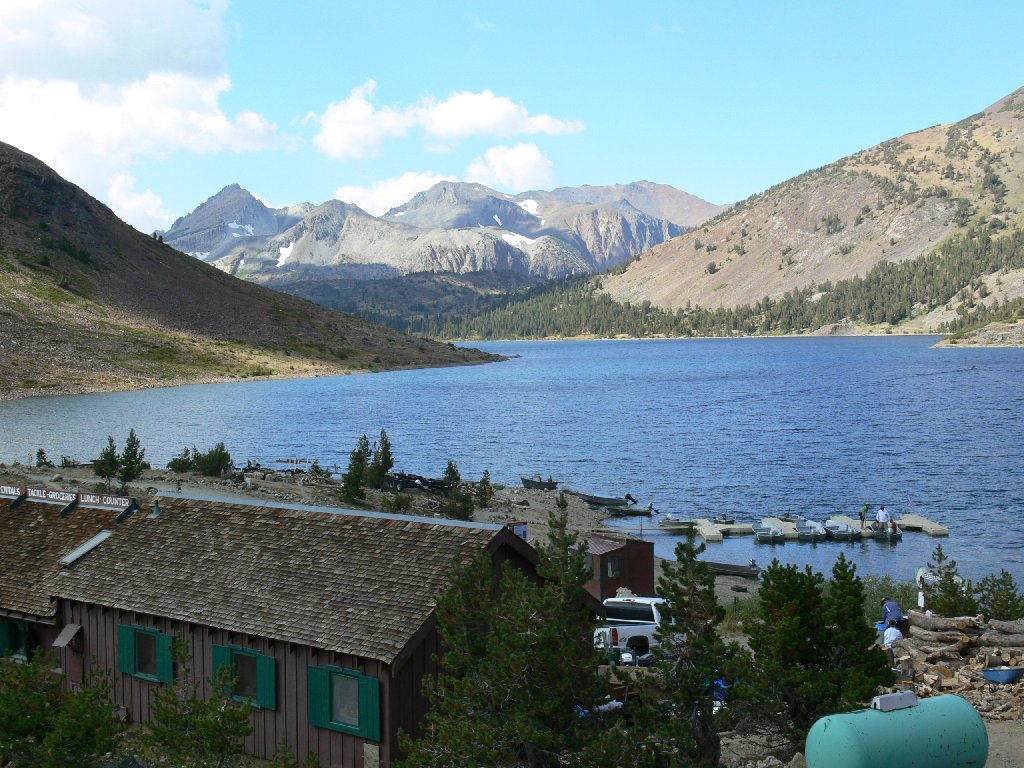 Saddlebag Lake Resort

§: It is quite beautiful in this basin, albeit typical of Eastern-Sierra scenery. There is much more to explore, including the off-trail Conness Lakes in the Hall Natural Area just below the glacier. Mount Conness itself is a popular Class-3 climbing destination involving 3,400 feet of ascent from this side; a Class-2 route is available via a backpack from Tuolumne Meadows.
Trailhead: Saddlebag Lake, 2 miles north of SR-120, 12 miles west of Lee Vining
Boat taxi: $9; first come, first served; no phone reservations
Distance: 5 miles
Elevation: 10065' to 10390'
Hikers encountered: 20
Rating: 8