Lundy Canyon (part)
Inyo NF
August 14, 2008
Instead of logically waiting until morning to come up here, I have anxiously zipped up the road to the trailhead at about 3 p.m. after a somewhat arduous 5-hour drive (much of which was spent on a 4WD road with an overheated radiator).
There is a trail directly in front of my parked car, so I impetuously set out upon that. Shortly I encounter a series of fallen logs and other obstacles indicating that there has been no maintenance here for a long time. Persisting and cursing through a difficult aspen thicket, I finally emerge upon a wide, flat, perfectly maintained surface. Idiot.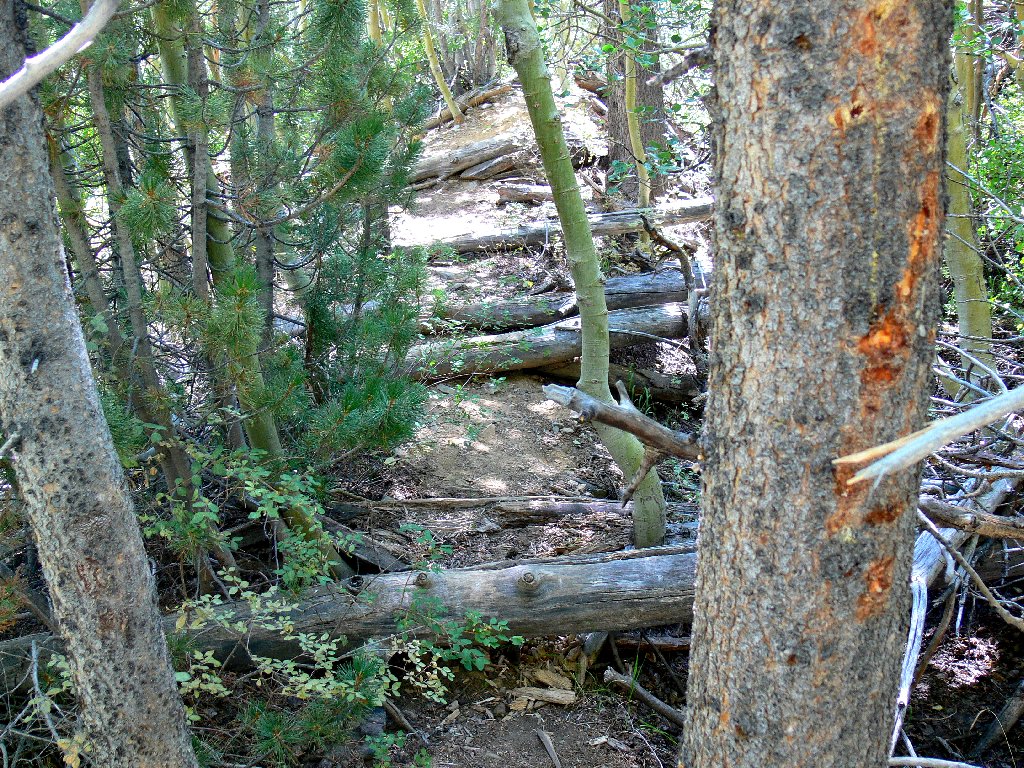 Don't go this way!
There is lot of red rock in the area, providing nice colors for the canyon walls. After some relatively rough ups and downs on the trail, the first set of waterfalls comes into view within a short mile of walking.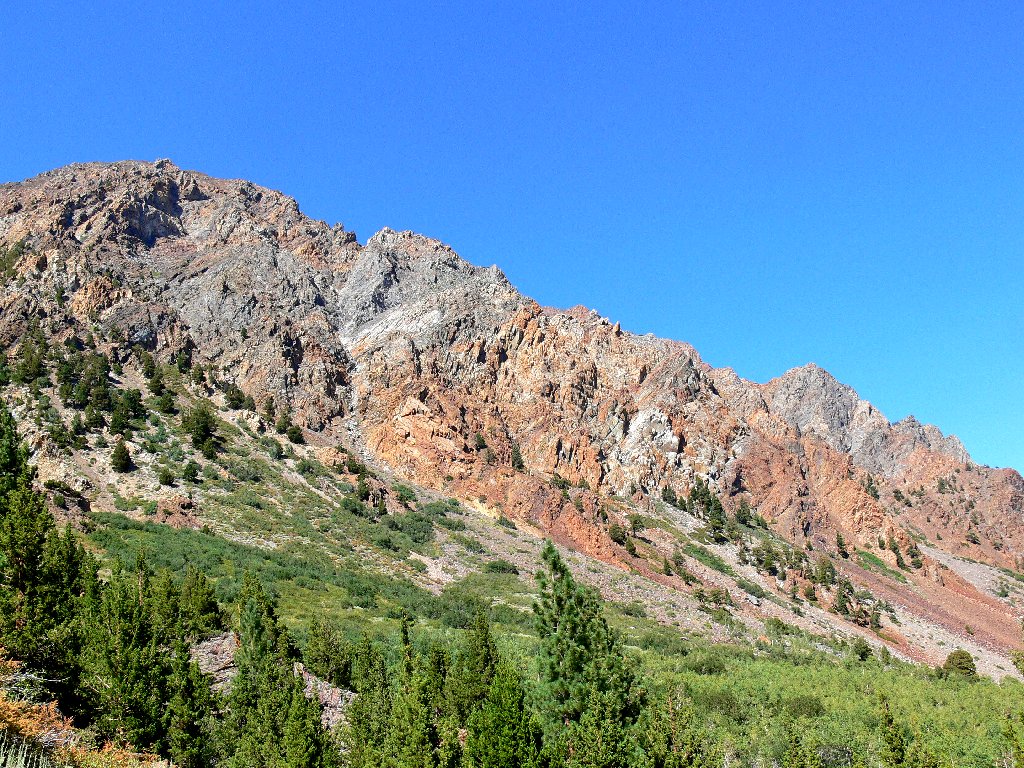 Lundy Canyon's north rim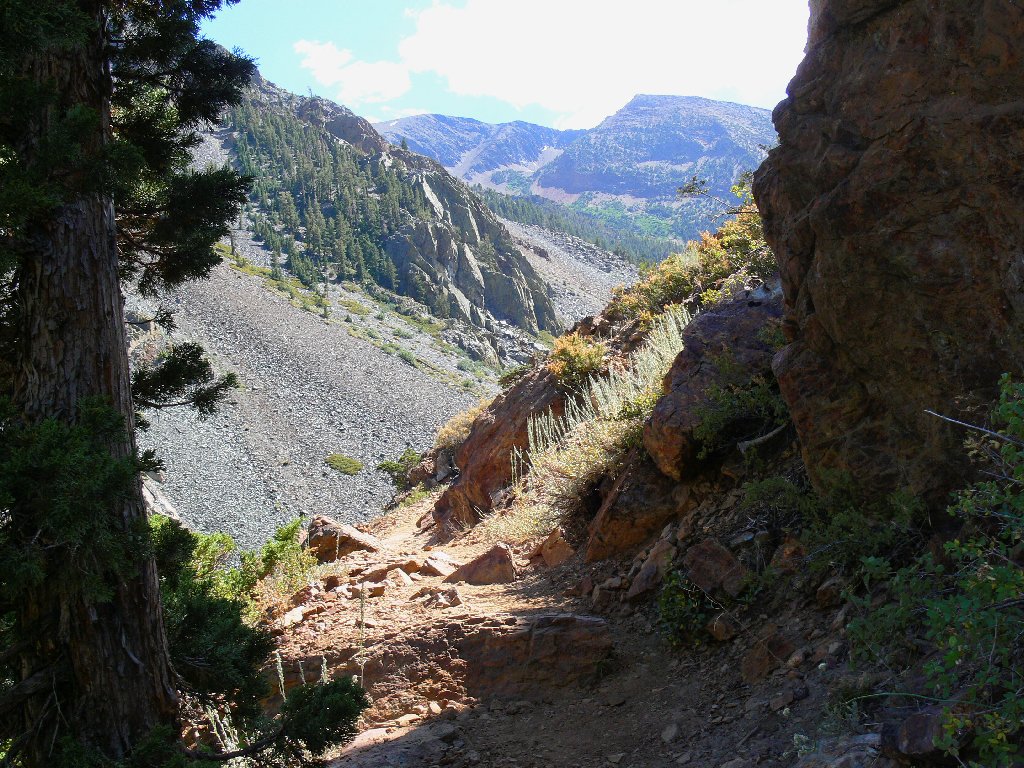 The trail is exciting and somewhat difficult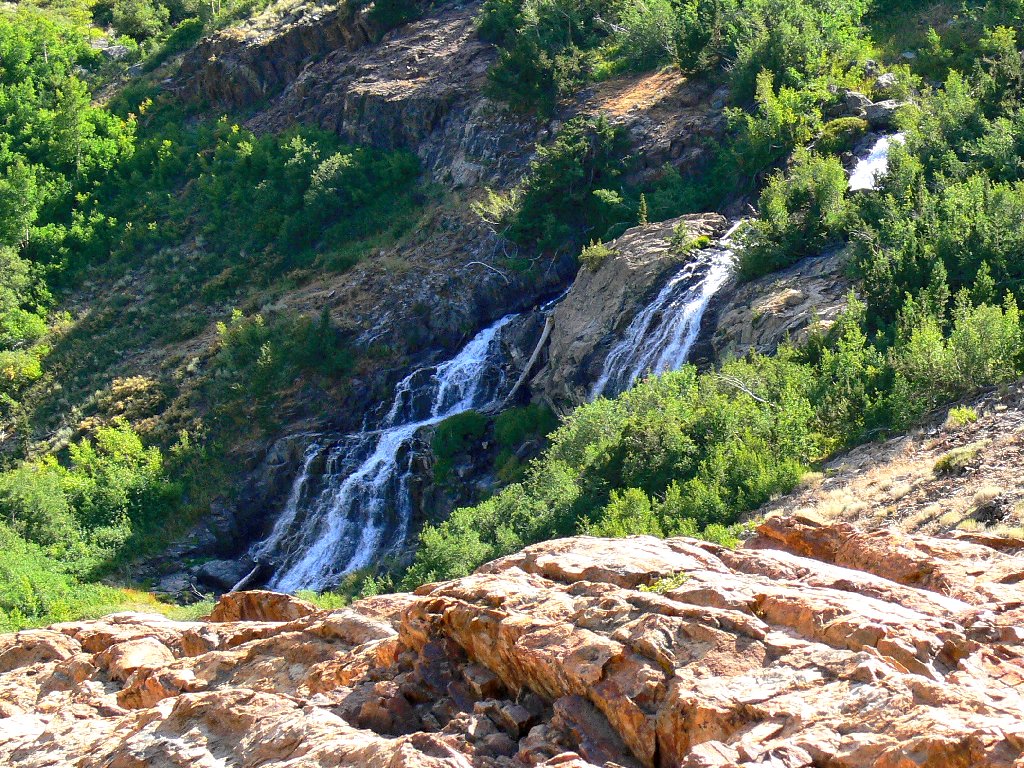 The falls come into view
Being aware that the canyon faces eastward, I knew the risk of starting out so late in the day. Already the sun is beginning to disappear from the falls themselves. Nothing can be done now except to get closer as quickly as possible, in order to try to salvage some photo opportunities. A vague usage trail does assist me down to the base of the falls.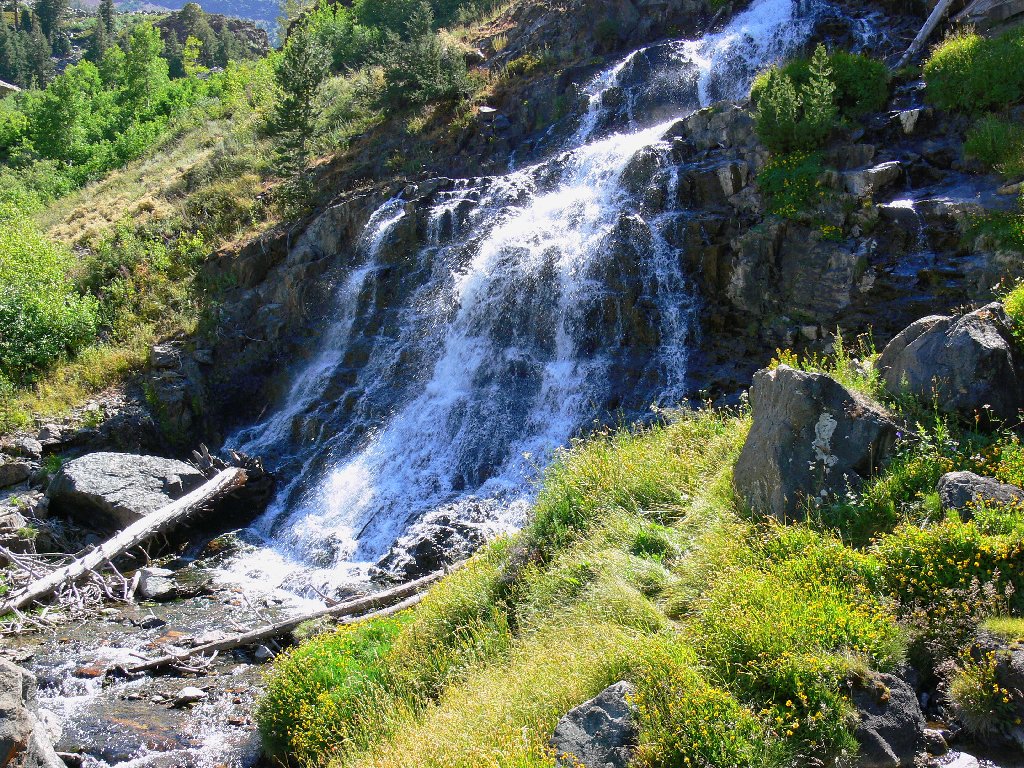 Some sunlight remains on the water
Around the bottom of the cascade are a lot of nice flowers.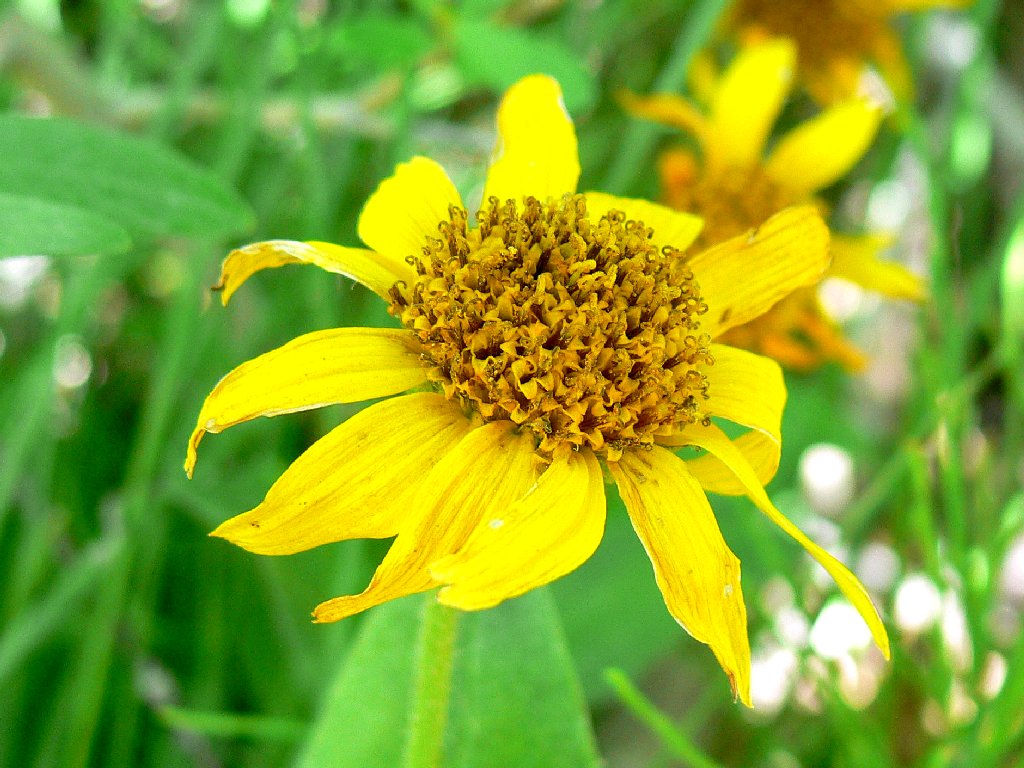 Hairy Arnica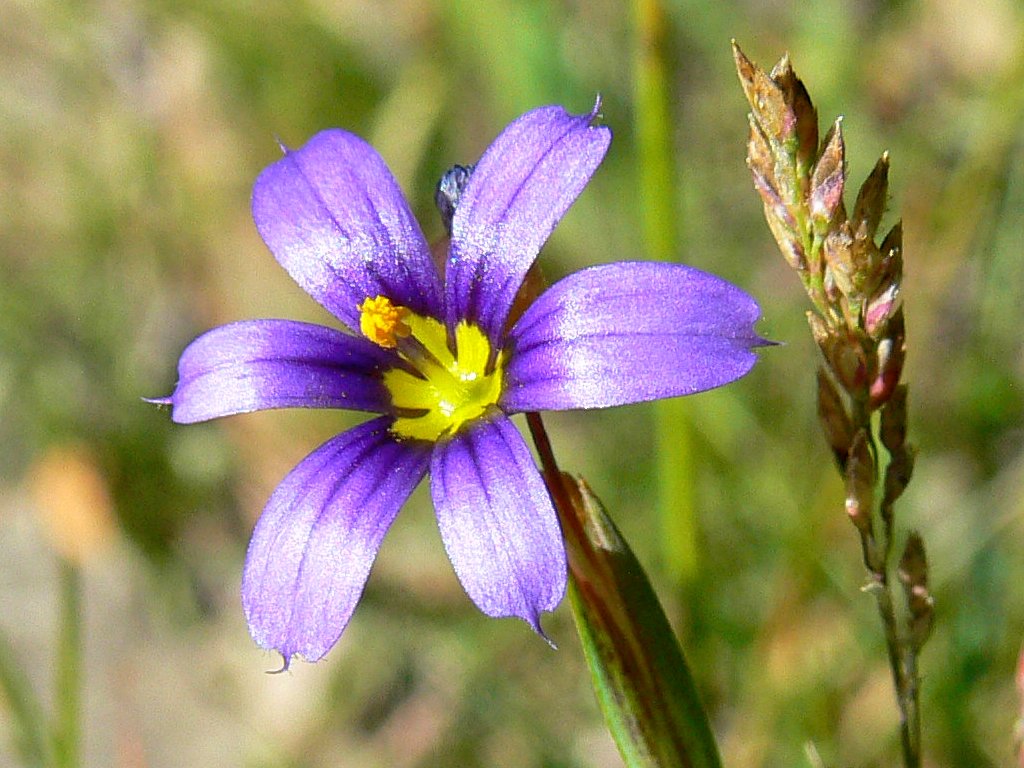 Blue-eyed Grass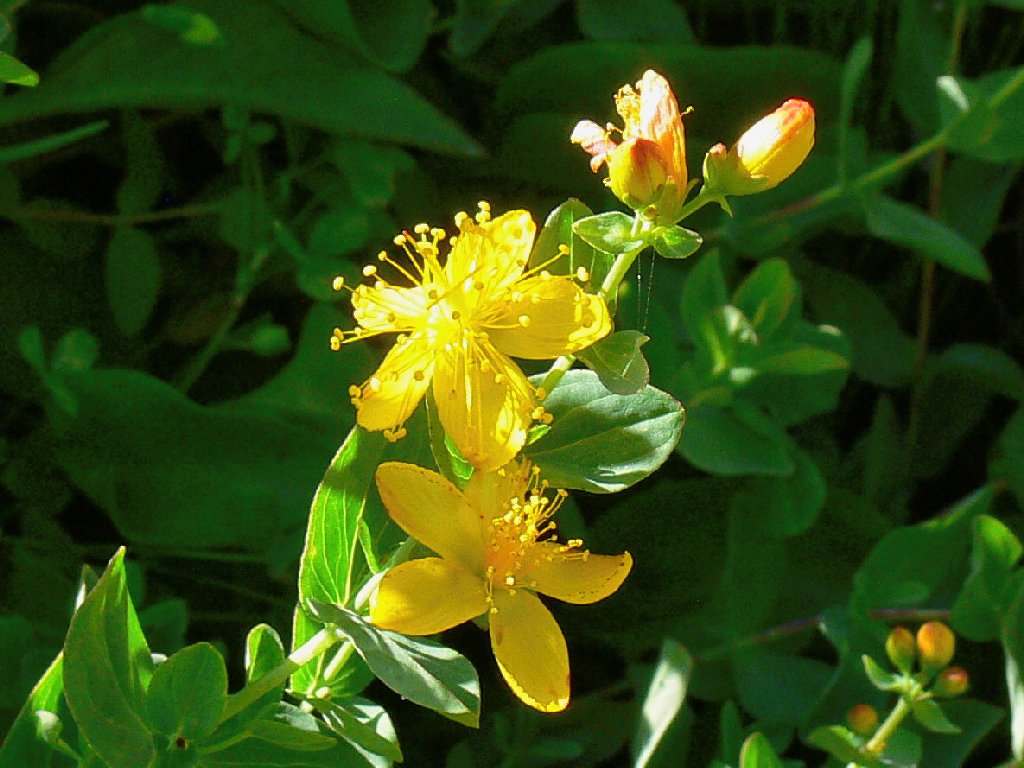 These look like St. John's Wort
Standing next to a cascade has its benefits: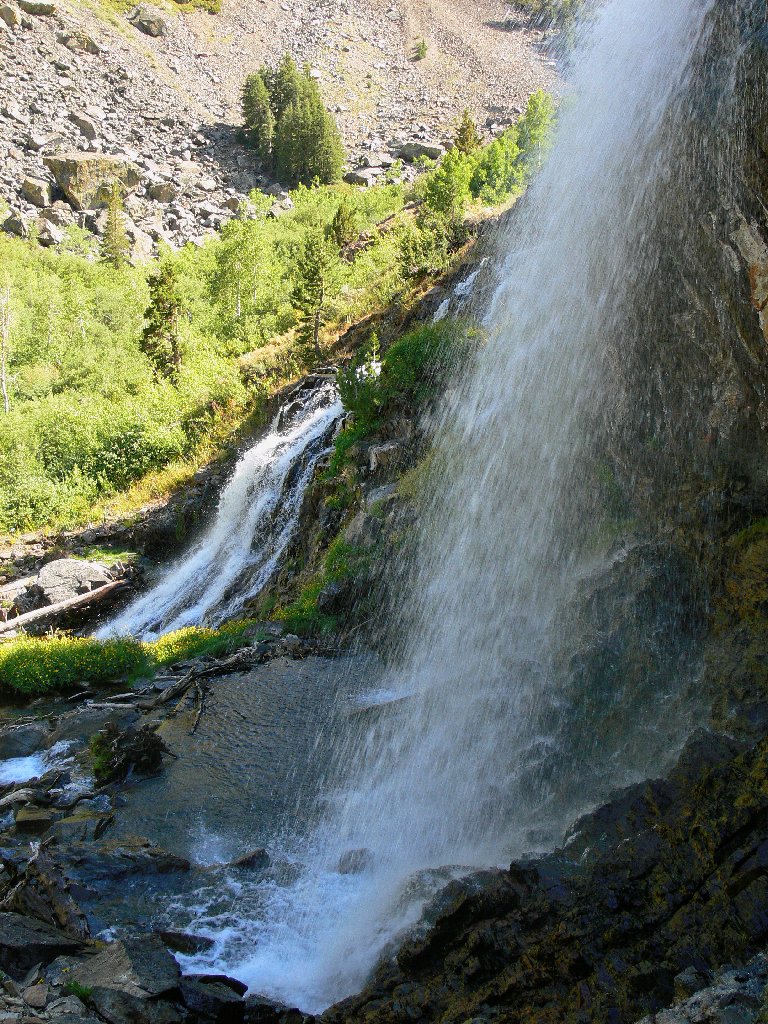 A feel-good place
The foot path leading toward the top of the falls soon dissipates, forcing me once again to scramble up through the aspens and other bushes while trying to find a way across the creek to the main trail. And I had thought that bushwhacking manzanita was difficult! Along the way, however, I encounter yet another pair of new flower types.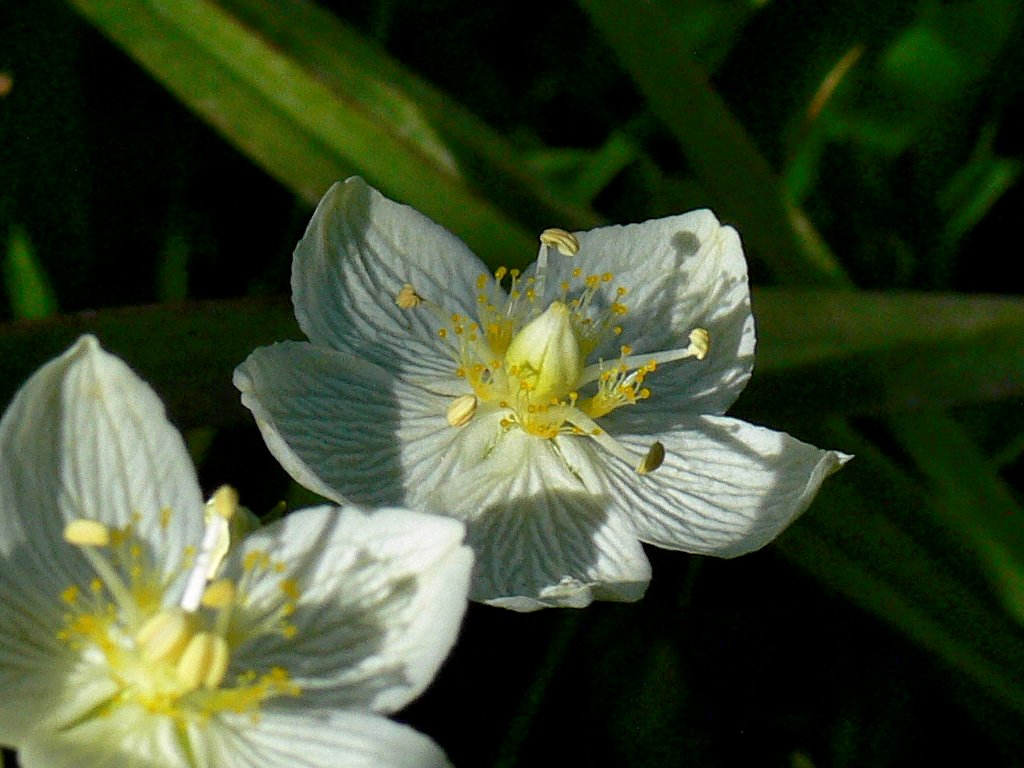 Grass of Parnassus

Bull Clover is my guess
Once at the top of the cascade, the predictable feelings of relief and accomplishment soon are replaced by ones of utter contentment; for it is a Garden of Eden up here.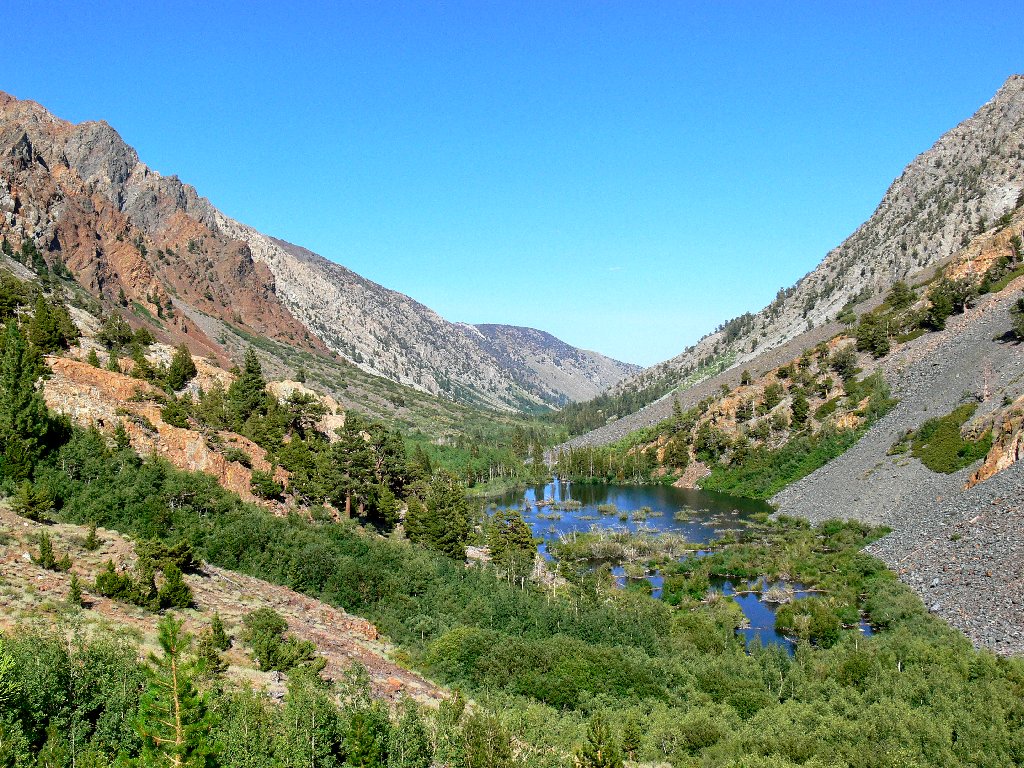 Lundy Canyon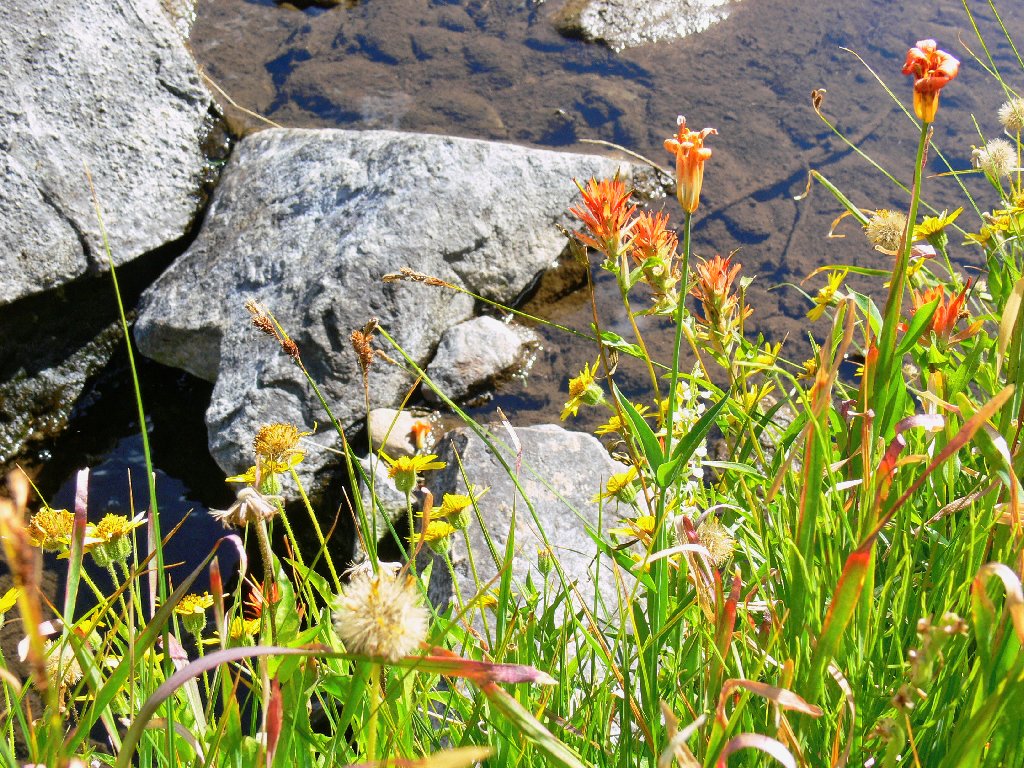 Mill Creek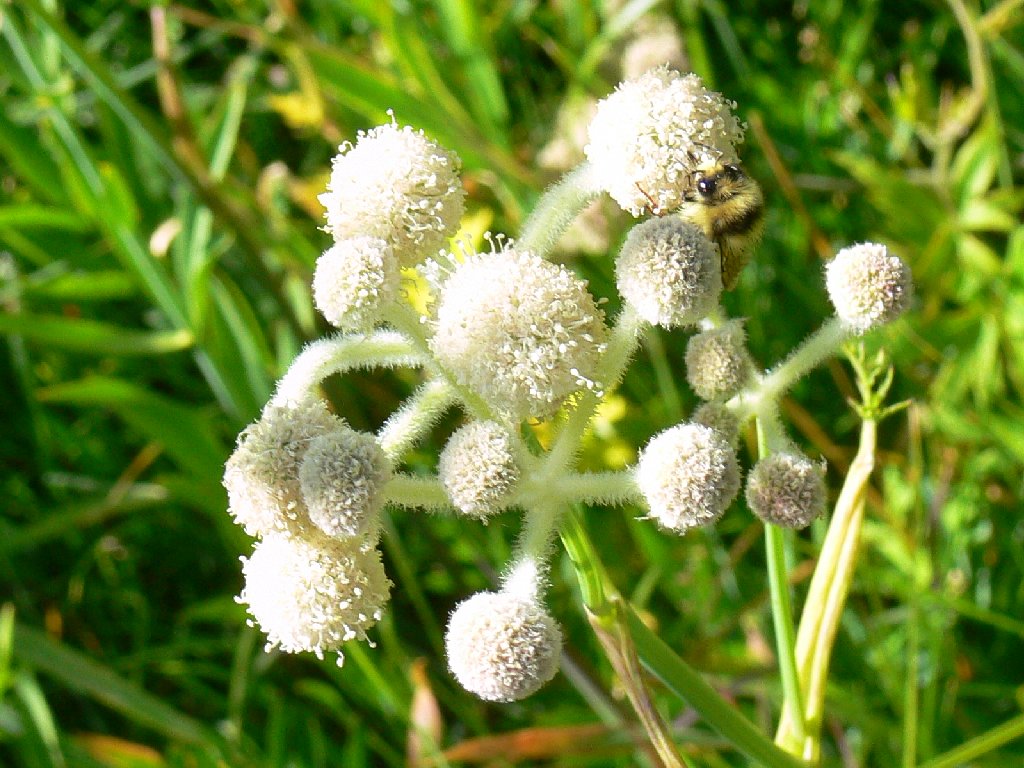 Bees do like Ranger's Buttons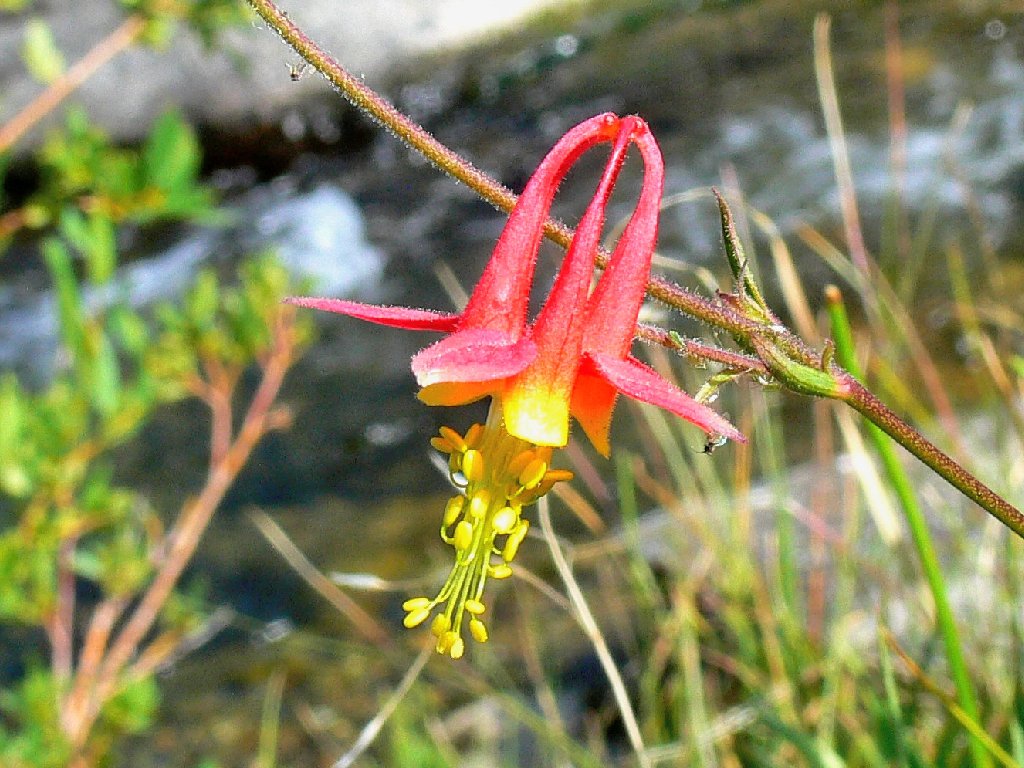 Crimson Columbine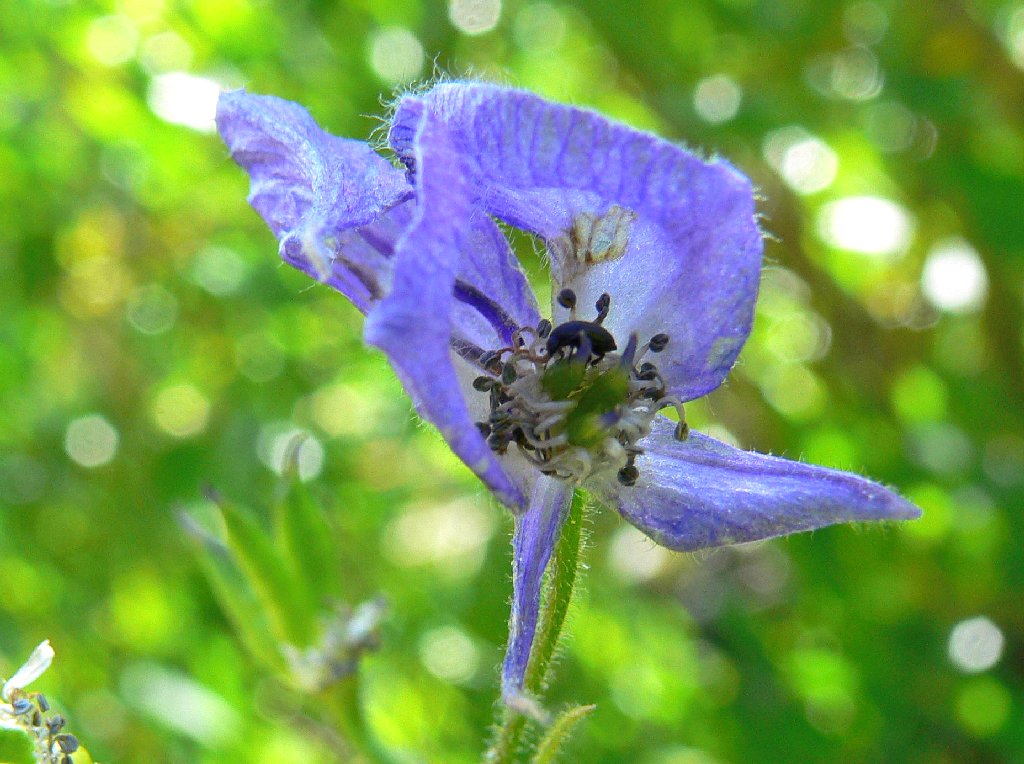 This Monkshood is occupied
As Mill Creek drains most of the Twenty Lakes Basin, which lies at the base of the Sierra Crest to the southwest, water always is flowing here. Less than a mile up the trail are at least two more big cascades. (Beyond that is a series of steep and problematical switchbacks across an unstable talus slope, leading to the twenty lakes.) It will be a real shame to miss those other falls; but it has become too late in the day. By the time I could get up there, the sun would have set.
Having made it only as far as the Hoover Wilderness border, and resolving to plan better in the future, I start back with a somewhat heavy heart. Of course, there is a bright side to being here at such a relatively late hour, as this is the best time of day for photographs.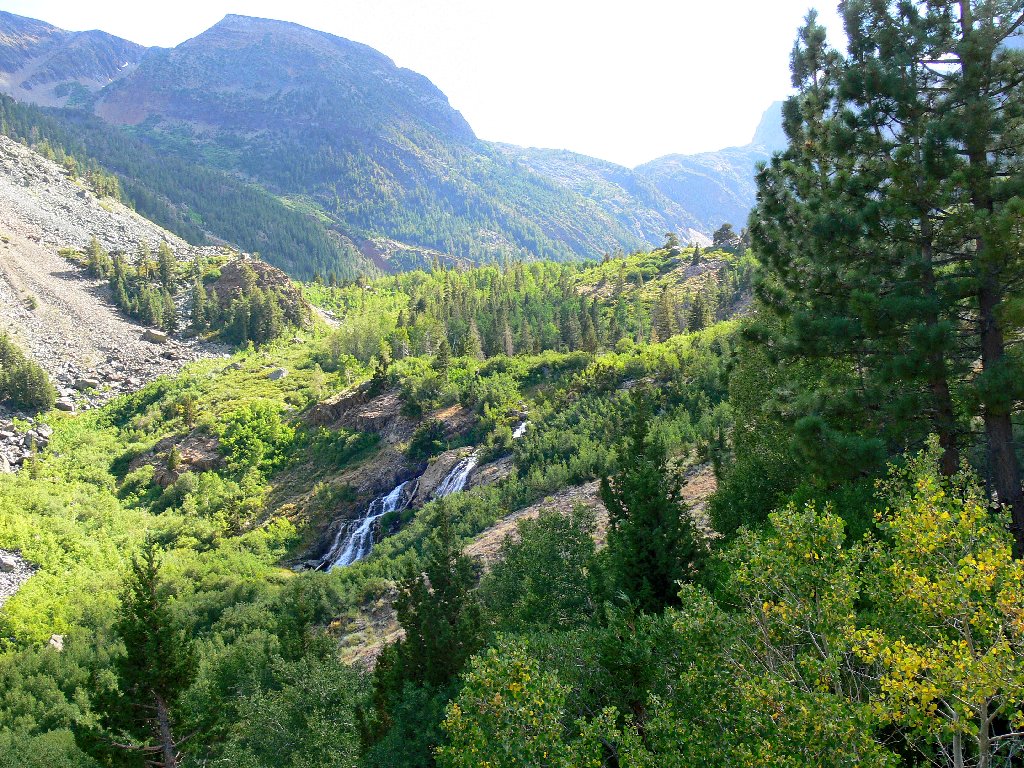 A parting shot of the garden area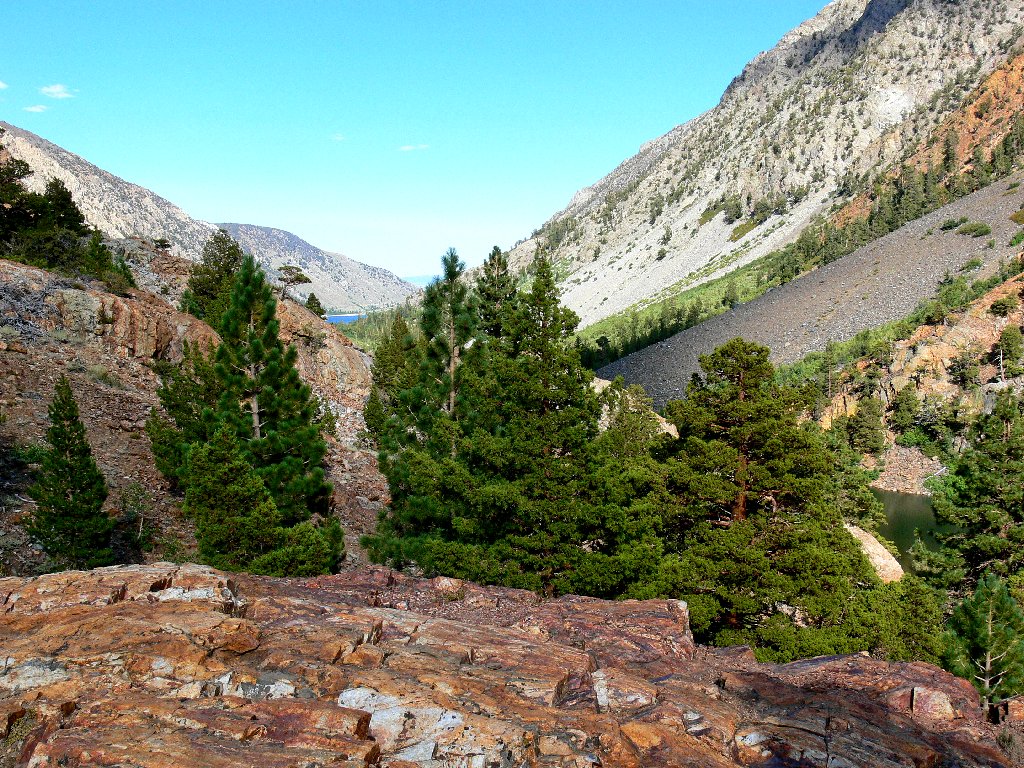 Lundy Lake in the distance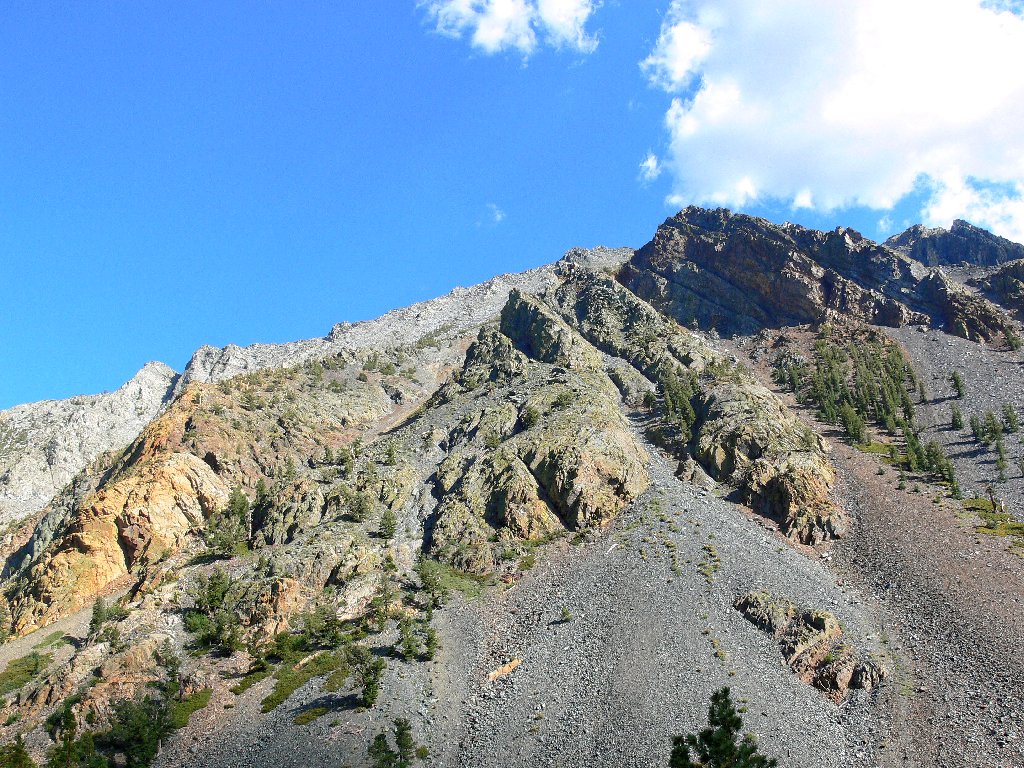 The south canyon wall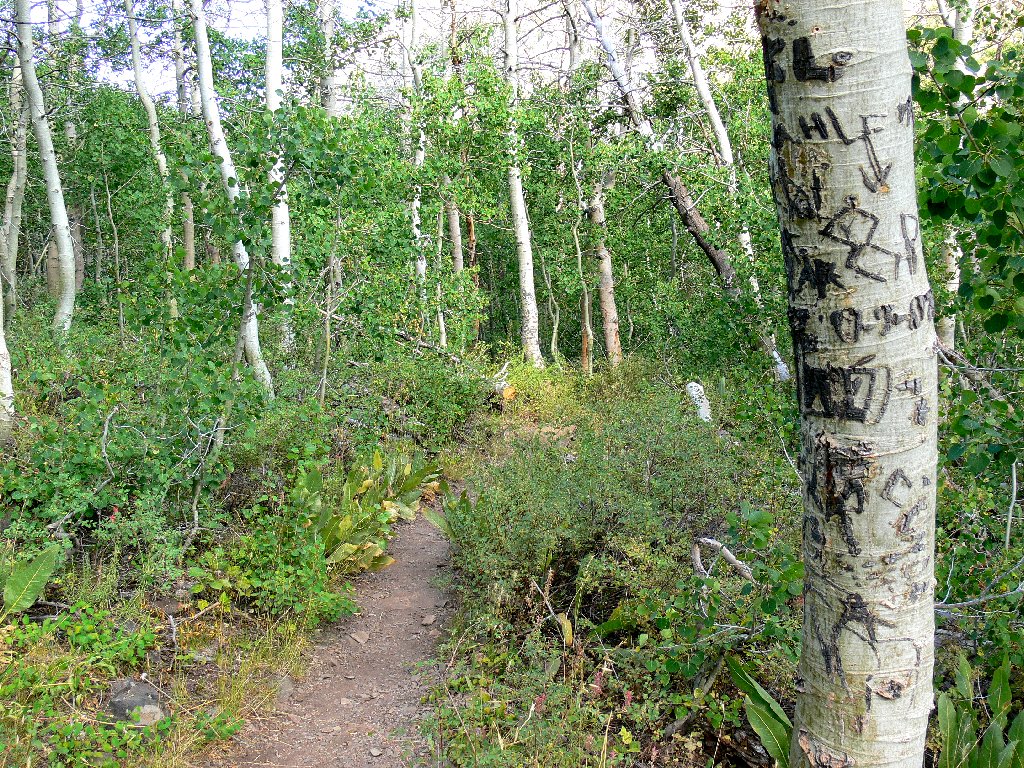 A plethora of aspens suggests great autumn hiking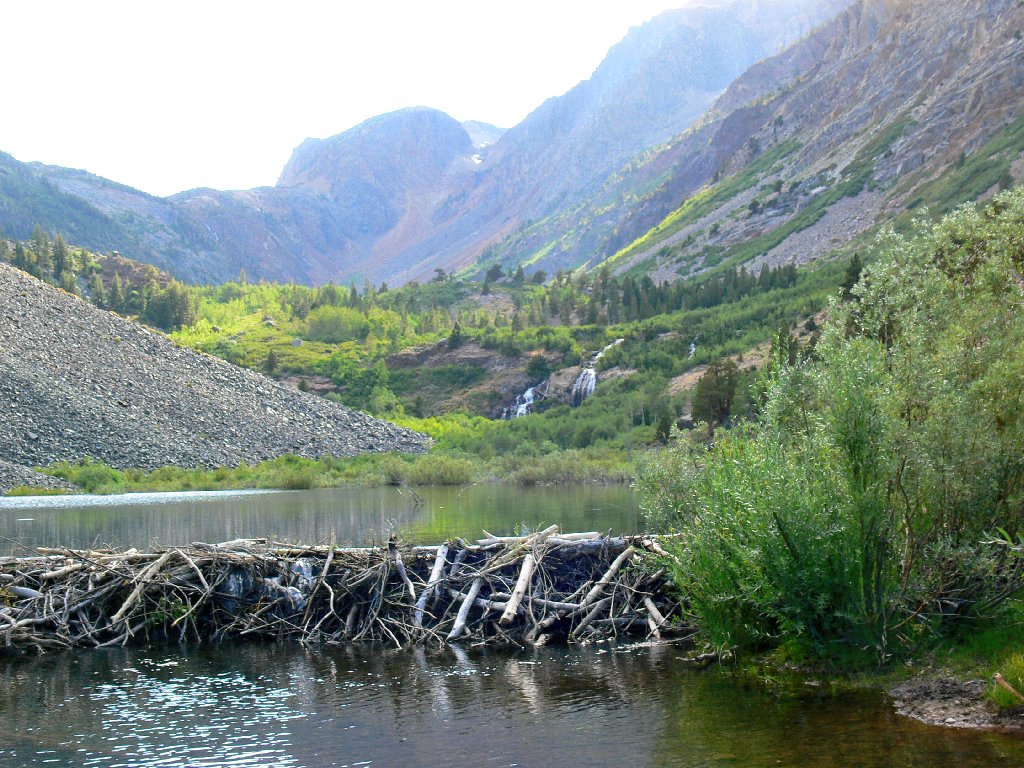 Did beavers really make this?
Yes, it looks like a beaver dam, but I am unconvinced. Its very construction is suspect, being so long, so straight, and in an unlikely place. The dam has been around long enough to be on topo maps; yet there is no evidence of beaver dwellings or activity. The most profound clue, however, is the man-made aqueduct that drains this pond several miles down the canyon.
Irrespective of its origin, you can bet that this structure is maintained by the Forest Service so as to guarantee the water supply. And it's a lot more aesthetically pleasing than a concrete alternative. I approve.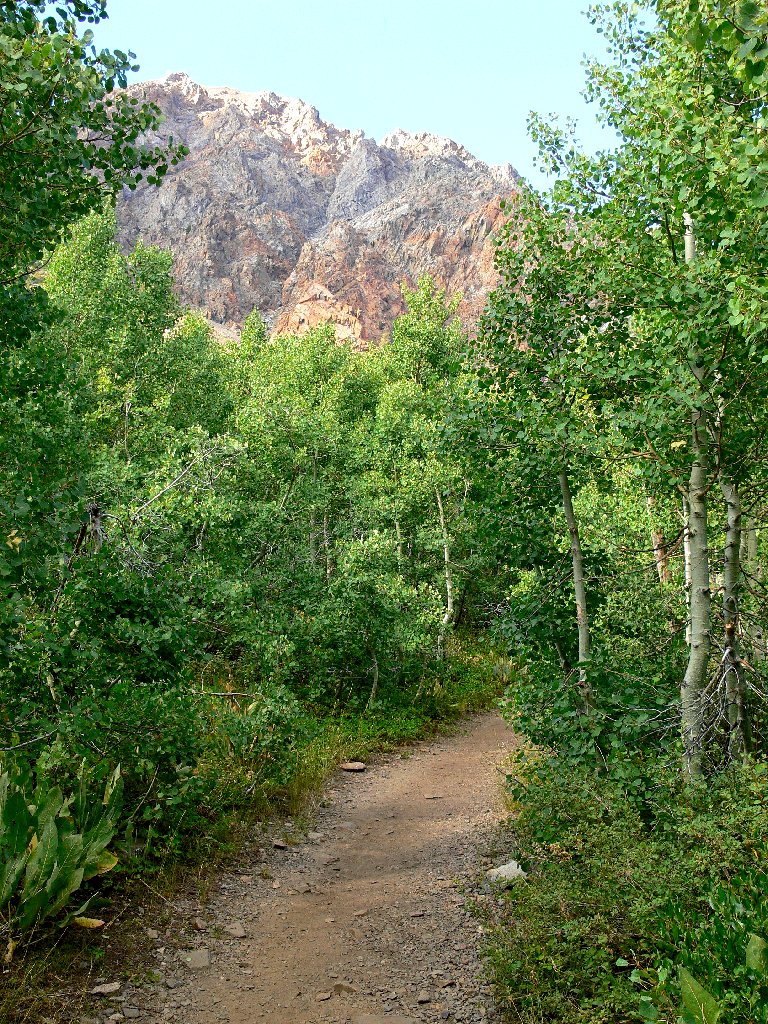 Nearing trail's end
At roadside near the trailhead rests a unique and colorful painting, unnoticed during the drive in.

Chief Blockhead

§: Despite having anticipated this walk for a year, I didn't begin to do it justice. The compleat photographer would arrive early, hang around in the canyon all day, then exit near sundown. I fully intend to revisit this special place.
Trailhead: 7 miles west of US-395 on Lundy Lake Road, 7 miles north of Lee Vining
Distance: 2½ miles
Elevation: 8150' to 8300'
Hikers: 12
Rating: 7 (more for the whole canyon)