Stebbins Cold Canyon Reserve
Vaca Mountains
April 4, 2009
I did this hike alone just a year ago, but only as far as the old home site. Today I have brought a walking companion, and we intend to do the entire loop.
The parking lot is overflowing as we arrive, partly because of a big group of college researchers doing — well, whatever college researchers do.
| | |
| --- | --- |
| | |
| Starting out | The creek is alive and well |
It's still a bit early for flower season, but a few guys are around, including some bright red ones of a variety that I have not seen before.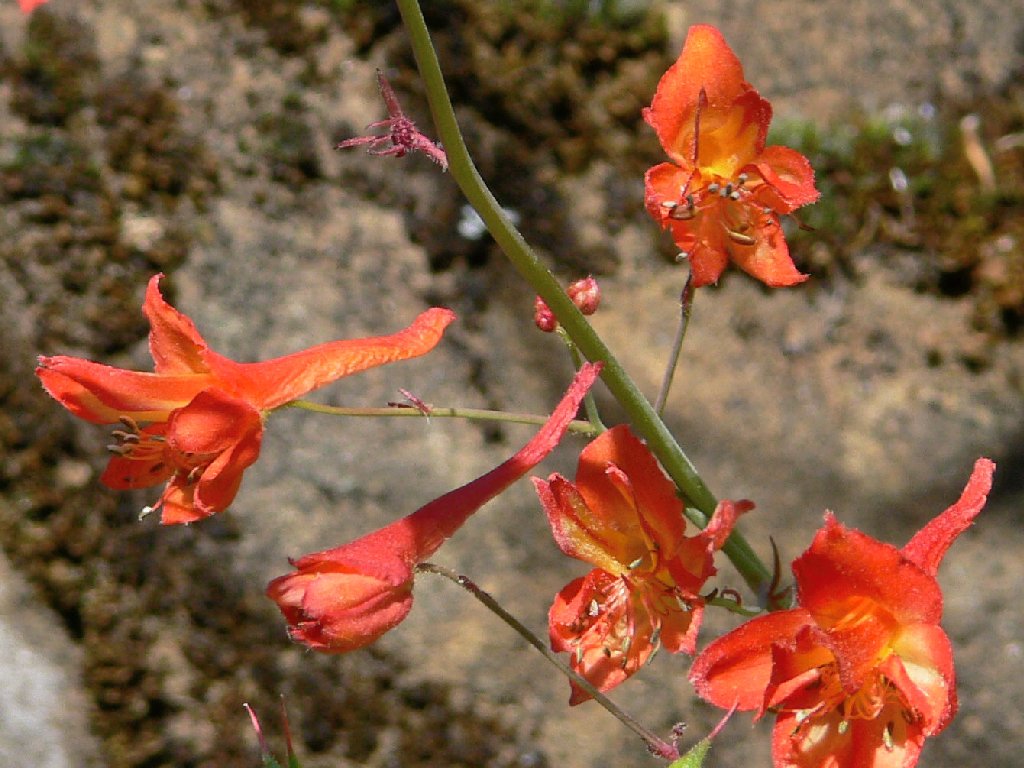 Red Larkspur
This route up the canyon always is green and pretty, and the trail is well-maintained.
| | |
| --- | --- |
| | |
| A canopy of trees | Small-flowered Fiddleneck |
| | |
| --- | --- |
| | |
| Easy walking | The Vlahos homestead, circa 1938 |
Just past the old home site, the trail begins climbing in earnest. Shortly, we are looking down upon the meadow we had just traversed.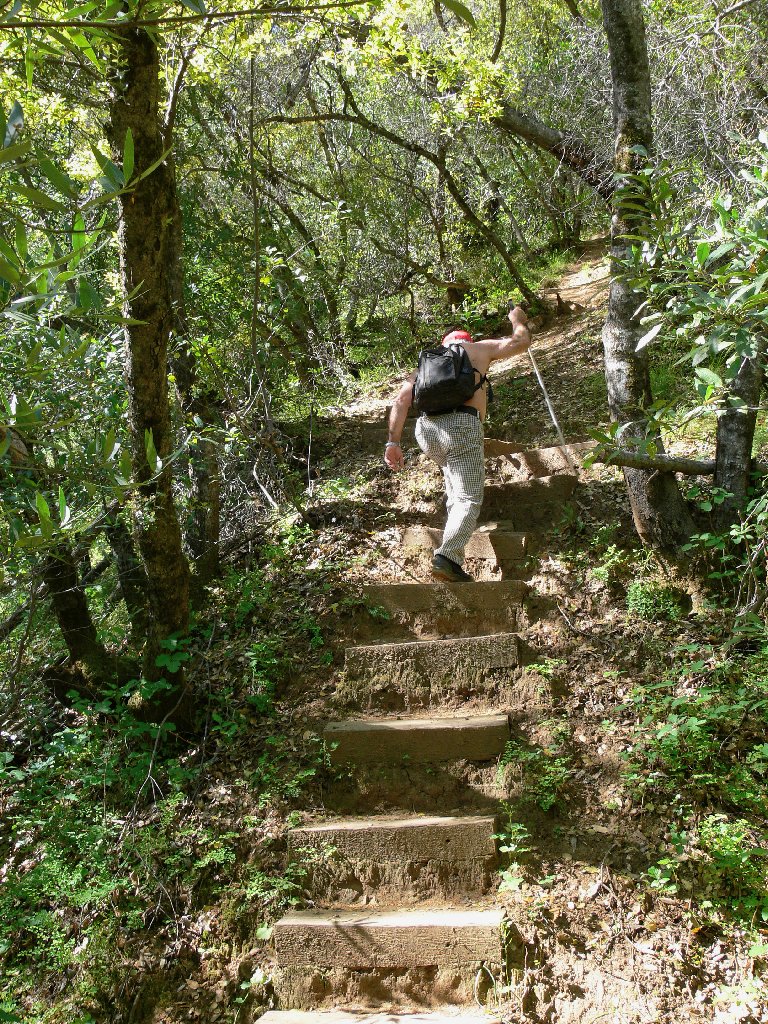 Ali tests the stairs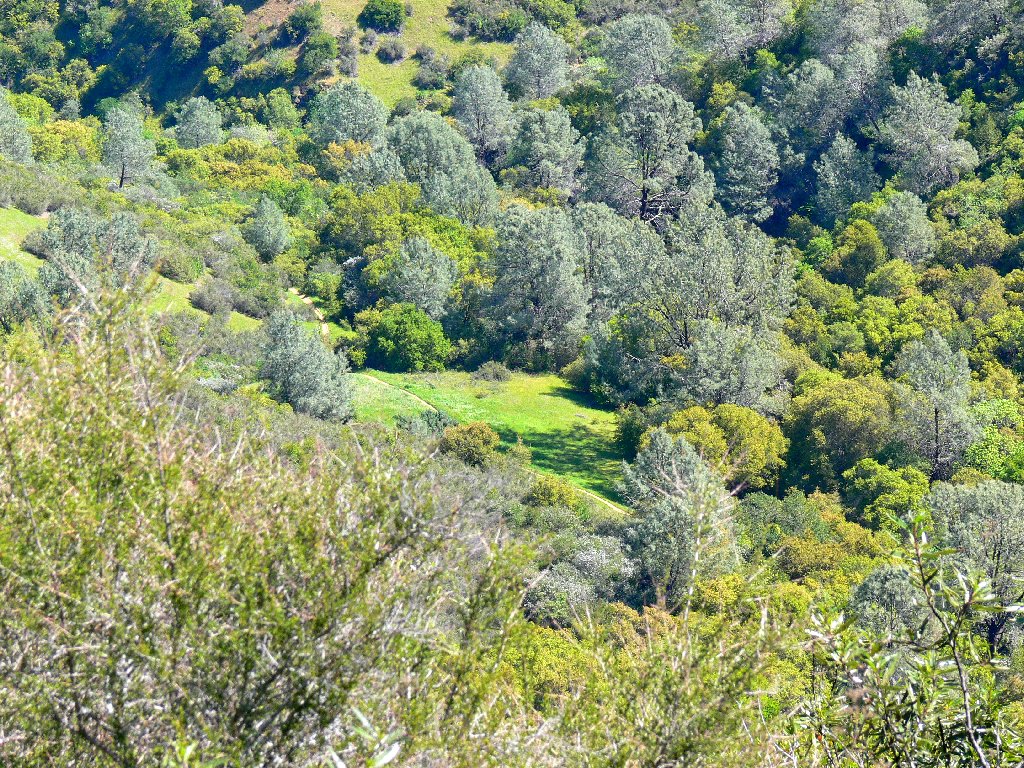 Been there, done that
After a steep climb featuring many more stairs, we access the Blue Ridge Trail, which goes in both directions straight along the very top of — you guessed it — Blue Ridge itself. No concession has been made to routing the trail in a particularly hiker-friendly fashion; lots of scrambling over and around boulders is necessary. It is quite arid up here; much of the plant life is different from that in the canyon below.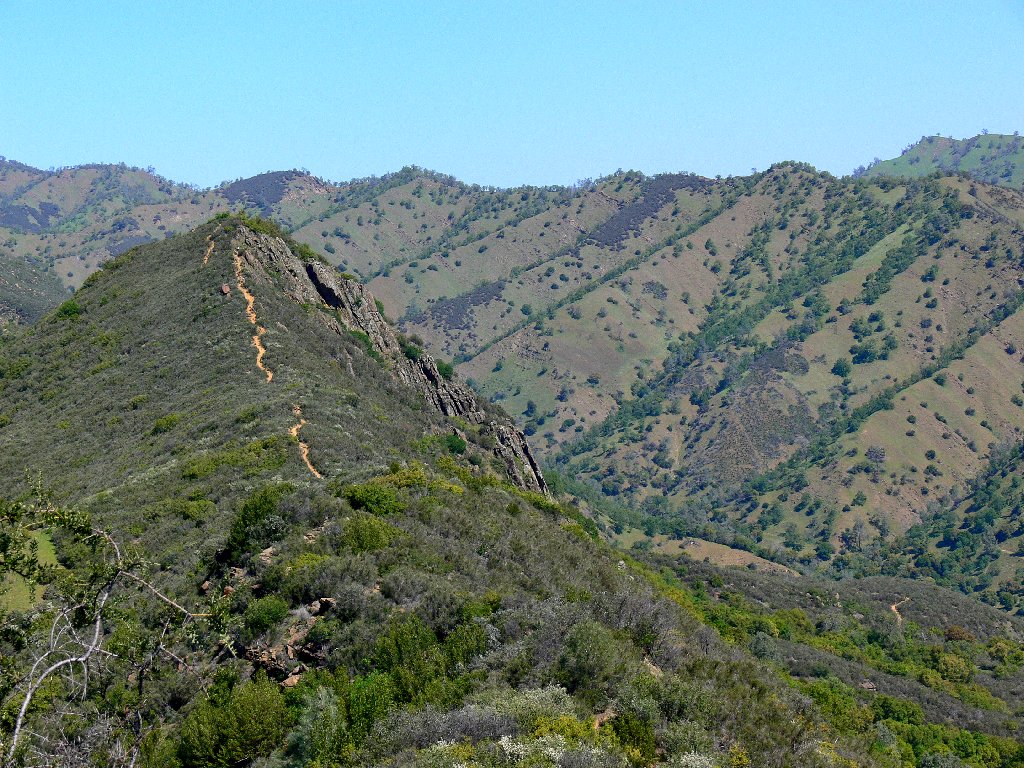 The Blue Ridge Trail
For a time we follow, then catch up with a young man hiking with his three small children, all of whom seem to be having a wonderful time. I was asked to serve as photographer for a family portrait; then, having observed dad's demeanor toward his kids, I tell him that he is a very nice man. I hope that means something to him.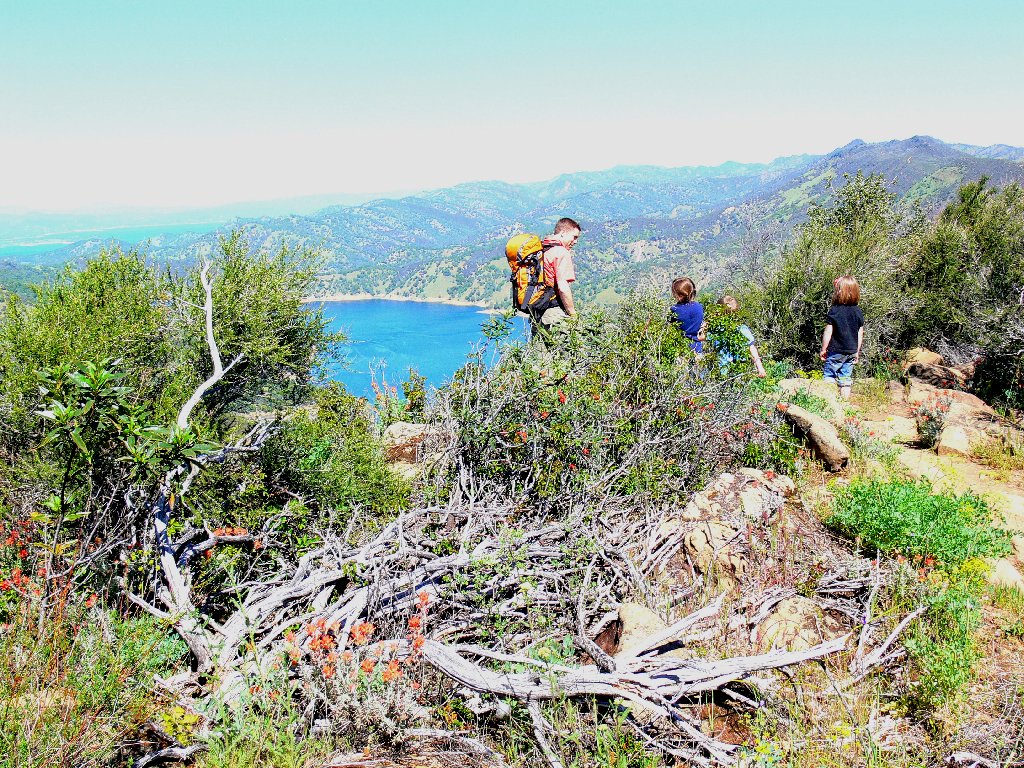 A happy family
This trail is much like a roller-coaster ride — lots of ups and downs. Each mini-summit rewards Ali and me with nice views of Lake Berryessa.
| | |
| --- | --- |
| | |
| Up and down we go | A tiny portion of Lake Berryessa |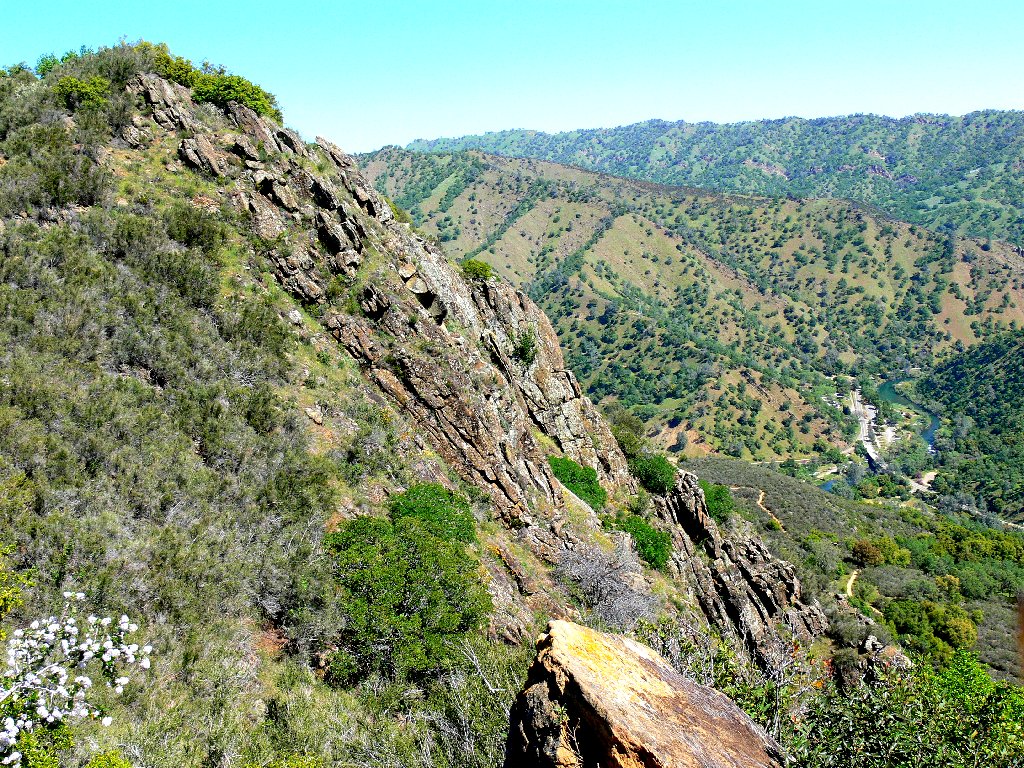 Nearing the end of the ridge route
| | |
| --- | --- |
| | |
| Sacramento valley in the distance | Last view on the west side of the ridge |
After conquering the final summit, a series of long switchbacks takes us down a thousand feet. Several formerly steeper portions of trail have been permanently closed in deference to the current longer, but more friendly, route. New flower types greet us near the end of the trail.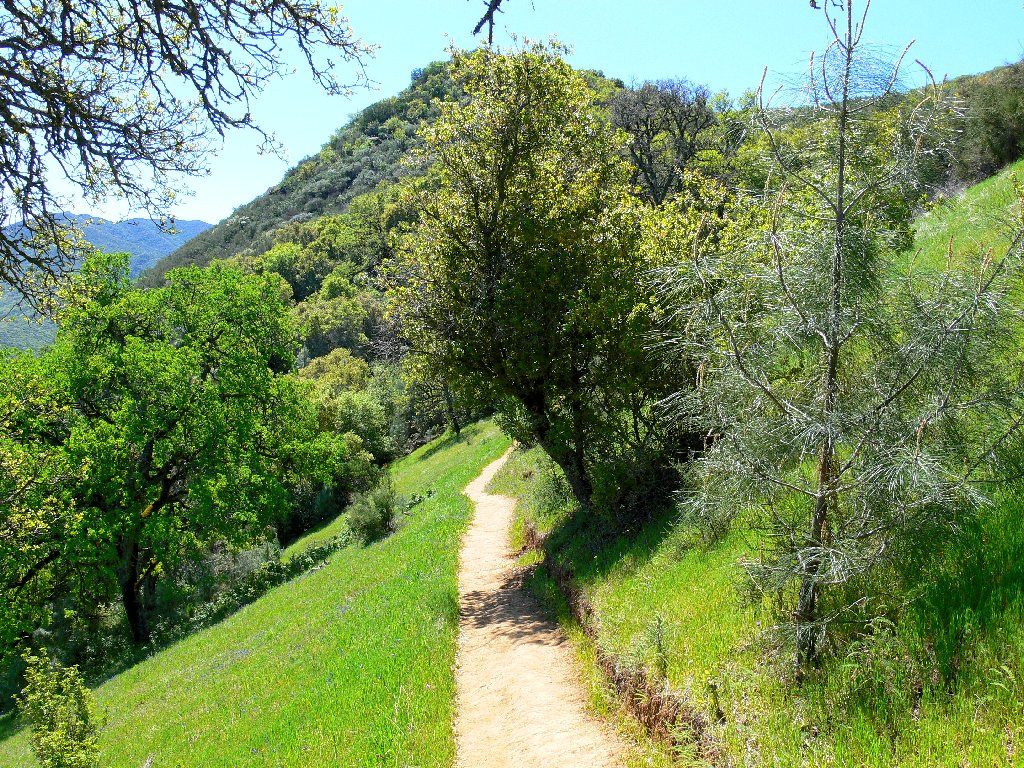 Starting down the switchbacks
| | |
| --- | --- |
| | |
| Scarlet Pimpernel | Blue-eyed Grass |
| | |
| --- | --- |
| | |
| Pipestem Clematis | Purple Chinese Houses |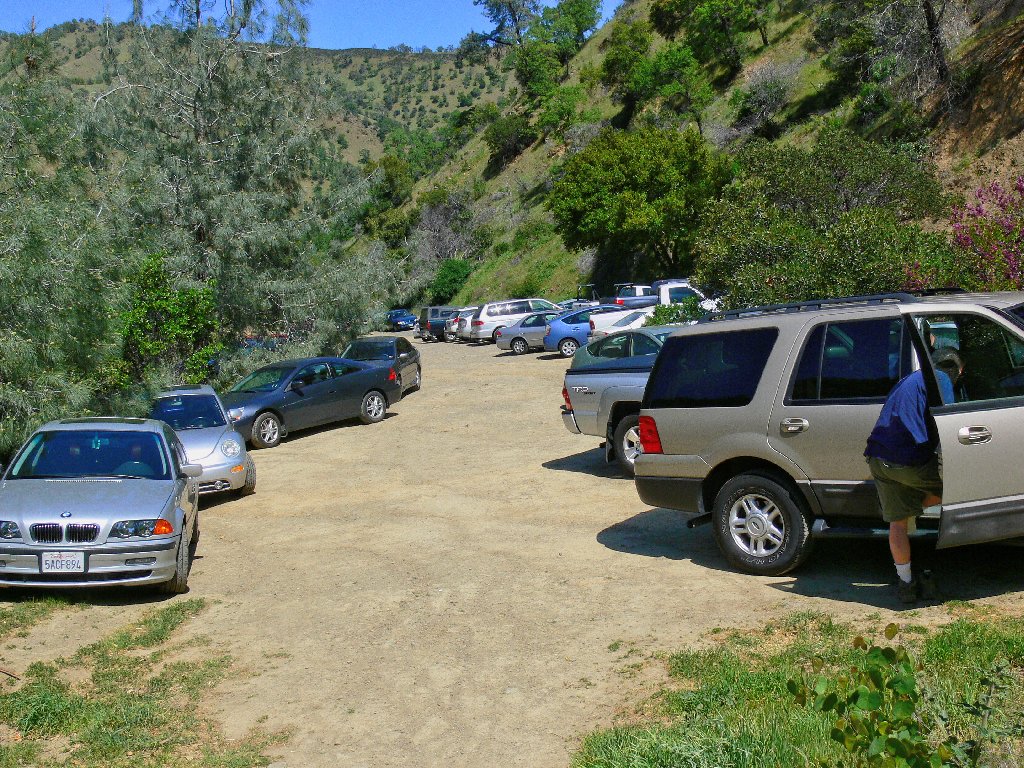 The parking lot still is full

§: This pleasant outing provided more exercise than was anticipated, and it was somewhat hard on the feet. But if a 5-year-old can handle it, how bad can it be? Be sure to do this trail before it becomes too hot and the grasses dry up; you won't like it here in the summer.
Trailhead: 6 miles west of Winters on SR-128
Distance: 5 miles
Elevation: 290' to 1580'
Hikers: 25
Rating: 5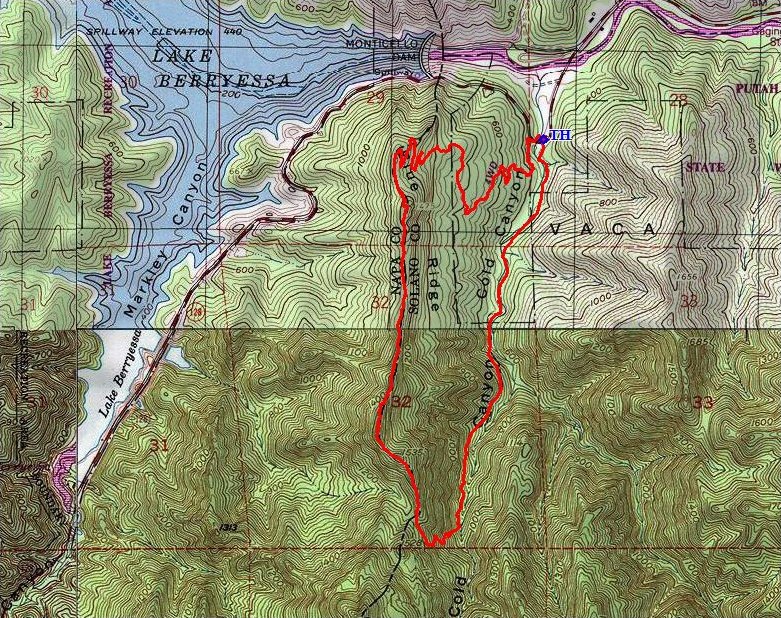 (clockwise route)