Gaylor Lakes Loop
Yosemite National Park
August 16, 2008
It is a perfect 55° on a perfect day as I reach the trailhead at 8:30 a.m., full of exuberance and oatmeal. There is no evidence of the recent big human-caused forest fire that adversely affected the park's air quality for some time. After debating whether to carry additional clothing, I eventually opt for just a light long-sleeved shirt.
The first half-mile is a steep but shady climb up the ridge on a trail featuring dozens of stone steps.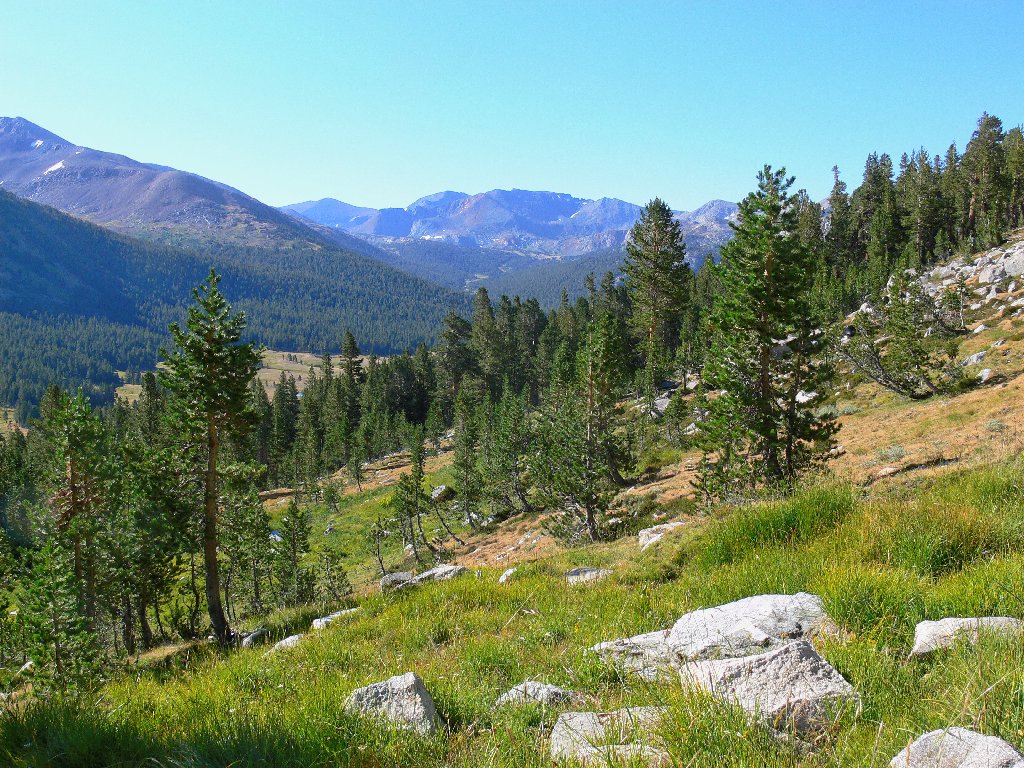 Getting started up the ridge
A 600-foot ascent achieves a saddle, where I encounter the only human I would see for the next three hours. As that hiker is returning to the trailhead and this area currently is closed to camping, I wonder how early he got going?
At the top, Middle Gaylor Lake comes into view in front of the beautiful Cathedral Range.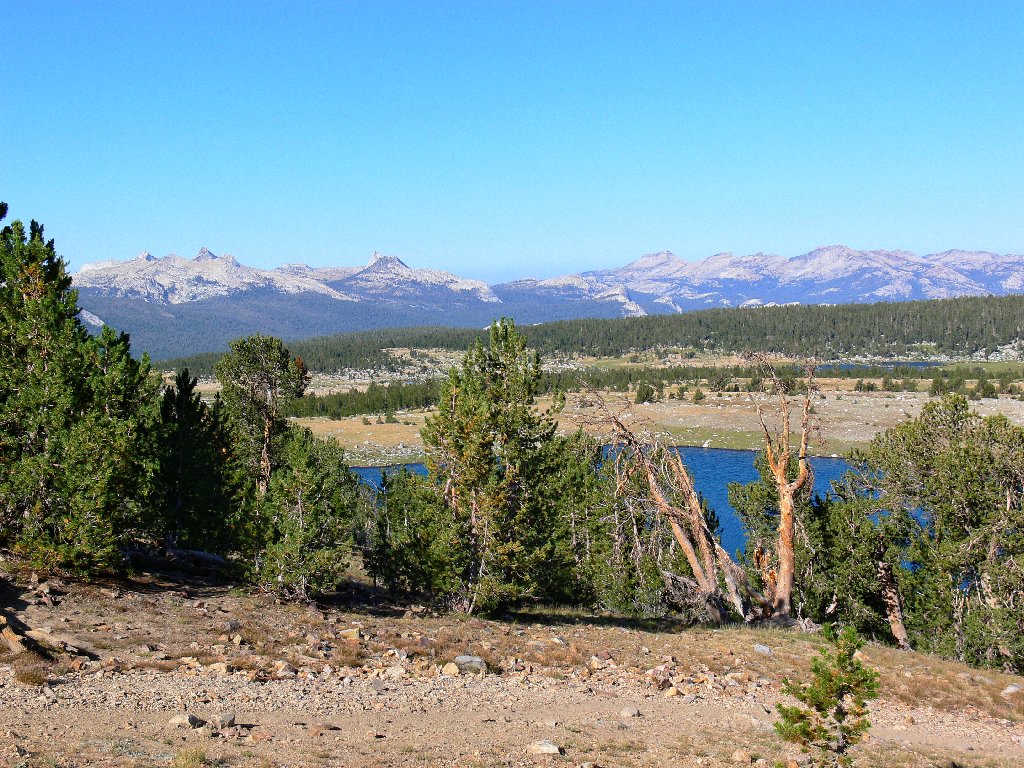 Middle Gaylor Lake
It is but a modest downhill to the lake shore, where I quickly capitalize upon a rare opportunity to capture one of my all-time favorite photographs. I doubt that you will find this particular view posted elsewhere: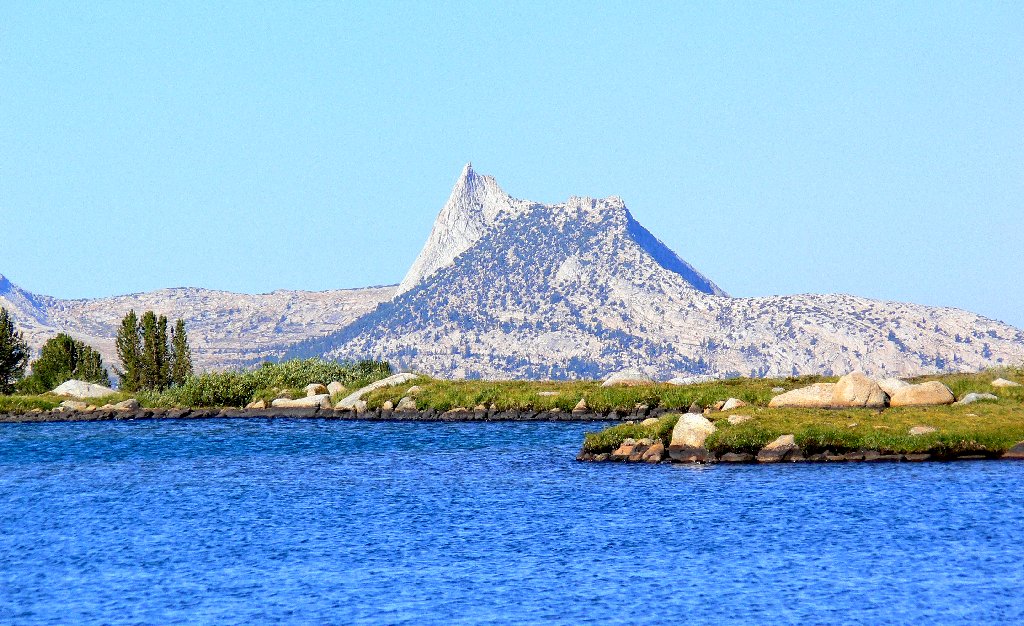 Spectacular Cathedral Peak actually is nine miles away
Even as I shoot the picture, teeming throngs in Tuolumne Meadows are bustling about directly between this point and the mountain, albeit conveniently out of sight behind the lake.
Having inexplicably forgotten to pack a decent map, I must rely on memory. Knowing that there is another lake at the base of pyramid-shaped Peak 11091 to the northwest, I decide to head across the meadow straight for it. Along the way I don my extra shirt and a headband when a light breeze comes up. I also encounter what little running water is in this valley today —a mere trickle.
| | |
| --- | --- |
| | |
| Another lake lies at the base of the hill | The creek is nearly dry |
The predominant flower in the meadow is a ground-hugging variety of lupine; there are some other guys as well. I had not seen any Lemmon's paintbrush since last summer's excursion up the Mono Pass Trail just two miles from here.
| | |
| --- | --- |
| | |
| Groundsel — a butterfly favorite | Brewer's Lupine |
| | |
| --- | --- |
| | |
| Uniquely hued Lemmon's Paintbrush | Primrose Monkeyflowers |
At my feet is a little butterfly with what seemingly are green jewels implanted in its wings. Yet on its top, this guy is a dark brown. Go figure.
| | |
| --- | --- |
| | |
| A Shasta Blue | Quite a transformation |
A leisurely stroll soon gets me to Lower Granite Lake, a gem that is nearly a mile long.
| | |
| --- | --- |
| | |
| Lower Granite Lake | Looking south |
This verdant eastern shore is a good-feeling place, featuring a couple of wonderfully colored new flower specimens. At the lake's outlet a single remaining patch of brownish-red heather enhances the scene.
| | |
| --- | --- |
| | |
| Pacific Mountain Onion | Sierra Fringed Gentians resemble blown glass vases |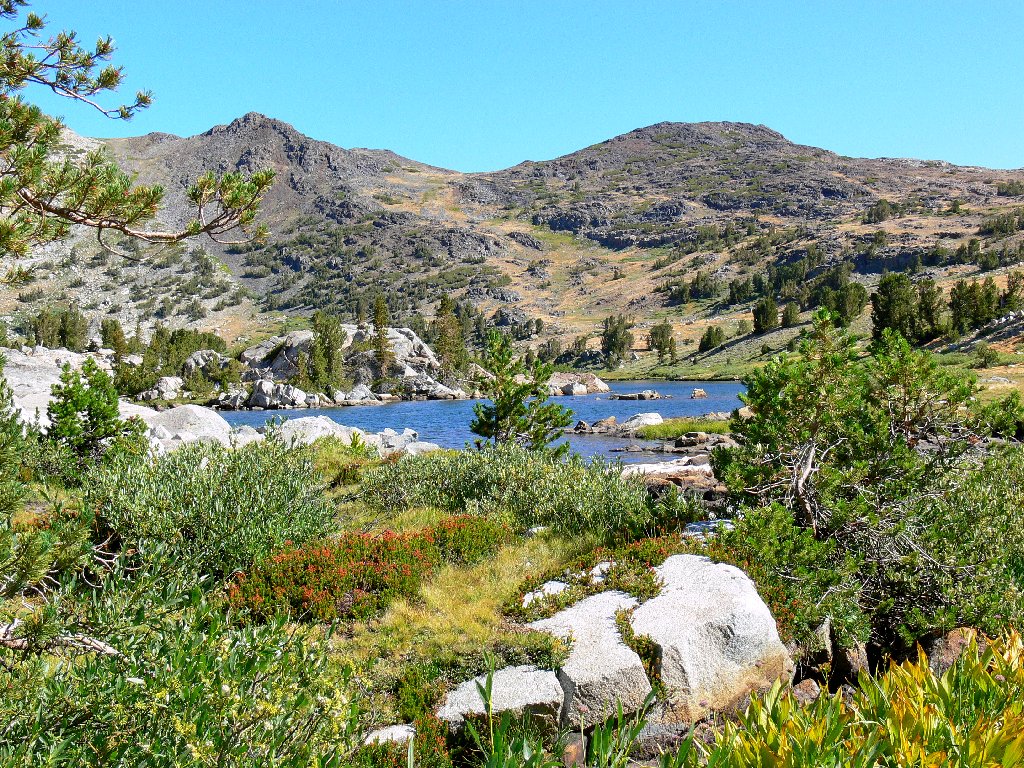 Lower Granite Lake, looking northeast
The breeze is gone, and so is my extra clothing. Continuing the loop, it is another mile southwest to Lower Gaylor Lake. I stop to chat with a Clark's nutcracker, then enjoy wending my way among the willow bushes, which seem never to be too closely bunched to prevent easy passage. The lake area itself is pleasant but unremarkable, with a few fish darting about in the small inlet channel.
| | |
| --- | --- |
| | |
| Clark's Nutcracker | Yellow Willow |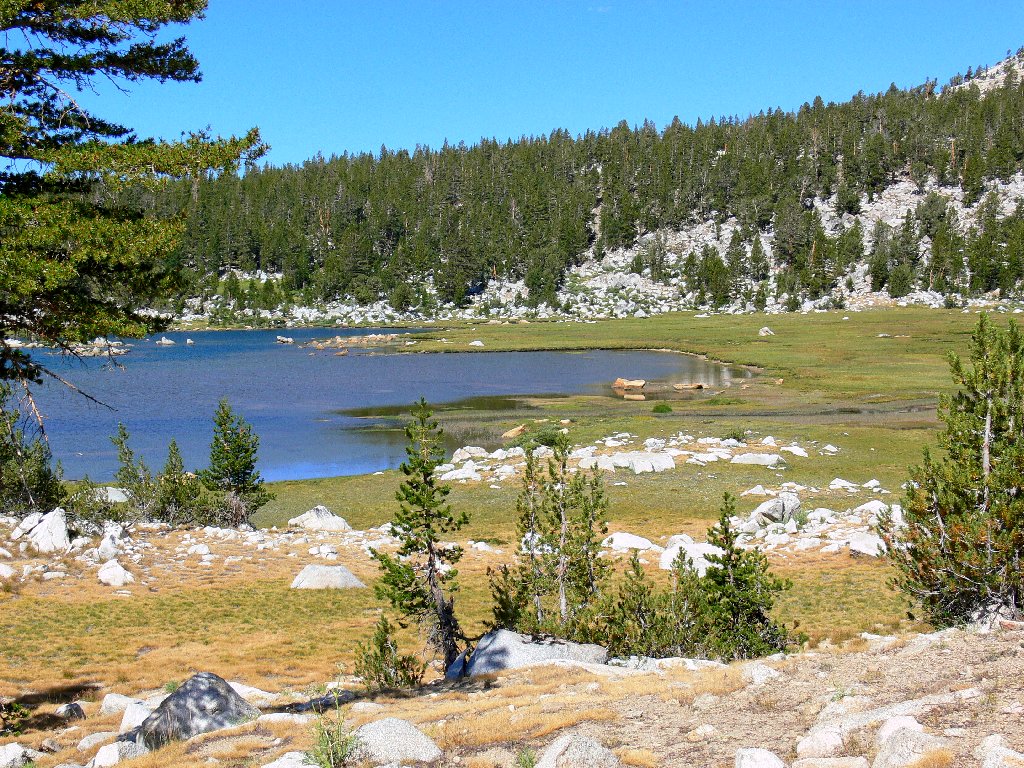 Lower Gaylor Lake
It remains only to head northeastward, back toward Middle Gaylor. A half-hour of dry, gentle uphill is unexciting except for a couple of photogenic butterflies.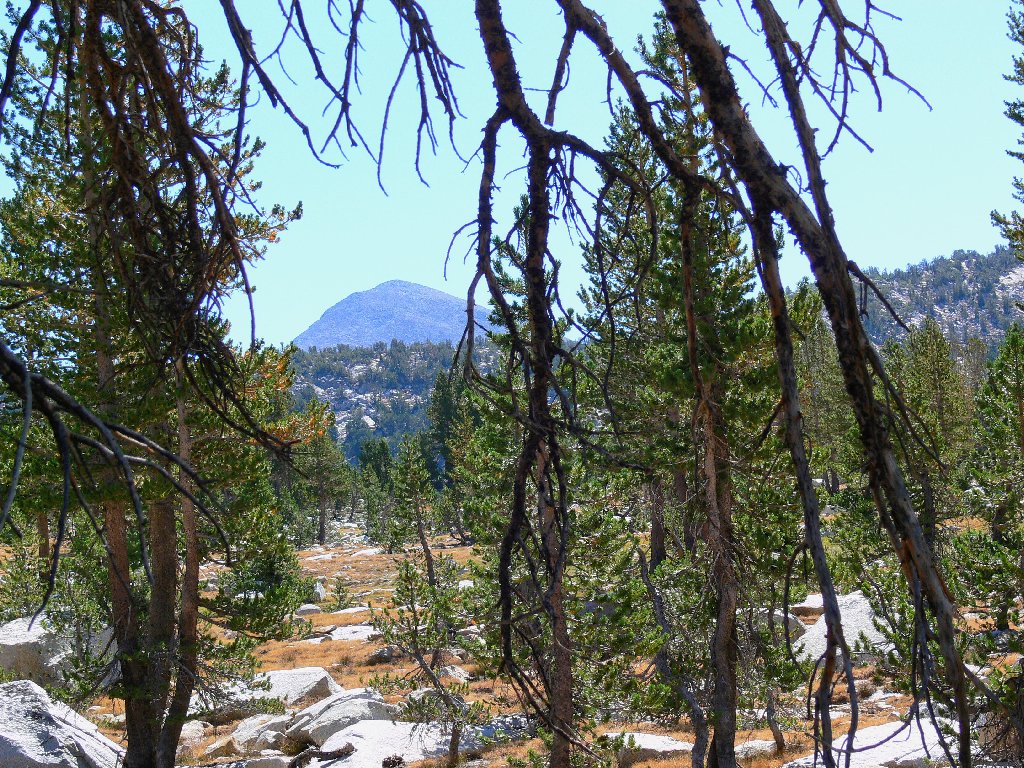 Mount Dana is a handy landmark
| | |
| --- | --- |
| | |
| Hanging out together | Great lighting enhances this Zerene Fritillary |
As I approach Middle Gaylor, the view to the north reveals the remains of an old mine atop the steep trail. I could have ventured up there, I suppose, if only to look down the other side.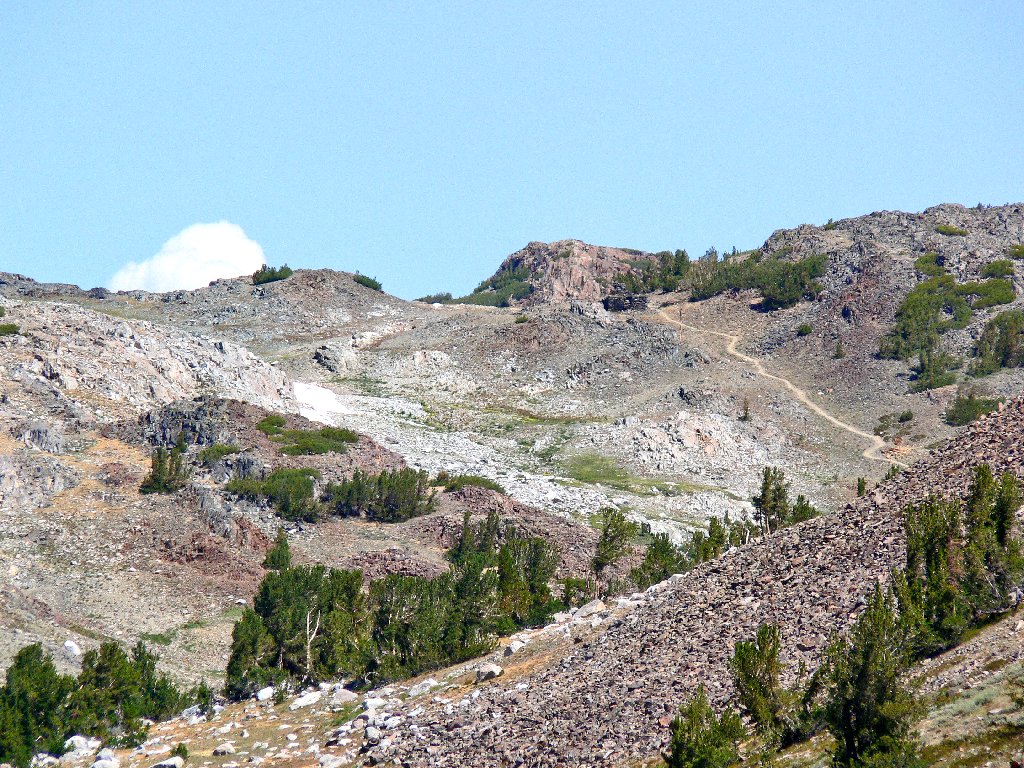 The Great Sierra Mine site to the north
From the south end of the lake, a shortcut up the hillside toward the saddle cuts a quarter-mile off the route. The views are quite fine up here.
| | |
| --- | --- |
| | |
| Dana Meadows and the Kuna Crest | Mount Dana, second-highest in the park at 13057* |
| | |
| --- | --- |
| | |
| Lee vining Canyon hosts the Tioga Pass Road | Interesting colors |
It is just noon by now, and the temperature has risen 20 degrees. The descent to the trailhead is much warmer this time, and it seems correspondingly dustier as well. I meet dozens of hikers just beginning their outings. Weather-wise, my timing was much better.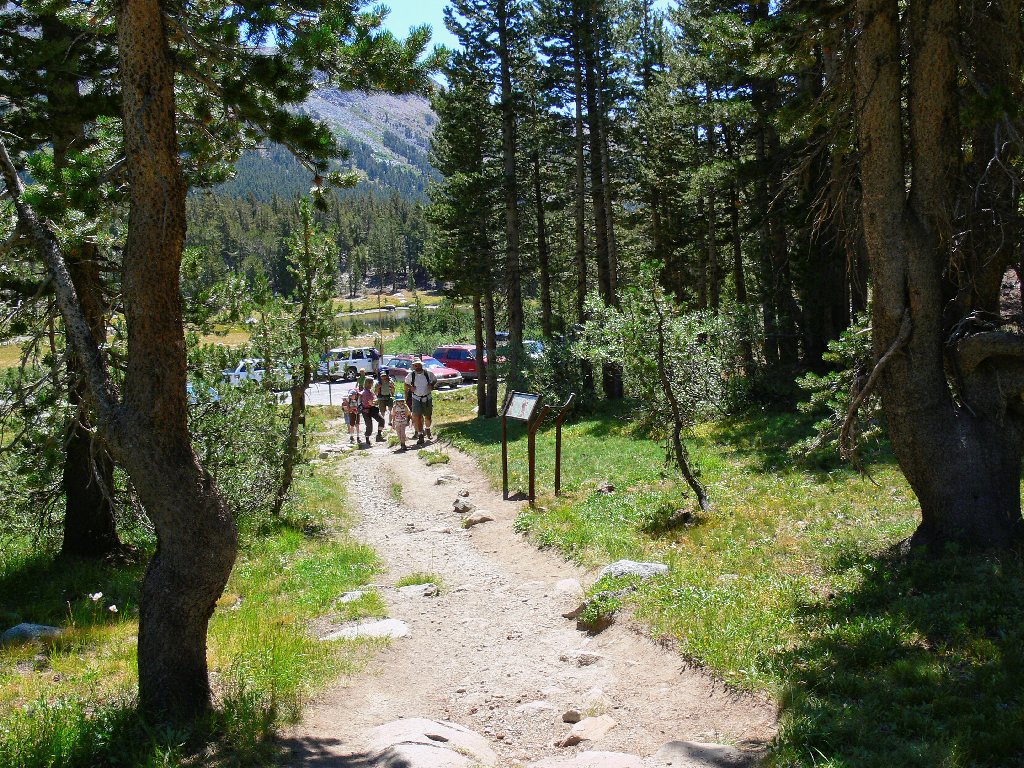 End of the line
The long drive home through the park merits a little credit as well: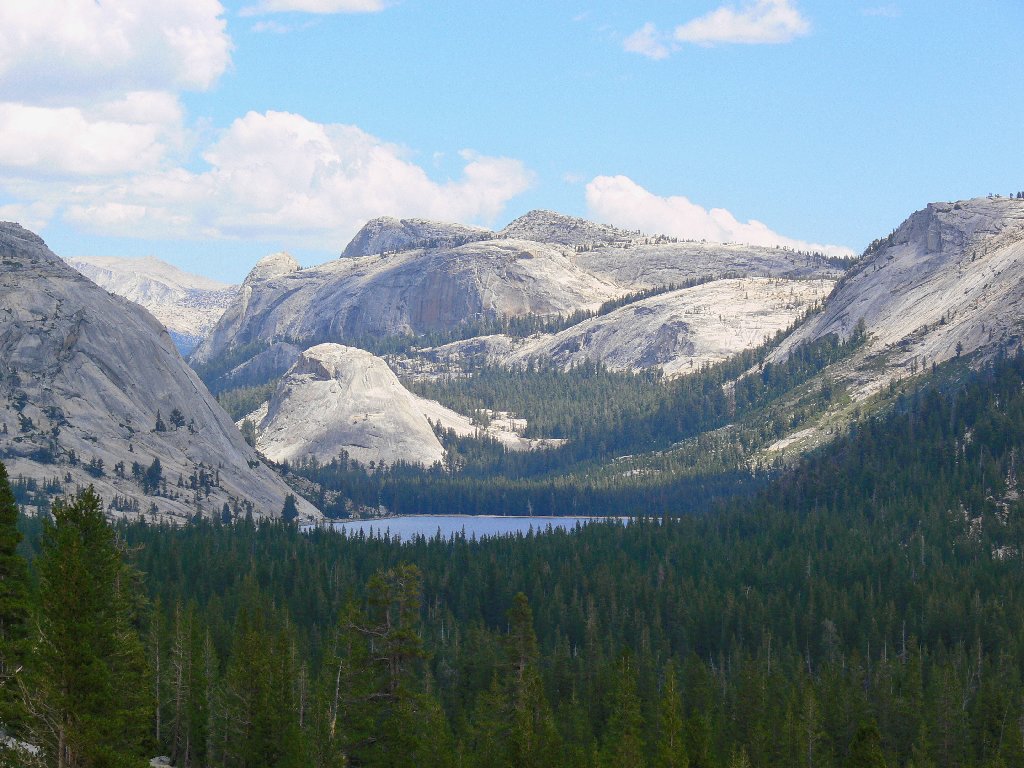 Tenaya Lake from the highway

§: In retrospect, I really blew it by forgetting to pack the nice map that I had prepared at home. So much for memory. Between Middle Gaylor and the old mine was Upper Gaylor Lake, which I never saw. Also, Upper Granite Lake lay at the base of the cirque just behind Lower Granite. Having not realized that it was there, I might well have missed the most scenic feature in the area; and doubtless there were good views from the Great Sierra Mine area as well. Despite these oversights, I shot some memorable photographs on this trek.
At 10,000 feet elevation, the season here is so short. Even though it is quite beautiful here today, this surely was a more spectacular place a month ago. The best time to visit is when some snow remains at the higher levels.
Trailhead: SR-120 at Tioga Pass
Distance: 5 miles
Elevation: 9943' to 10550' to 10050'. Total gain: 1200'
Hikers: first three hours, 1; last half hour, 32
Rating: 7 (=8 at peak season)