Woods Lake Loop
Mokelumne Wilderness
August 07, 2007
Since I last used this trailhead in the 1970s, it has been moved well north of the lakeside picnic area, adding nearly a mile to the round-trip distance. Unless you can park near the picnic area and utilize the shortcut (if you know where to look), this no longer is the shortest access to Winnemucca Lake; but that's not why I'm here anyway.
It is a calm and very pleasant 61° at 11:30 a.m; I won't bother to carry a long-sleeved shirt. Ten minutes up the trail I realize that I haven't bothered to apply or pack any sunscreen either. It seems that this will be an all-natural outing.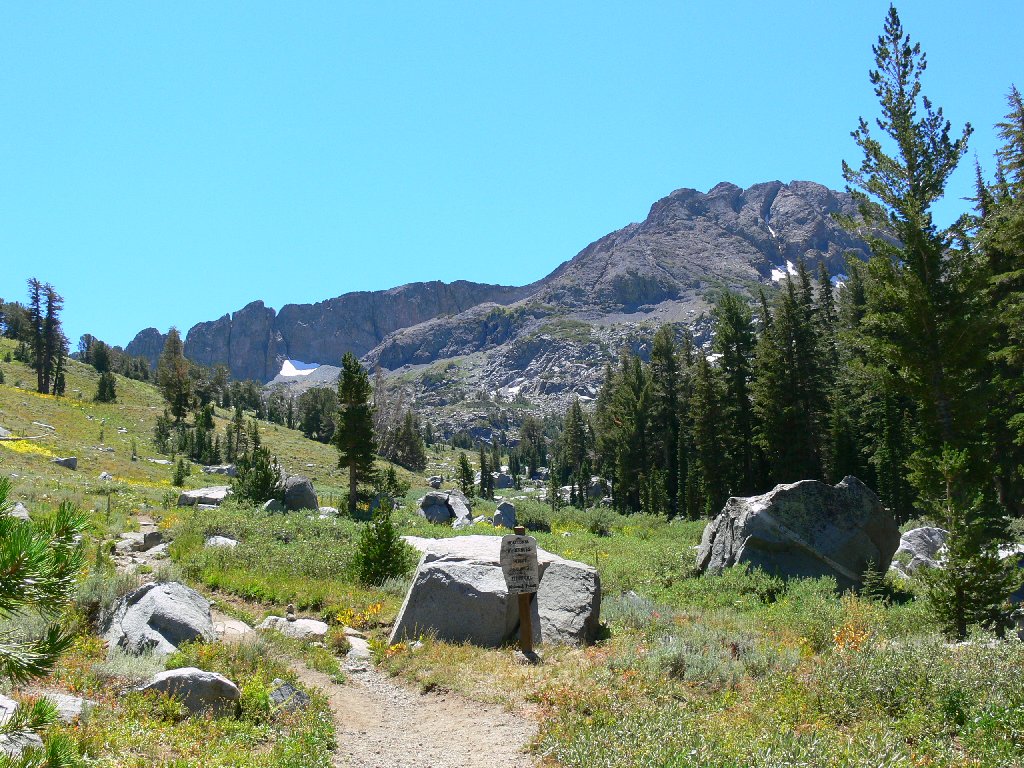 Starting up toward Round Top, 10412*
There are just a few flowers in evidence so far — mostly yellow guys such as ragwort. A few cow parsnips are hanging around as well.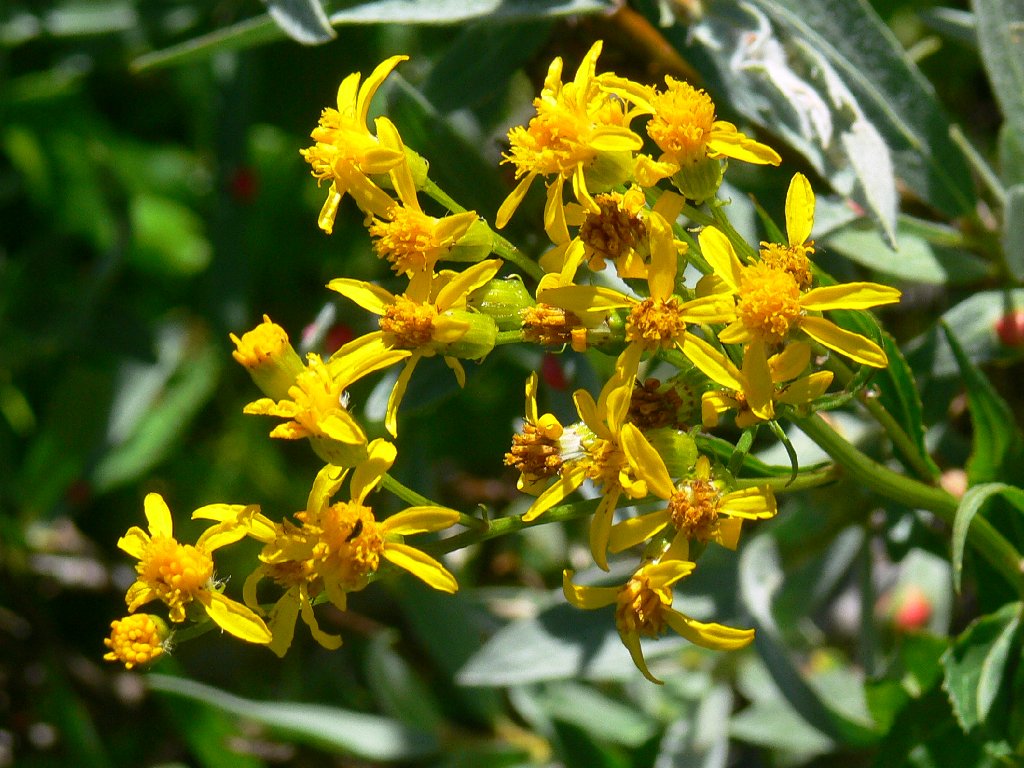 Sierra Ragwort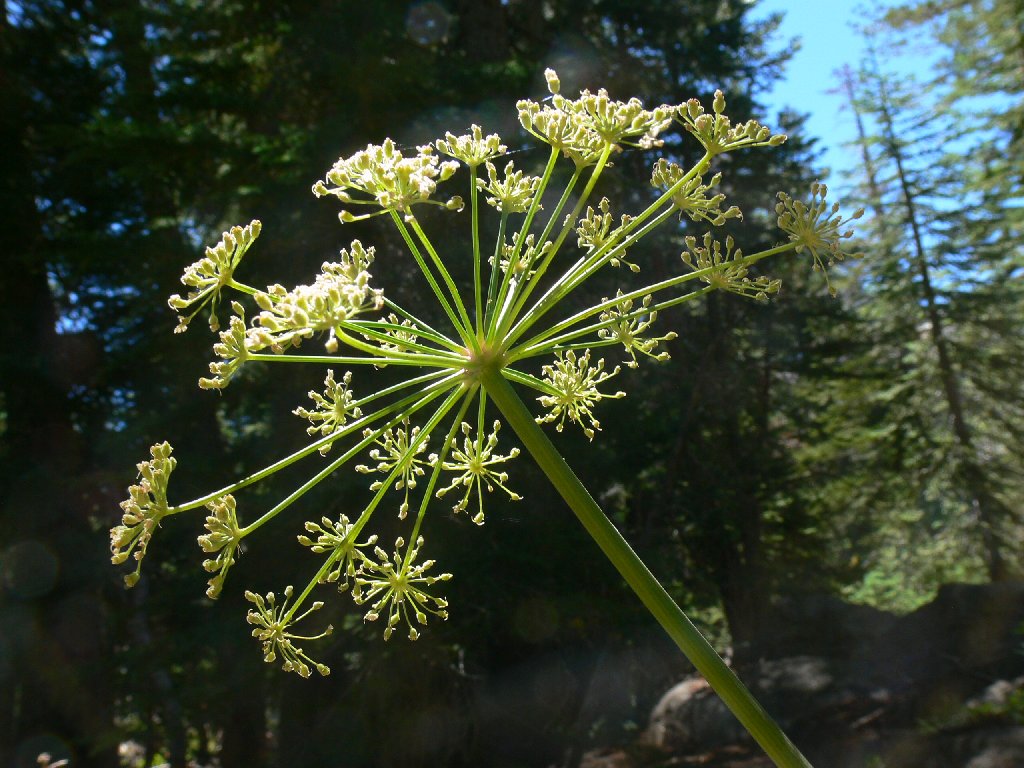 The Cow Parsnip is elegant
Once into the big meadow, I see that the creek is quite low, but still alive. Some of the usual suspects adorn the bank.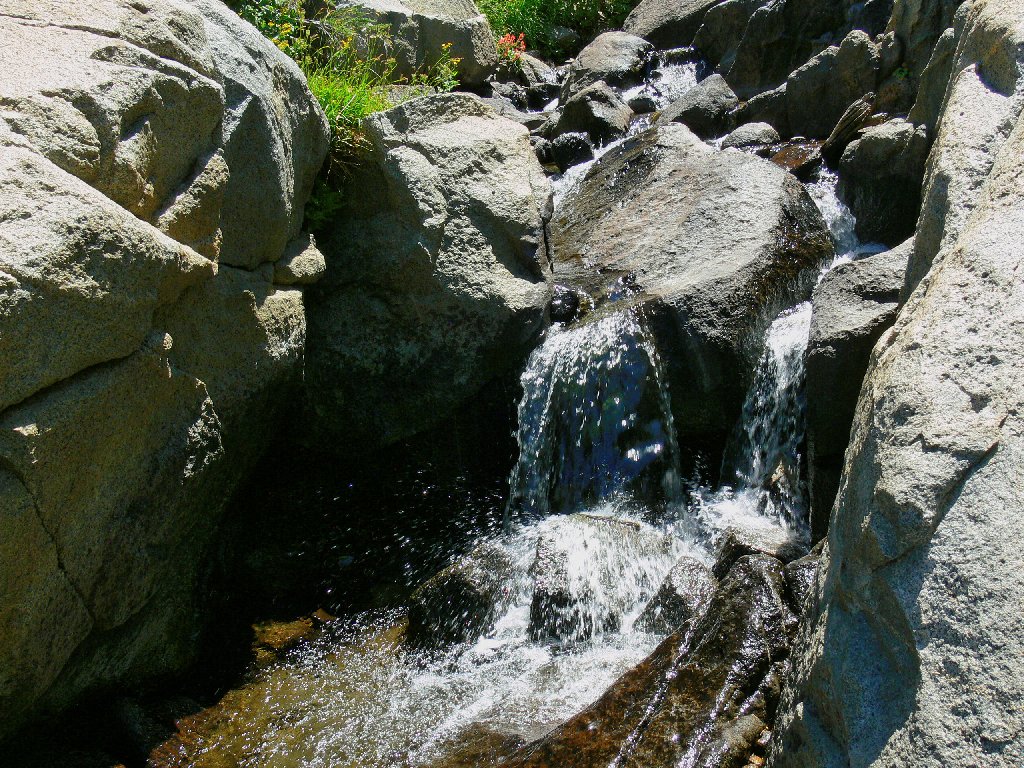 Winnemucca Lake drainage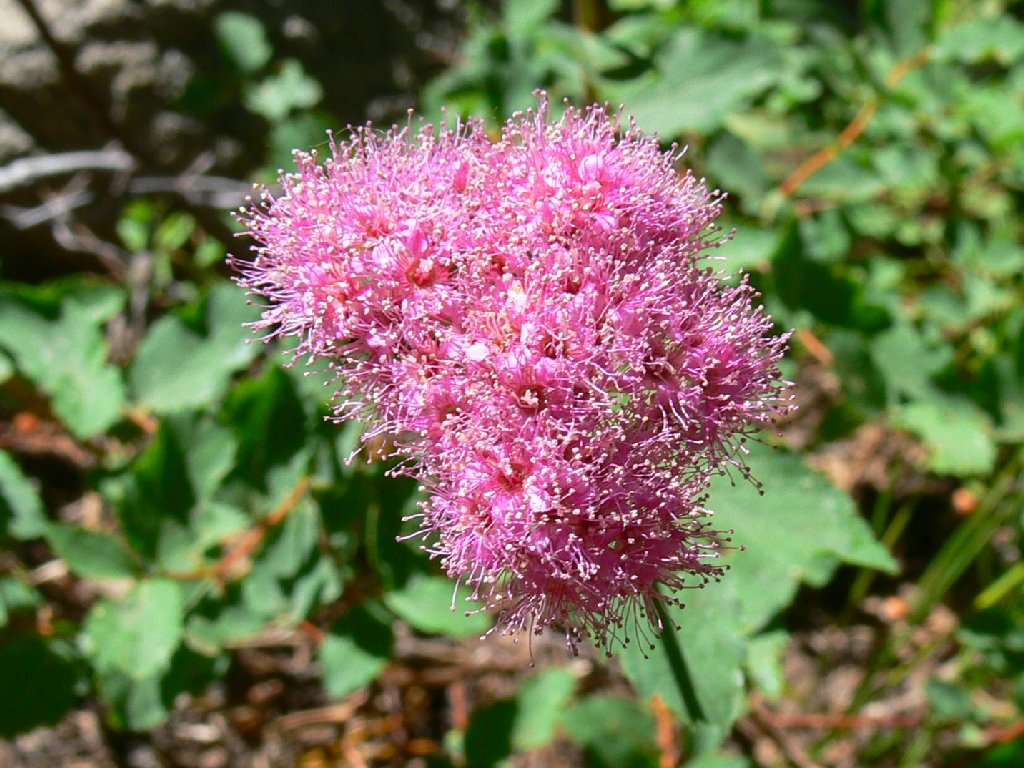 Meadow Sweet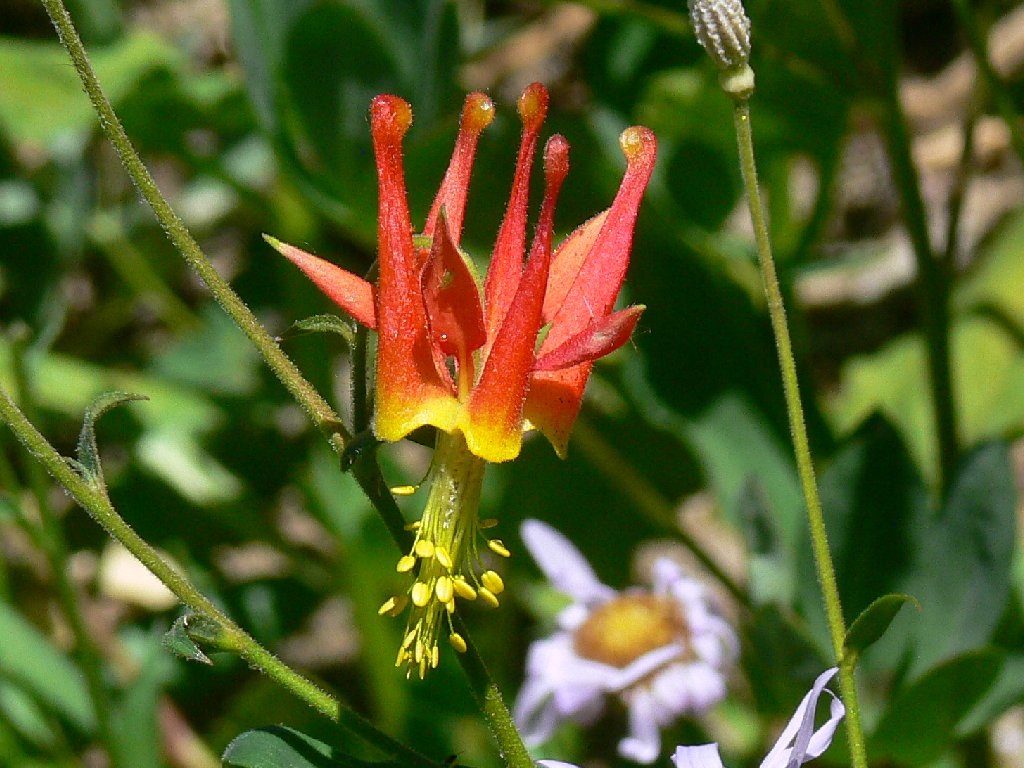 Crimson Columbine
At the top of the meadow Winnemucca Lake appears; but I do not tarry; it is somewhat crowded here today, and this is my third visit in forty days. Just above the lake's outlet I amble over to "mineral" creek to see whether it still is red. Yep — it is. A natural continuation upstream suggests a cross-country alternative up to Round Top Lake, and why not? It's only a mile, and I do know the way.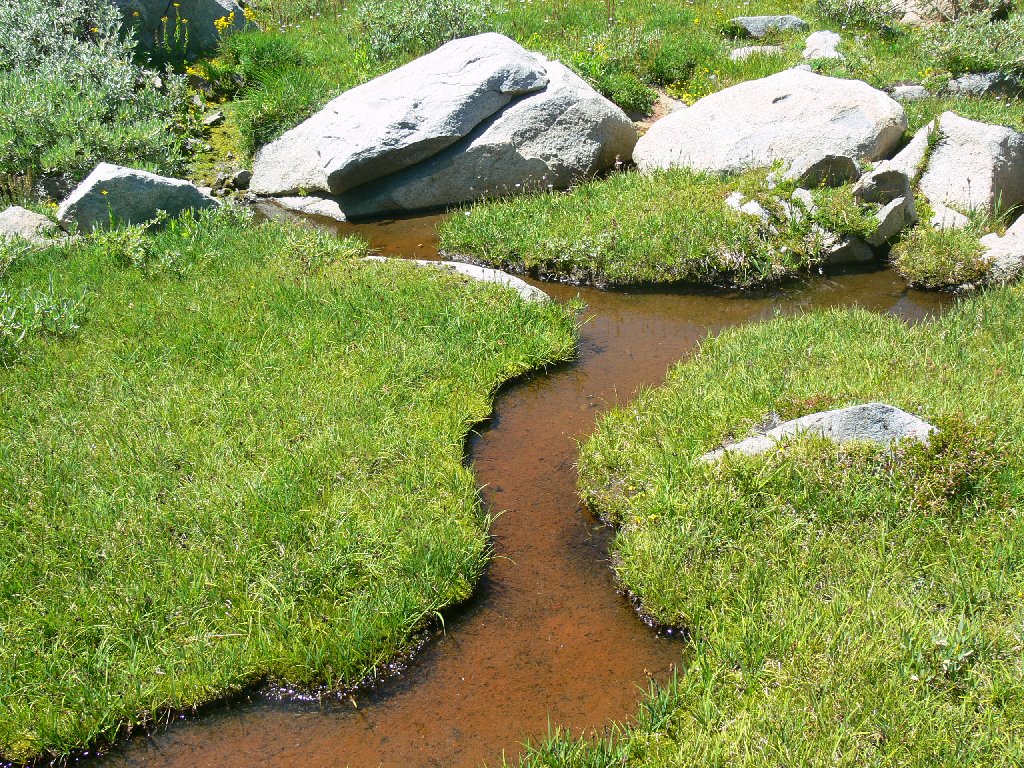 Minerals in the creek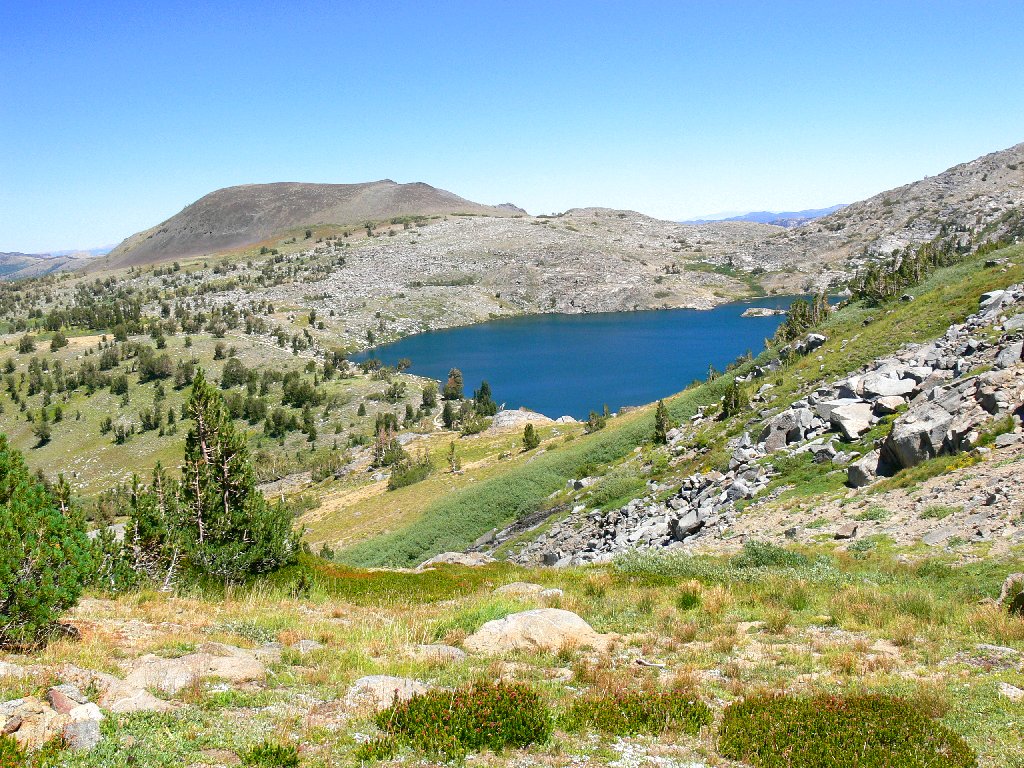 Winnemucca Lake and Elephants Back
The view up here is well worth the elevation gain. There are plenty of nice flowers on the arid hillside as well, including an elegant display of rock fringe that in itself makes this entire outing worthwhile.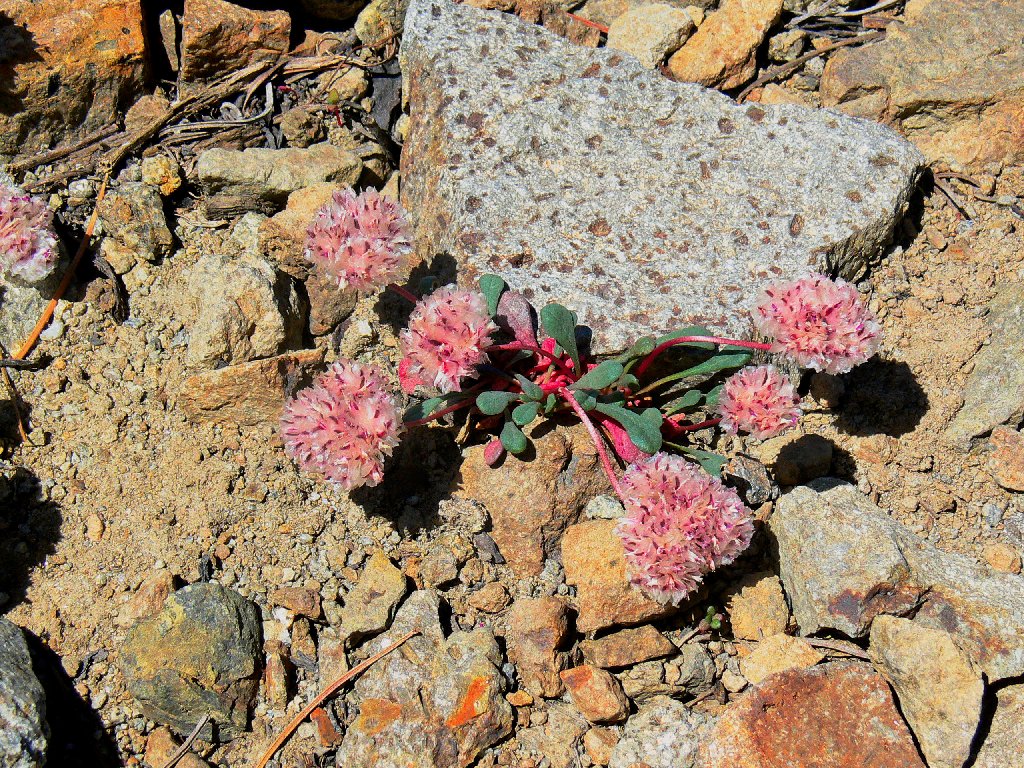 Pussy Paws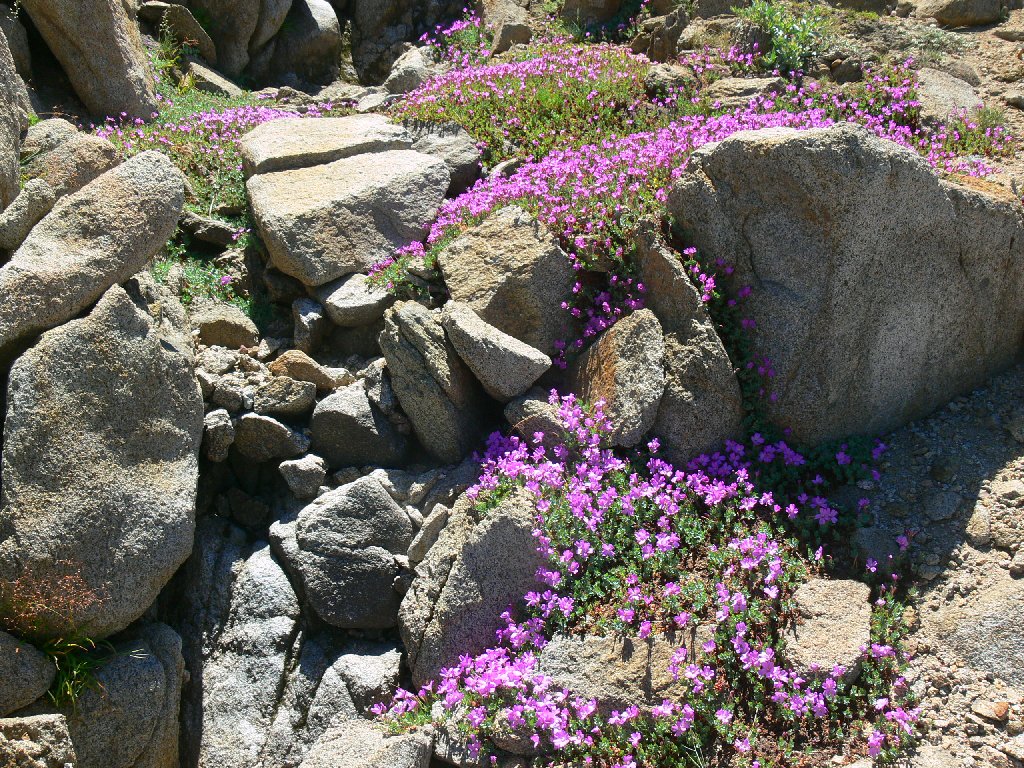 This is why I go hiking
I believe that I have solved the mystery of the "orange guys," previously encountered here and in Desolation Valley. They seem to be faded white mountain heather. Apparently, in their old age the flowers turn orange and face upward for the first time, as the leaves unfurl and hug the stem. Most flower species just wither and crumble by that time. It's no wonder that this amazing flower was John Muir's personal favorite! It is one of mine as well.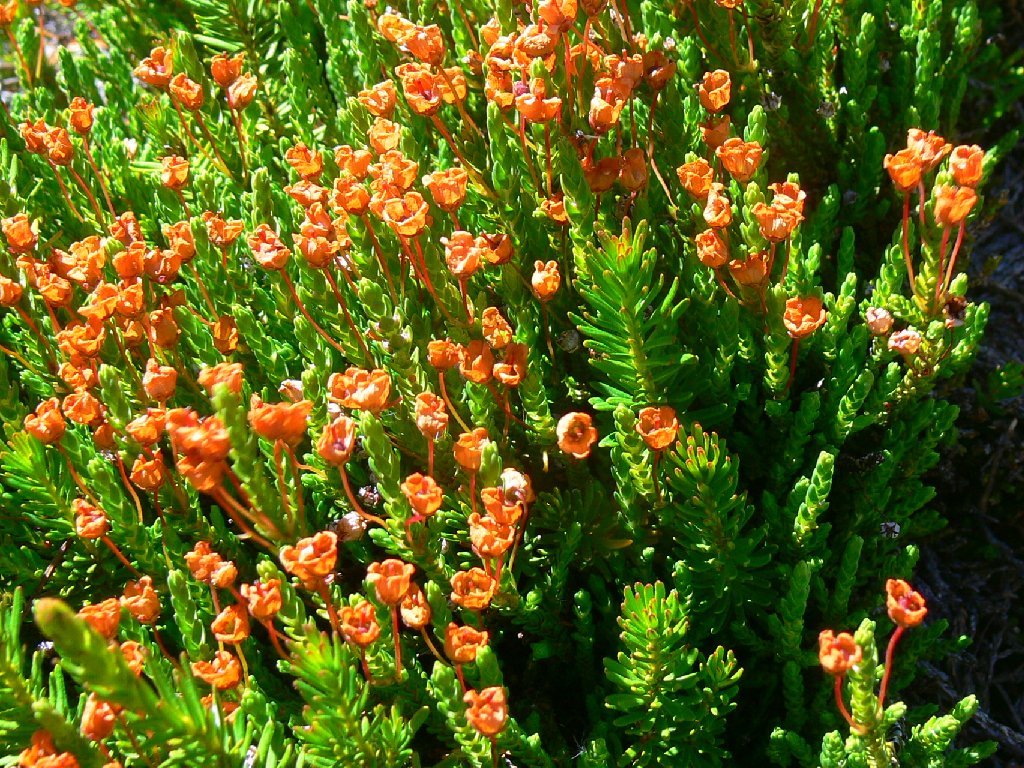 White Mountain Heather
The trail is in sight below, and Round Top looms just above. I pass another garden; this time the show-stoppers are Sierra primrose. Lo and behold, in the distance is the splendid sight of Lake Tahoe, which happens never to be in view from the main trail. There are intriguing local geologic features here as well.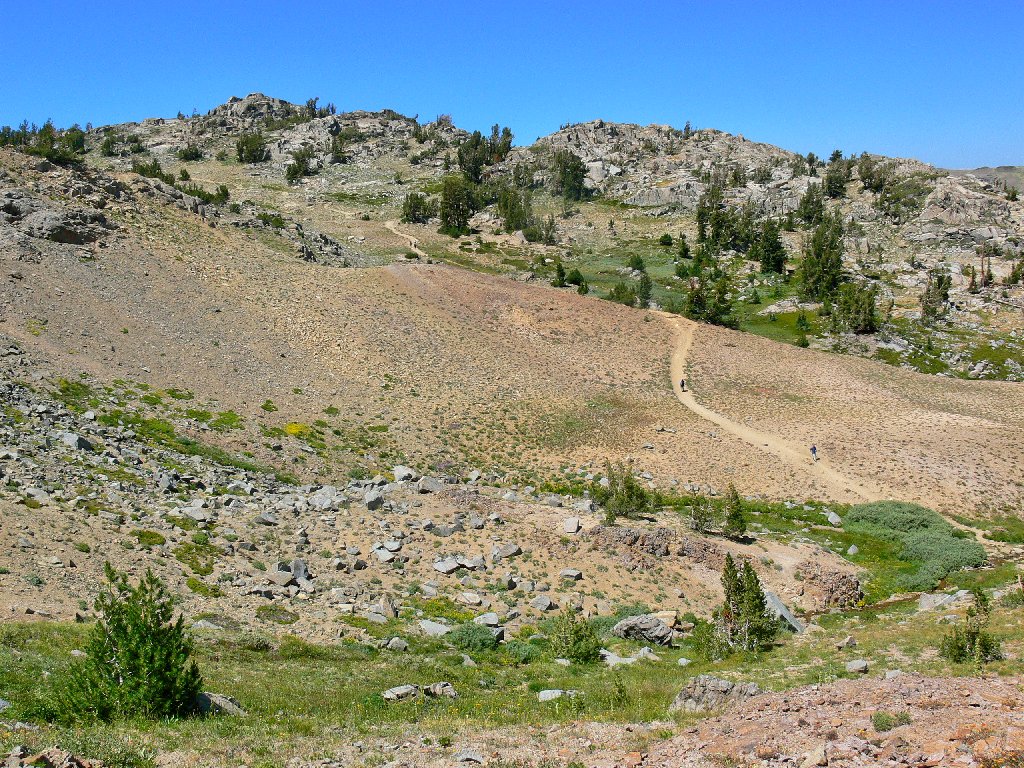 My cross-country option is predictably more interesting than the trail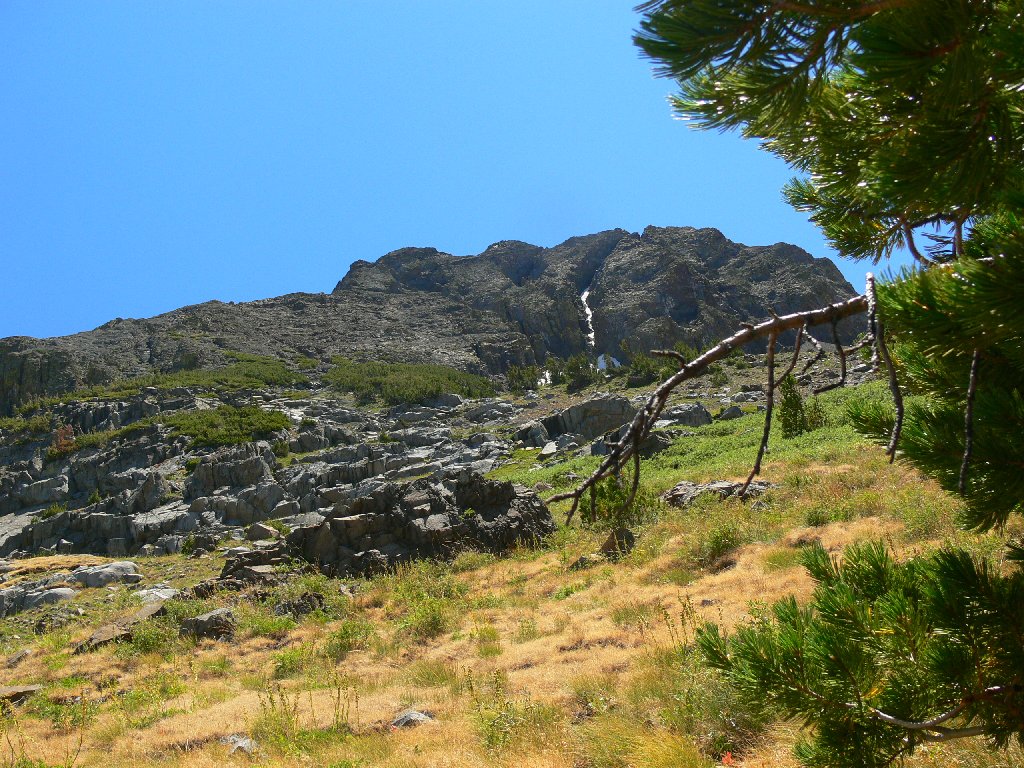 The mountain is 900 feet up from here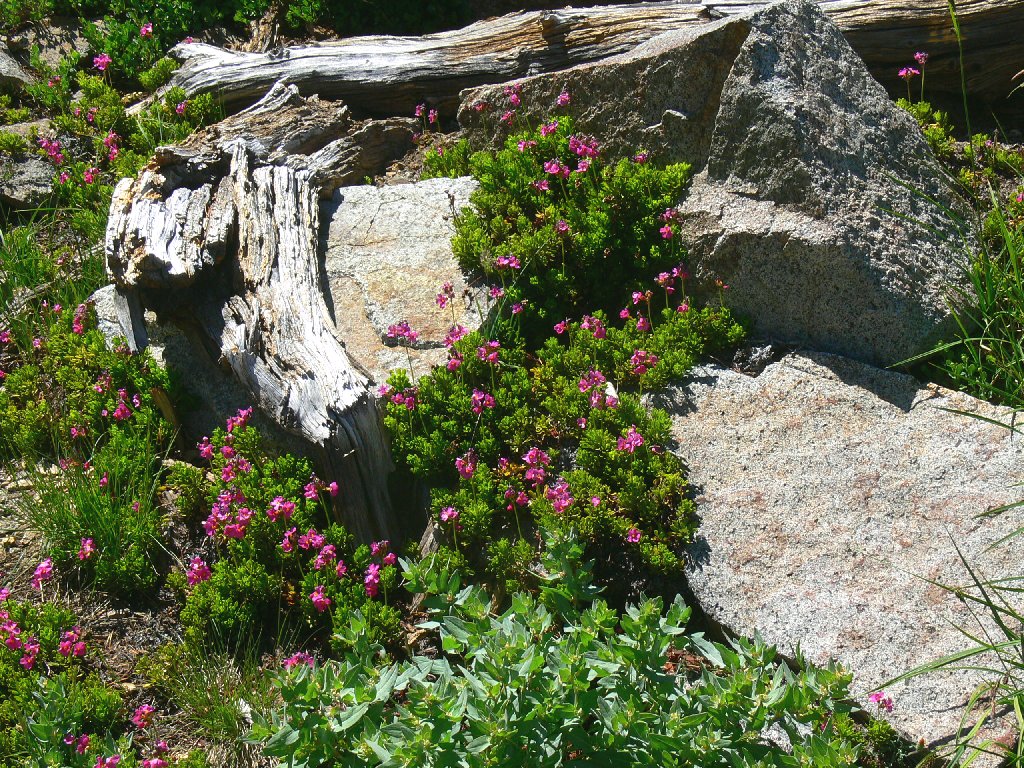 Sierra Primrose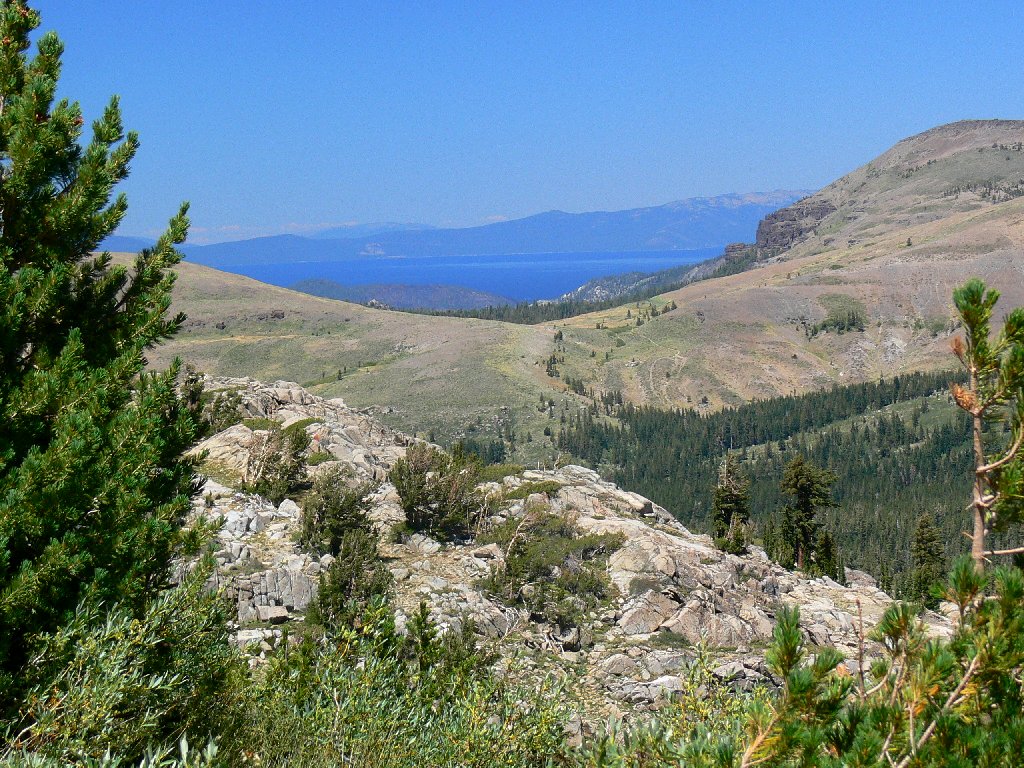 Lake Tahoe to the north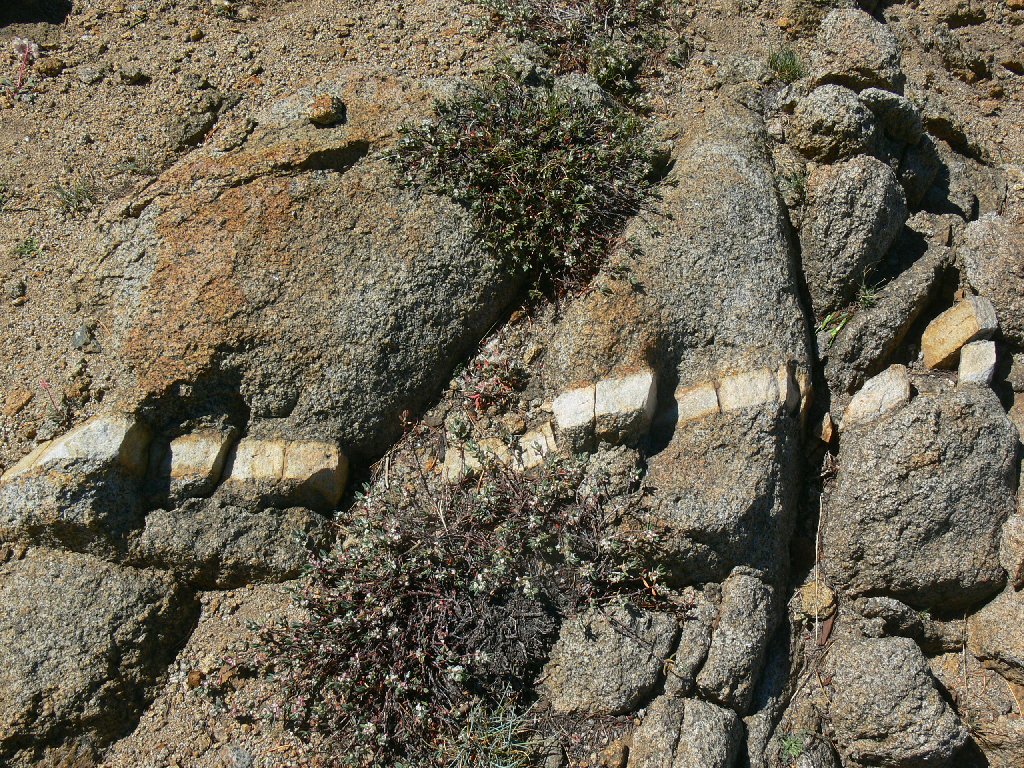 Interesting natural forces at work
At the top of the slope, Round Top Lake comes into view. On the way down I meet the unofficial trail up the mountain. Lying on that path is a new-looking plastic water bottle partially hidden by a bush. I move it down to the trail junction near lakeside, where it will be easy to spot should someone later be hunting for it.

Round Top Lake, and distant Thunder Mountain
It is time for lunch, and time to soak my feet in the lake. The water is adequately warm despite its exalted elevation of 9350 feet. Afterwards, with a final glance at Lake Tahoe, I head out on the final segment of today's triangular loop, directly toward Woods Lake. I recall having not particularly liked this route back in the mid-seventies, for some reason.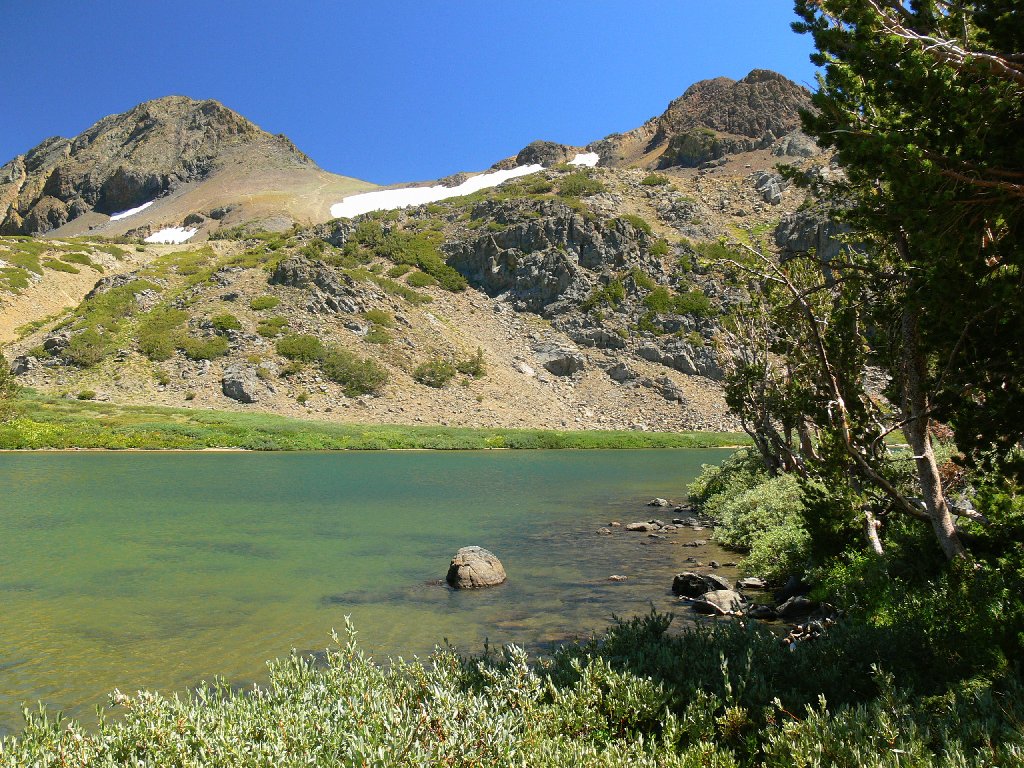 A fine place for a picnic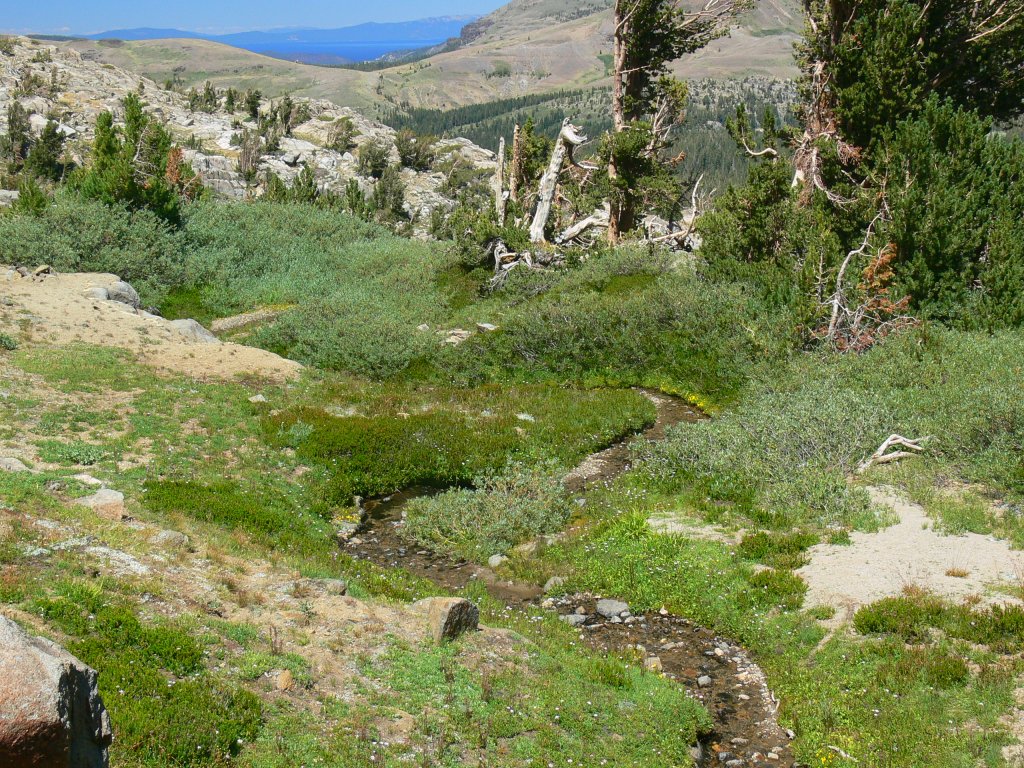 Last view of Big Blue today
Shortly after commencing this loop, a young woman rushes up the trail past me. Just a few minutes later, she passes me again, running back down — and carrying the water bottle that I had found! Upon inquiry, she admits that she had lost it, that it doesn't belong to her, and that she is "holding everybody up." Somehow, the item doesn't seem all that important; wait until she permanently misplaces a $60 walking stick, as I did a month ago! In any case, relocating the bottle just happens to have saved the person a quarter of a mile of running and anxiety.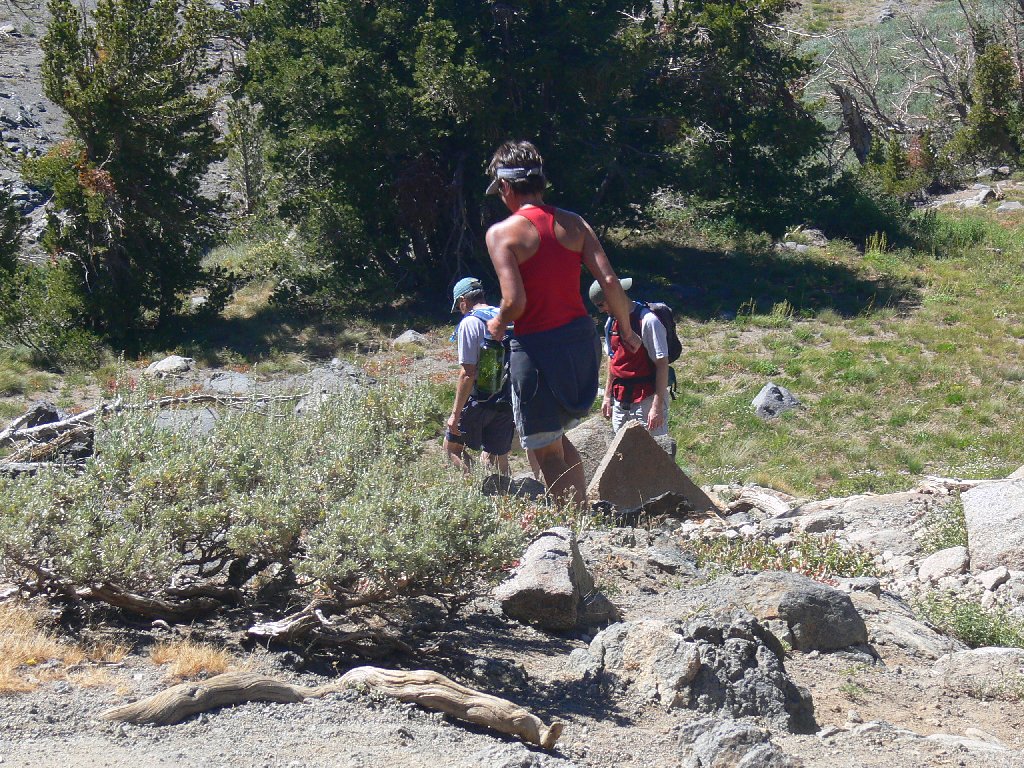 The lost water bottle is recovered
This trail follows a different creek, which drains Round Top Lake via Woods Lake into Caples Lake, which isn't a lake at all. The former Clear Lake Valley became Twin Lakes Reservoir in 1919, then was subsequently renamed sometime after 1956 in memory of Dr. James Caples, who had built a nearby wagon stop back in the 1850s.
There are new flower types down here: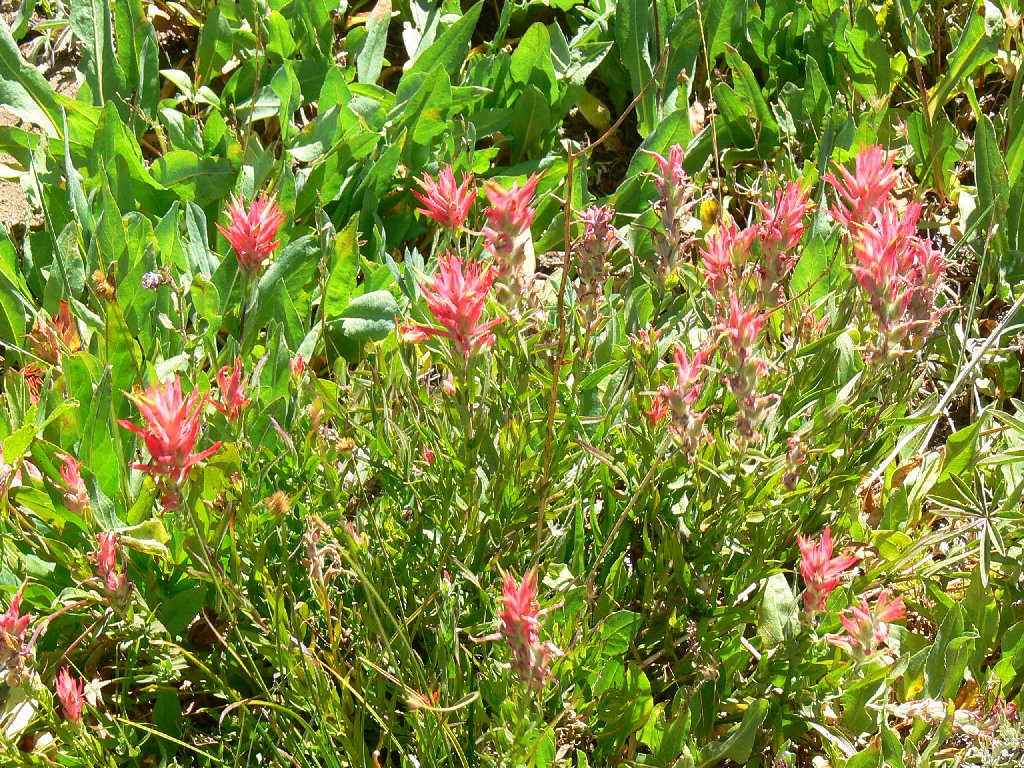 Indian Paintbrush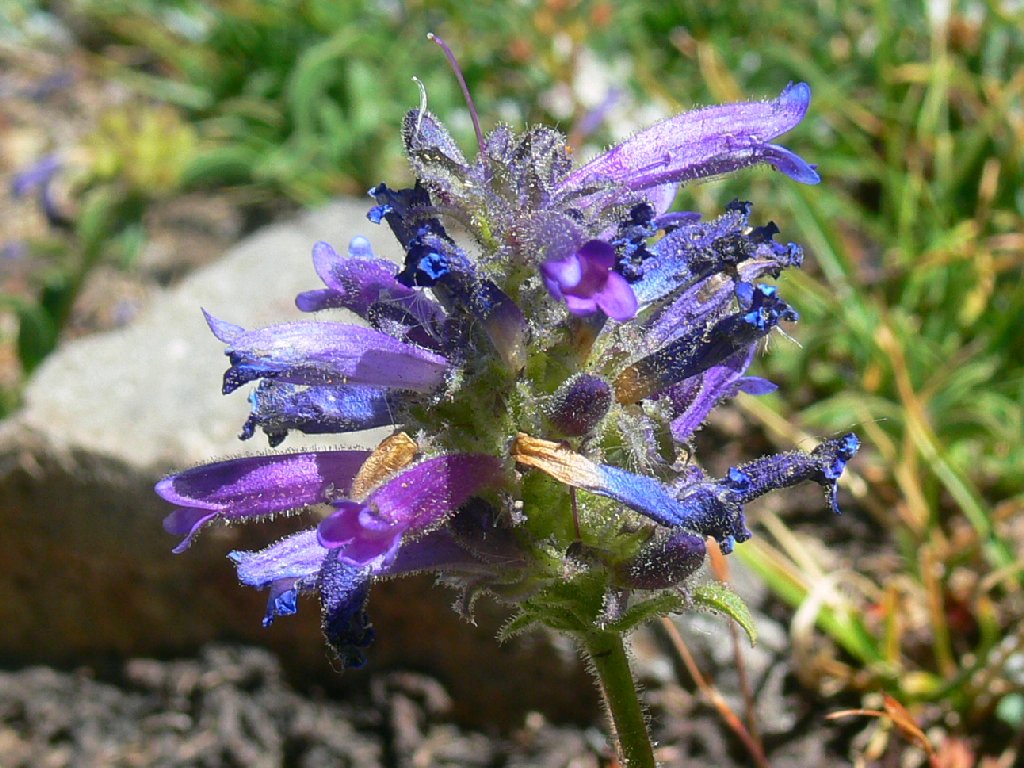 Sierra Penstemon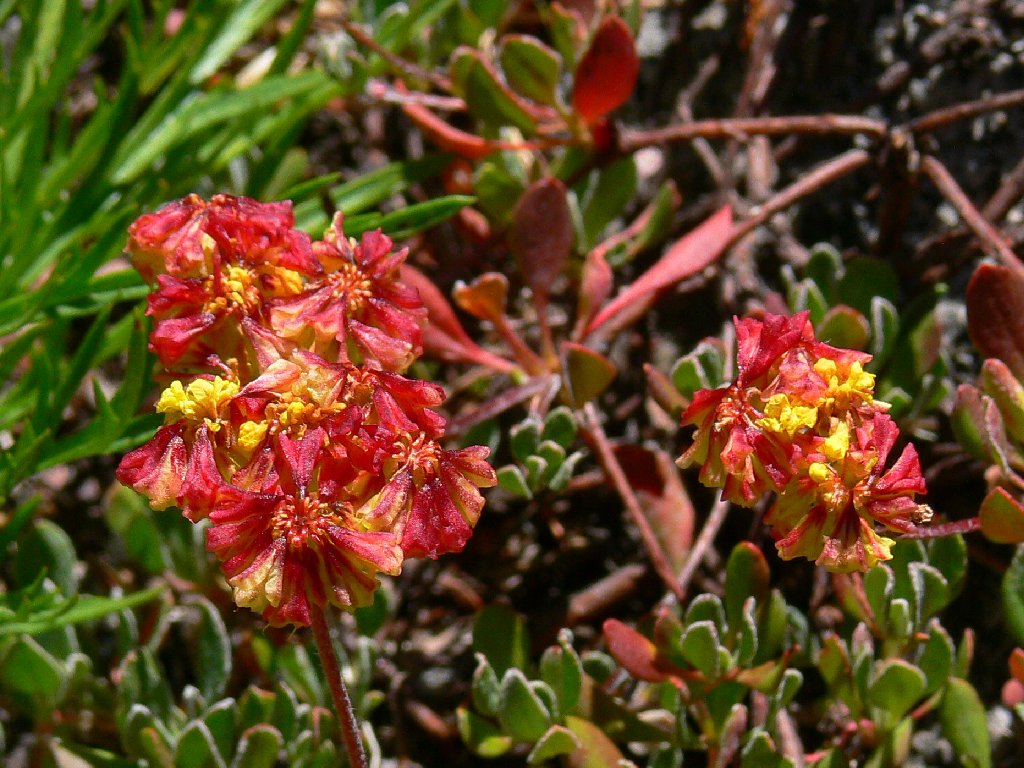 Nevada Buckwheat — the prettiest I ever saw
The trail is becoming steep and rough as Black Butte rises into view. Around the next corner, the remains of a delivery truck litter an old mining site.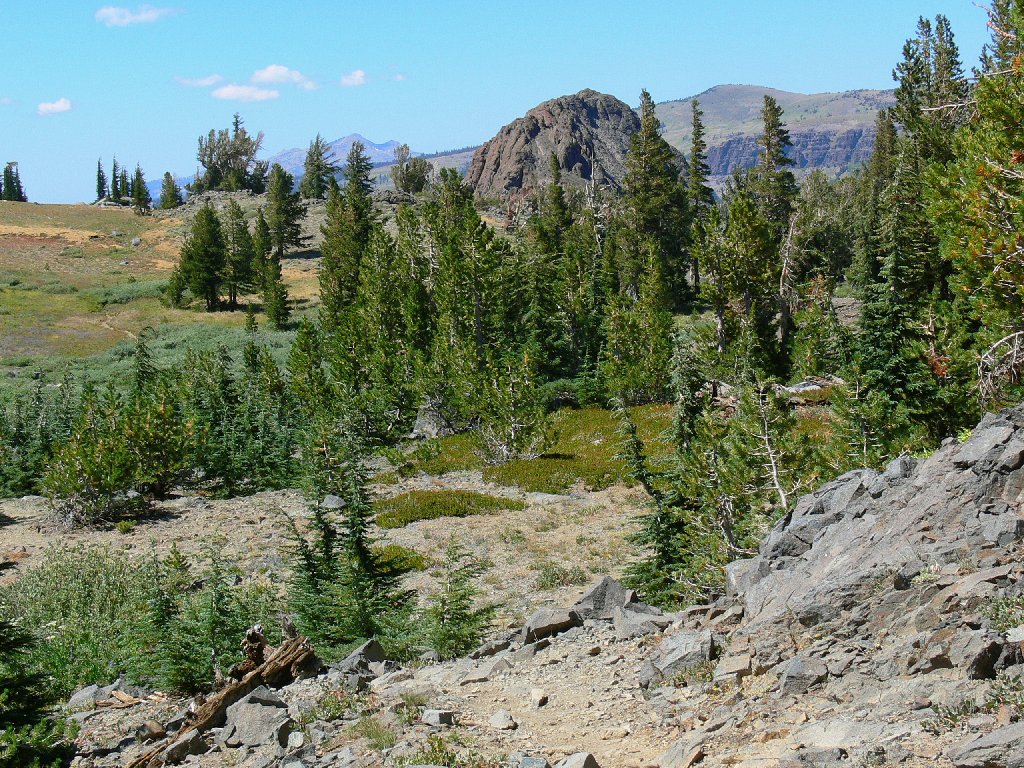 Black Butte and the distant Crystal Range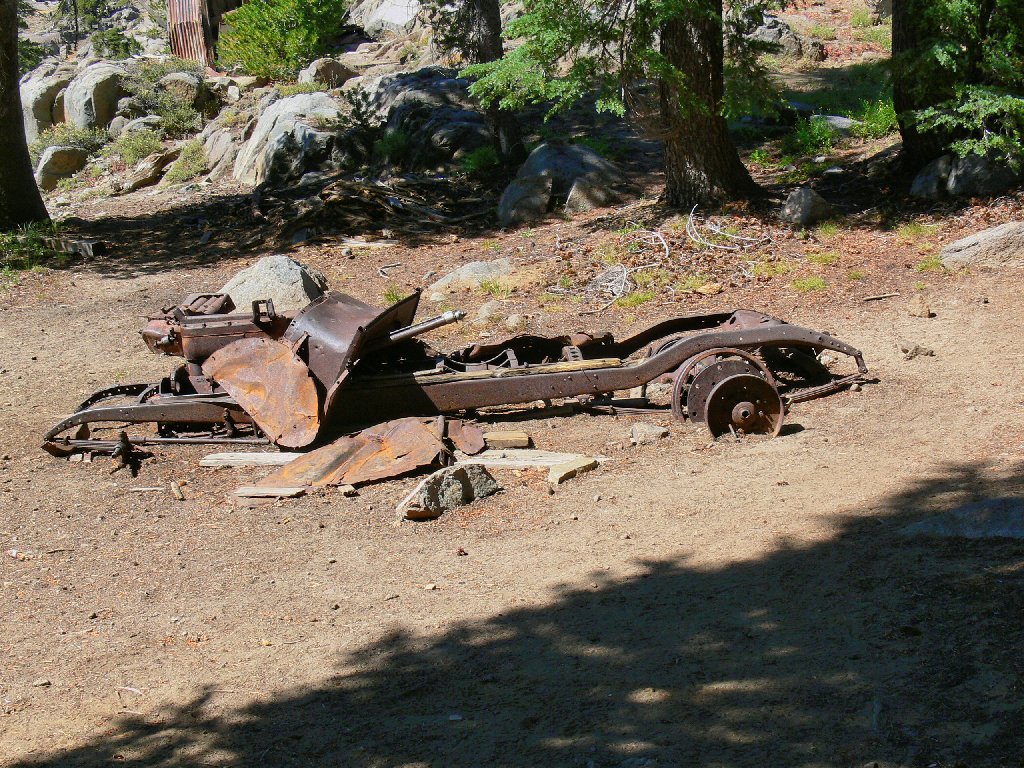 Gold-mining leftovers
A precocious thistle points the way down the trail, which also sports some other favorite flora.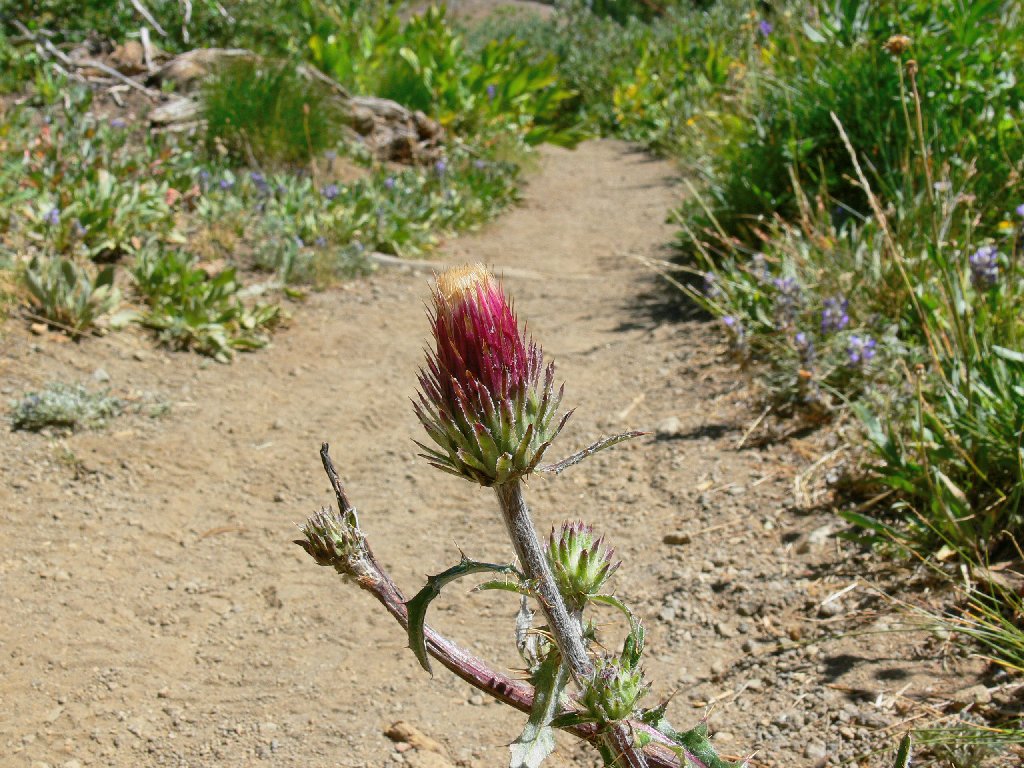 Is this Anderson's Thistle hitchhiking, or directing traffic?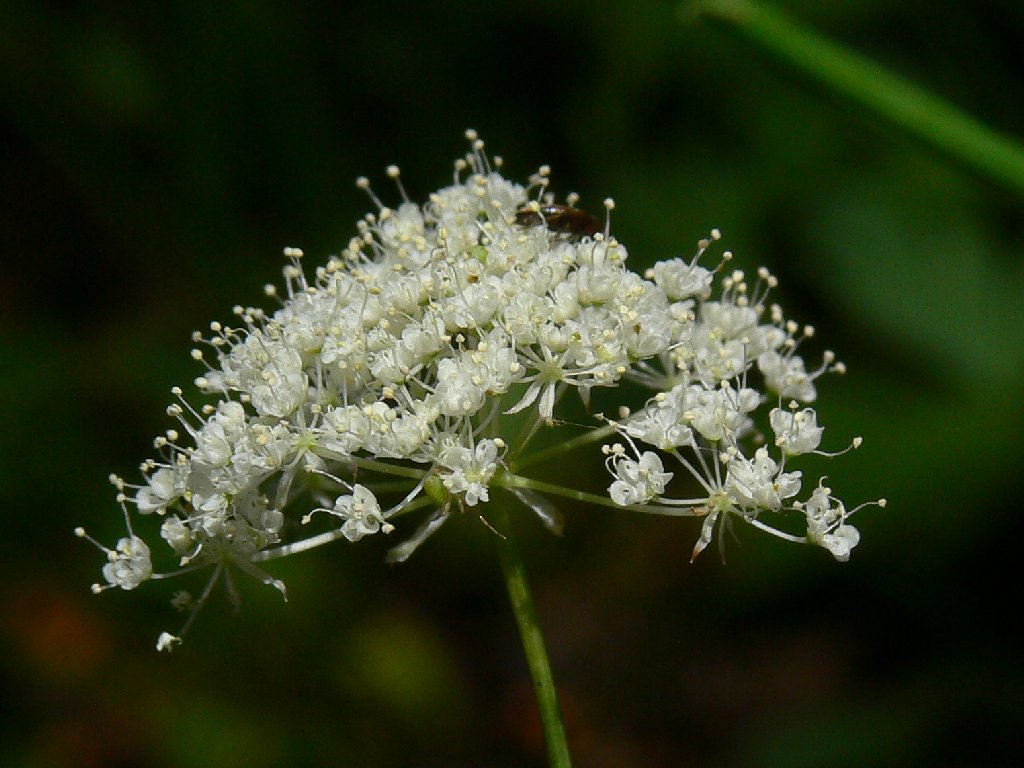 Ever-delicate Yampah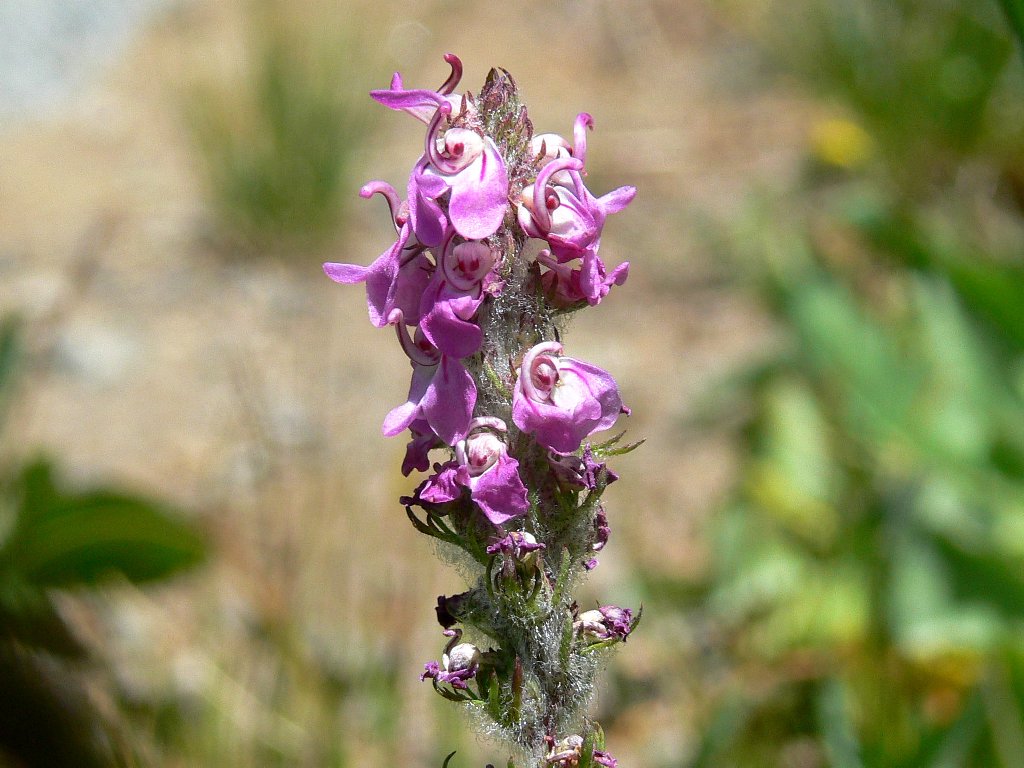 Little Elephant Heads
The trail is quite rough now; this must be why I disliked it thirty years ago. Woods Lake appears briefly — the only time it would be visible on the entire trek. Finally, I score the requisite butterfly shot, making my day complete.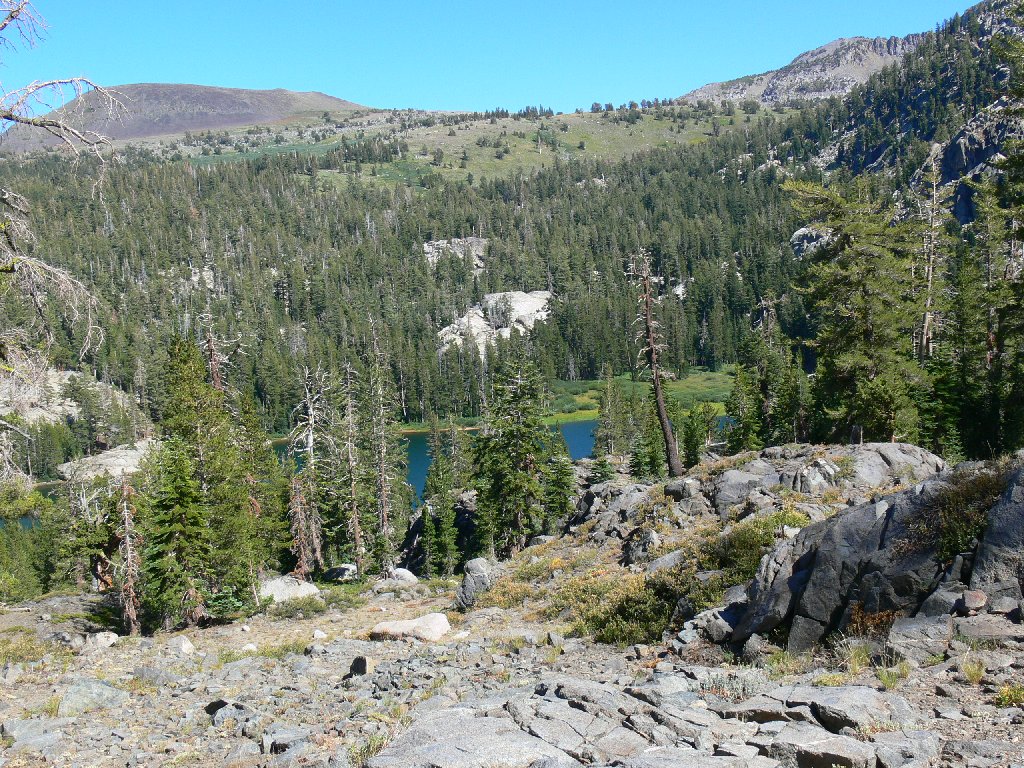 Woods Lake, and Elephants Back, 9585'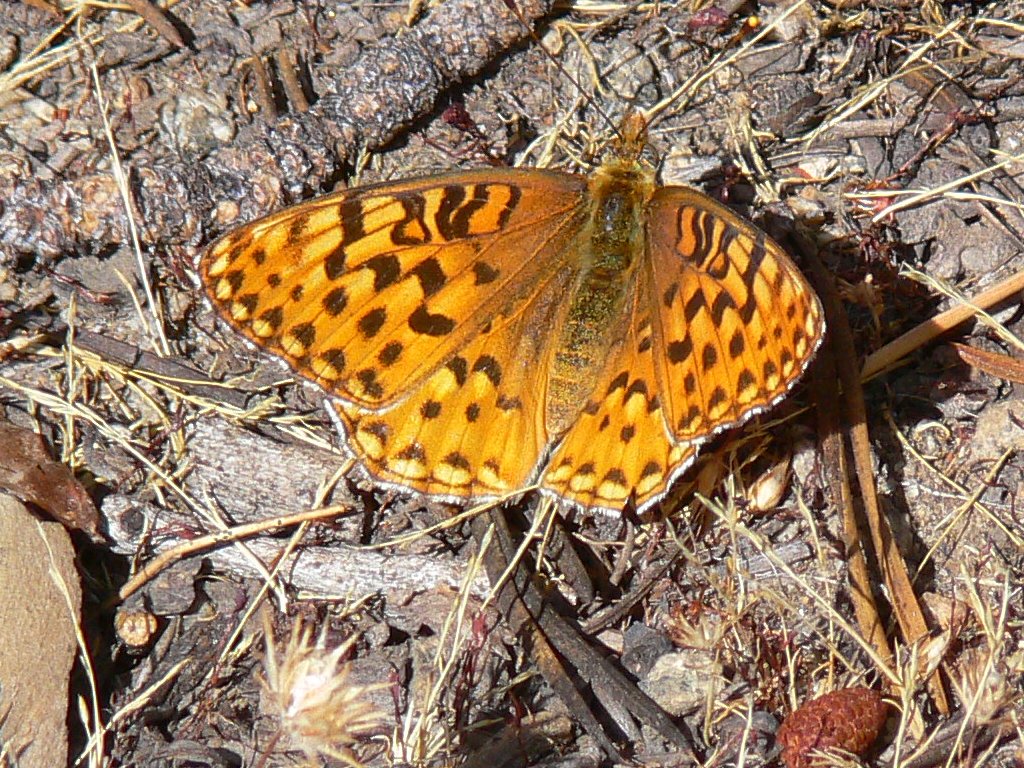 Zerene Fritillary

§: I captured photos of 63 different varieties of flower today — a personal record. And although I had scaled Round Top just two weeks ago, I have managed not to duplicate more than a few yards of trail.
Ted's Tip: take this loop in a counter-clockwise direction. Go up the rough section first and get it out of the way; it is most easily negotiated while climbing. Also, in this direction all the scenery between Round Top Lake and Winnemucca Lake will be in front of you. At some point on that 400-foot downhill, take a short detour up the slope on either side of the trail, for the great view of Lake Tahoe.
Trailhead: 1 mile south of SR-88 on Woods Lake Road, 2 miles west of Carson Pass
Distance: 6+ miles
Elevation: 8230' to 9500'
Hikers encountered: 2-3 dozen
Rating: 6