Spillway Lake
Yosemite National Park
August 03, 2007
It was decided to cancel the planned shuttle trip from Saddlebag Lake down through Lundy Canyon, partly because the steepest portion of the trail consists of a route across a constantly moving and therefore dangerous talus slope. The Mono Pass trailhead, being just a few miles away, provides a good alternative for today's outing. Despite an ongoing sore-foot problem, I will hike with my friends at least part of the way.
The trailhead parking lot is full to overflowing, as the Yosemite high-country is a busy place today. The temperature is a perfect 60° at 10 a.m. A walk through Dana Meadows is shady and mellow; this stock-suitable route has no rough spots whatever. Dominating the skyline to the west is Mammoth Peak.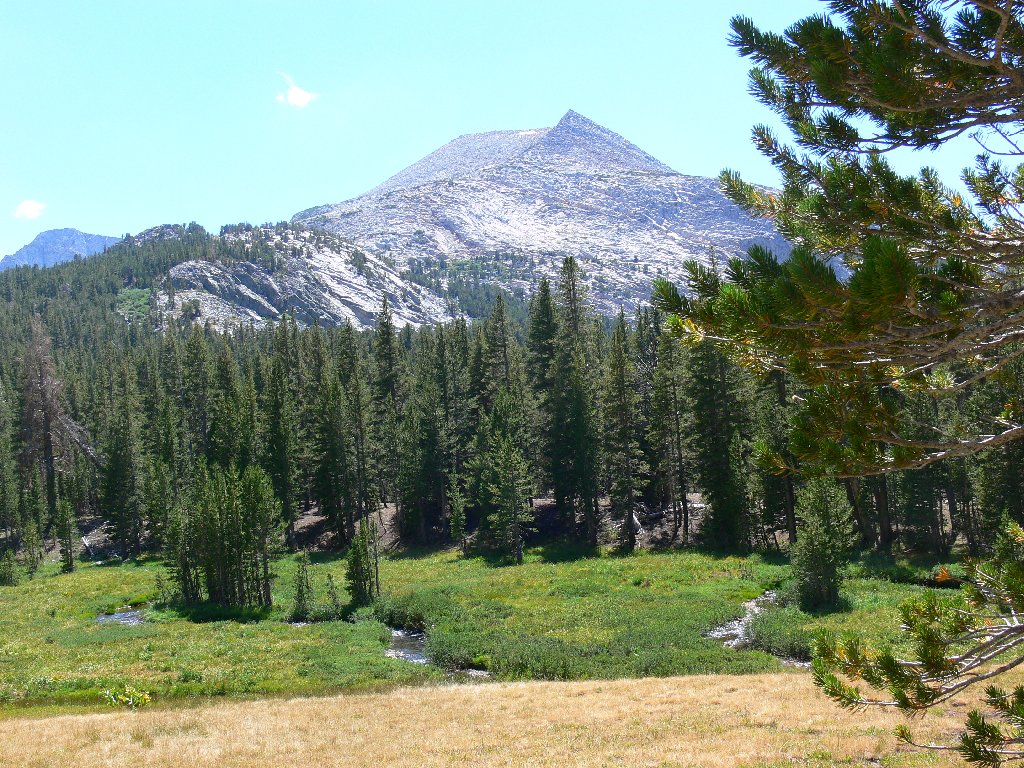 Mammoth Peak, 12117'
There are just a few flowers around — mostly yellow balsamroot. At my feet are some tiny, elegant meadow starworts; some have pink anthers, while others are purple.

Balsamroot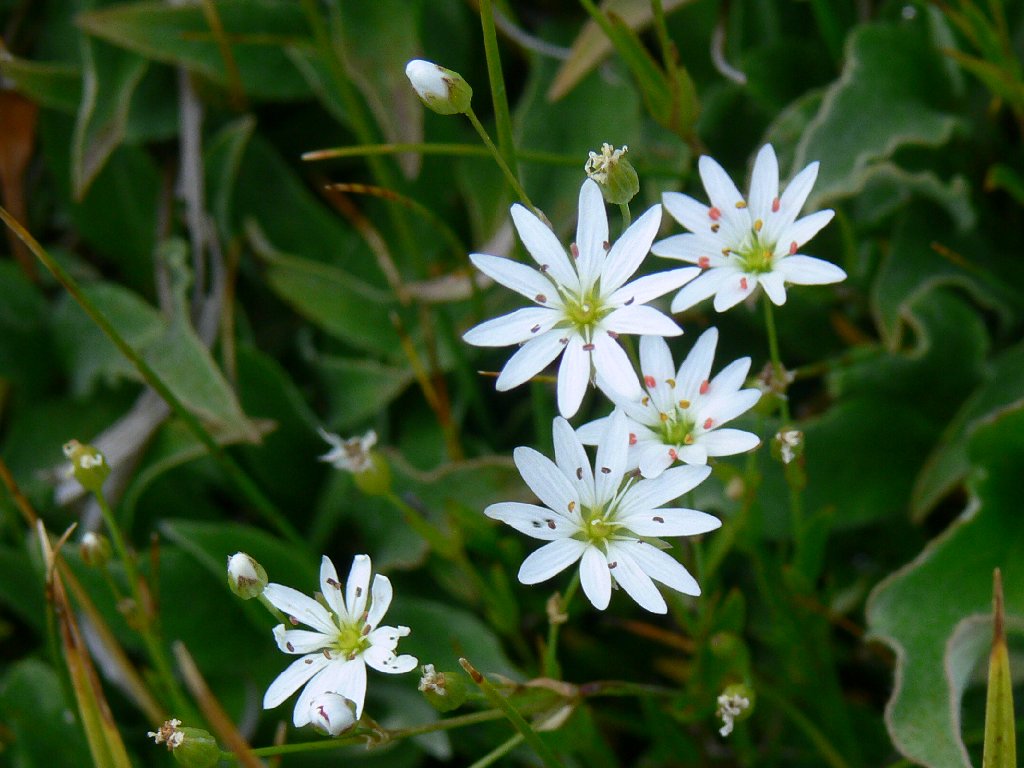 Meadow Starworts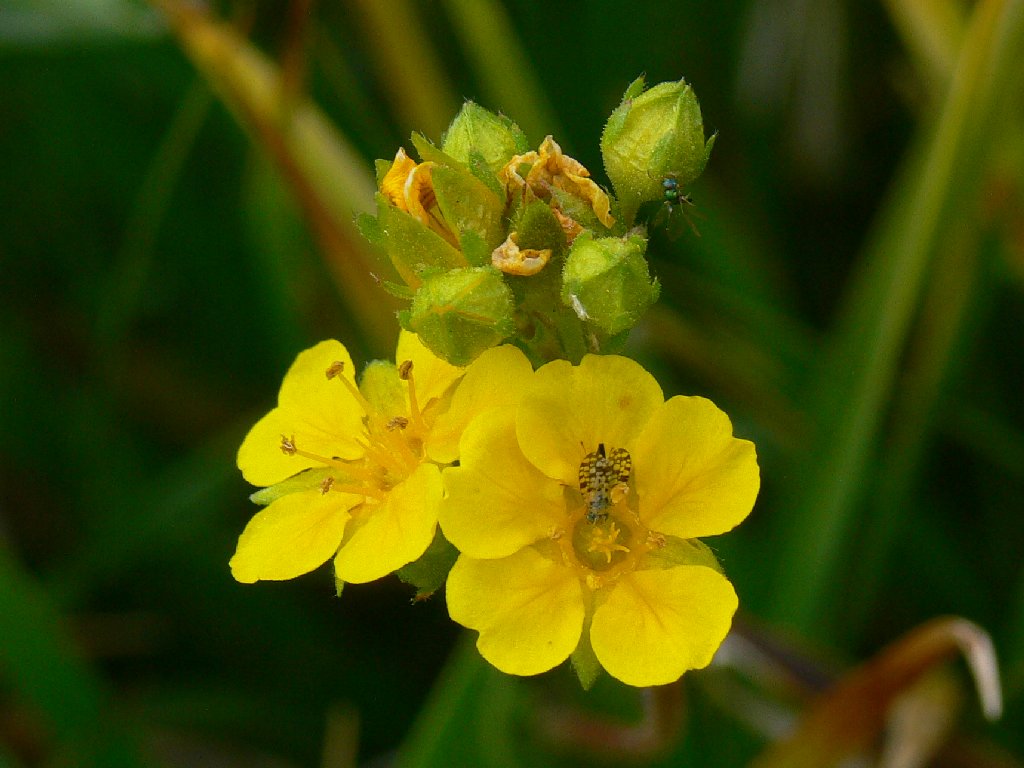 Interesting bugs on the Cinquefoil
Shortly up the path we encounter the remains of a miner's cabin, minus its roof. Nearby is a big camp of Miwok Indians; the tribe is performing water-quality tests in this area. Beside the trail a big American flag is planted in the ground. Companions Jeanne and Diane unfurl it to reveal the Miwok version, which features a brave riding a mustang. I didn't know that there was such a thing.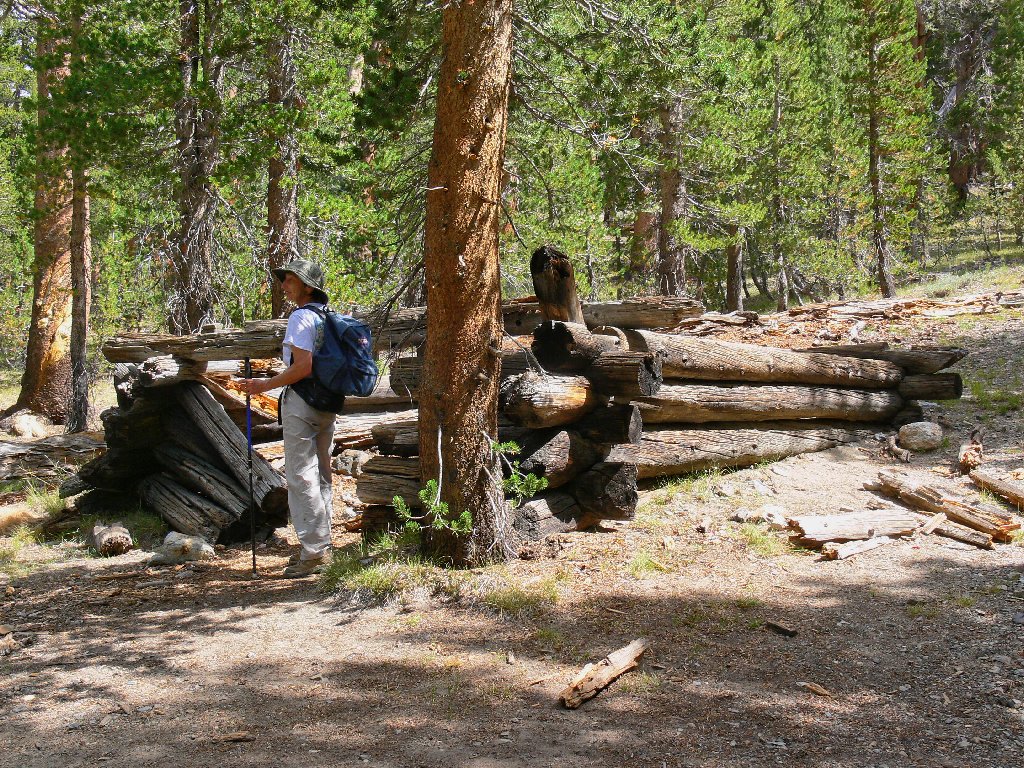 Miner's cabin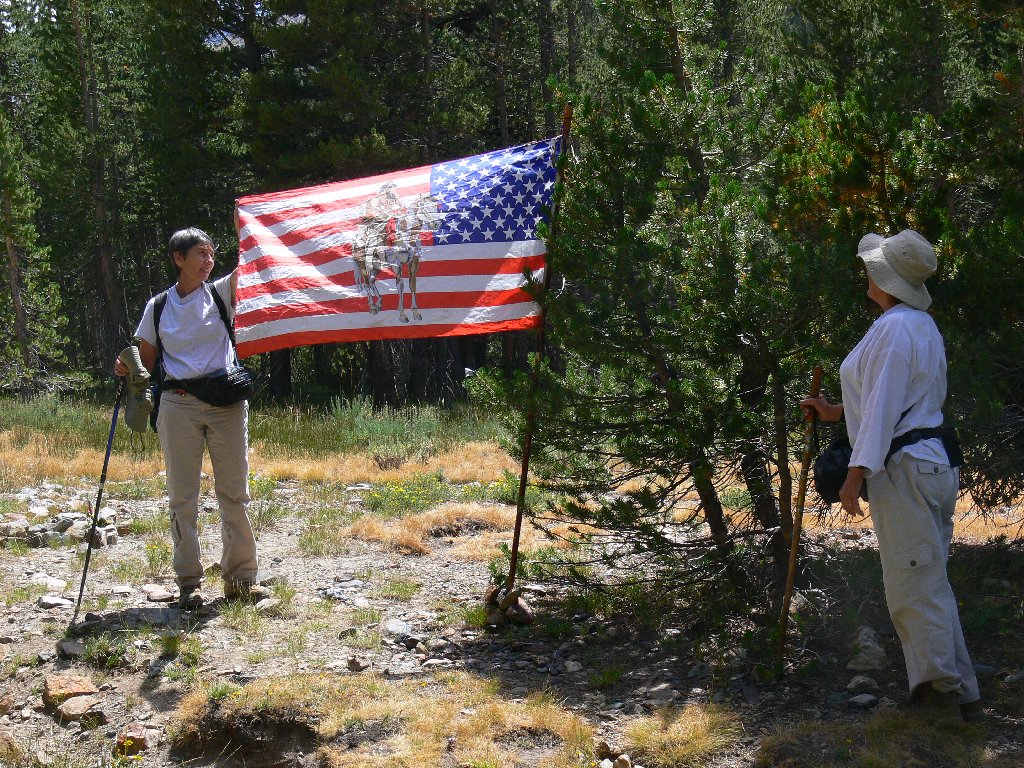 The Miwok American flag
At the 2-mile mark is a junction. To the left is Mono Pass and beyond; we opt for the right-hand fork which parallels the creek toward several lakes. The scenery becomes much nicer from here, beginning with a number of beautifully colored rocks. Parker Pass Creek is gorgeous; walking alongside it is exciting and invigorating. There is no way that I would miss this section, bum foot or not.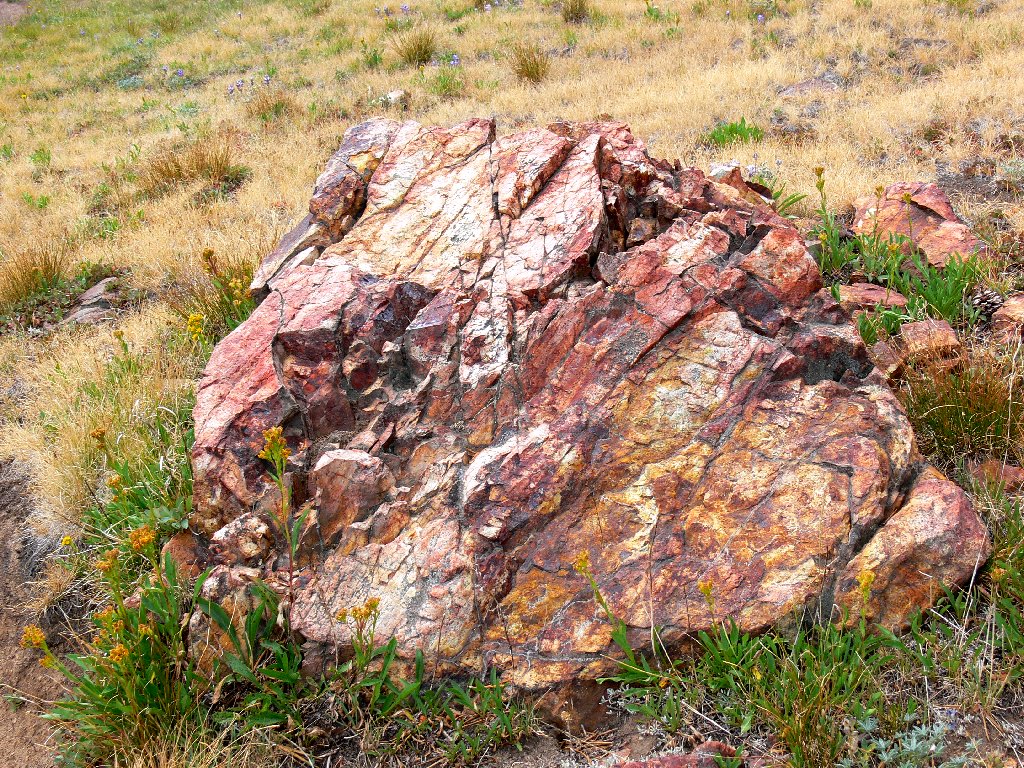 Nice rock!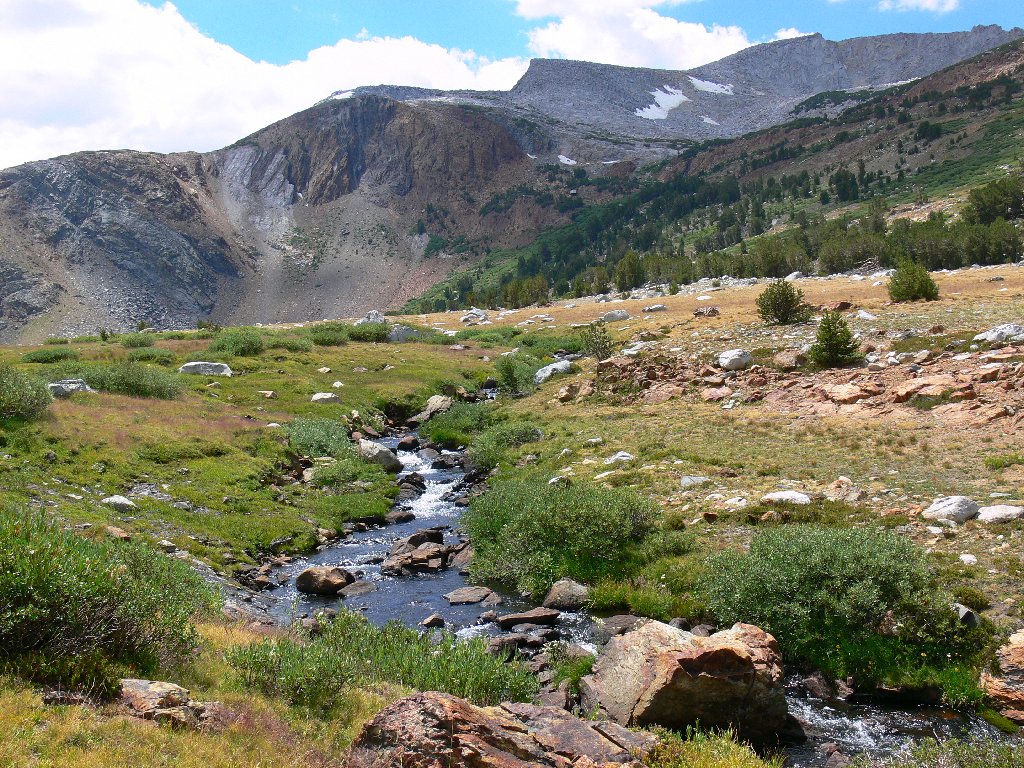 Parker Pass Creek

Brewer's Lupine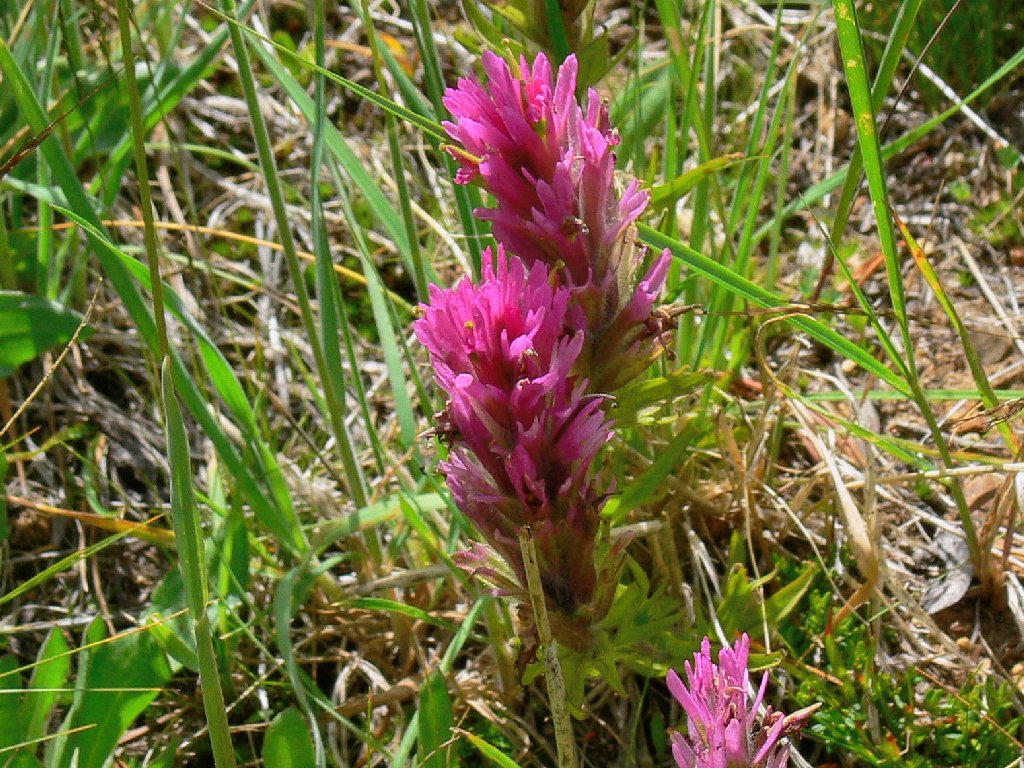 Amazingly colored Lemmon's Paintbrush
A sawtooth ridge on the Kuna Crest looms above. Presently our destination appears.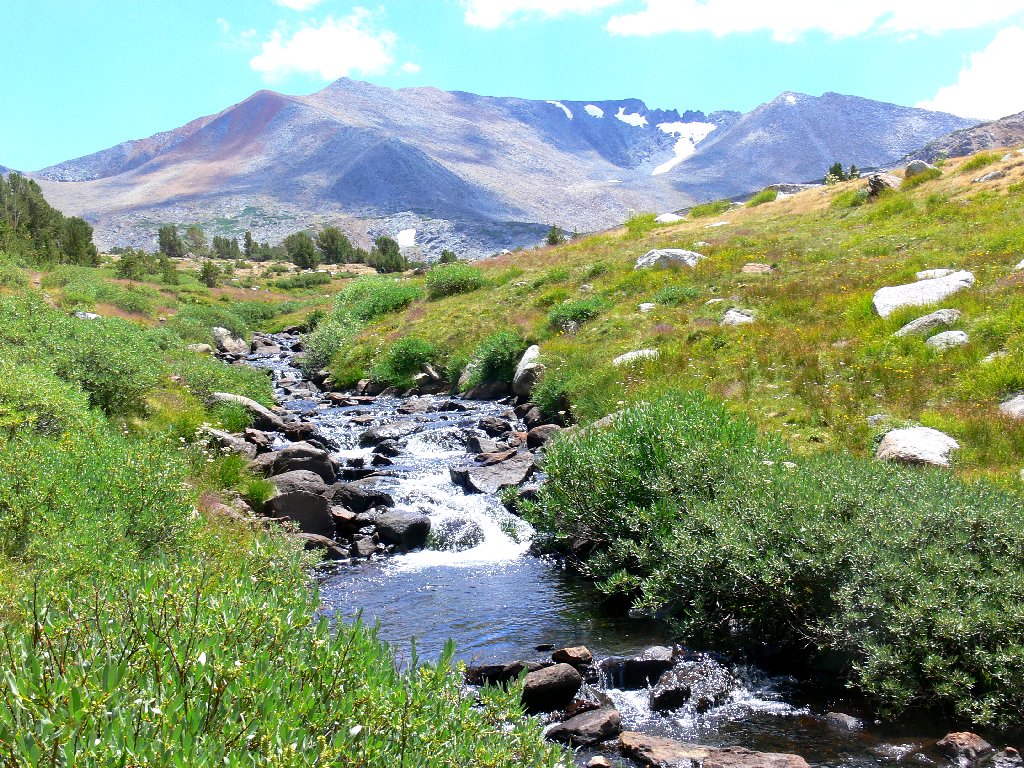 The Kuna Crest in the distance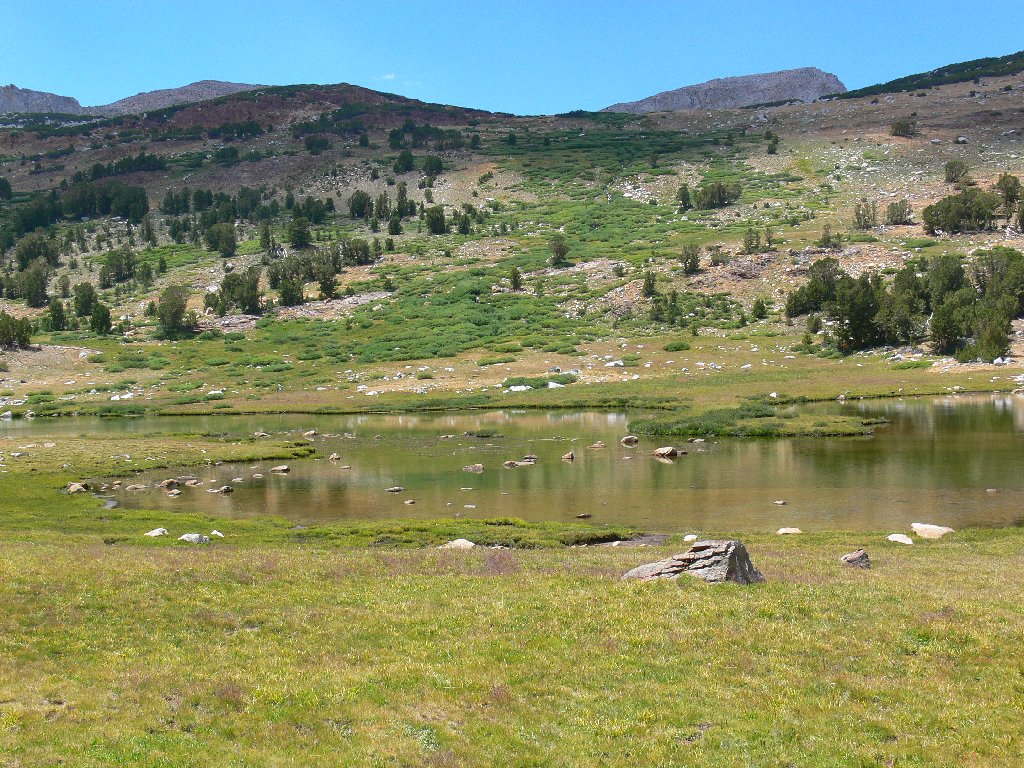 Spillway Lake, 10450'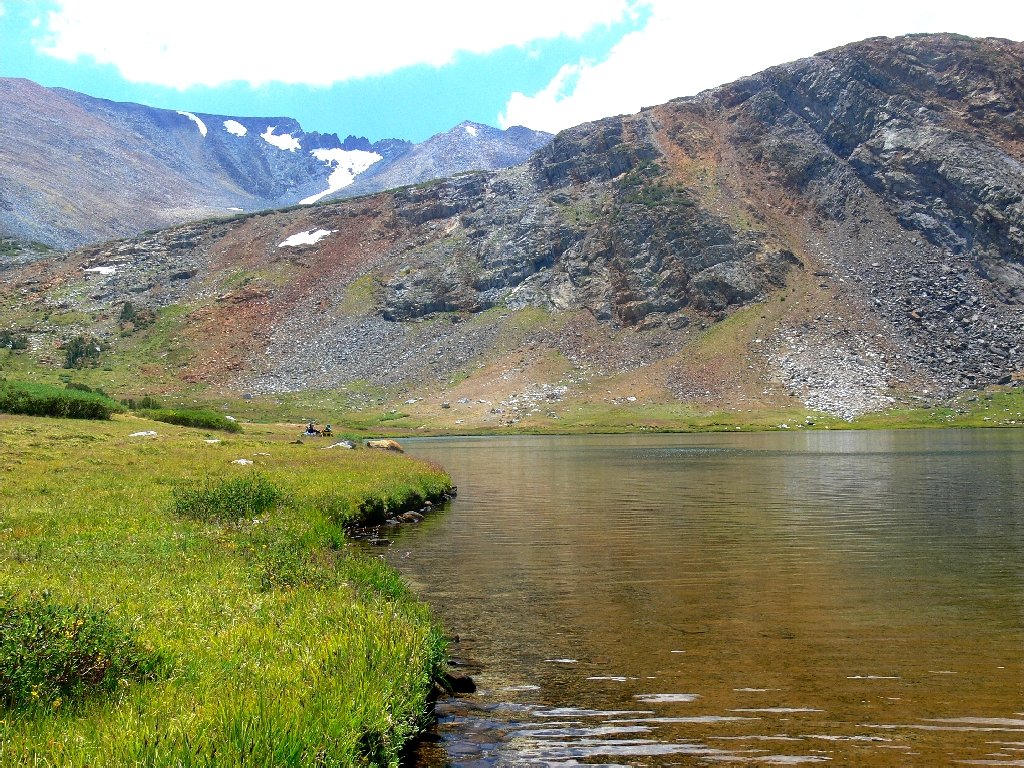 The hillside is like a rainbow
Pictures cannot do justice to this special place. I flop down on the grass at lakeside; even at this exalted elevation, the water is warm enough for soaking weary feet. From where I sit there are numerous photo opportunities.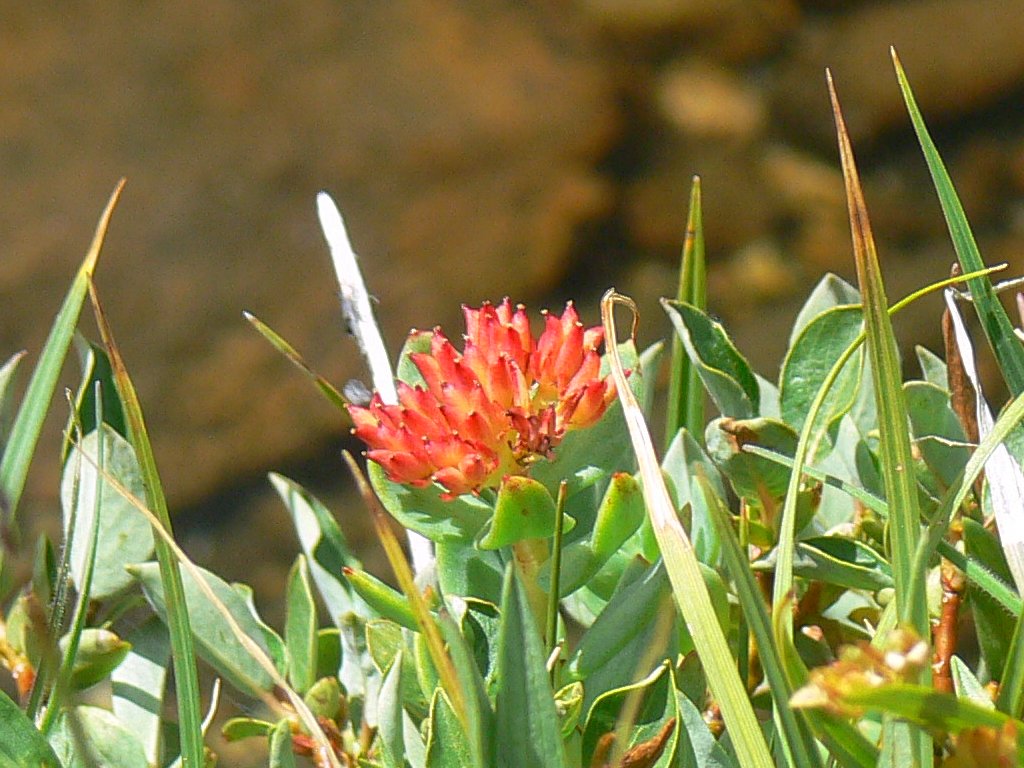 A lone Ledge Stonecrop at water's edge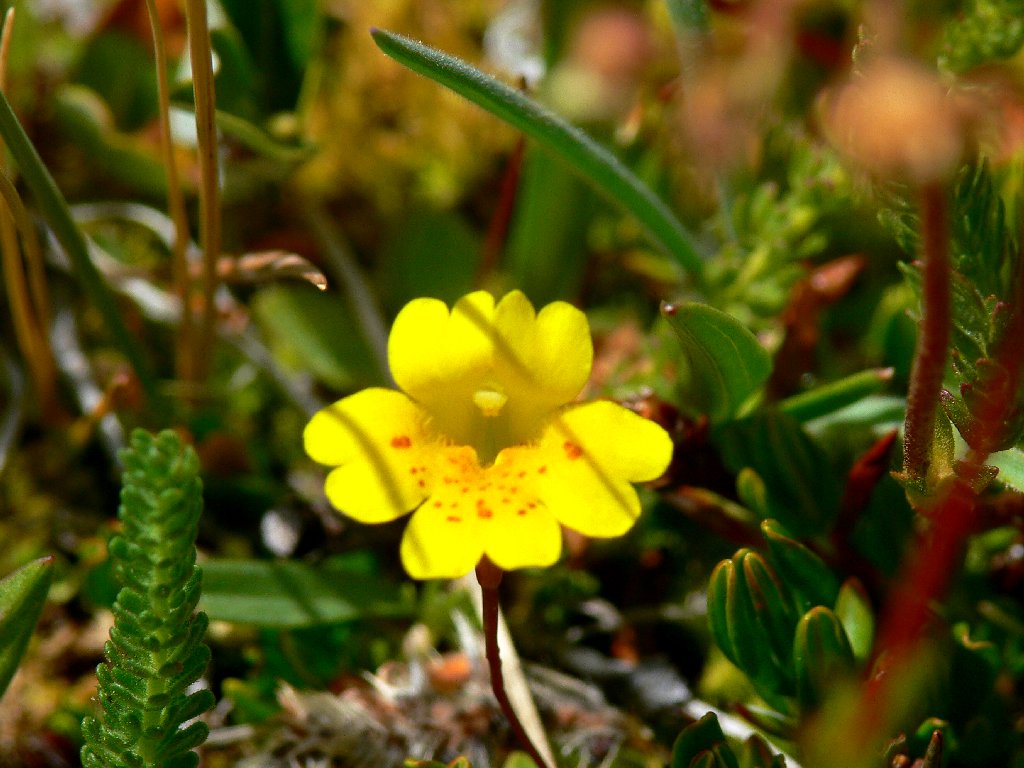 Primrose Monkeyflower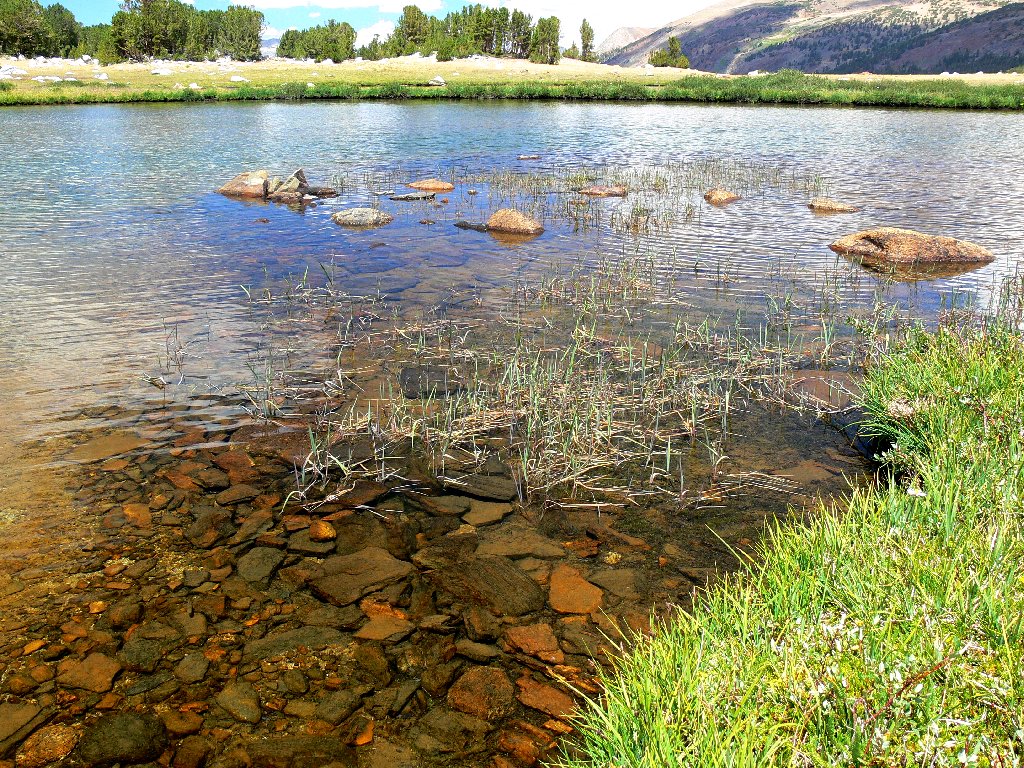 Albeit full, the lake is quite shallow
Just beyond the colorful hill is Helen Lake, the area's biggest; another five or six lakes adorn the ledge just above us. Normally I would want to check them out, but today my foot isn't up to the task. In any case, perhaps it is time to head back, because a five-hour drive home awaits me. A parting photo under a cloud sends us on our way.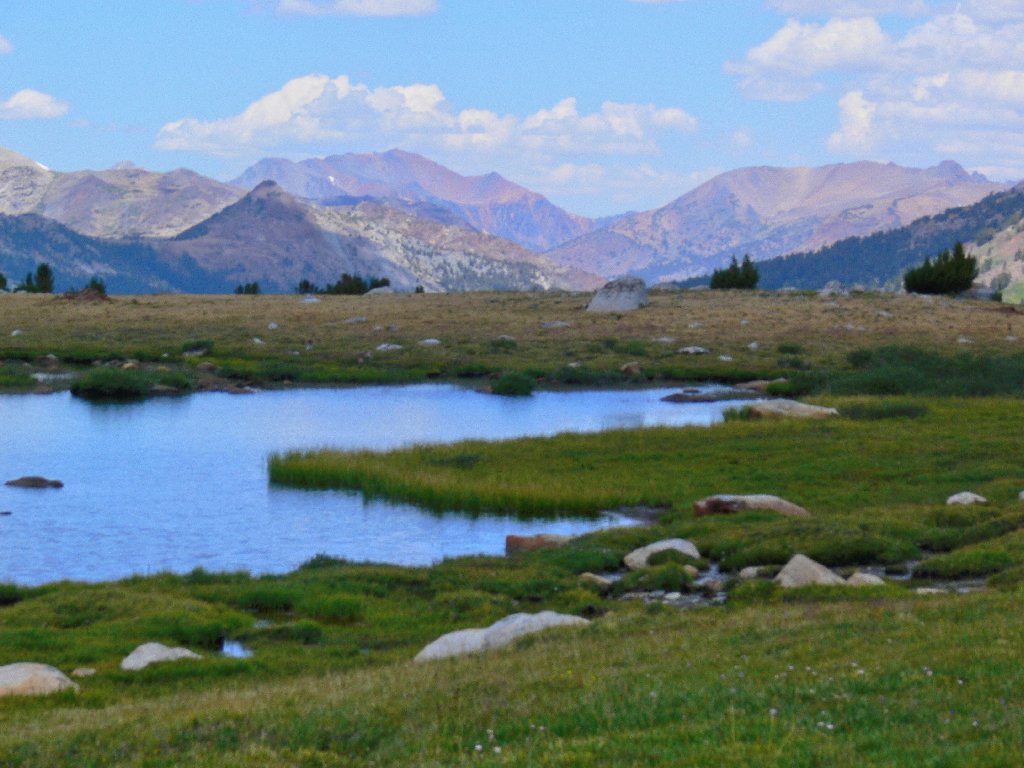 View to the north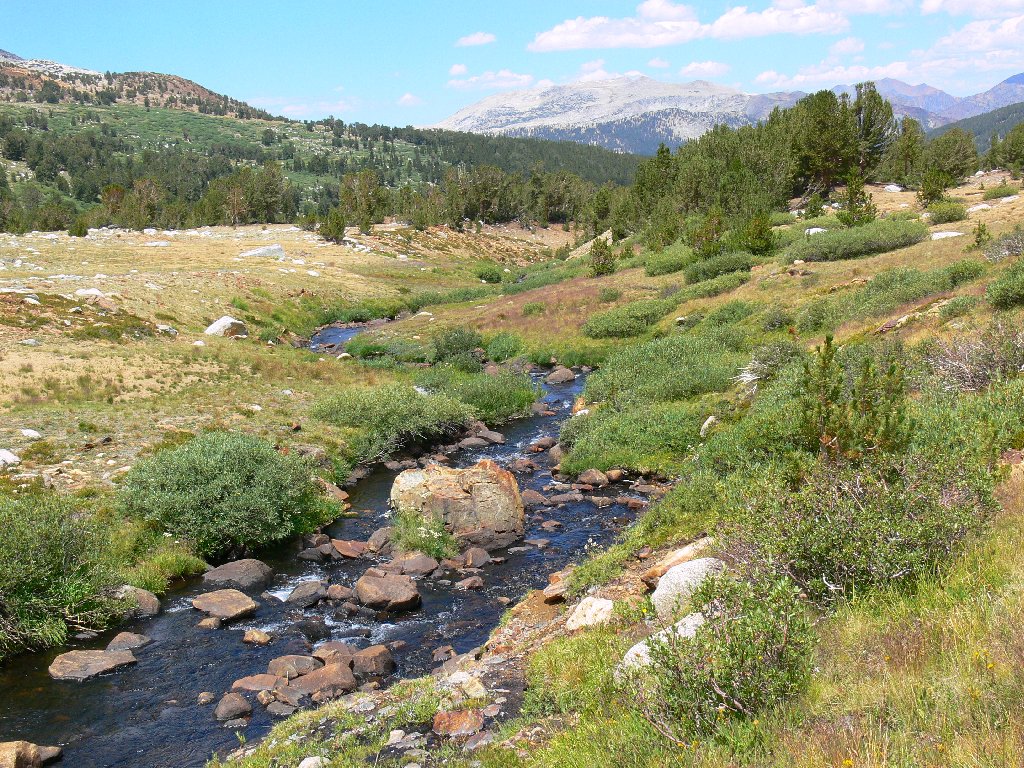 Starting back down Parker Pass Creek
Midway back, I spot a wonderfully orange-colored tree as well as a wonderfully orange-colored butterfly.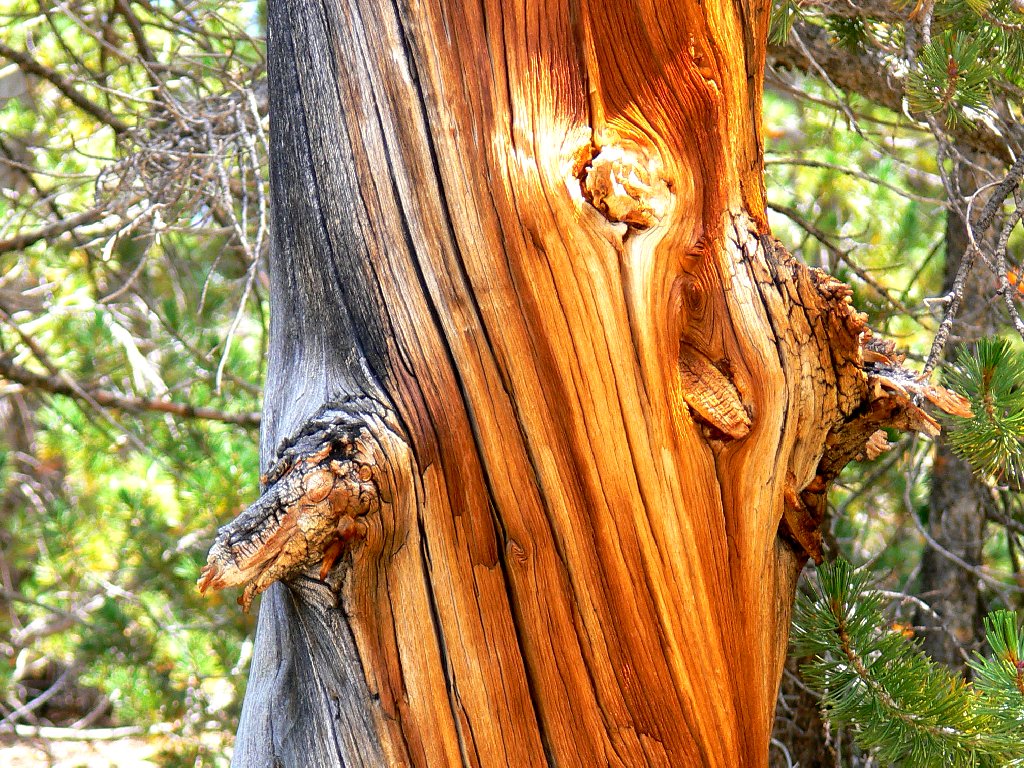 Nice texture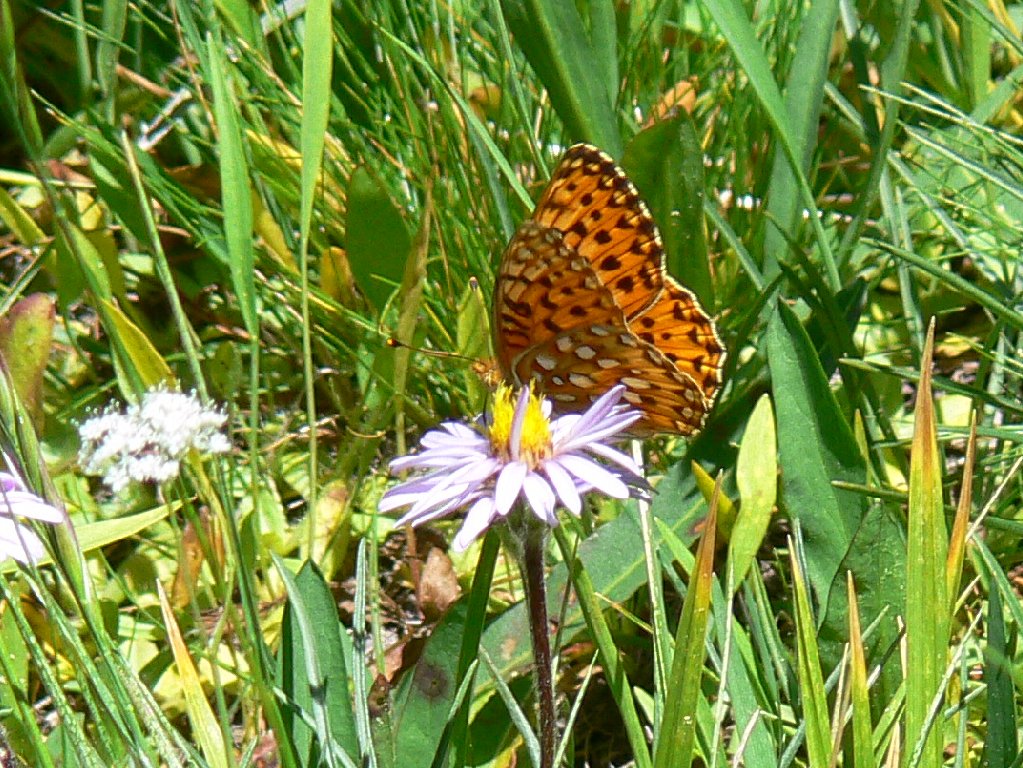 Fritillaries go for daisies
An eastward view of Mount Dana reminds us that our journey is nearly at an end. Hiding in the ground cover is a lone mushroom (toadstool?). The last flower I see on the trail is a shrubby butterweed, I believe; even that is beautiful today — along with everything else.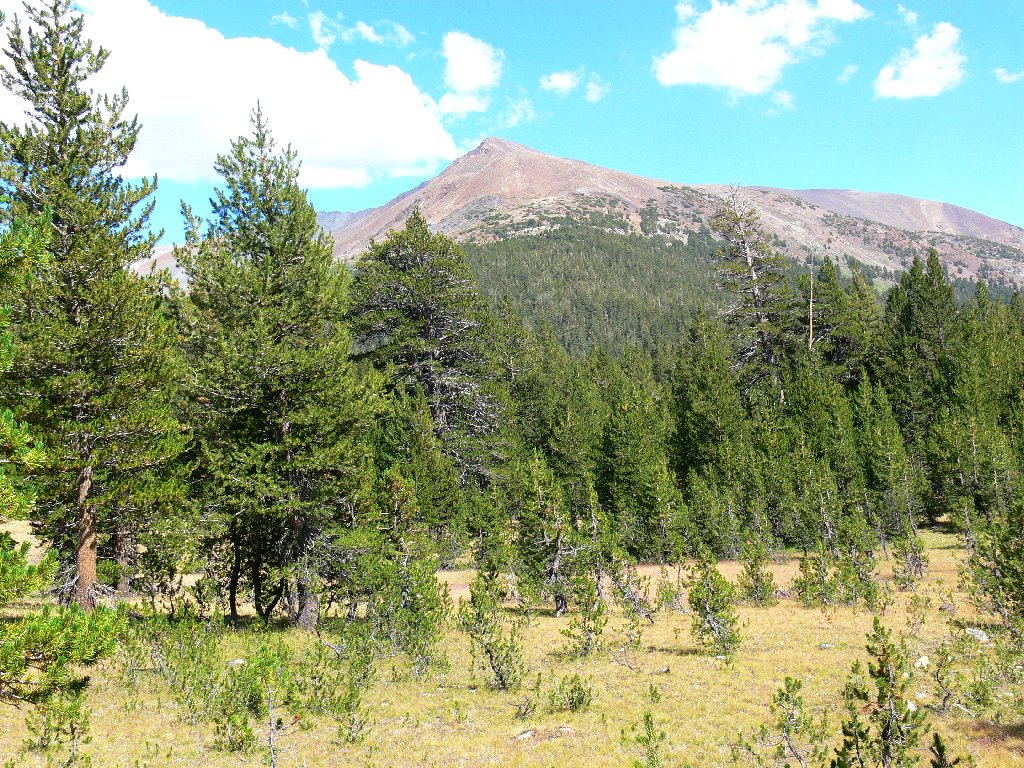 Mount Dana, Yosemite's second-highest point at 13057*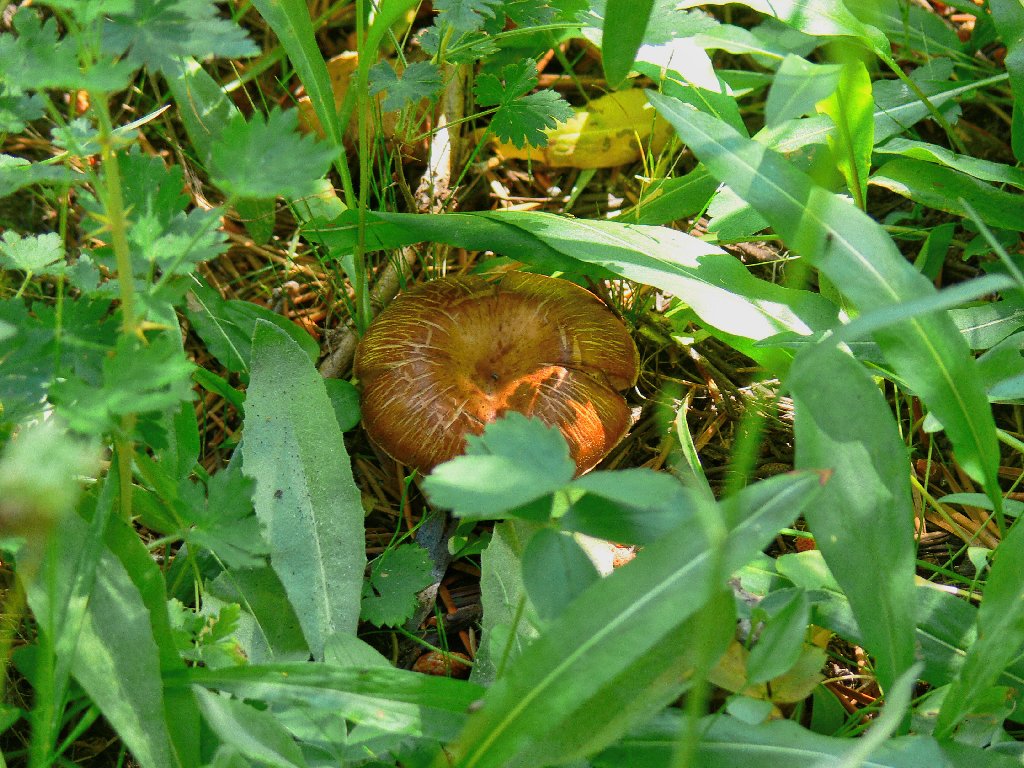 Recluse

Senior-citizen Butterweed

§: The trail itself was delightful — nary a rough spot in its 4-mile length. Also, the weather was perfect and there were no irritating insects.
A number of great cross-country options are available around here. Half a dozen readily accessible lakes lie just above Spillway Lake. A half-mile easterly scamper would reach the Parker Pass Trail for a nice loop trip which could optionally include a view of distant Mono Lake.
Trailhead: 1 mile south of the Tioga Pass park entrance on SR-120
Distance: 7½ miles
Elevation: 9690' to 10450'
Hikers encountered: 2 dozen
Rating: 8