Lake Clementine Trail
Auburn State Recreation Area
March 30, 2008
This is just about a perfect day for a spring hike — a partly cloudy 65°. Plenty of parked cars line the roadside; but there are several trails nearby, so perhaps it won't be overly crowded on ours. For partner Barbara and me the plan is a simple one — follow the North Fork of the American River upstream until we feel like stopping. It appears that we will share this route along the eastern bank with some bicycles.
The first noteworthy "attraction" is the Foresthill bridge spanning the gorge 730 feet above the river. Built to accommodate the waters of the ill-fated Auburn Dam, it is the highest bridge in California and the third-highest in the United States. Had the dam been built, this trail would not exist.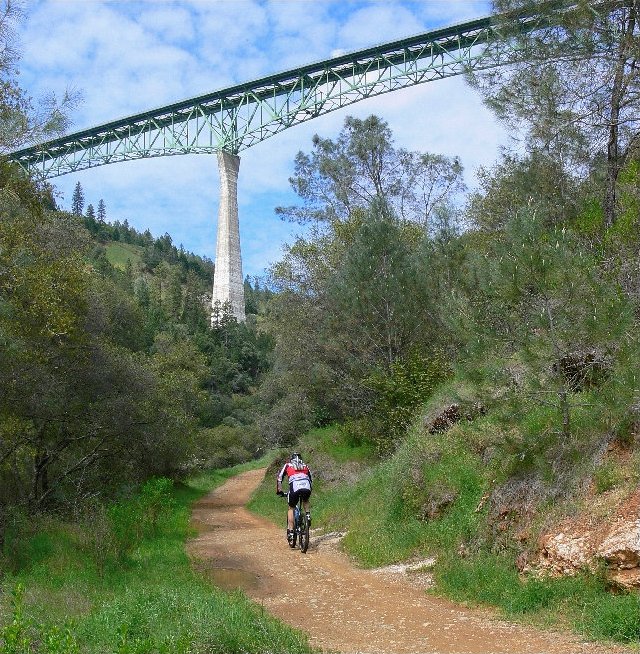 Bridges and bikes
Numerous species of wildflower adorn the route, as anticipated: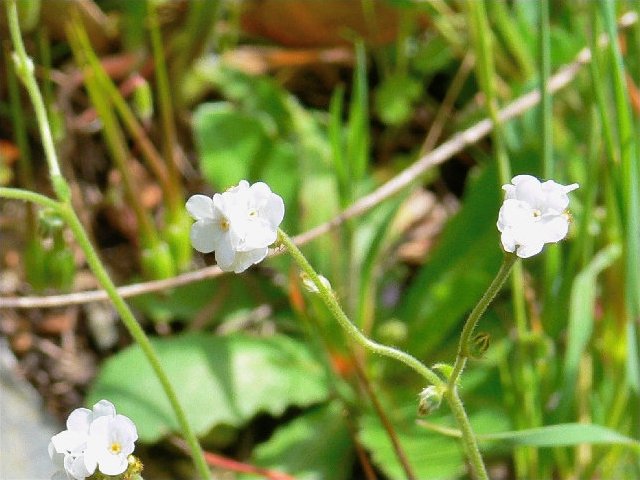 Popcorn Flowers

Wild Mustard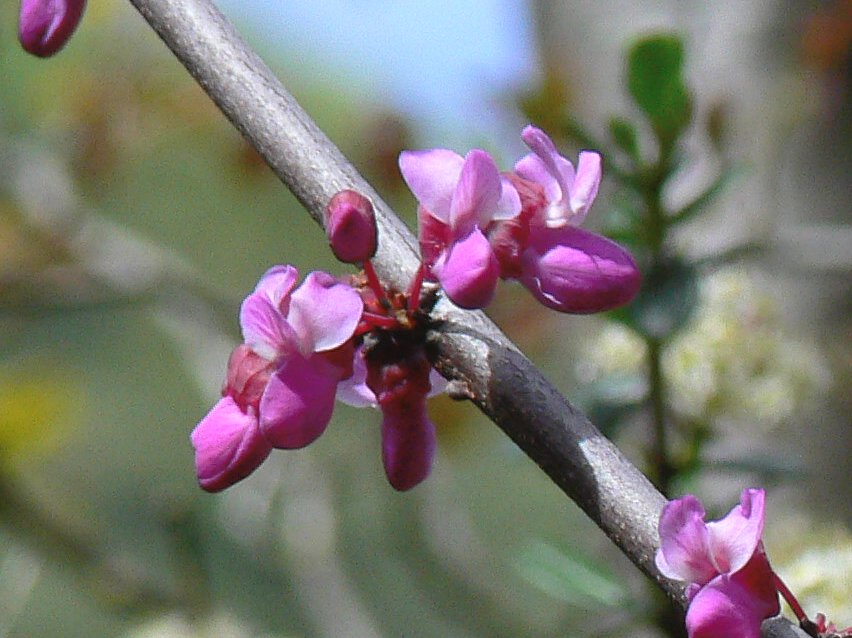 Redbud blossoms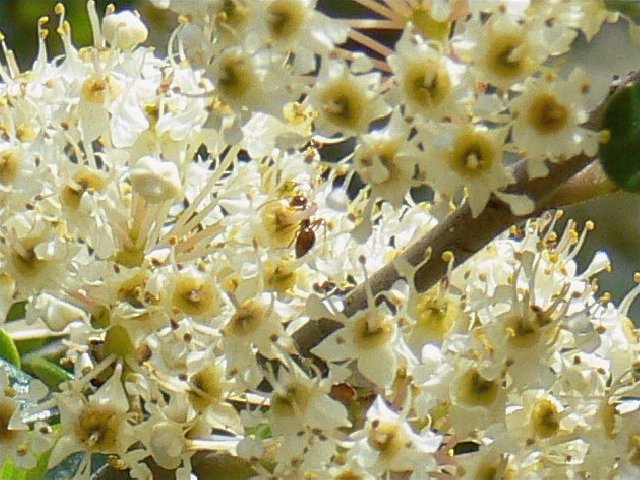 Ants like the Buckbrush
Only a dog is willing to venture into the water today, as it still is pretty cold. Within a month or so, everyone will be in there, including us.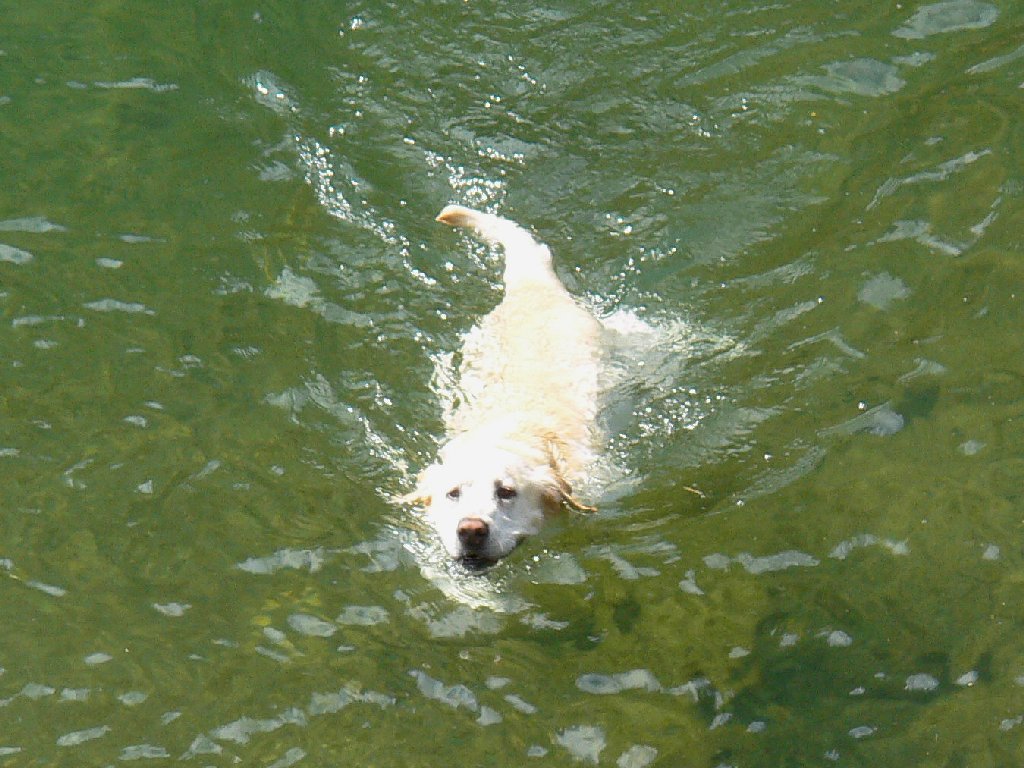 It's a dog's life
Numerous butterflies are flitting about, including this relatively bland-looking pipevine swallowtail; the females don't even have the white spots. This species is so named because its eggs are laid only on a pipevine plant, which is poisonous to most animals. The caterpillars feed upon it, rendering themselves inedible to birds and other predators.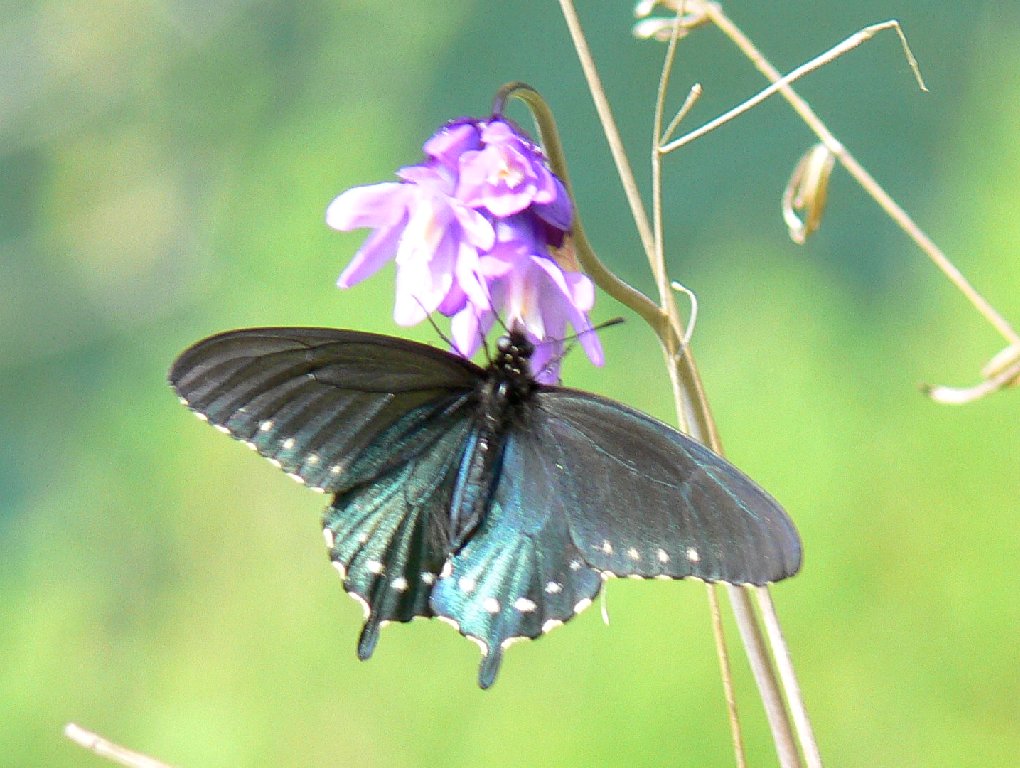 A Pipevine Swallowtail enjoys a Bluedick
But wait. Check out this same guy from underneath. He's gorgeous! Several other species of butterfly have emulated this creature's markings, thereby fooling some of their own hungry adversaries.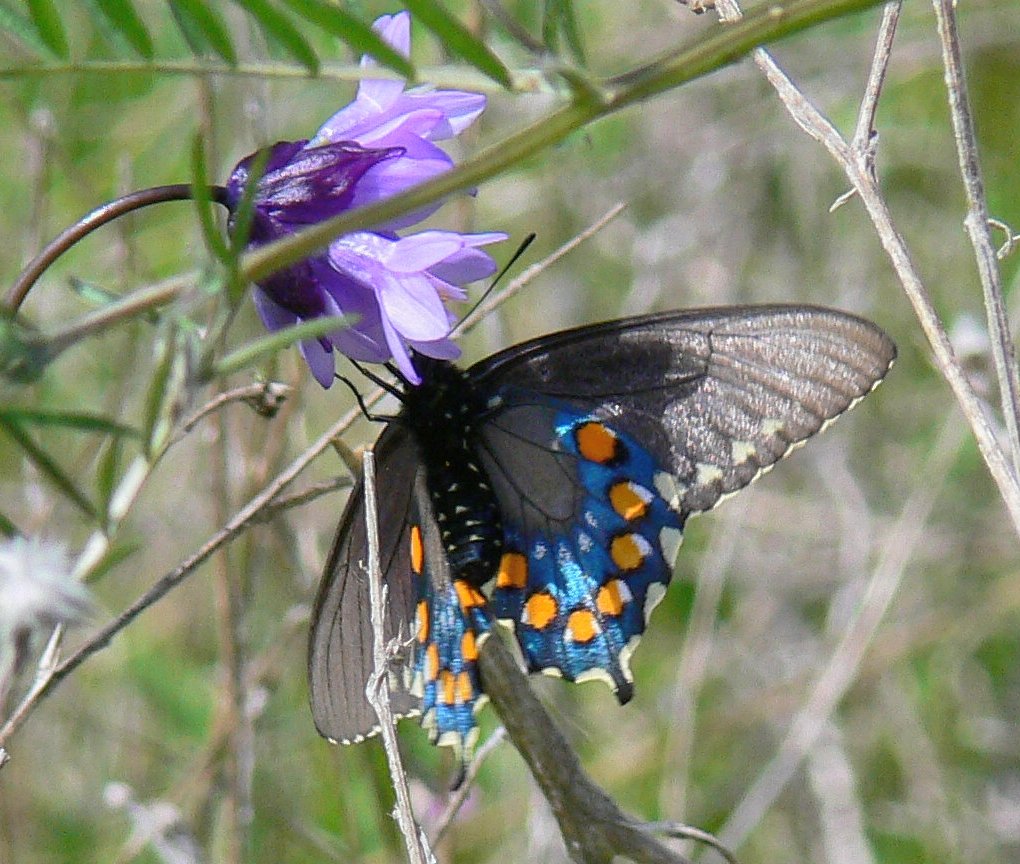 This guy can afford a bright coloration; he's poisonous!
We observe the remains of a home site on the opposite bank near the old stagecoach route, just above an interesting river section. Perhaps those folks ran afoul of their adjustable-rate mortgage.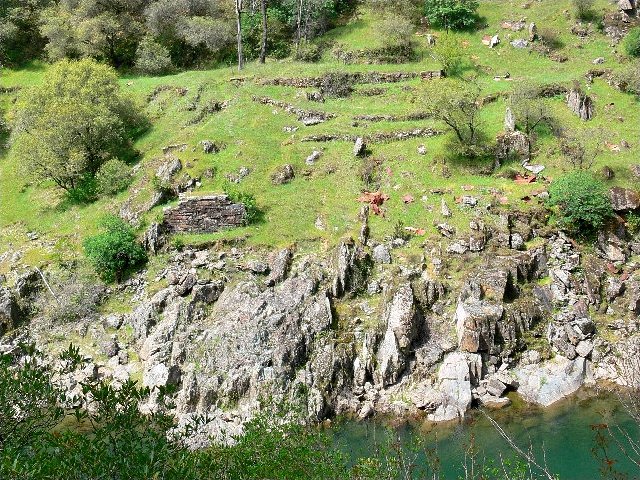 Beach-front property

The scenic North Fork
The trail becomes shady and nicer after about a mile and a half. North Fork Lake (reservoir) awaits us up and around the bend, but we are going to call it a day. On the return we encounter a butterfly I have not seen before — a sara orange tip; but it won't alight long enough for a nice still-shot.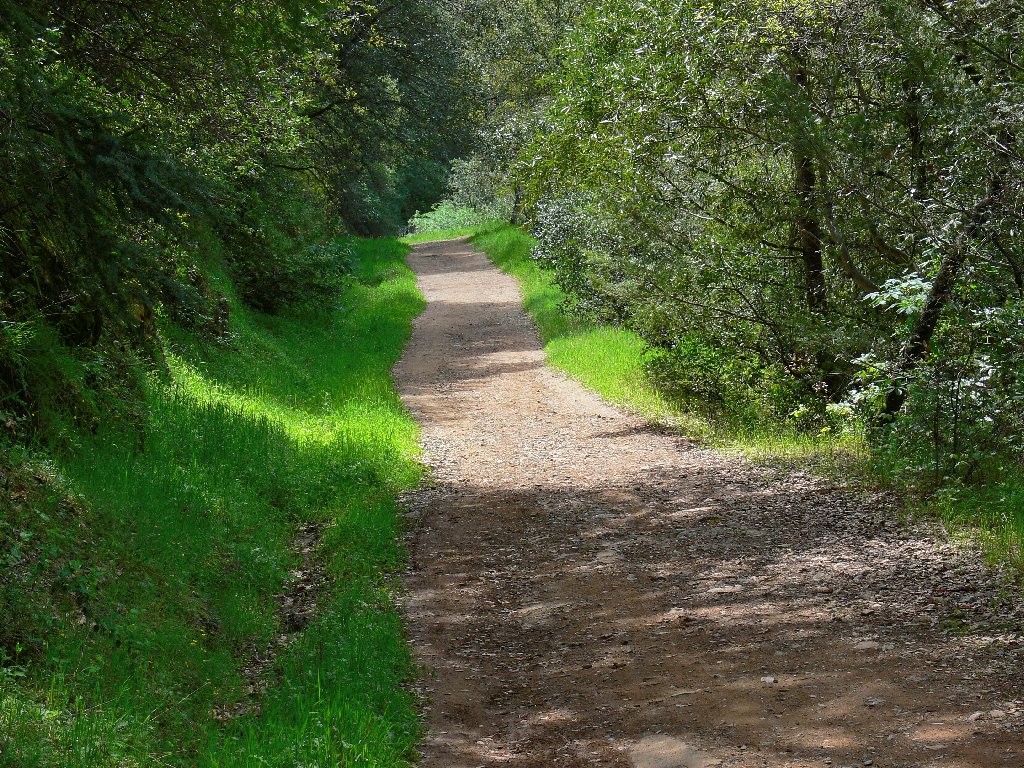 Pleasant strolling when bicycles aren't hurtling by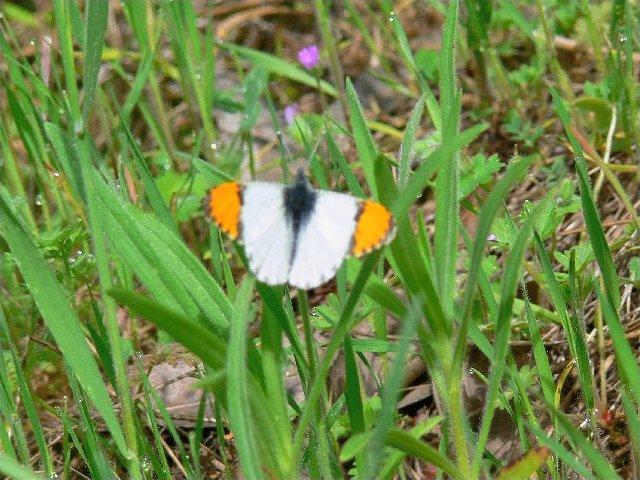 An elusive Sara Orange Tip
No springtime hike in the foothills would be complete without the requisite patches of our state flower: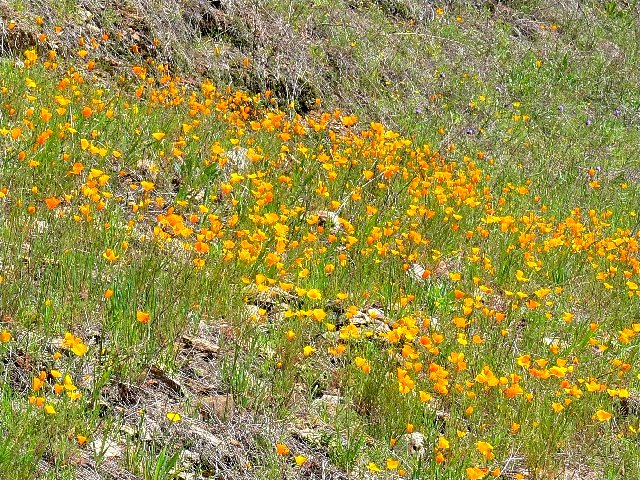 California Poppies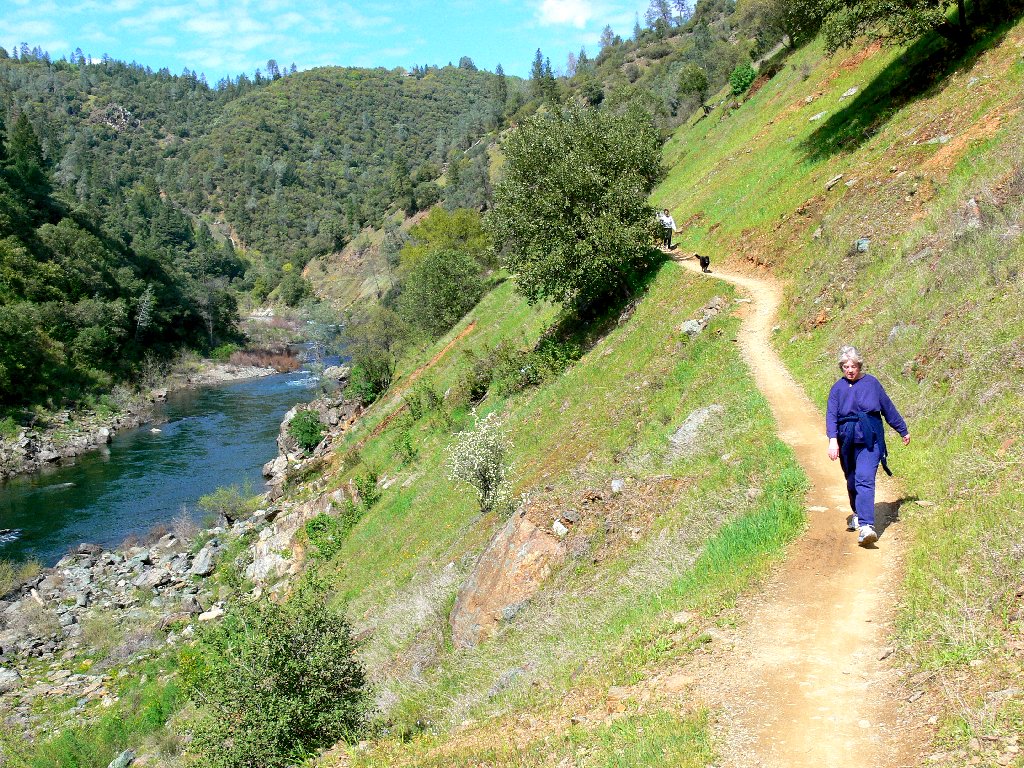 Back near the trailhead

§: Numerous homes and other structures are visible on the ridge top, on the outskirts of Auburn. Those and other artifacts render this hike something less than a wilderness experience; but being close to home, it has served as a good season warm-up.
Trailhead: 3 miles southeast of Auburn on California SR-49
Distance: 3 miles
Elevation: 550' to 600'
Hikers: 20; bikers: 20; dogs: 4
Rating: 3