Glacier Lakes Trail
Tahoe NF
June 9, 2007
Exploring Fordyce Road north of Cisco Grove is a new adventure for me, and the reason soon becomes clear — this road is bad. A high-clearance vehicle is an absolute necessity, but my Outback is more than equal to the challenge.
A pleasant surprise awaits me a mere quarter-mile off the pavement, in the form of a sizeable cascade on Rattlesnake Creek. Not so pleasant is the multitude of bikers and ATV-types scurrying pell-mell, seemingly to noplace in particular. The only real impact upon me, however, is the trails of dust they throw up.
Not knowing exactly how best to approach this area, I forgo the turnoff to Sterling Lake, veering northeast on Rattlesnake Road over Magonigal Summit. This tour ends at a roadblock of snow that no vehicle has yet crossed; I'll not be the first to attempt it. A cross-country venture from here is a possibility; but I am unfamiliar with the territory, my cell phone is out of range, and my 40-year-old compass has decided to give up the ghost. Prudence dictates another plan; so I turn the car around.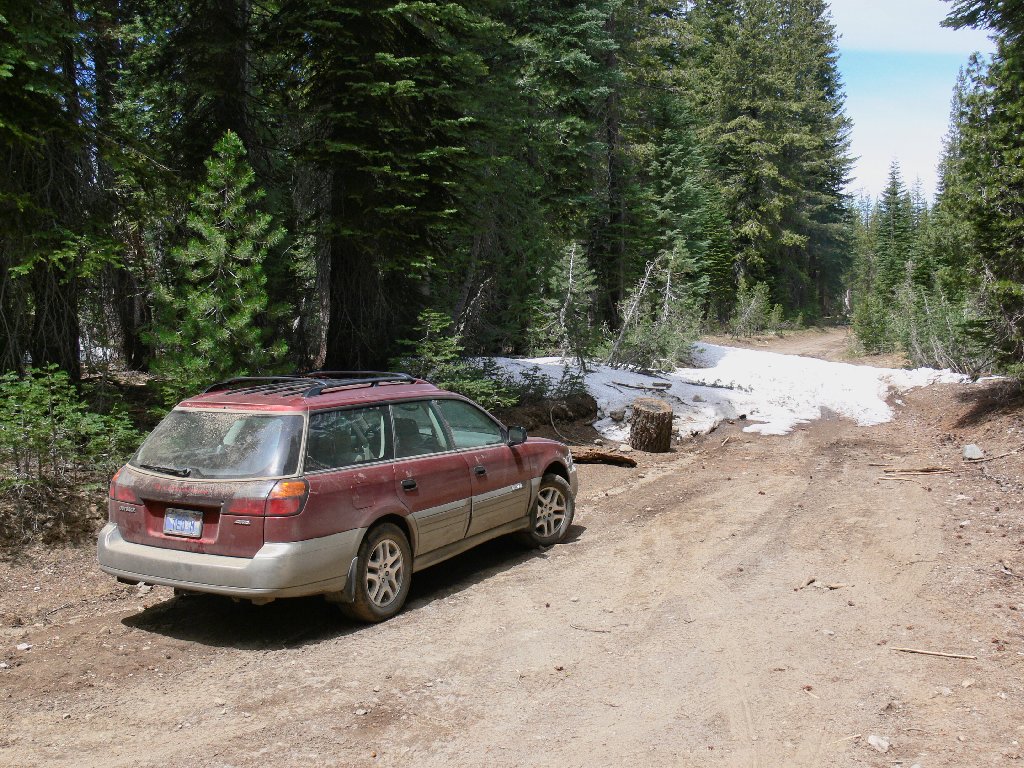 End of the road today
Backtracking a couple of miles, a side road seems to go in the desired direction. After winding down and around, it finally dead-ends at the northeast shore of Lake Sterling, right next to my trail loop. Perfect! A path along the north shore leads to the spillway, passing a large but uninhabited camp along the way. There is a big Boy Scout facility at the southwest corner of the lake, which I have fortuitously circumvented. At the dam there is a signpost for the Glacier Lakes Trail.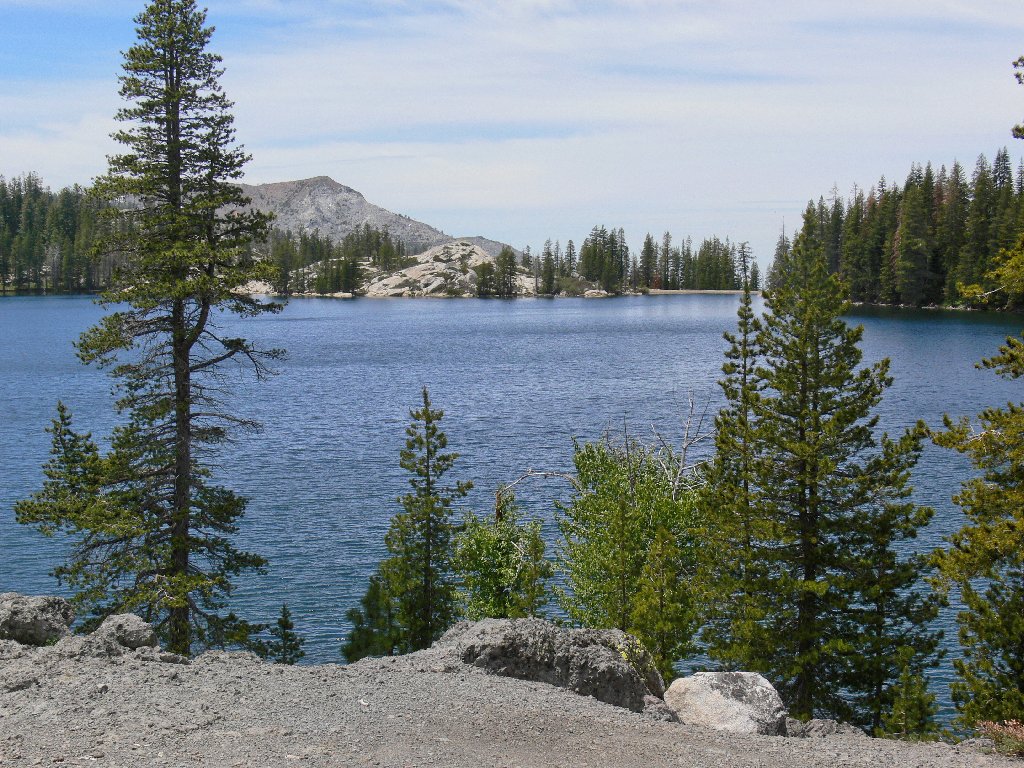 Lake Sterling
After a steep but short scramble at the start, the trail is mellow and shady. It would be totally quiet except for the sound of sporadic gunshots from the Boy Scout shooting range. The first pond is upon me almost immediately.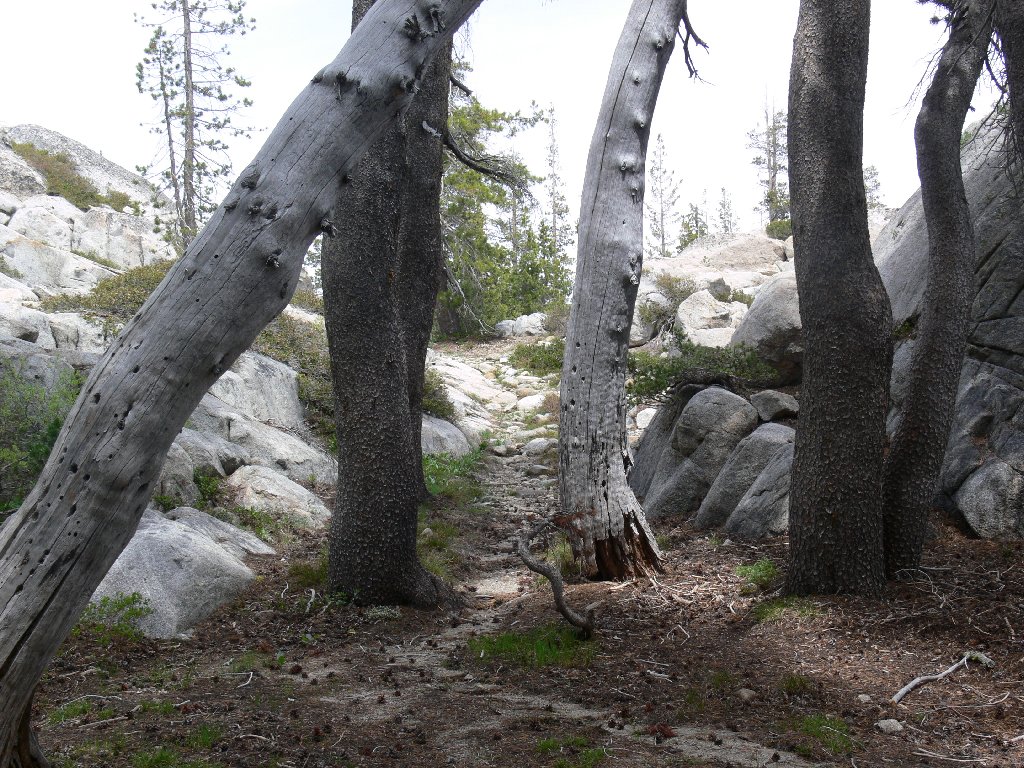 Mellow trail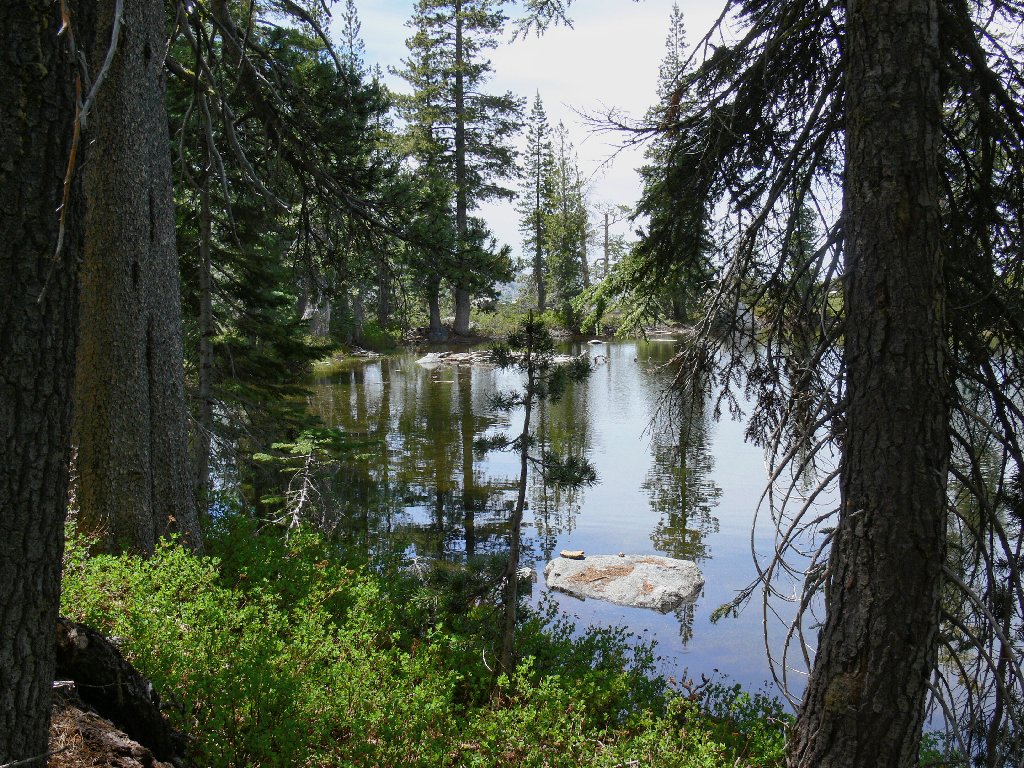 The first pond
The second lake features a nifty log crossing. A few minutes later another beautiful lake appears, replete with islands and hundreds of red lily pads. At least, I guess that's what they are.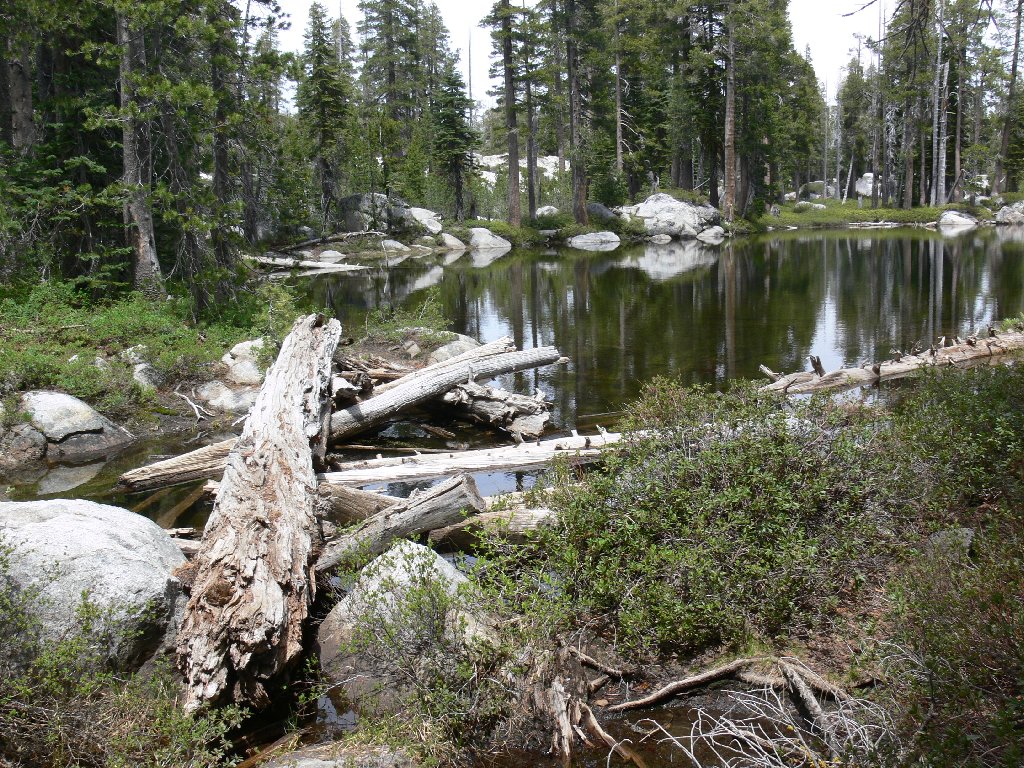 A tricky stream crossing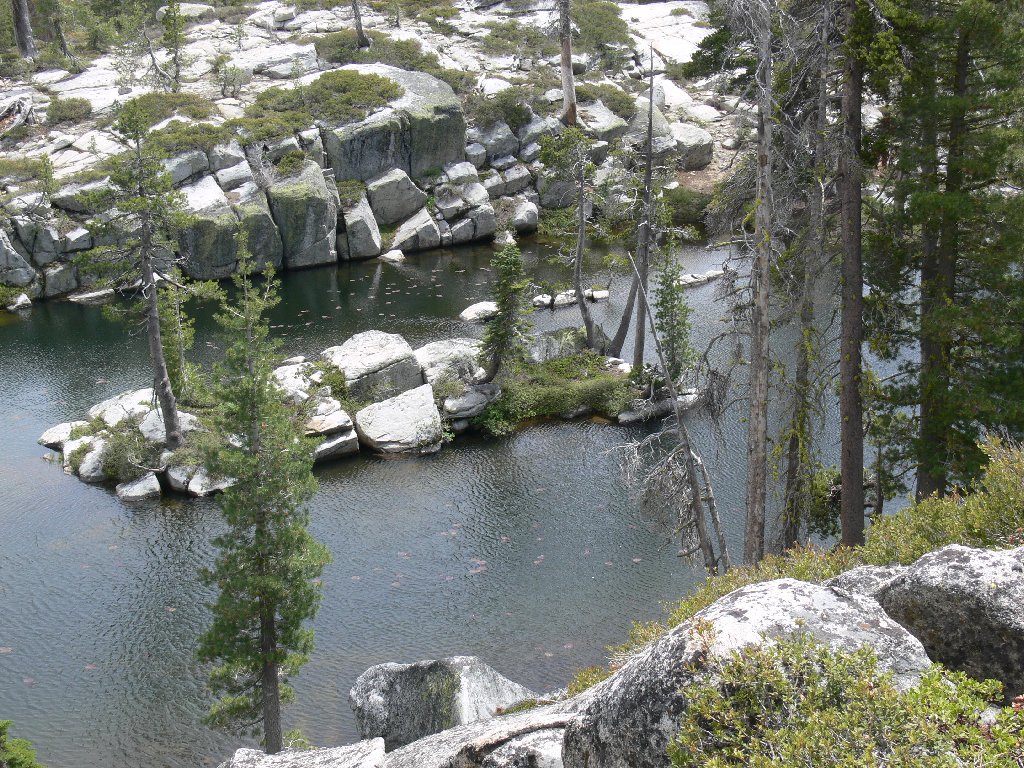 Lily pad lake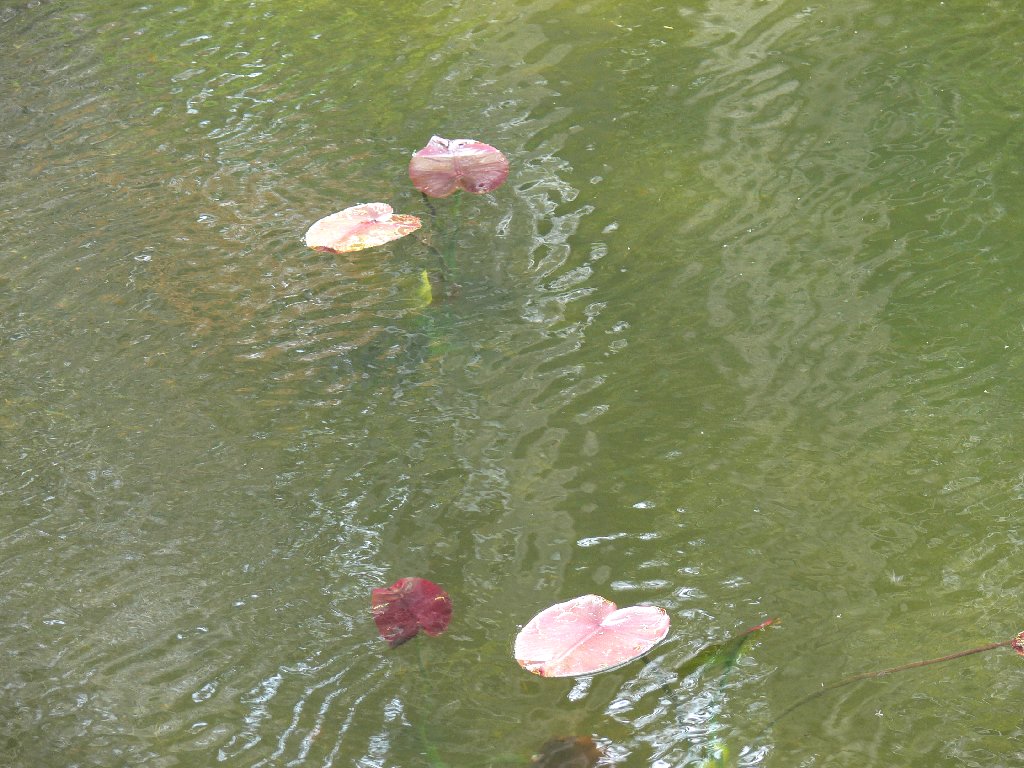 Lily pads?
I didn't know that lily pads came in that color. Following a junction sign labeled Mossy Pond, I immediately find a mossy pond; but it is not Mossy Pond.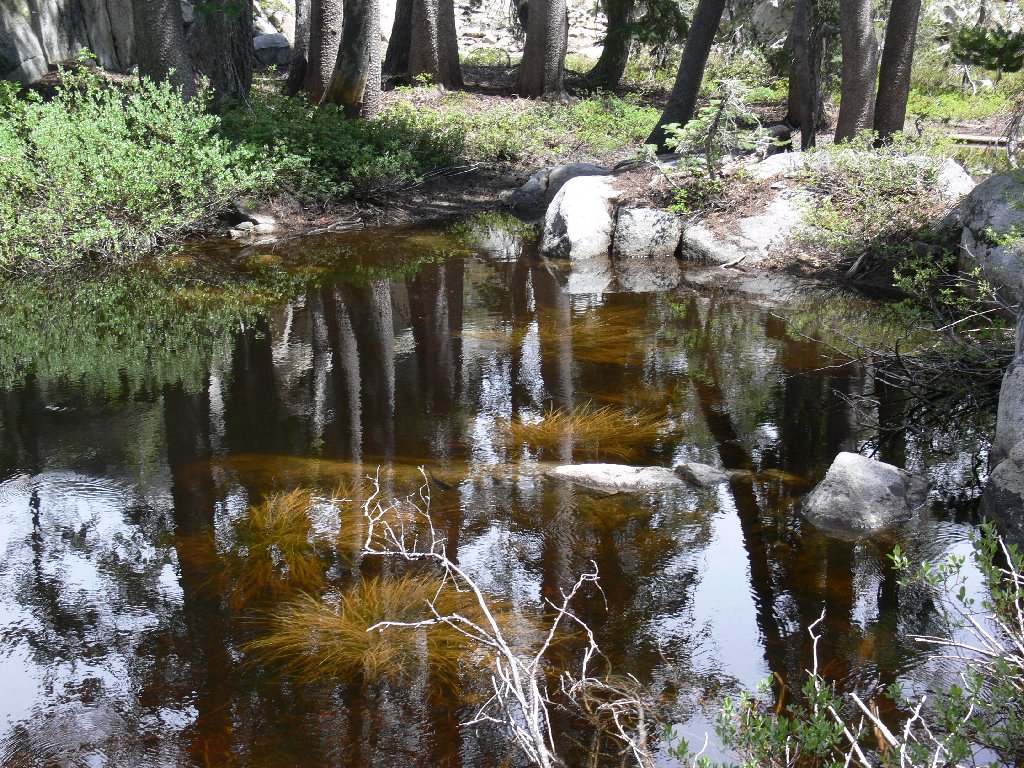 False mossy pond
A nicely placed Jeffrey pine sentinel invites me farther up the trail, past a rain shelter underneath a flat rock.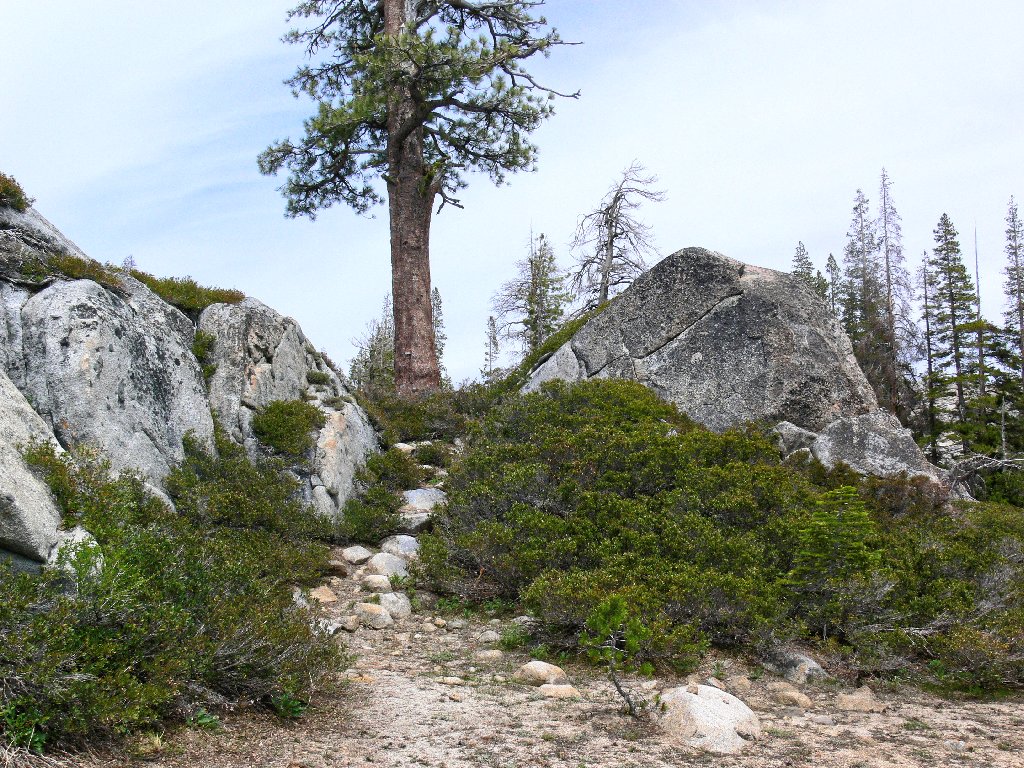 Inviting trail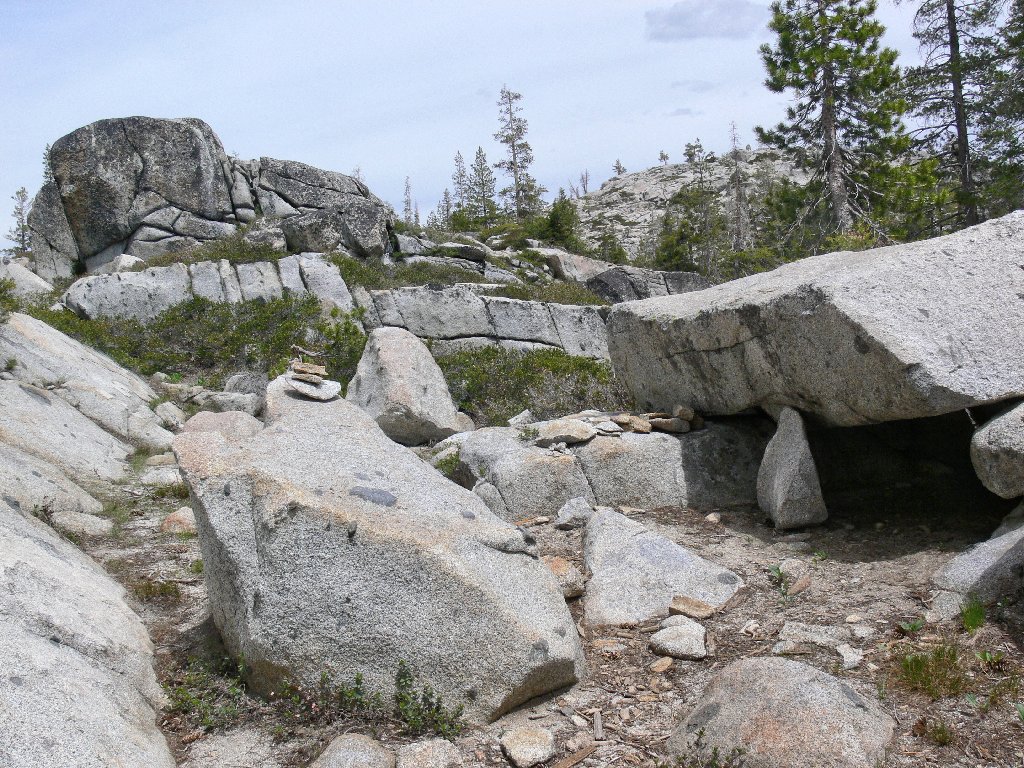 Rock shelter
Although I am short of Mossy Pond, a seeming end to the trail prompts a lunch break here.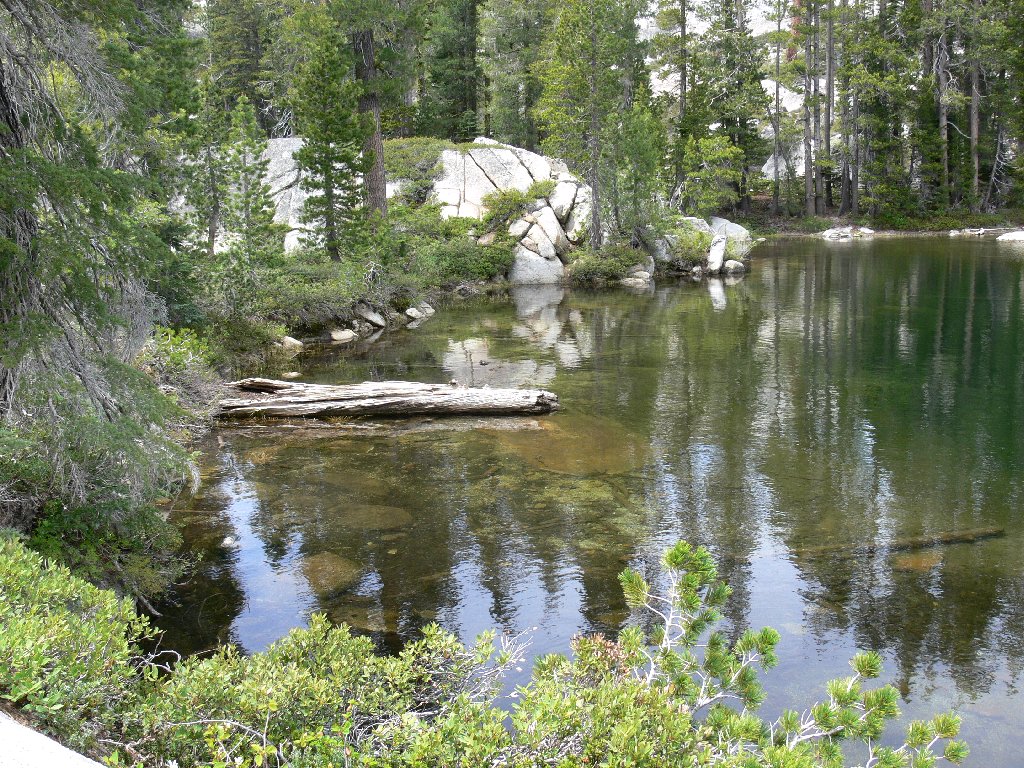 Lunch stop
Having inexplicably failed to bring a map, and having no idea how much farther Mossy Pond might be, I decide to turn back here. At the previous junction the signpost is explicit. I dutifully proceed in the direction of the arrow.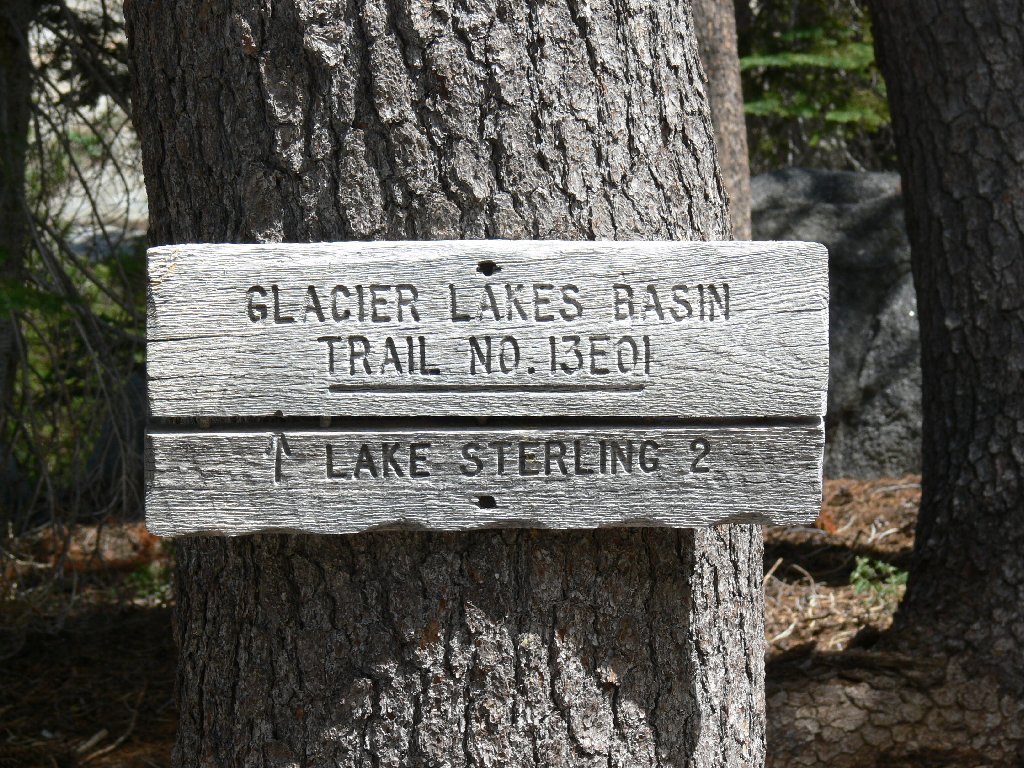 Continuing the loop
Well, within no time the trail disappears. Once again ruing my forgetfulness, I attempt to retrace my steps and start again; but that doesn't work either. Now the original path itself seems to be hiding. Perhaps this portion of the trail has been left intentionally vague by the Boy Scout administrators, so as to provide the kiddies an opportunity to hone their orientation skills. If so, I have failed the final exam; for I find myself on a tiring cross-country scramble up and down some rock piles.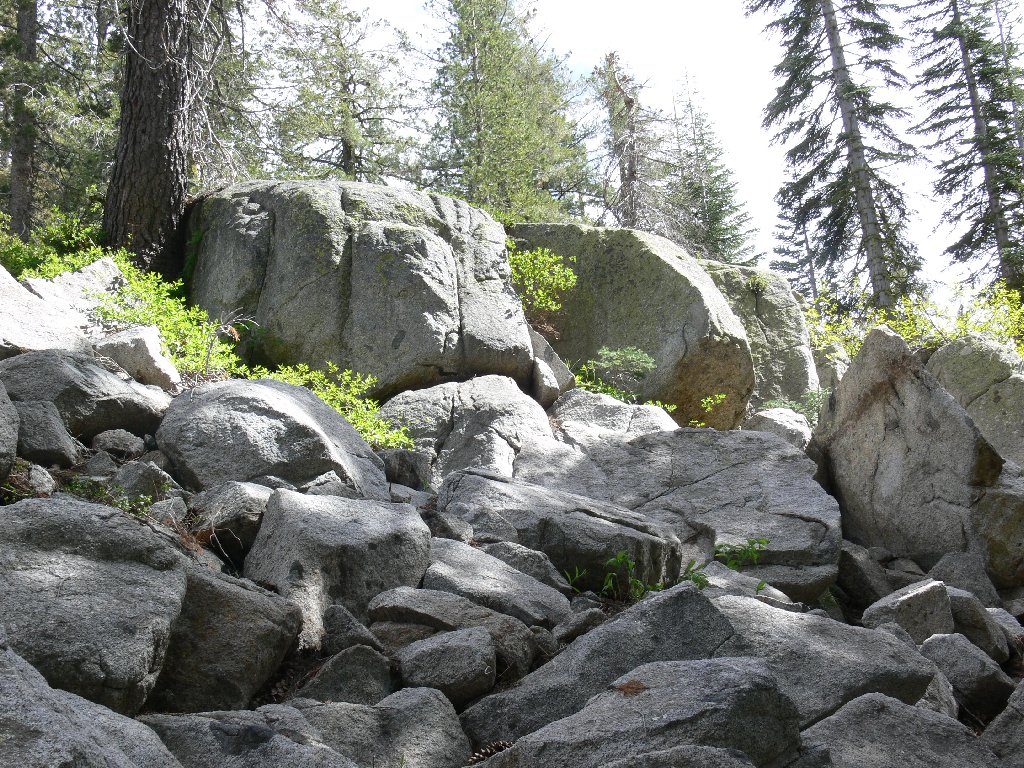 A difficult cross-country route
This detour is not entirely in vain. Despite a somewhat scary and entirely unnecessary Class-3 scramble up a rock face beside a lake, I discover some nifty new scenery. An interestingly colored tree root commands attention as well.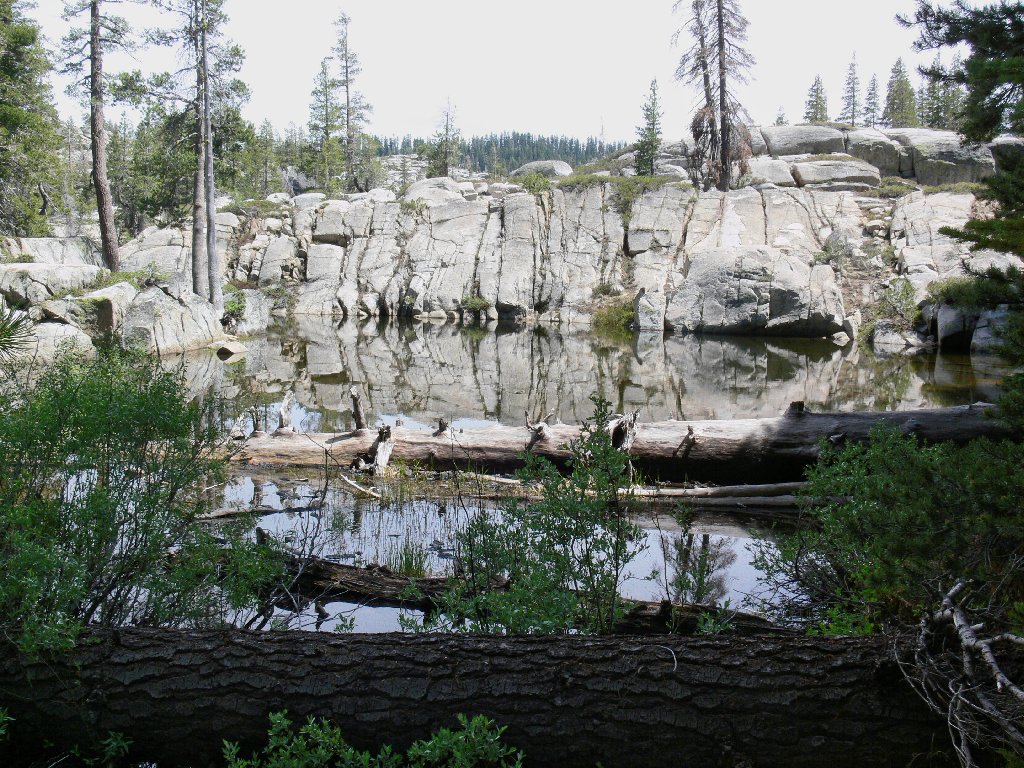 Nice rocks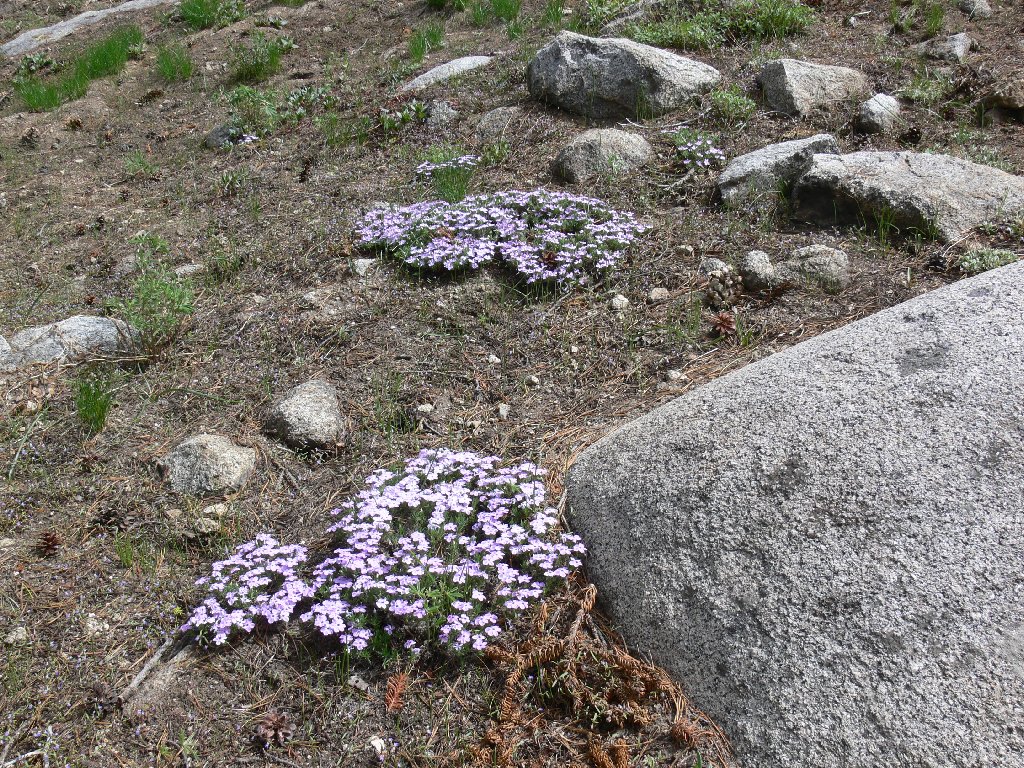 Nice Phlox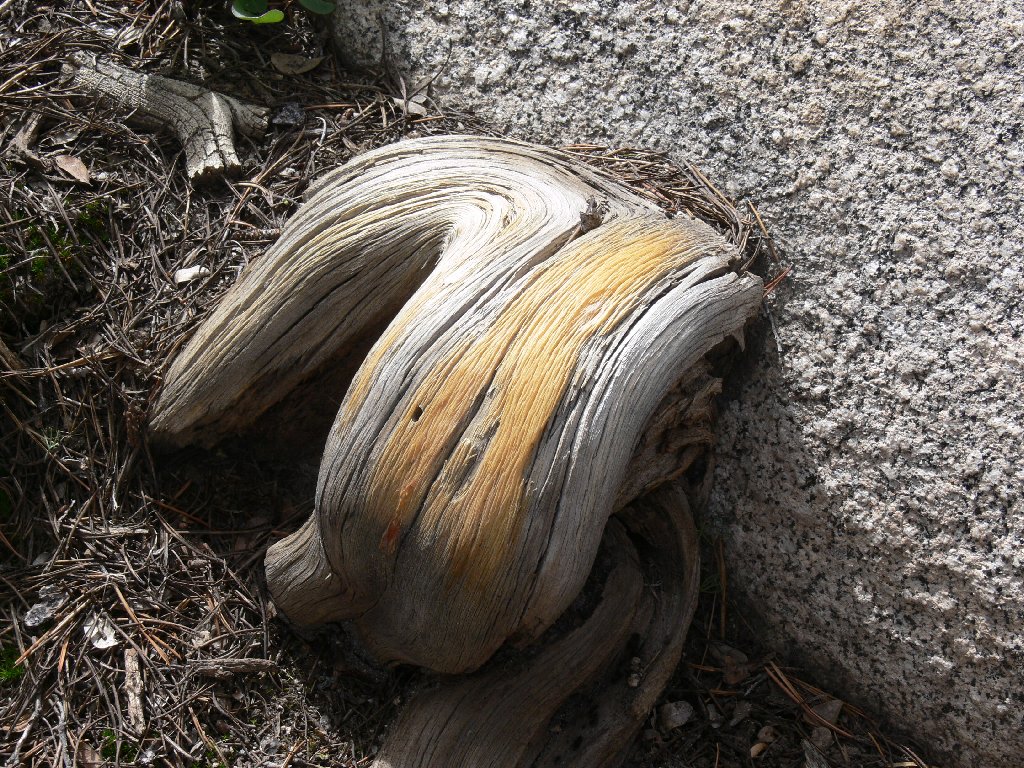 Nice colors
Eventually, the original trail reappears and leads ultimately back to the car. I opt for a shortcut back to the interstate, above the southern side of Lake Sterling. This route, although somewhat shorter, might not be saving any time. The fact that is is passable is good enough for me.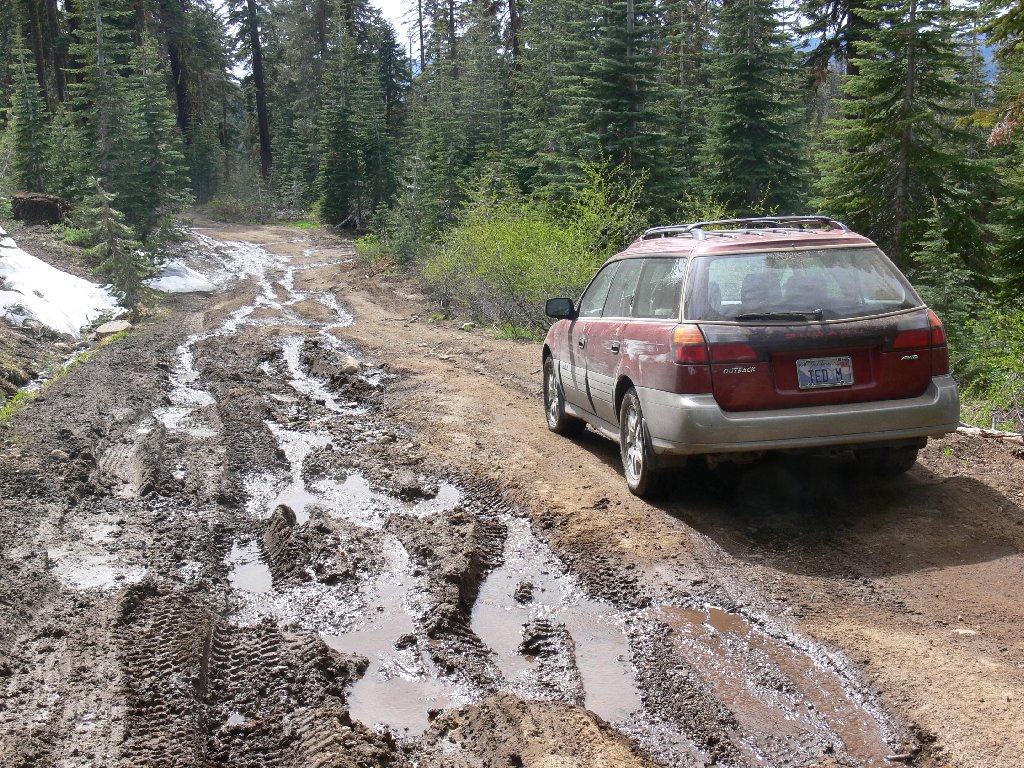 The road back

§: There were few flowers on today's loop; apparently it was just too early in the season. Also, despite its size, nearby Fordyce Reservoir never was in view. As there is virtually no elevation change in this area, the walking is easy but there are no vista points.
After consulting a map, I discovered that it would have been another mile to Mossy Pond itself. The eastern loop of the trail was lost by not veering far enough to the north at a stream crossing. My nifty new National Geographic mapping software labels the route as the Mossy Pond East Trail. When not bushwhacking, all my time had been spent on the Mossy Pond West segment. Those names are not shown on the Forest Service map.
Trailhead: 6 miles of very rough road, north of I-80 from Cisco Grove
Distance: 6 miles, including some duplication
Elevation: 6990' to 7110'
Hikers encountered: none
Rating: 4 (=5 if I had found the return trail)