Loch Leven Lakes
Big Bend Trailhead, Tahoe NF
August 4, 2008
Last year I tried this route too early; it was still so snowbound that the trail disappeared before I reached the summit. I never did make it to the lakes, which probably were dry and sunny; a pair of other hikers with a GPS turned back as well. This year I have brought friends Ali, John, and Phil to help me find my way.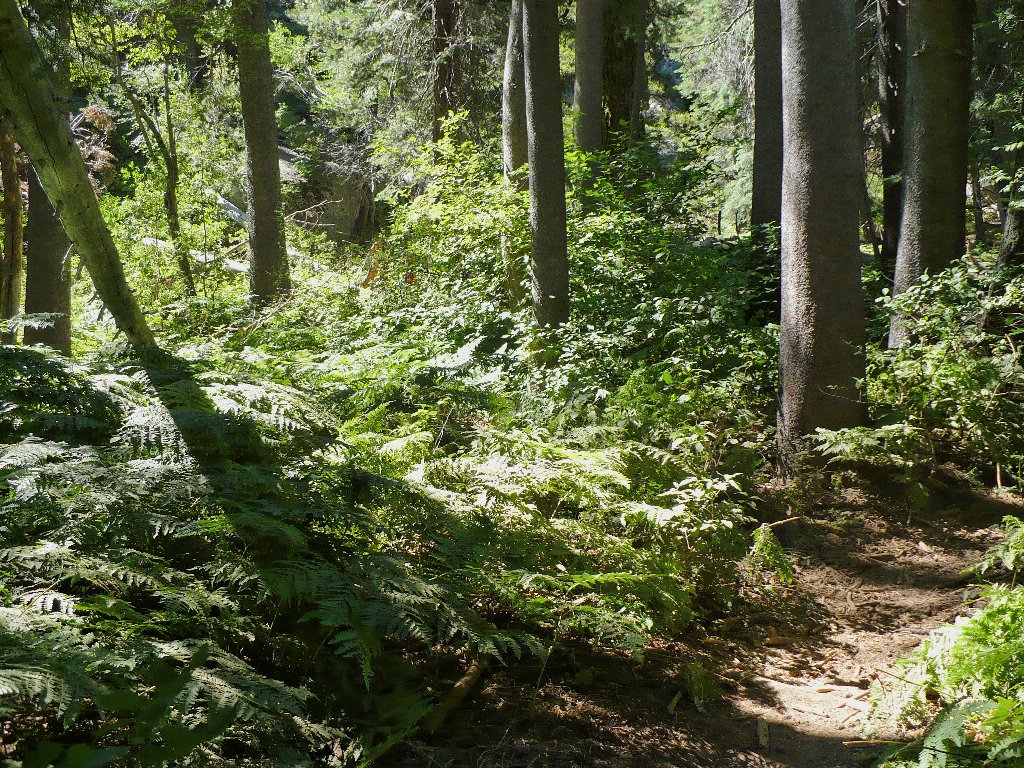 A pleasant fern grotto
After a mile or so of walking and just 300 feet of ascent, our route crosses the Southern Pacific Railroad tracks. Along the way the normally pretty creek is completely lifeless. Another mile-plus of switchbacks and 800 feet of additional climb achieve the top of the saddle, after passing the spring which also is bone-dry. That's a shame, for I always have made a point of enjoying a refreshing drink there. From the summit it is relatively easy walking to Lower Loch Leven Lake, the first one that we encounter.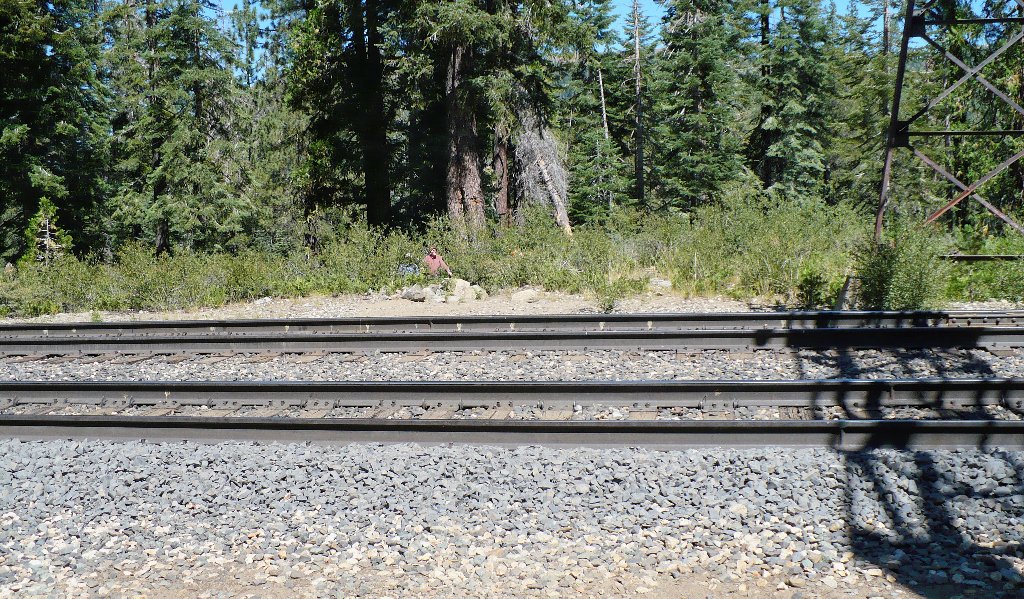 The stragglers reach the tracks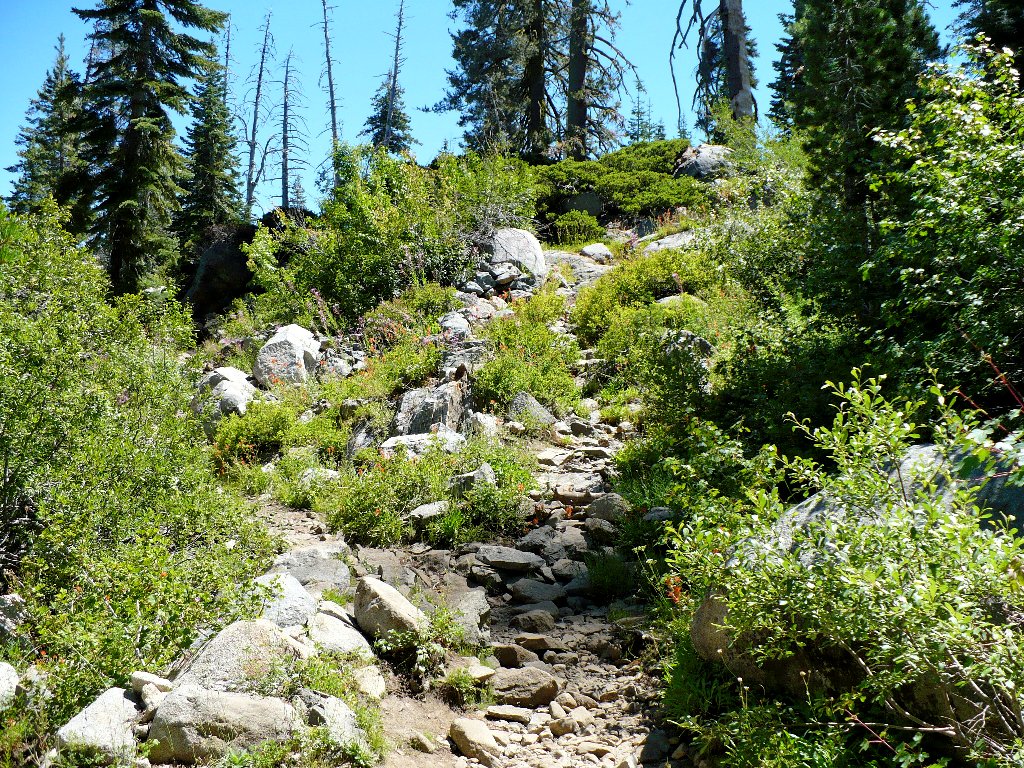 North of the saddle, the route is steep and rough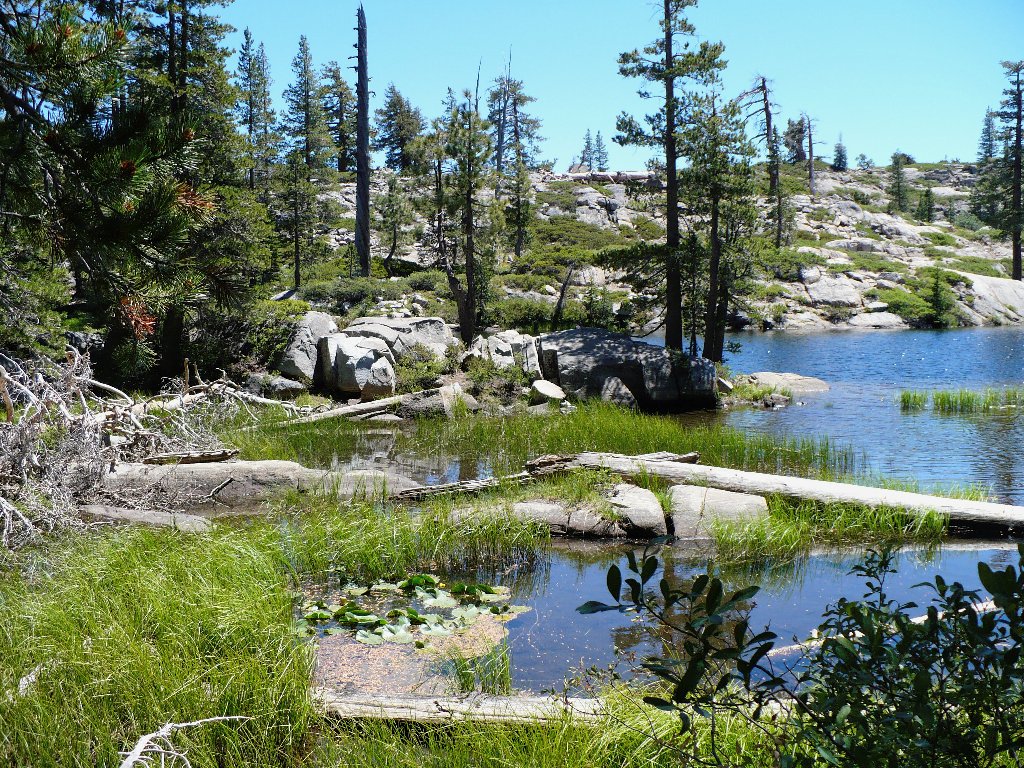 The north end of Lower Lake
Note: some trail guides refer to this body as Upper Loch Leven Lake, but that designation is incorrect. The terms 'upper' and 'lower' properly refer to elevation, not compass orientation. In fact, this lake lies at the lowest elevation of the group, and that is why the trail signpost accurately denotes it as "Lower Lake".
Standing at the lake shore, I notice a gravity-defying object hovering behind me. I'll leave it to you to figure out this one.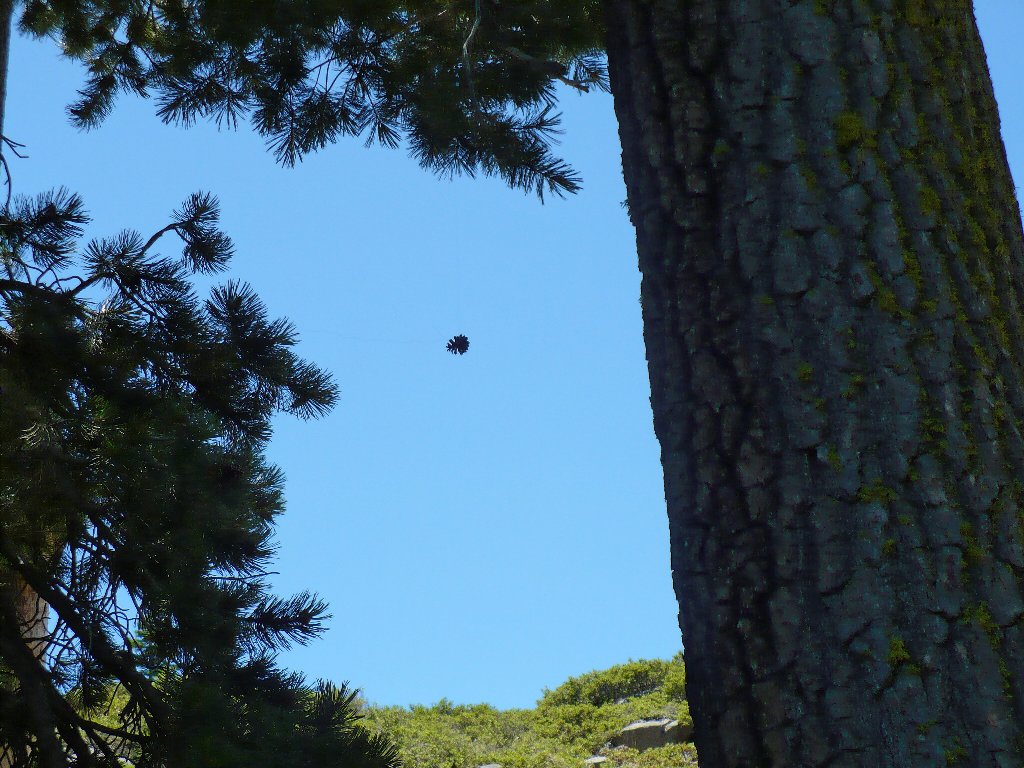 A magic pine cone, or a UFO?
After admiring a trio of woman swimmers briefly, we continue up and down a little hill to the Middle Lake, the biggest and prettiest of the bunch.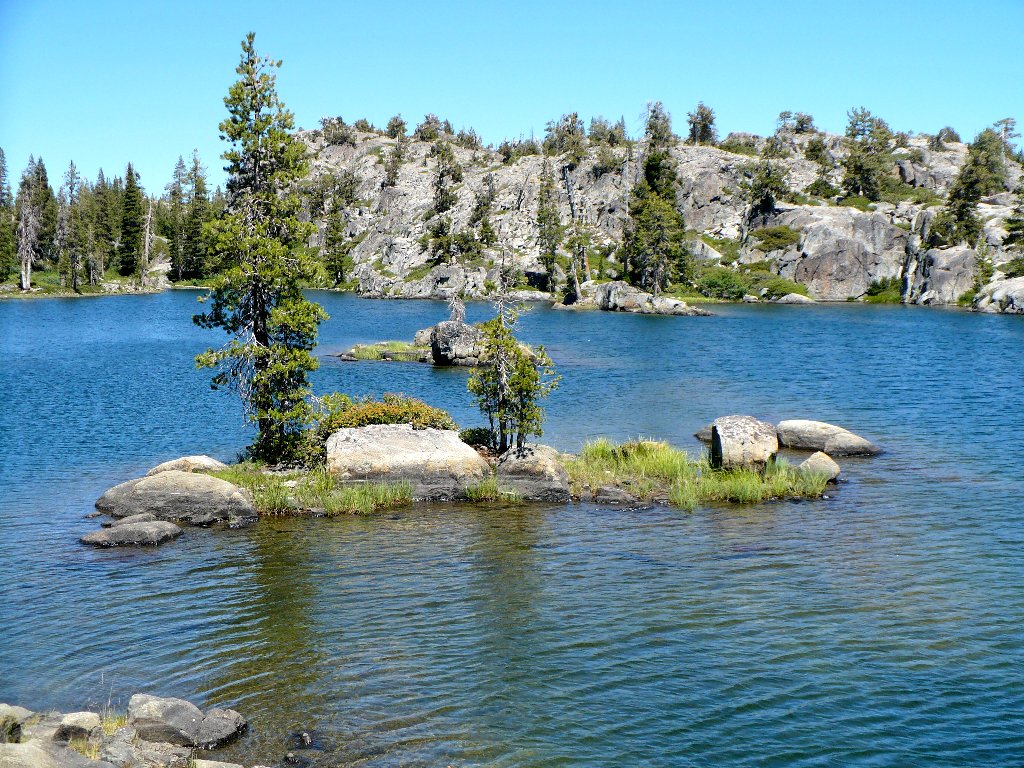 A marvelous swimming hole at 6800 feet
Halfway down this long, thin body is a big rock slab, which is a great place to stop and have lunch or sunbathe. While John and Phil read books and Ali soaks up some rays, I promptly divest myself of sweaty clothing and jump into the lake. It is glorious in here today!
Eventually, Phil joins me in the water, admitting that he never before had swum in a mountain lake. What a treat for him! One fresh dip up here is worth a hundred chlorinated pools.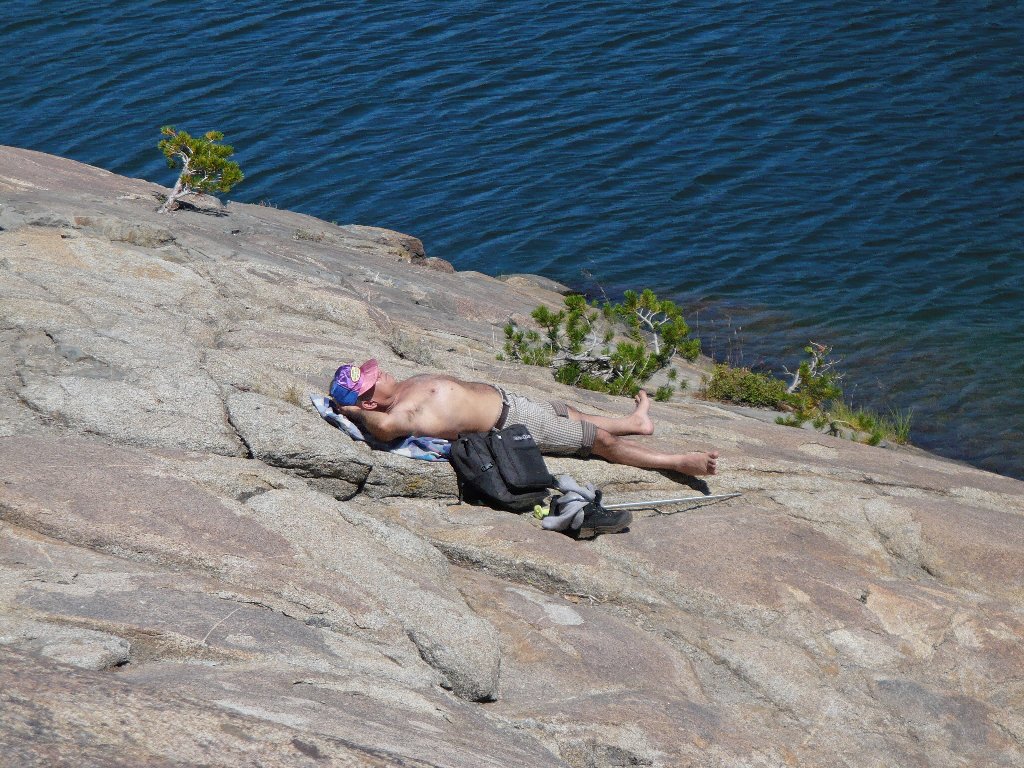 Ali develops his tan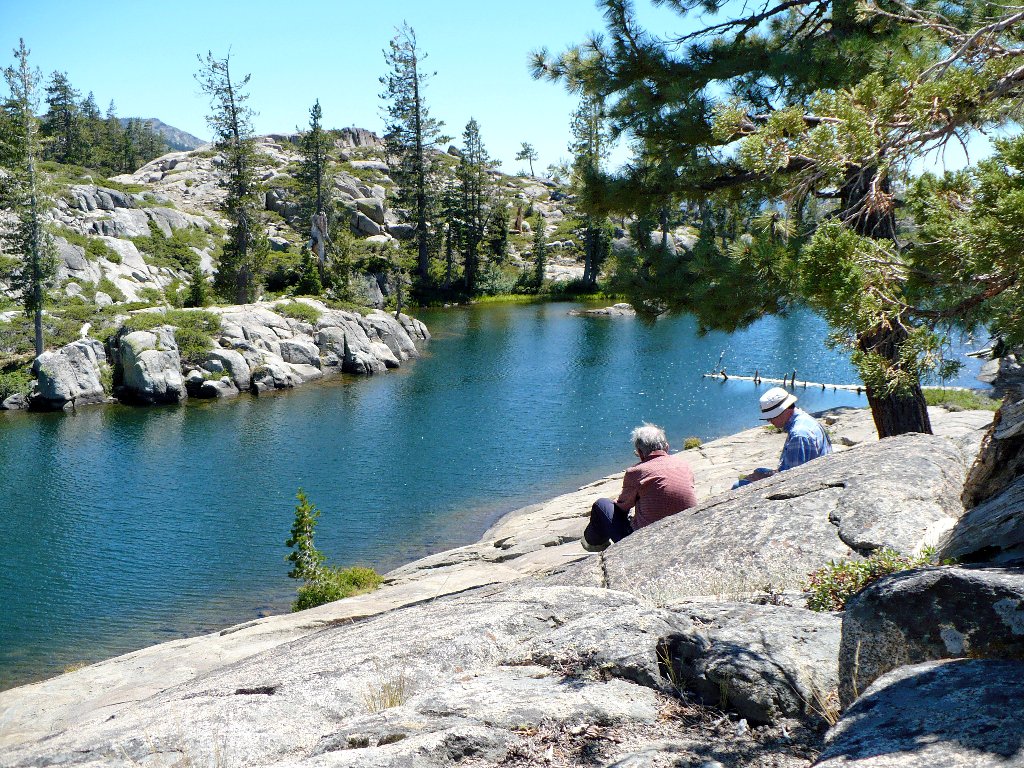 Phil and John study to improve their bridge skills
Eventually it is decided that Ali and I will continue another mile to the High Lake, while the others head back at their leisure.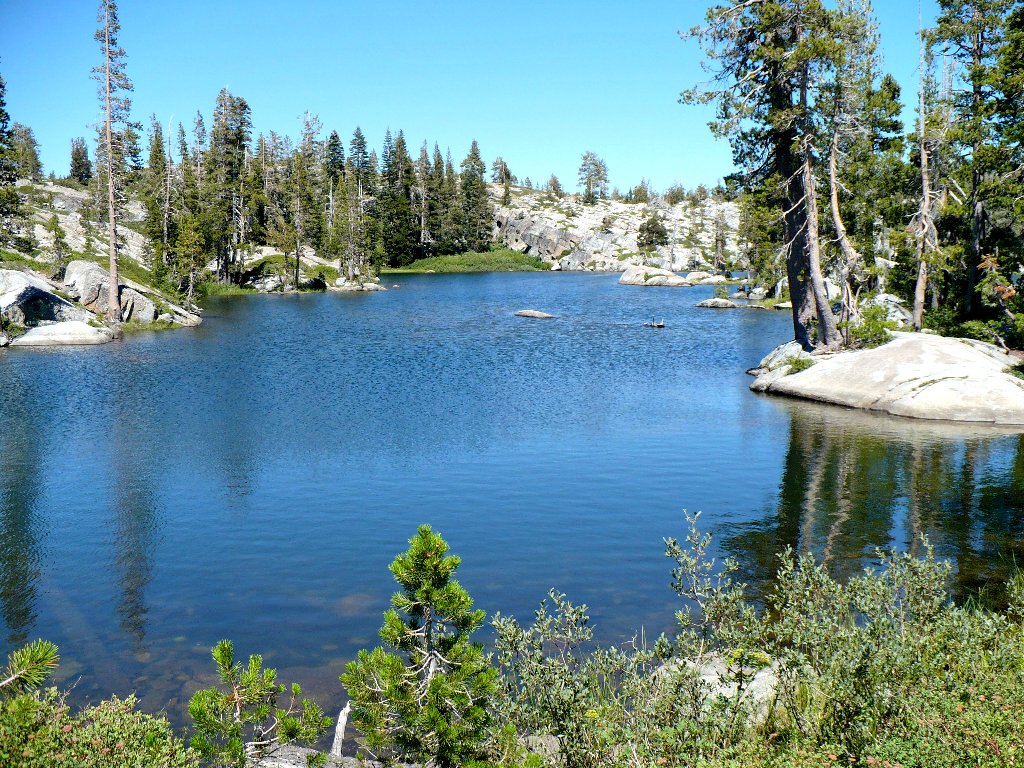 High Loch Leven Lake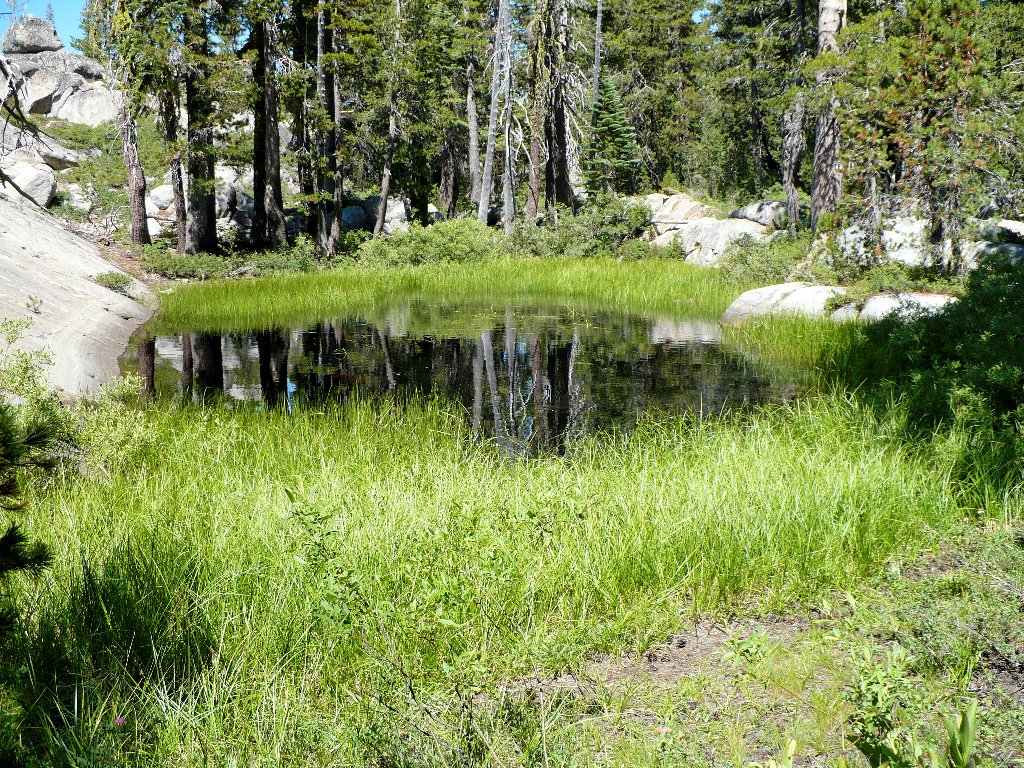 Hiding behind the lake
No one else seems interested in this serene spot at the moment, which sports many nicely developed campsites. Having traveled in a big U-shape already, we opt for a cross-country "shortcut" back to Lower Lake. Along the way we discover some rock conglomerate, the first example I have observed in this area.

Conglomerate — one type of rock caught inside another
By selecting essentially the same route that I used last year, we find ourselves trying to skirt a long cliff and avoid a tortuous bushwhack down a rocky slope full of manzanita. This plan doesn't work out well; for I seem to have repeated my previous error virtually to the foot.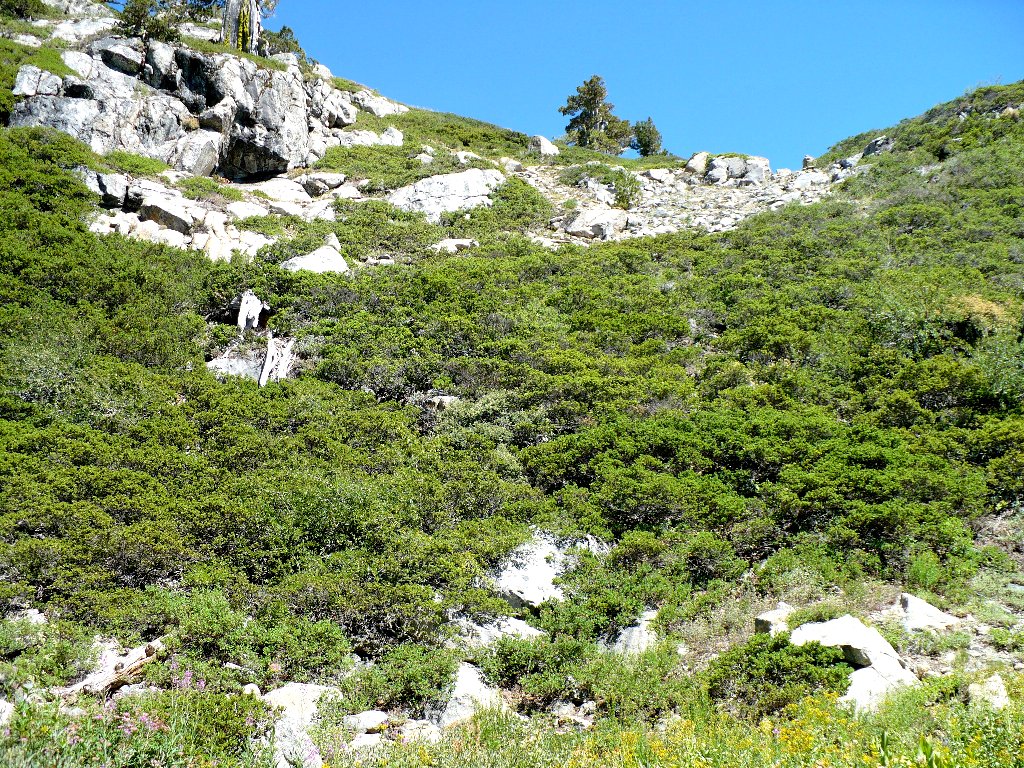 Not the recommended route, but the shortest one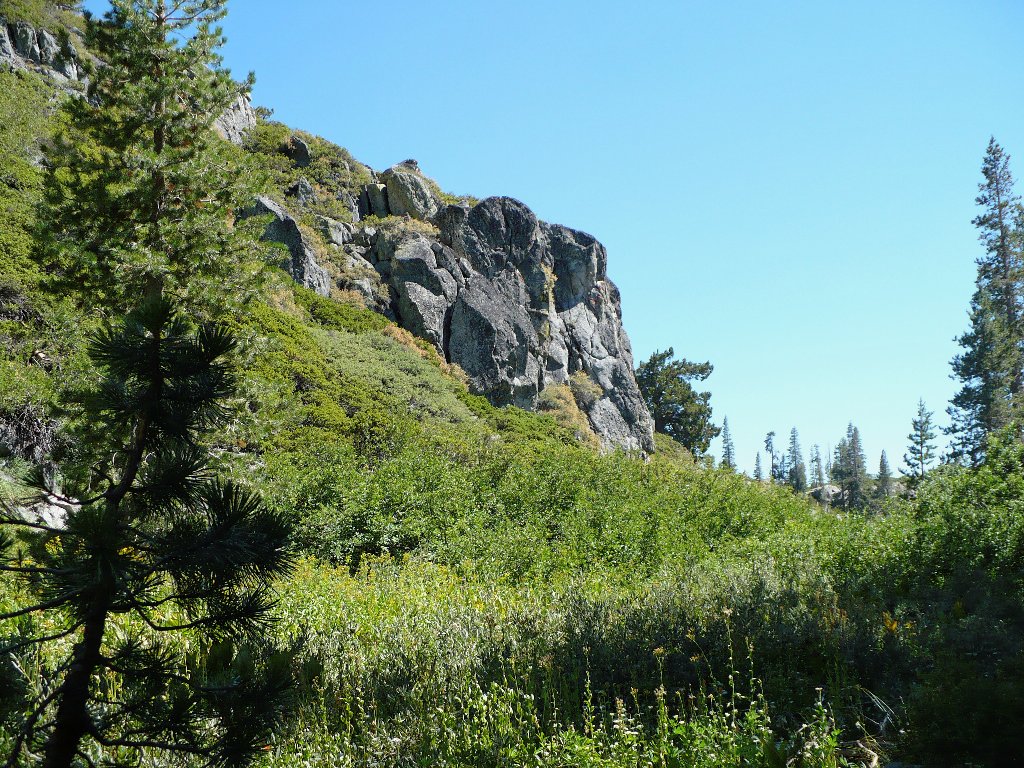 This cliff seems always to be in the way
Note to myself: Next time, continue around the north side of Hill 7044 before veering southwest toward the lake. The going should be much easier that way.
Back at Lower Lake, I direct Ali to a known shortcut across the swampy north end. A bit more scrambling from there accesses the main trail.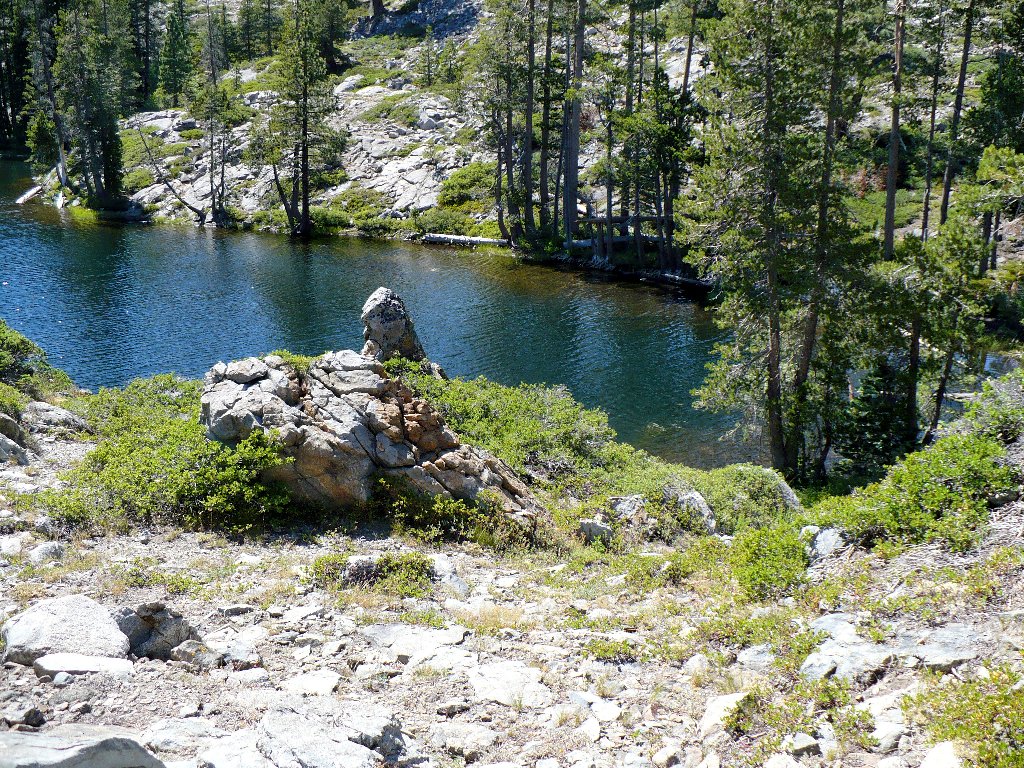 The backside of Lower Lake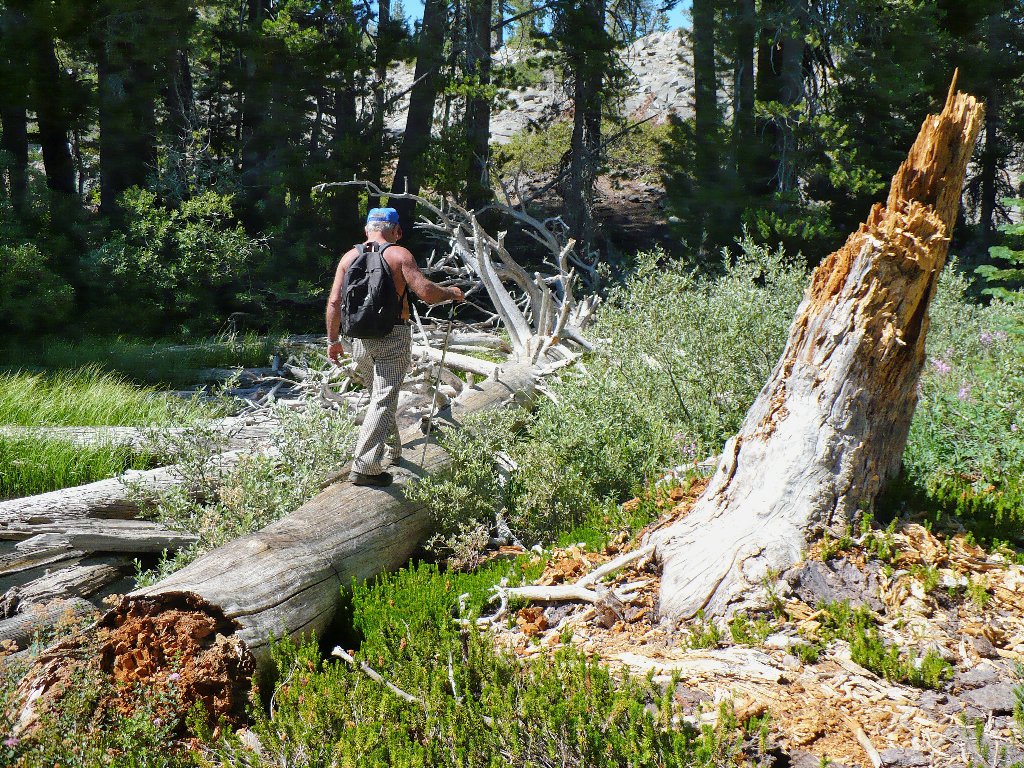 Ali tries my special shortcut
As part of an experiment with new equipment, I left my primary camera at home in deference to a smaller unit. The picture quality is fine, but there are no tools for improved close-ups of flowers, insects, and the like. Today I have managed only a couple of decent shots of local flora.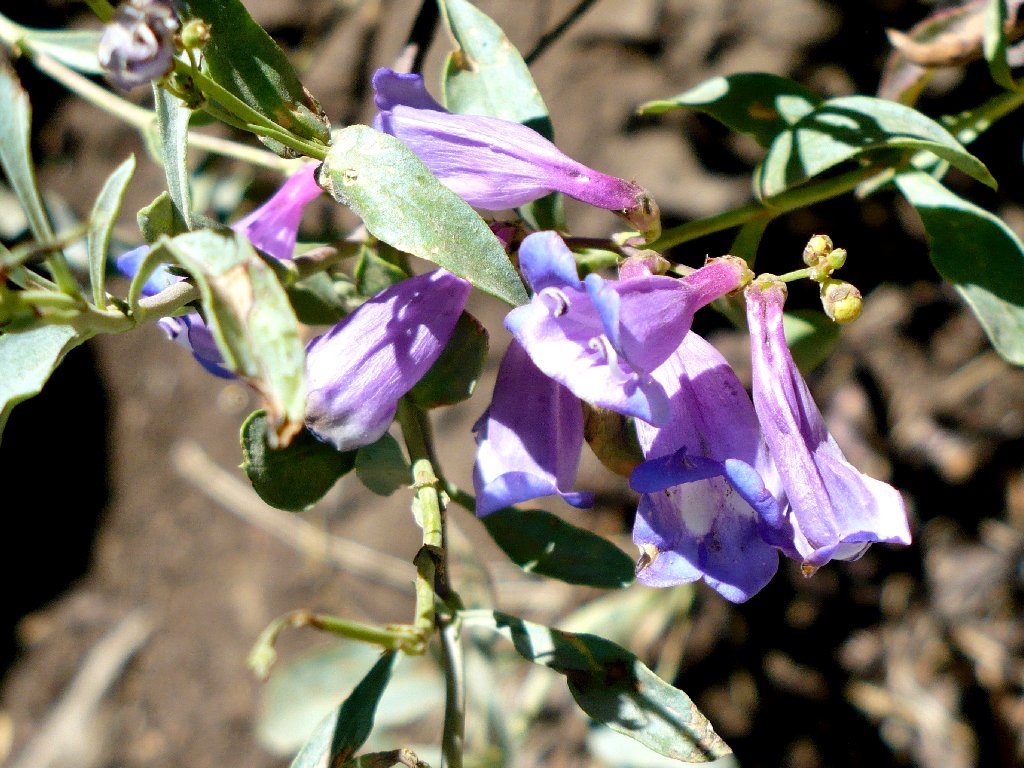 Penstemon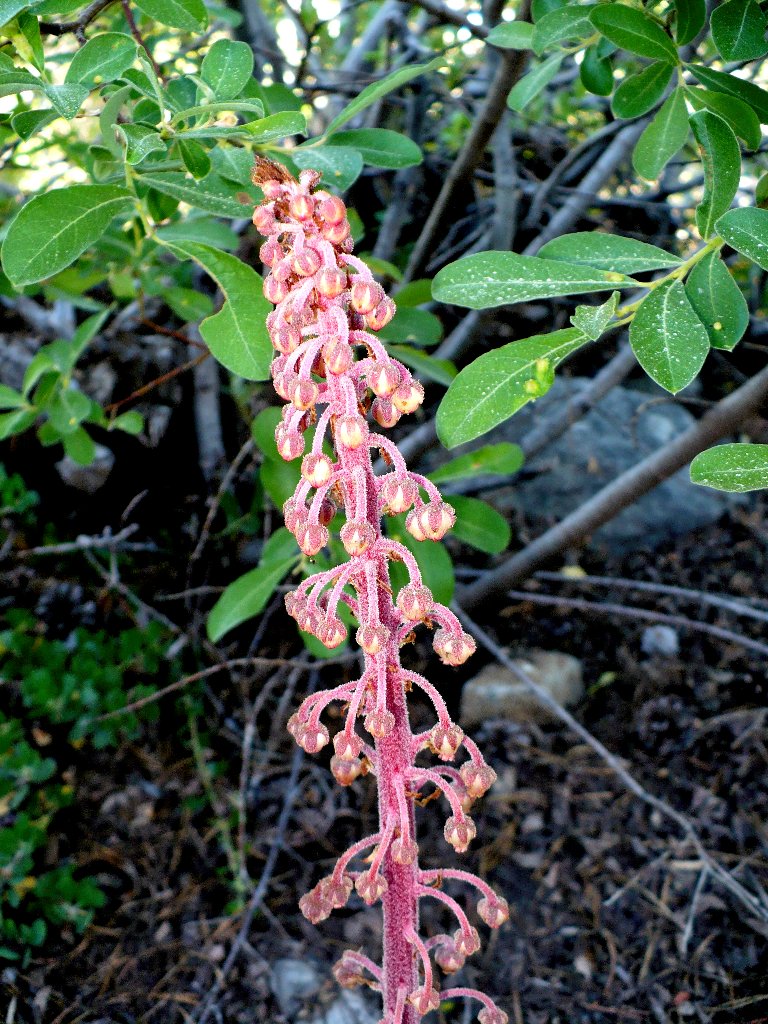 Pinedrops
John and Phil must be well ahead of us already, so Ali and I promptly head downhill after them. We encounter some trail directions toward "FLEX" — whoever or whatever that is, and I briefly stop to admire one of the trail's garden spots.

These directions might do the job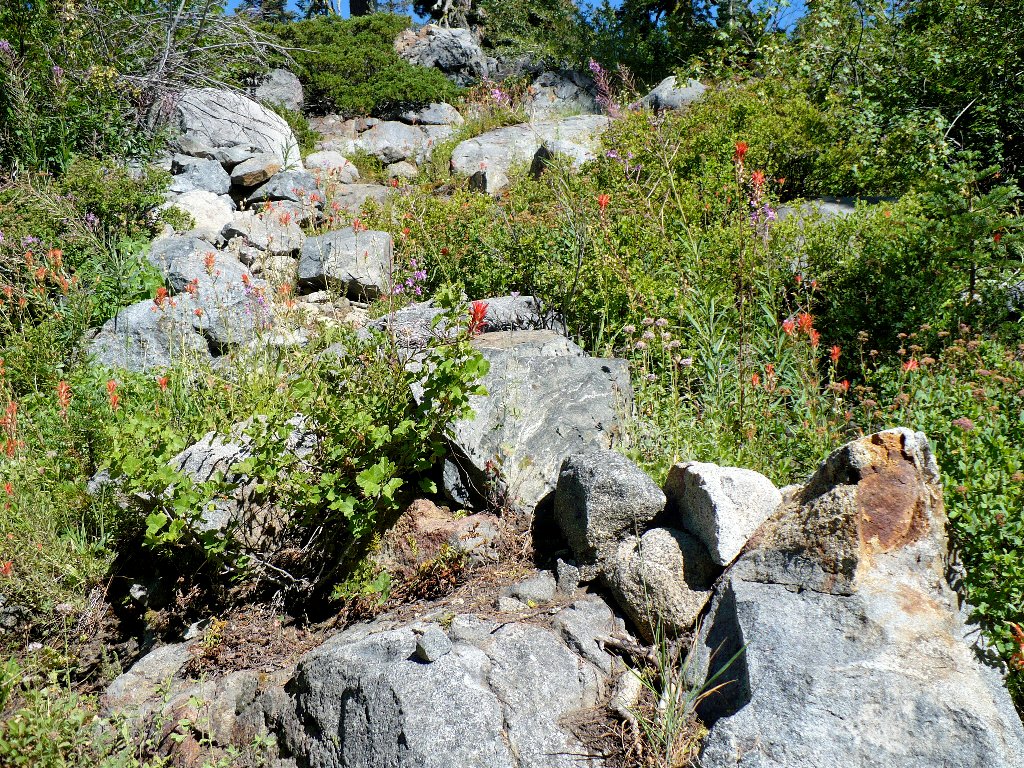 Paintbrush and Fireweed
A quarter-mile out, a relatively verdant area features another nice pond. At trail's end we catch up with the other guys, conveniently finishing our hikes at the same time.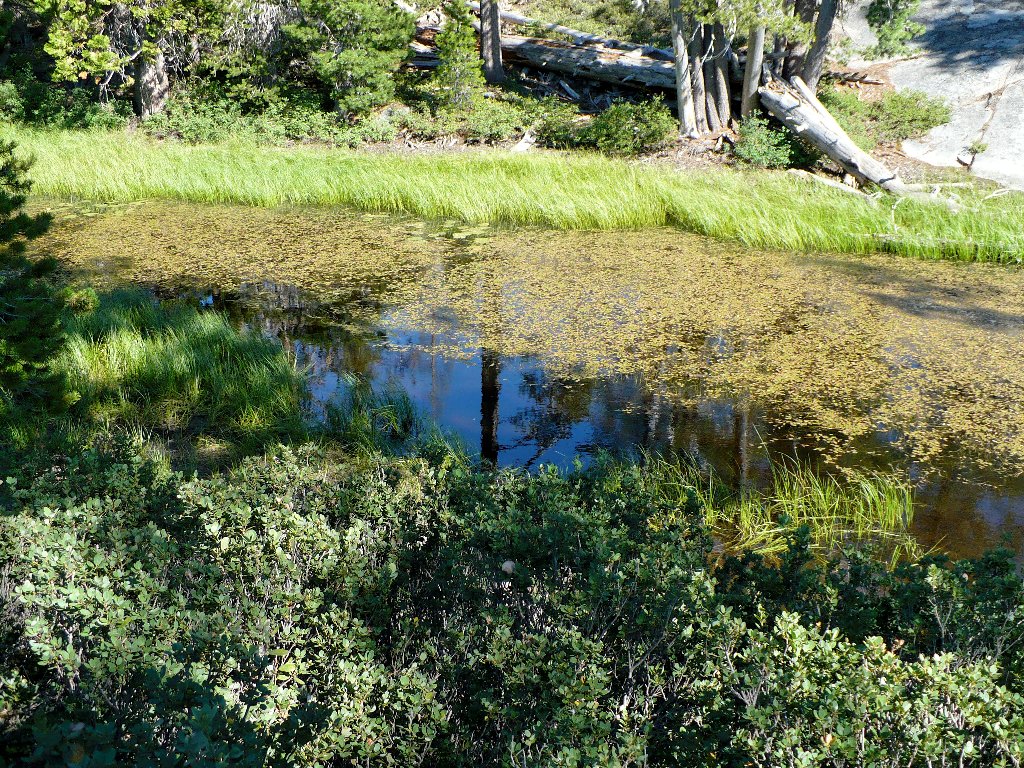 A pretty pond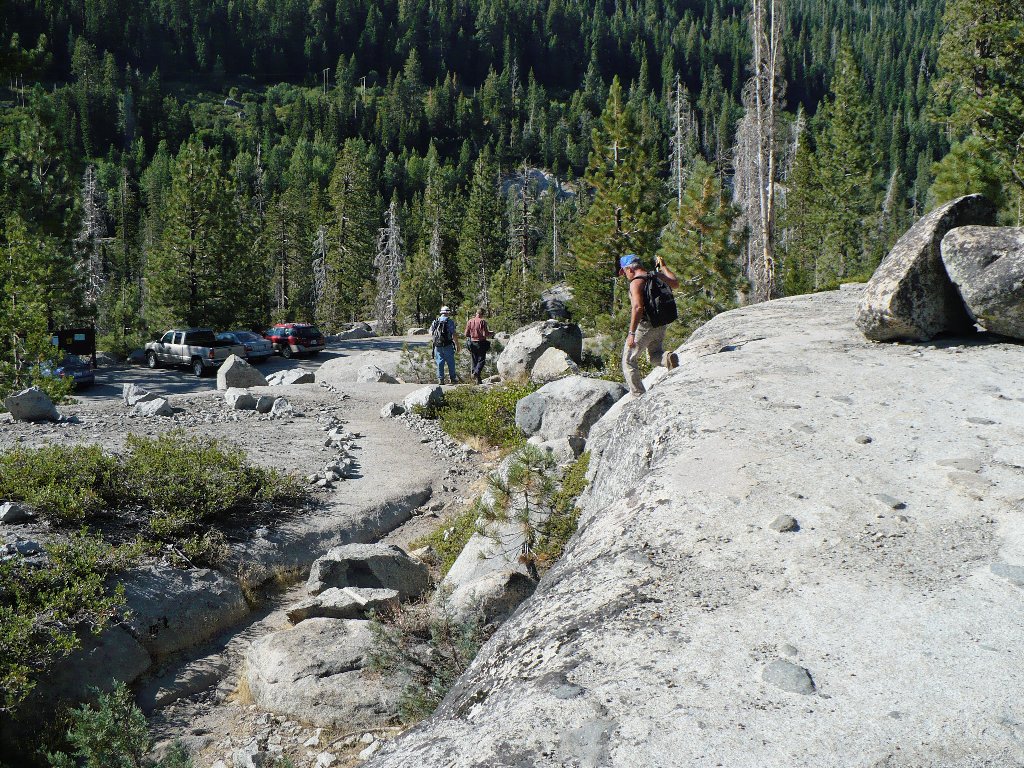 End of the line

§: Some years ago, the Forest Service moved the trailhead up the hill from near the ranger station — probably to make space for a restroom facility and better parking, but possibly also to appease disgruntled cabin owners near the former trail. This relocation has added nearly half a mile to the original route.
Although the first two miles of trail were relatively shady, the going was quite rough — enough so that I have resolved to avoid this access in the future, preferring the shorter, easier Huysink Road trailhead. It also was quite hot today — in the 80s. On the other hand, the company was great and the swimming was superb, making this a better than average outing.
Trailhead: ¼ mile east of the Big Bend Ranger Station on the

I-80

frontage road,
78 miles east of Sacramento
Distance: 7½ miles
Elevation: 5800' to 7000'
Hikers: 10
Rating: 6 (trail=3; swim=10)