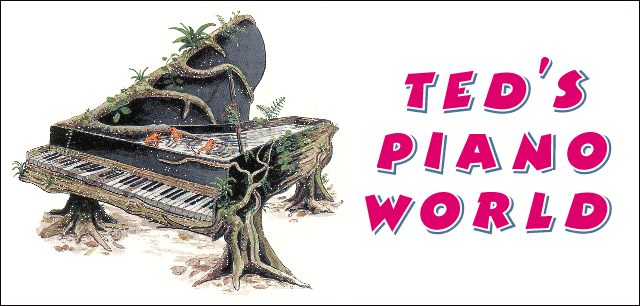 "The easiest way to make myself cry is to play the piano." — Ted
| | |
| --- | --- |
| | Would you like to play DUETS and TWO-PIANO works? |
| | Would you like to play along WITH OTHER INSTRUMENTS? |
| | Would you like to become part of a HOME ORCHESTRA? |
| | Would you like to accompany some CHORAL WORKS? |
| | Would you like NEW ARRANGEMENTS of some well-known pieces? |
| | Would you like some MP3 FILES that you won't find elsewhere? |

MUSIC MISSING A PIANIST: Excepting the solos, each piece has one or more associated MP3 and/or MIDI files. These enable the artist to play four-hand works, accompany a chorus or other instruments, or even join a symphony orchestra!
One need not have any special equipment to take advantage of my stuff. It is sufficient to be able to play MP3 or MIDI files on a nearby computer or sound system. Simply place a speaker near the piano, and you are good to go.
Included are limited expression and timing enhancements for better-sounding renditions; doubtless, these features could be improved.
THE RATINGS: Each work is rated for difficulty at the right-hand side of the listings, based upon a homemade scale of 1 to 7. Because most of us are not virtuosos, some music segments have been adjusted to somewhat slower than "standard" tempos. Good luck at the higher levels!
MIDI FILES: These files are made available to those with special needs. For example, Disklavier users can play a duet utilizing a MIDI file on a floppy diskette; nothing else is needed. Similarly, a good modern electric piano can reproduce the sounds from a USB stick. For the two-piano works, the Secondo parts have been recorded on MIDI channels other than #1-2 so as not to engage any attached keyboard.
MP3 FILES: The "performance" files include all instrumentation excepting one piano (that's you). Use these files if at all possible, because their instrumental representations are vastly more realistic than the MIDI equivalents. Yes, the files can be large; but of course they would need to be downloaded only once.
SHEET MUSIC: Pages are provided in PDF format with top-quality graphics. A simple cover-page is provided for each work.
Engraving may not feature all the standard bells and whistles; my primary focus is on accuracy and usability. Markings for phrasing are minimal, and there is no fingering; entries for expression and tempo exist primarily to control digital playback. Interpretation is left to the artist.
Wherever practical, pagination has been arranged in a performer-friendly format. Some notation has been condensed so as to minimize or eliminate page-turning.
NOTATION-SOFTWARE USERS: MUS files are available for owners of Finale v.2005 or later; the music also is provided in XML format, which can be imported by older versions of Finale or certain other notation programs. Users of quality software can easily generate their own MP3, MIDI, or WAV files from the provided scores.











ABOUT THIS PAGE: Nothing is for sale here, and I make no pretense of great expertise at either engraving or digital sequencing. If you want professionally prepared materials, then go out and buy them. I merely would share the fruits of my labors with music lovers interested in augmenting the scope of their piano experiences. I consider my efforts partial repayment for all the free goodies that I have obtained online.
MISSION: As the proud owner of a Yamaha Disklavier (the most awesome toy ever invented), I have developed a thirst for playing music featuring multiple instruments. My primary goal is simply to perform it for friends.
SOURCES: Much of the featured music has been obtained from online sources such as the wonderful Library of Congress archive and the superb Petrucci Public Domain collection. As most sheet-music graphics available on the Internet are of unacceptable image quality for serious reading, I have upgraded all music with the aid of character-recognition and notation software, a scanner, and a graphics program.
COPYRIGHTS: Naturally, the sharing of any works must necessarily be limited to those in the public domain, plus my own. I wish it could be otherwise.