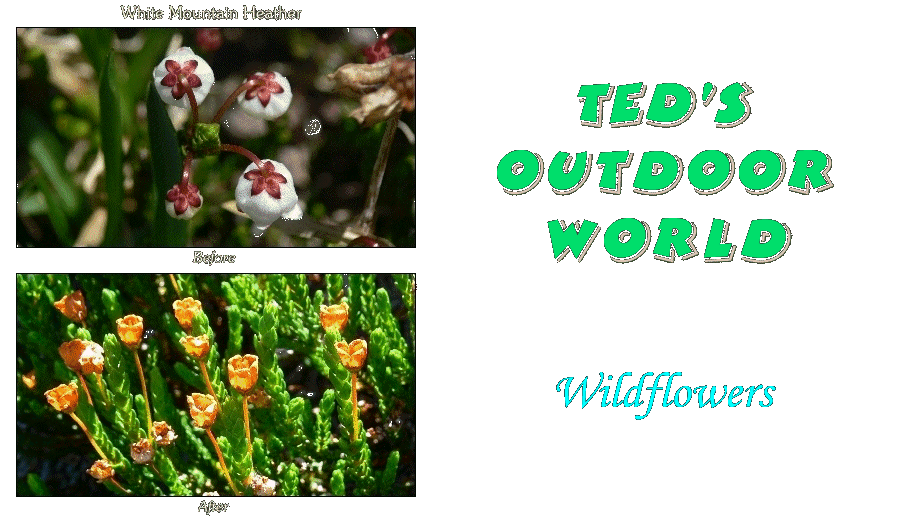 "Flowers are nature's gift of love." — Debasish Mridha
I do not purport to be a flower expert; information on plant specifics is readily available on numerous other websites. My sole objective is to share some pretty photographs; if a picture happens to help someone to identify a flower, that's great. Despite exhaustive research, I might have misnamed a variety or two; if so, I would sincerely appreciate a note to that effect.
Images are available for download in 1024×768 JPEG format; a greater native resolution also is available upon request. Feel free to use my photos in any non-commercial manner.
Place names are in California unless otherwise specified.
– click on any image for a high-resolution graphic and additional samples –

AARON'S BEARD

AGOSERIS

ALPINE LILY

ANEMONE

ASH

AZALEA

BABY BLUE EYES

BALSAMROOT

BEAR GRASS

BEAUTYBERRY

BISTORT

BLACKBERRY

BLAZING STAR

BLEEDING HEART

BLOW WIVES

BLUEBELL

BLUE EYED GRASS

BLUE EYED MARY

BRIDE'S BONNET

BRODIAEA

BROOMRAPE

BUCKEYE

BUCKWHEAT

BUTTERCUP

CACTUS

CAMAS

CAMPION

CAT'S EAR

CEANOTHUS

CENTAURY

CHERRY

CHICORY

CINQUEFOIL

CLARKIA

CLAYTONIA

CLEMATIS

CLINTONIA

CLOVER

COLLINSIA

COLLOMIA

COLTSFOOT

COLUMBINE

CONEFLOWER

CORALROOT

CORN LILY

CORYDALIS

COW PARSNIP

CURRANT

DAISIES & SUNFLOWERS

DANDELION

DEADNETTLE

DOGBANE

DOGWOOD

DRUG SNOWBELL

DUDLEYA

FAIRY BELL

FAWN LILY

FIDDLENECK

FIREWEED

FIVE SPOT

FLAX

FOXGLOVE

FUCHSIA

GENTIAN

GERANIUM

GILIA

GLOBE LILY

GOATSBEARD

GOLDFLOWER

GOOSEBERRY

GRAPE

GRASS OF PARNASSUS

GROUNDCONE

GROUNDSEL

GUMPLANT

HAREBELL

HEATHER

HELLEBORE

HEMP AGRIMONY

HESPEROCHIRON

HOLLYHOCK

HONESTY

HONEYSUCKLE

HOUND'S TONGUE

HYPERICUM

HYSSOP

INDIAN RHUBARB

INDIAN WARRIOR

IRIS

JEWEL FLOWER

KNOTWEED

LABRADOR TEA

LARKSPUR

LAUREL

LEWISIA

LOTUS

LOUSEWORT

LUPINE

MALLOW

MANZANITA

MARIPOSA LILY

MEADOWFOAM

MILKWEED

MONARDELLA

MONKEYFLOWER

MONKSHOOD

MORNING GLORY

MOUNTAIN MISERY

MULBERRY

MULE EARS

MULLEIN

MUSTARD

NIGHTSHADE

ONION

ORCHID

PAINTBRUSH

PARSNIP

PEA

PEARLY EVERLASTING

PENSTEMON

PERIWINKLE

PHACELIA

PHLOX

PINCUSHION

PINE

PINEDROPS

PLANTAIN

POISON OAK

POLEMONIUM

POPPY

PRIMROSE

PUSSY PAWS

QUEEN ANNE'S LACE

RABBITBRUSH

RADISH

RAGWORT

RANGER'S BUTTON

RED MAIDS

RHODODENDRON

ROCK FRINGE

ROSE

RUMEX

SALMONBERRY

SANDWORT

SANICLE

SCARLET PIMPERNEL

SCOTCH BROOM

SEDGE

SELF HEAL

SERVICE BERRY

SHOOTING STAR

SNOWBERRY

SNOW PLANT

SNOW QUEEN

SORREL

SPICEBUSH

SPIDERWORT

SPIREA

STAR TULIP

STARWORT

STEPHANOMERIA

STICKSEED

STONECROP

STRAWBERRY

TEASEL

THIMBLEBERRY

THISTLE

TIDYTIPS

TIGER LILY

TREE TOBACCO

TRILLIUM

VERBENA

VETCH

VIOLET

WATER LILY

WESTERN WALLFLOWER

WHISKERBRUSH

WILLOW

WINTERGREEN

YAMPAH

YARROW

YERBA SANTA

ITALY MISCELLANEOUS

– UNIDENTIFIED –