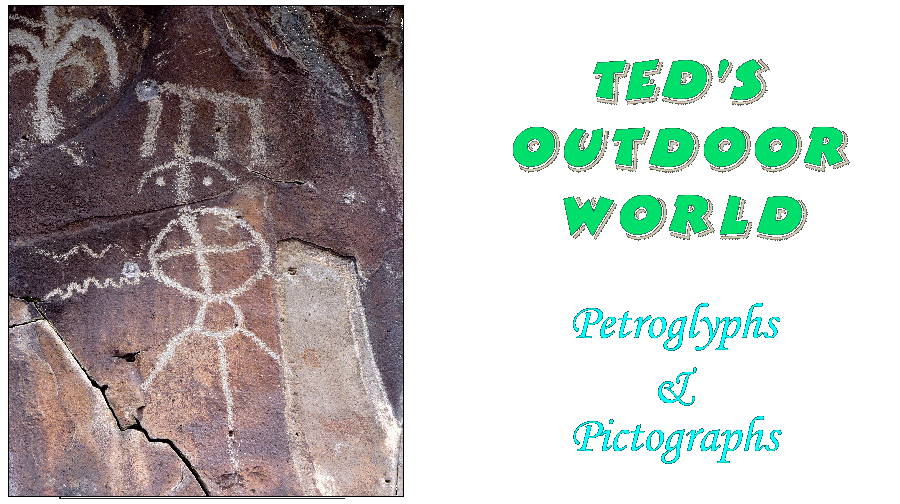 Prehistoric rock art is found all over the world. Petroglyphs were drawn by using a sharp rock to etch lines into another rock. Historians have struggled both with dates and meanings of the drawings, but with limited success. In contrast, pictographs were painted on rock walls. Those that survive are at least partially protected from the forces of nature, and the most well-preserved specimens are found in caves.
Within the United States, petroglyphs abound, primarily in the arid regions of the west. Pictographs are much less common.

Most images are available for download in 1024×768 or greater JPEG format; a few older ones have a lesser resolution.
– click on any picture for a high-resolution graphic –
CALIFORNIA — BISHOP LOOP, OWENS VALLEY (4 sites)
Newspaper Rock ⇔
⇔⇔


CALIFORNIA — CHINA LAKE NAVAL AIR WEAPONS STATION


CALIFORNIA — MISC
Hospital Rock
Sequoia NP


NEVADA — GOLD BUTTE REGION
First Rock
Falling Man
Parade of Sheep


NEVADA — LAGOMARSINO CANYON
source of my website avatar


NEVADA — VALLEY OF FIRE STATE PARK (2 sites)
Petroglyph Canyon
Atlatl Rock


NEVADA — MISC
Hickison Recreation Area
Austin, NV


UTAH — CANYONLANDS NATIONAL PARK (5 sites)
Horseshoe Canyon – The Great Gallery ⇔
North America's premiere pictograph site
Ghost Panel
(same)
(same)
Horseshoe Gallery ⇔
Alcove Gallery
(same)
High Panel
Needles Region – Many Hands Panel


UTAH — GRAND STAIRCASE ESCALANTE NATIONAL MONUMENT
Escalante River
at Highway 12
Someone tried to steal this one
Hundred Hands Panel ⇔
There actually are more than 160 hands


UTAH — MOAB AREA (2 sites)
Westwater Drive
near the golf course
Potash Road
on the Colorado River


UTAH — NINE MILE CANYON (2 sites)
Hunter Panel
a world-famous site


UTAH — SANTA CLARA RIVER RESERVE
Anasazi Ridge


UTAH — MISC
Petroglyph, Sego Canyon
Pictograph, Sego Canyon
(same)
Newspaper Rock
near Monticello
(same)
Fremont Culture SP
Bloomington Petroglyph Park
Saint George
(same)
Capitol Reef NP – Fruita ⇔