Lunch Creek
Glacier National Park
July 18, 2008
On a prior visit to this park, I gazed forlornly up this creek at the waterfall in the distance, wanting to walk up there sometime. Today I have coerced my bride into waiting at the parking lot while I do just that.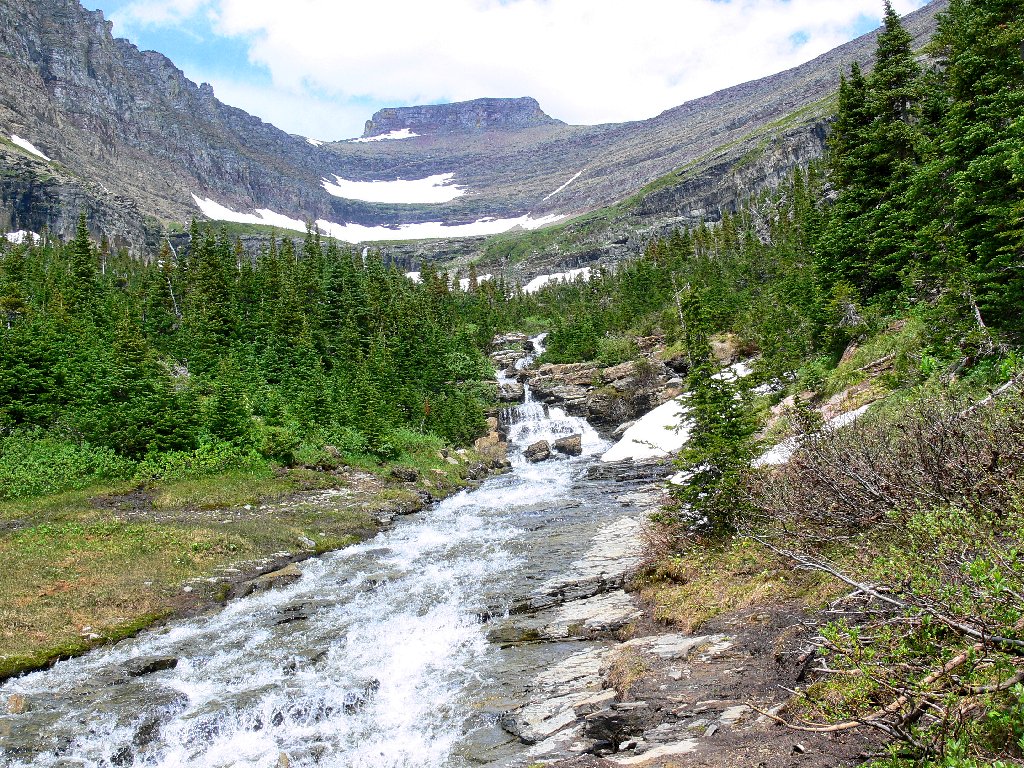 Roadside view of Lunch Creek and the falls
Within just a few minutes, my efforts are amply rewarded: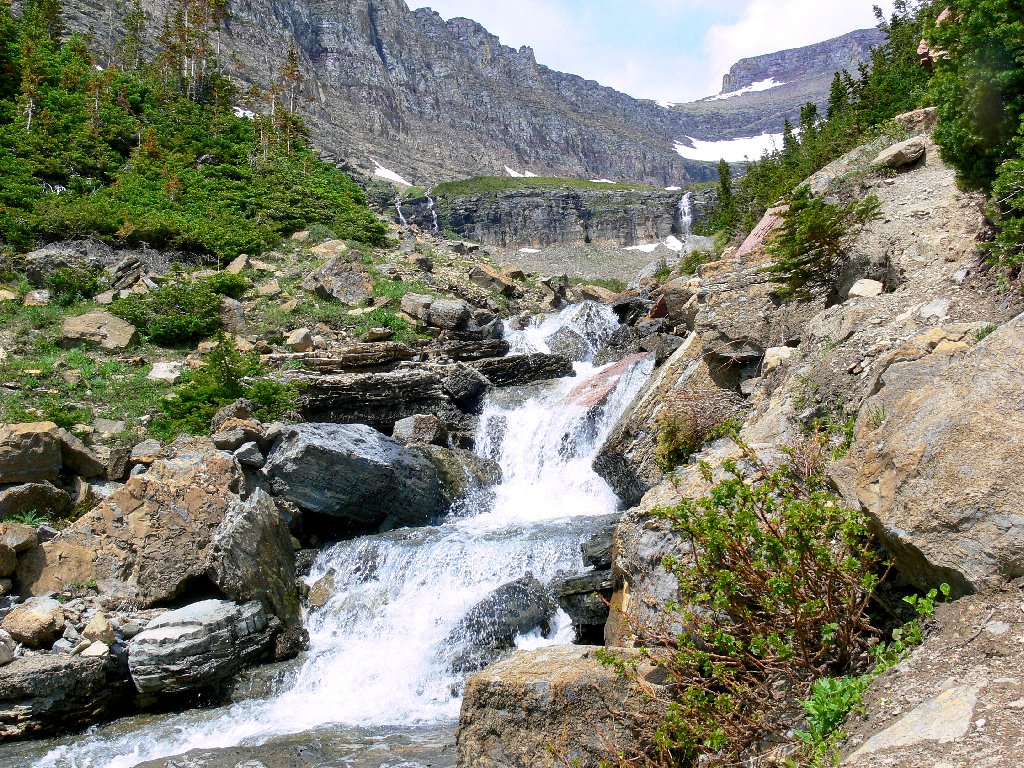 Lower Lunch Creek Falls
On this side of the creek I cannot scramble up beside the falls; it is necessary to detour around to the right through some trees and bushes. Emerging from the forest, there is an unobstructed view of the falls, which remain farther away than I had anticipated.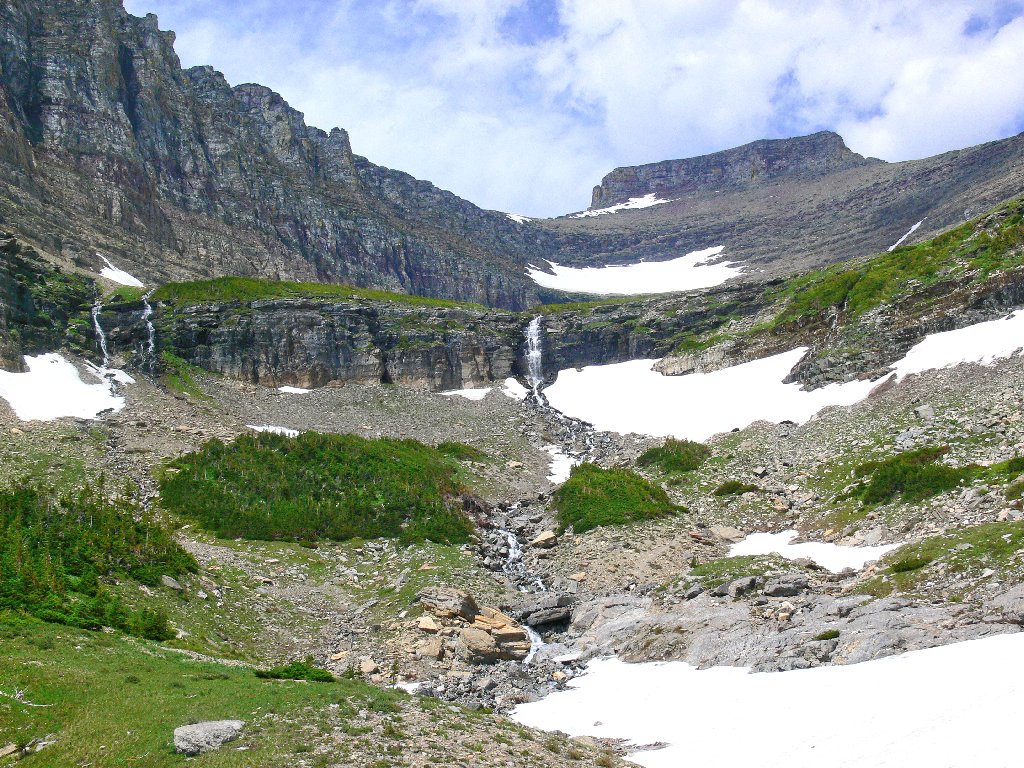 Pollock Mountain dominates the scene
Now I must traverse a snowbank for several hundred feet. At the other end, a marmot sunbathes unconcernedly as I plod along.

Showing no fear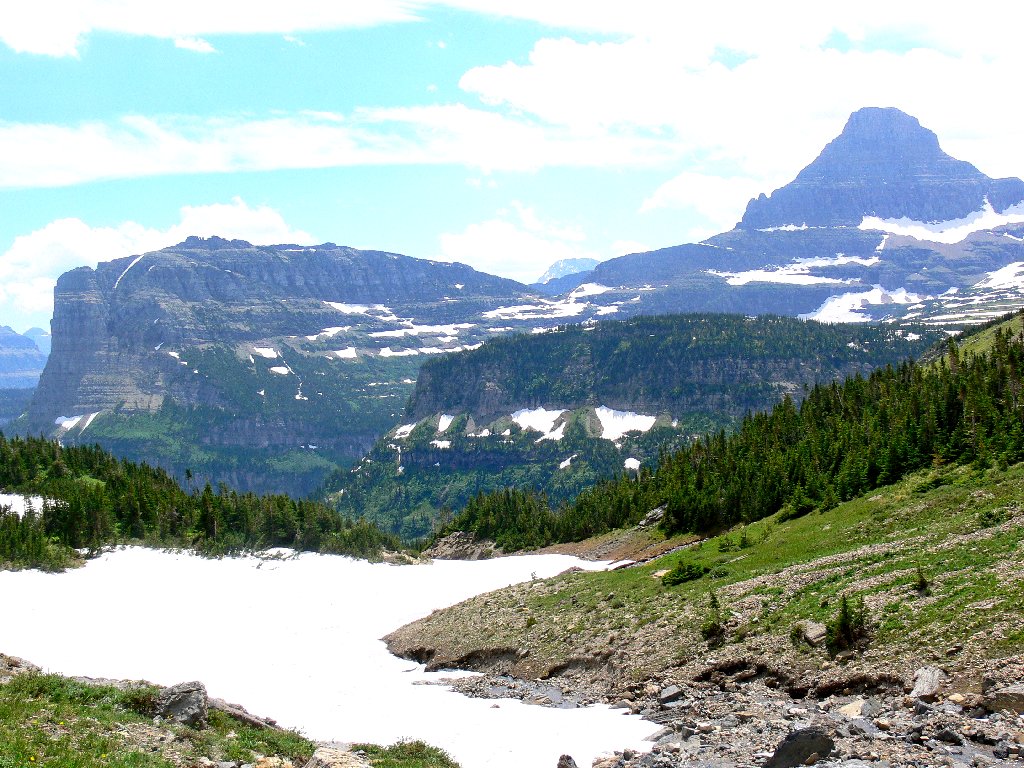 Looking back at Heavy Runner Mountain and Reynolds Mountain
| | |
| --- | --- |
| | |
| Penstemon | Yellow Columbine |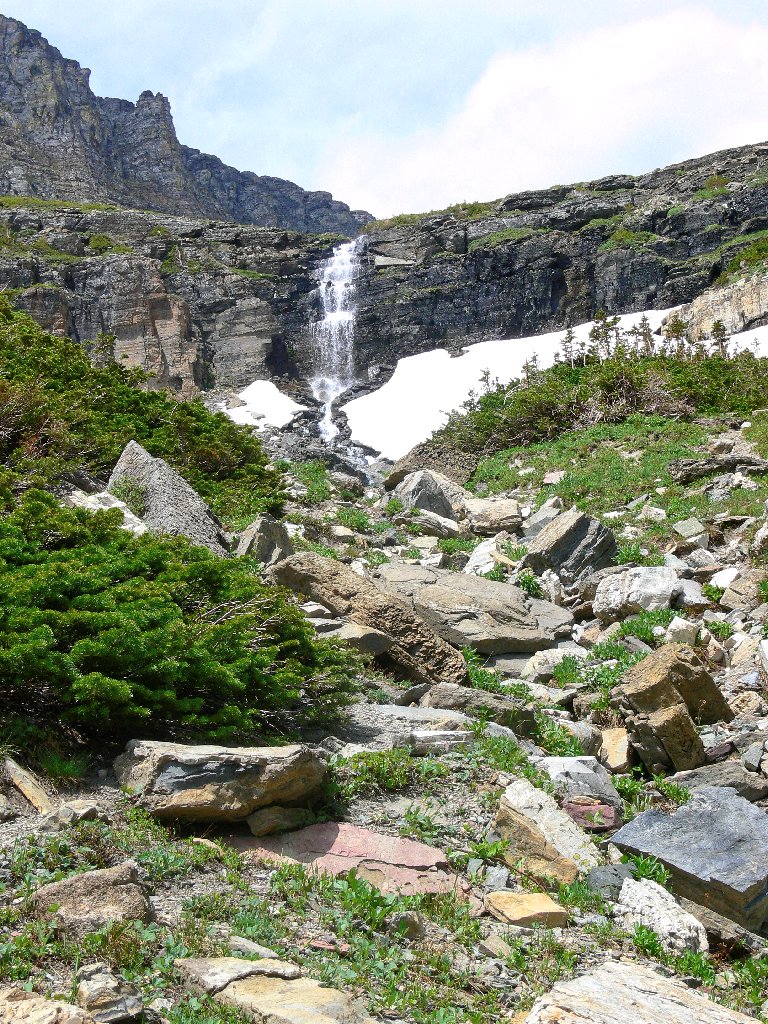 The going is becoming rather difficult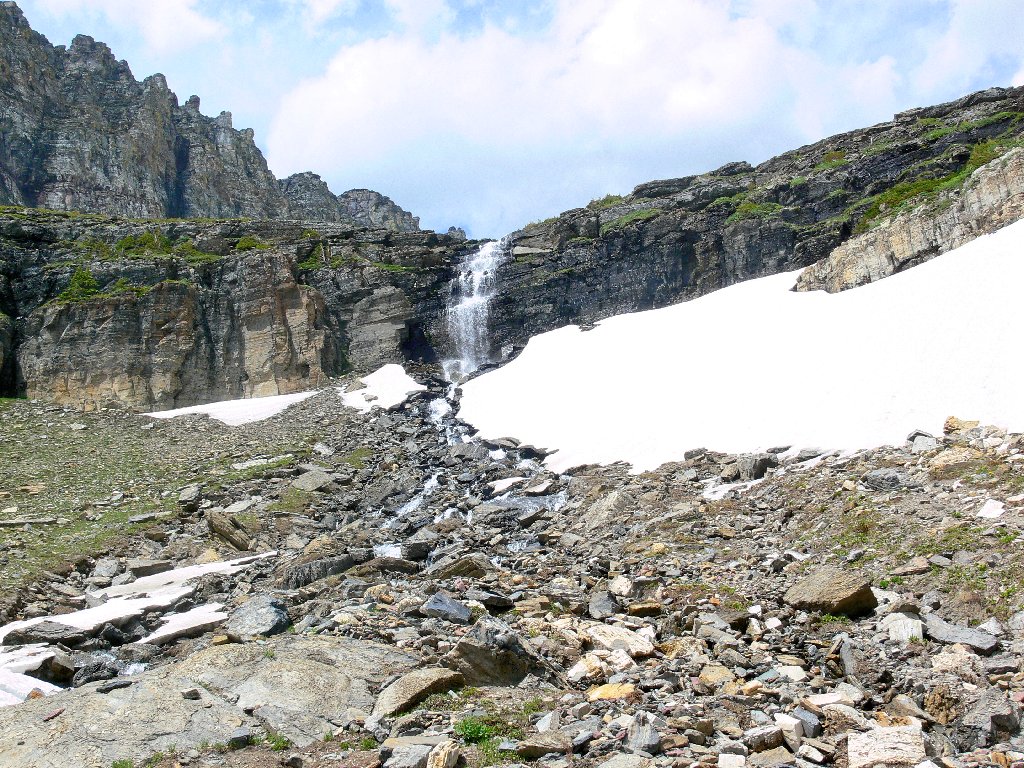 Upper Lunch Creek Falls
Another hiker passes me here, continuing up to the right of the falls. I wish that I could join him. On the left is the Garden Wall, which also happens to be the Continental Divide.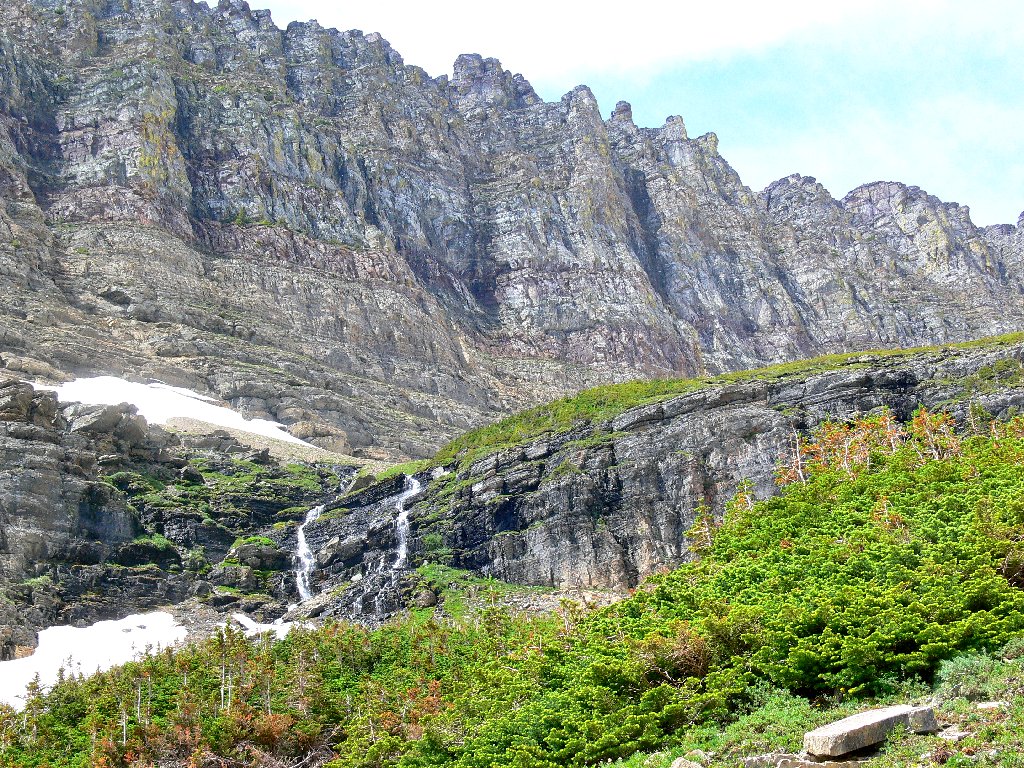 This is why I go hiking
On the other side of the Garden Wall is the vaunted Highline Trail, which runs from Logan Pass to the Granite Park Chalet. I am sure that it is in my future. That trail cannot be accessed from this side, however; but that other hiker could be headed over to the Many Glacier area.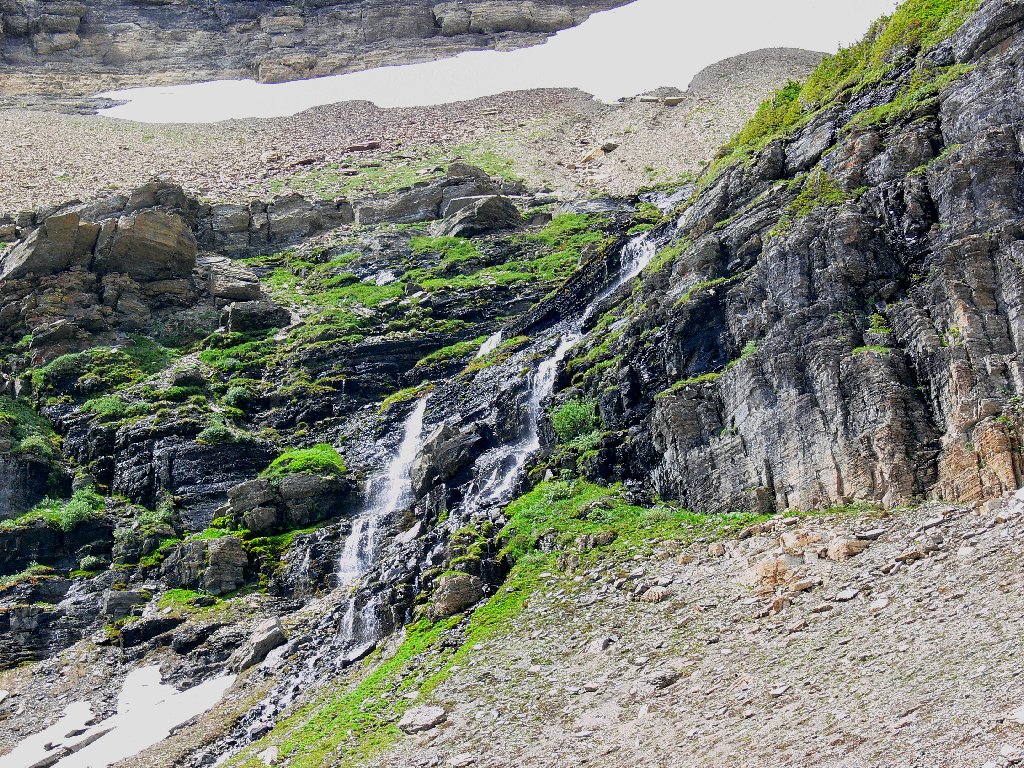 I would love to scramble up beside those falls
This is such a good-feeling place, deserving of much more time than I am able to give it today. I mustn't keep My Barbara waiting too long, though; so I head back, stopping only to shoot a few more flowers.
| | |
| --- | --- |
| | |
| Snow Buttercup | Bear Grass |
| | |
| --- | --- |
| | |
| Mountain Pasqueflower | Nice textures |
Upon my return, I see that my sweetie hasn't missed me a bit. She and a number of others are gazing up a mountain side at some Dall Sheep — a relatively rare treat. Mountain goats are a dime a dozen around here, but not the sheep.

There is a beautiful pair of binoculars sitting in the car; but no
§: This walk filled my expectations, and more. Had I known that I had been gone for only an hour, I might have scrambled up that cascade after all.
Trailhead: Half a mile east of Logan Pass on Going to the Sun Road
Distance: 2 miles
Elevation: 6430' to 6900'
Hikers: 1
Rating: 8 (more with adequate time to explore)