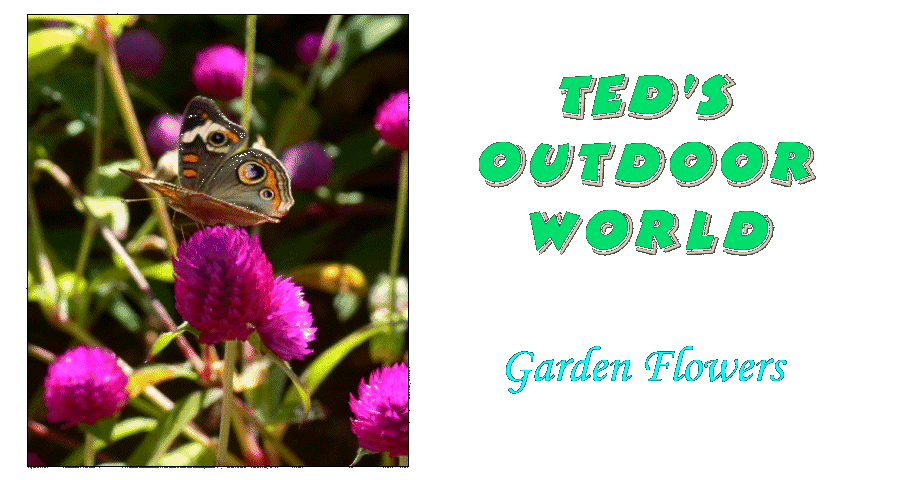 I do not purport to be a flower expert; information on plant specifics is readily available on numerous other websites. My sole objective is to share some pretty photographs; if a picture happens to help someone to identify a flower, that's great. Despite exhaustive research, it is possible that I have misnamed a species or two; if so, I would sincerely appreciate a note to that effect.
These specimens are found primarily, or possibly exclusively, in gardens; that is, they may not exist as wildflowers in the United States.
Images are available for download in 1024×768 JPEG format; the greater native resolution is available upon request. Be sure to enlarge a graphic before saving it. Feel free to use my photos in any non-commercial manner.
– click on a group name or flower name for high-resolution graphics and additional samples –
AMARANTH
Globe Amaranth


BEGONIA
Fibrous Begonia


BIRD OF PARADISE
Bird of Paradise


BLACKEYED SUSAN
Blackeyed Susan


BORAGE
Borage


BOTTLE BRUSH TREE
Bottle Brush Tree


CACTUS
Prickly Pear Cactus


CALLE LILY
Calle Lily


CAMELLIA
Camellia


CELOSIA
Pink-Spiked Celosia


COCKSCOMB
Cockscomb


COLIUS
Colius


CONEFLOWER
Purple Coneflower


DAFFODIL
Daffodil


DAY LILY
Flaming Day Lily
White Day Lily
Tan Day Lily
Yellow Day Lily


DIANTHUS
Sweet William


FUSCIA
Fuscia


GERANIUM
Geranium


HIBISCUS
Hibiscus ×5


ORCHID
Orchid


PANSY
Pansy
Viola


PERIWINKLE
Madagascar Periwinkle
pink periwinkle


PHOTINIA
Photinia


ROSE
Double-delight Rose


SNAPDRAGON
Snapdragon


SPIDER FLOWER
Spider Flower


TRUMPET VINE
Trumpet Vine


TULIP
Tulip


– UNIDENTIFIED –
From the garden at Monticello, Virginia, September:

??
??
??