False Kiva
Canyonlands National Park
April 20, 2011
Today's trek rates to be something of an adventure and, I hope, an unusual treat as well. The destination is a Class II archeological site, which means that it is not publicized in any way by the Park Service, and no reference to it appears on maps.
Having presumably understood my directions to the trailhead, I spot what looks like an appropriate pathway heading into the desert. At least, there are a lot of boot prints here. I follow the little wash as it slowly meanders toward noplace in particular.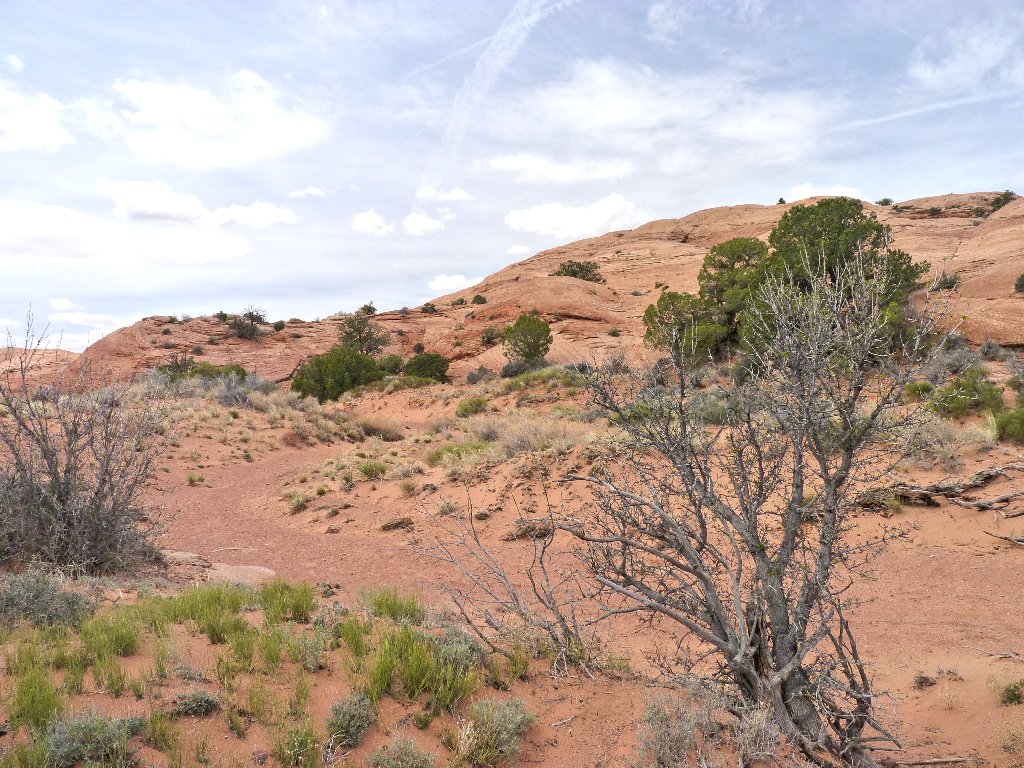 Because this is not a heavily used route, it doesn't surprise me that the trail is somewhat vague. My directions were to veer left at a junction to avoid becoming cliffed-out. Well, not only did I not encounter a junction, but there seems to be a cliff dead ahead!
| | |
| --- | --- |
| | |
| Vague trail | Approaching a big dropoff |
The parkland vista is wonderful; but this is not the right trail. I believe that I am standing directly over the objective, which is out of sight some hundreds of feet below.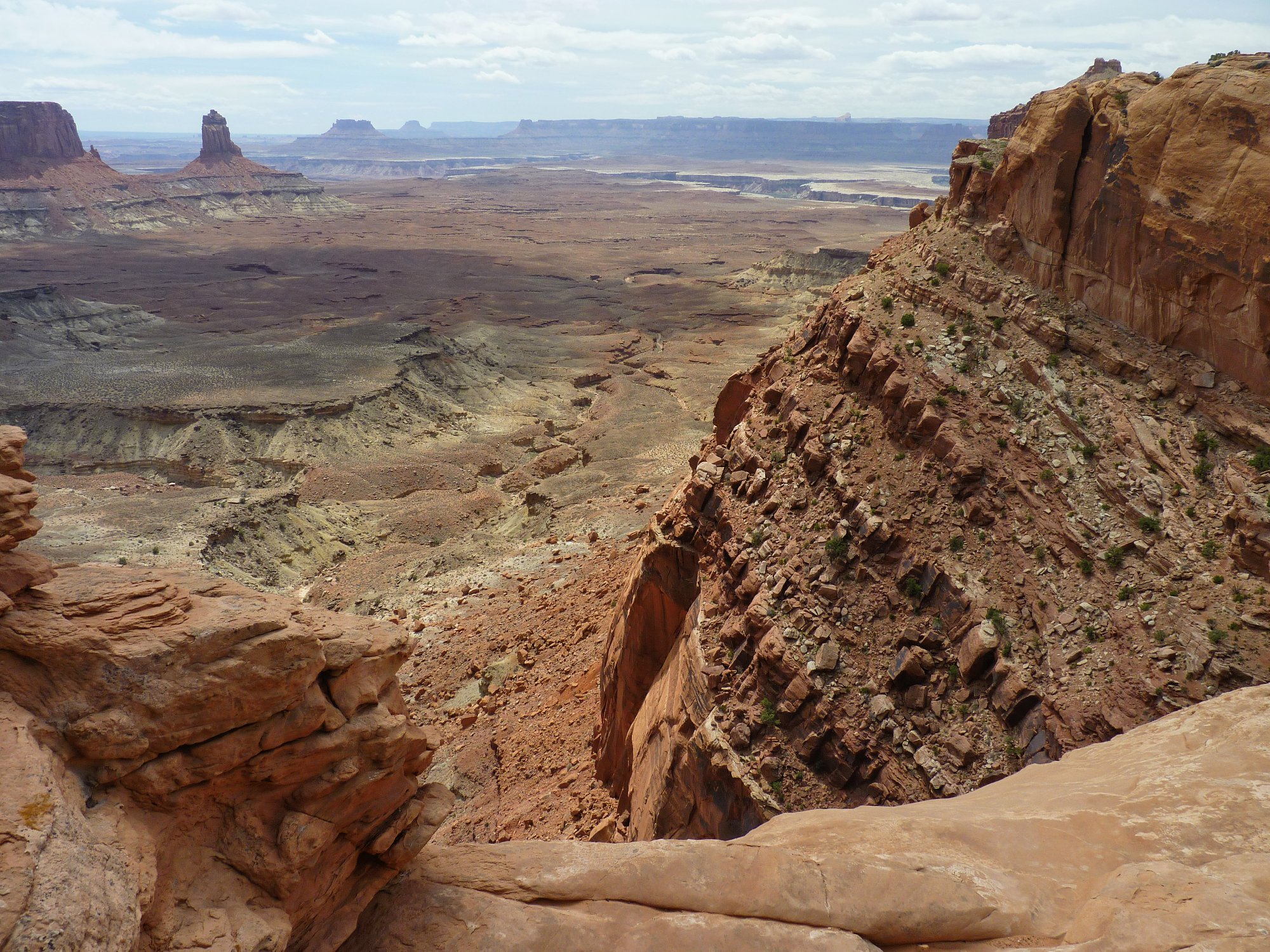 Candlestick Tower and Holeman Spring Basin ⇔
I was right — this already is an adventure. Although I hardly wore myself out over at Corona Arch earlier today, perhaps the drive up the arduous Shafer Trail dislodged my brain a bit. At one point on that road, it was touch and go as to whether I would have to remove my bicycle rack in order to get through.
In any case, I begin to retrace my steps, detouring periodically over to the edge of the cliff to try to see what is going on. To that end, at least, I am successful.
| | |
| --- | --- |
| | |
| There's the trail — so near, yet so far | It looks like another dead-end this way |
After half a mile of backtracking, I run into a lot of footprints heading in the right direction. Soon I appear finally to be on the right path. Up to my right is the spot where I was standing half an hour ago.
| | |
| --- | --- |
| | |
| I was right up there | Almost the same scene, but lower |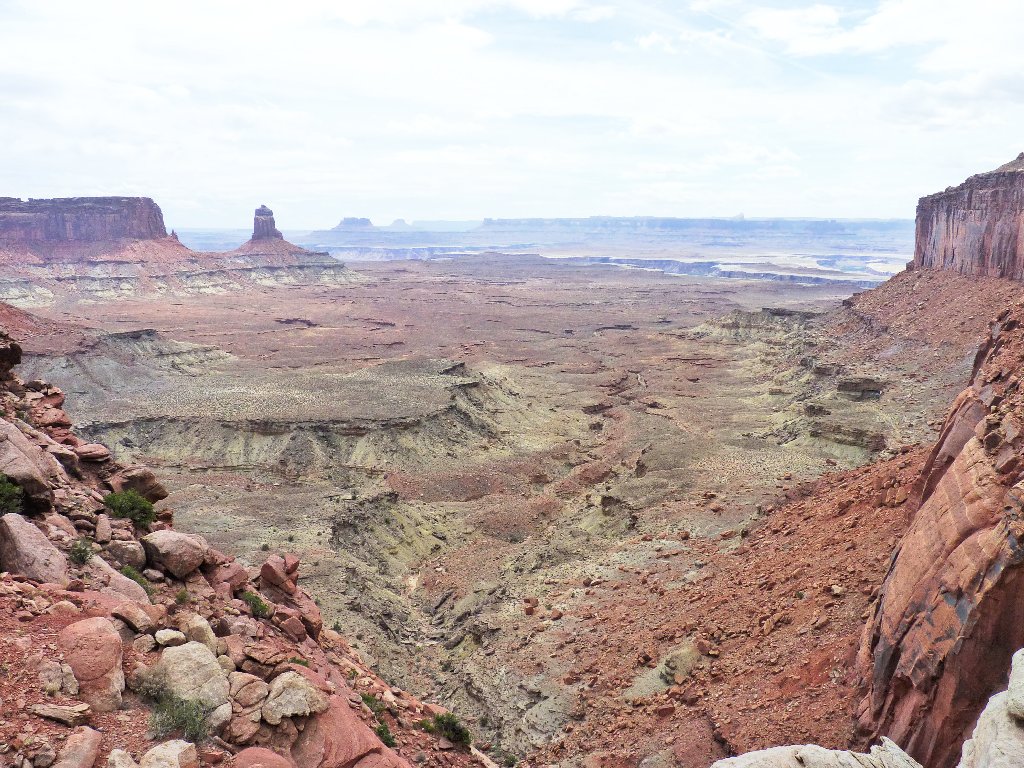 Getting closer
Presently, I pass two returning hikers who inform me that I will have the place to myself, which also does not surprise me. Eventually, I reach an interim high point, where a stunning view stops me dead in my tracks: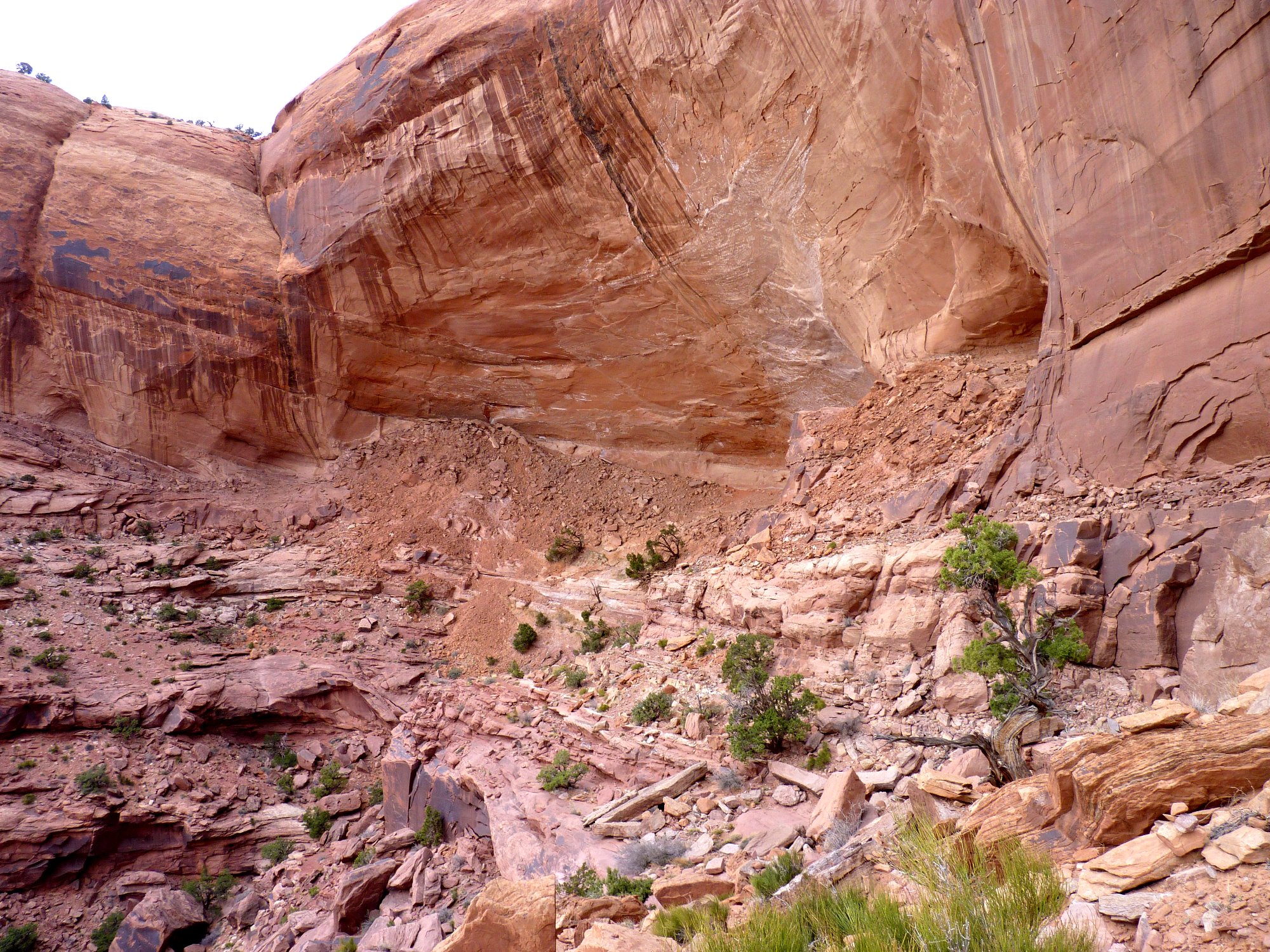 Oh, my! It's no wonder that the Indians liked this place ⇔
From here the route is not a trail at all, but a mind-over-matter exercise in caution and foot placement. I know from instructions that I need to head down and over to the far side before ascending the rubble to the alcove.
Little or no trail maintenance is performed here
Finally I reach the edge of the amphitheater, and the ruins appear.

False Kiva
There is a trail register in the big ammo box at the far end of the cave, and a little section is roped off for scientific study.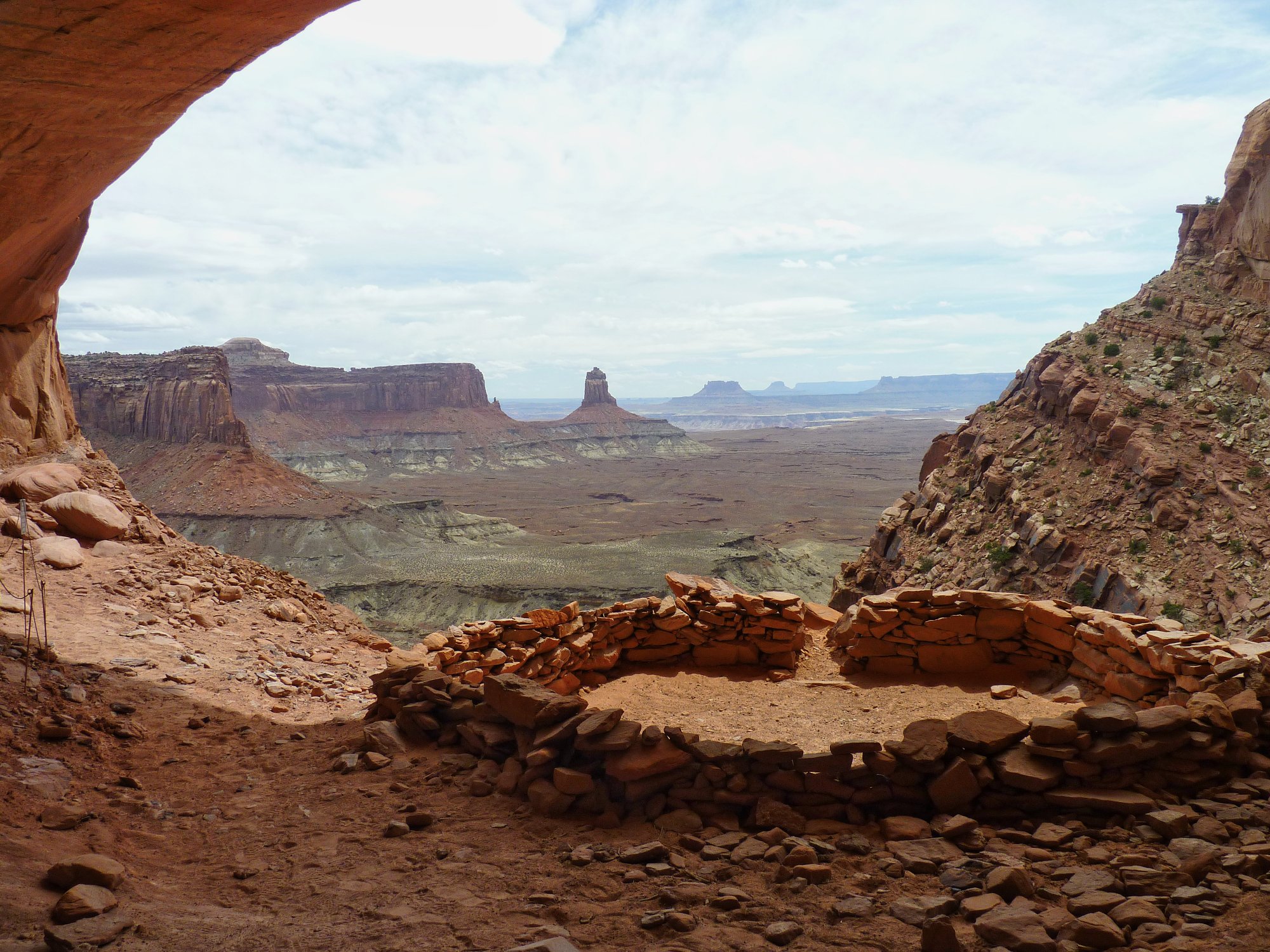 This quintessential view is a photographers' favorite ⇔
False Kiva is so named due to uncertainty regarding the stone circle's origin and purpose, as well as whether the structure is even authentic.
The traditional kiva was an actual room, or series of rooms, normally dug into the ground, covered, and used for spiritual ceremonies by Pueblo Indians. In other words, the males of the tribe got together, closed the door, and imbibed their favorite hallucinogenic drugs while telling dirty jokes — just as at any bachelor pad during a Super Bowl!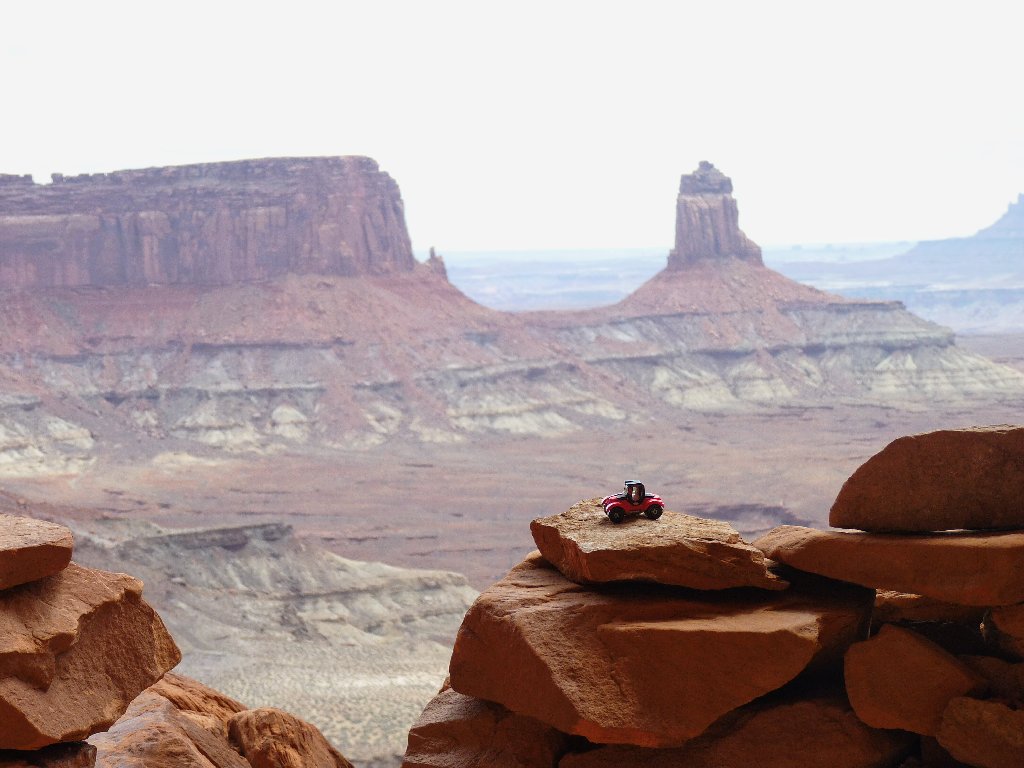 Had I known that there was a road, I would have used it
This ruin is not protected from vandalism in any manner. The remoteness of the site and difficulty of the trail have been deemed sufficient to keep out the riffraff. Thus far, this strategy seems to be working.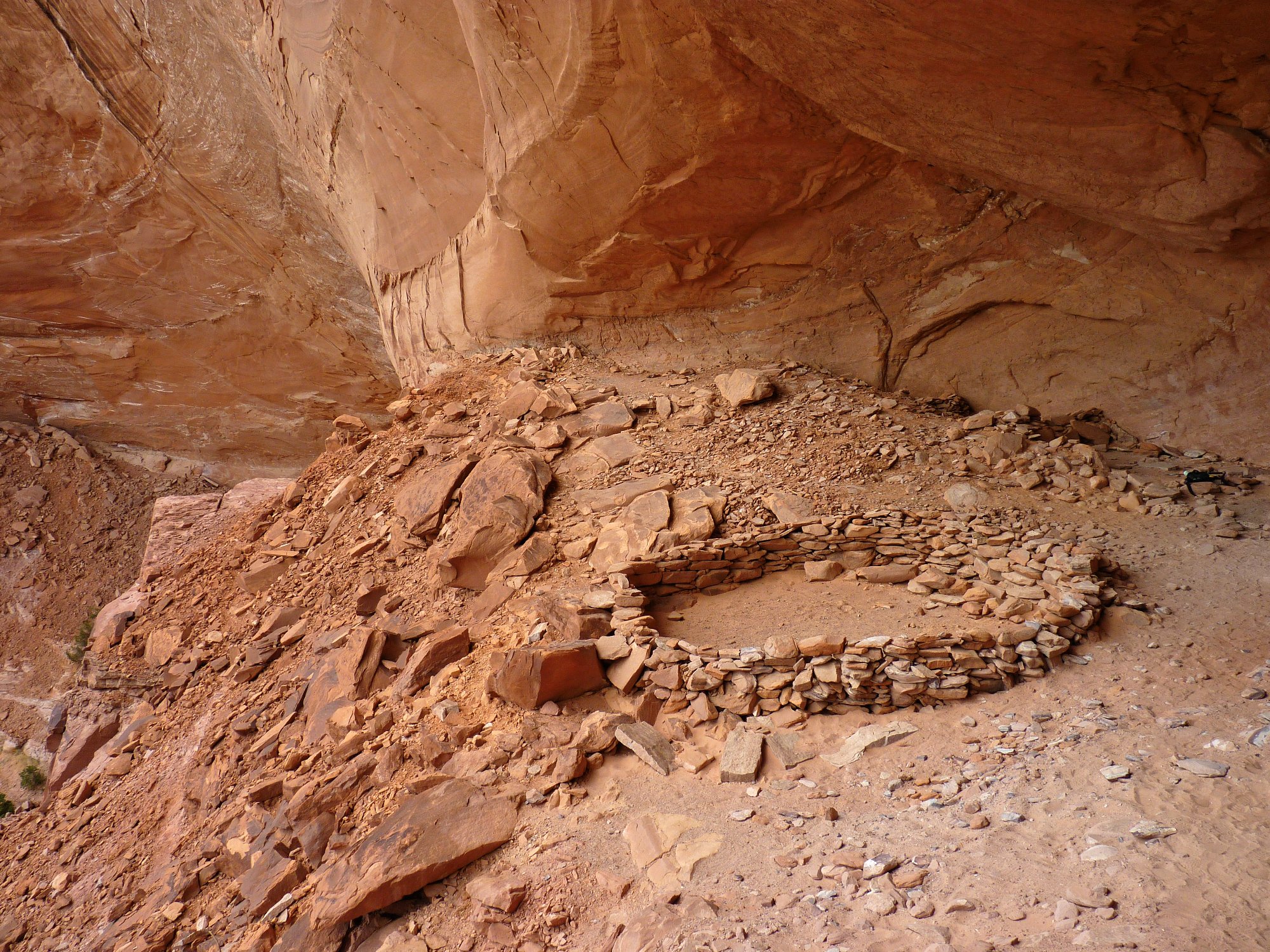 A fascinating place ⇔
My photographic efforts here are somewhat disappointing. I really should have brought a camera with a wide-angle lens. I'll do that next time.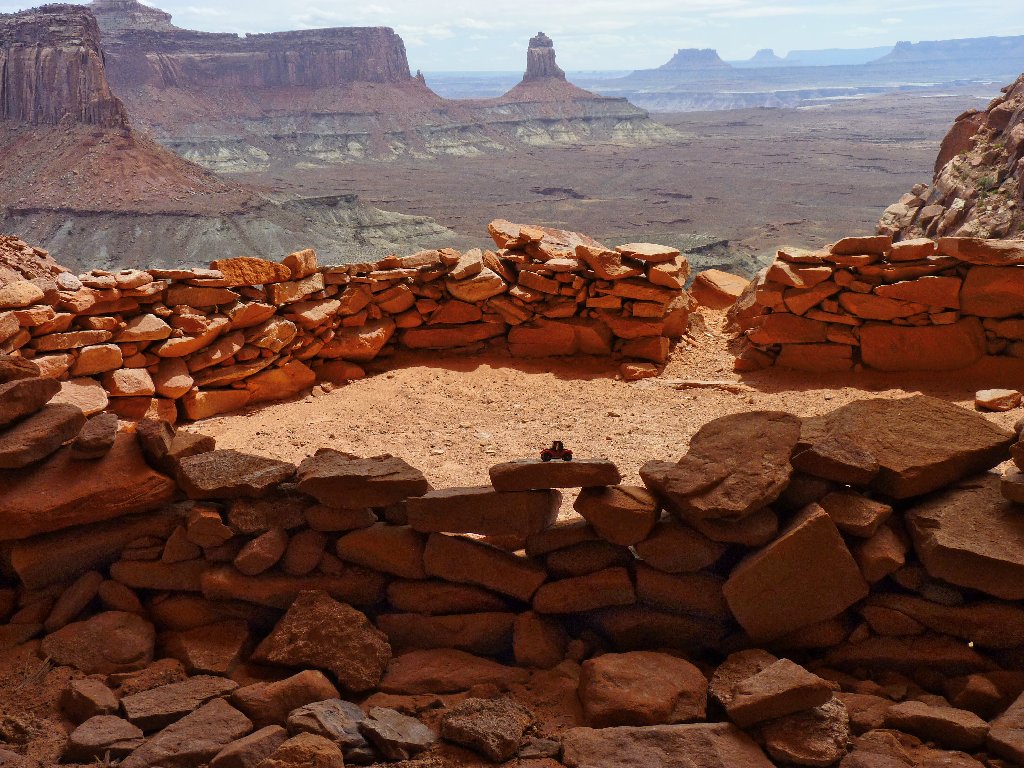 Nice lighting
I anticipate that the return will be rather easier than the trip in, because I should be able to avoid the wild-goose chases.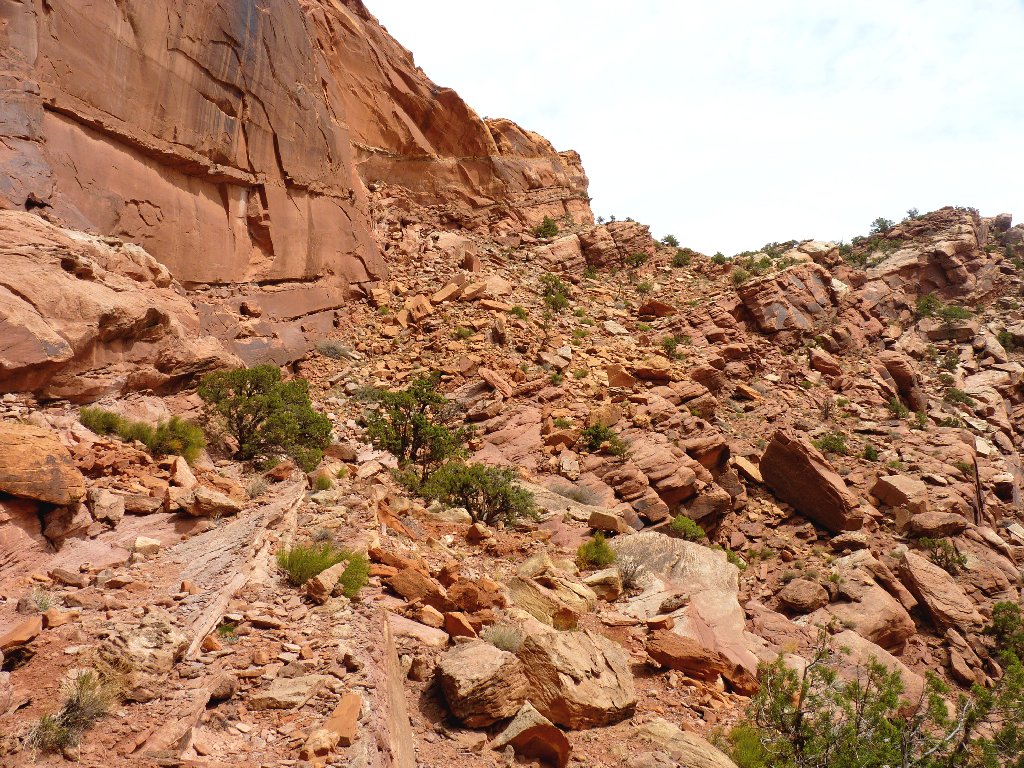 I'll be a happy guy after reaching the top of this pile of chaos
As predicted, the remainder of the trail heads in a virtually straight line all the way to the highway. At the trailhead, I discover that I had needed only to search a bit harder for the unmistakable boulevard-like path. On the other hand, I would have missed some good cliff-side photo-ops.
| | |
| --- | --- |
| | |
| It should be a cakewalk from here | Looking back from roadside |

§: Albeit quite rough in spots, this trail leads to a one-of-a-kind attraction. If visiting such places is your thing, or if your artistic bent is inspired by some of the superb online photographs of this site, then go for it.
Any number of numskulls can be observed pleading online, either for the location of the trailhead or for GPS coordinates. Well, I am about to tell you everything you need to know about finding False Kiva.
If you have a GPS unit, then warm it up and navigate to this location: 38°25'06" N, 109°55'07" W.
If you don't have one of those geeky gadgets, then just follow the road signs to the Island in the Sky Visitor Center. Go to the desk and ask a ranger for directions to False Kiva. If you are deemed not to be a security risk, that worthy will log your name in a journal, give you a map, pinpoint the location of the trailhead, and graciously offer pointers on how not to lose your way. If you have not visited the ruin previously and lack definitive directions, then ignoring this informative option would be downright silly.
Trailhead: start at the Visitor Center, Island in the Sky Region
Distance: 3 miles
Elevation: 5700' to 5200'
Hikers: 5
Rating: 8