Alpine Lakes Loop
Great Basin National Park
October 1, 2010
It is a 730-mile drive home from Zion Park in Utah. About a third of the way along the route and just inside the Nevada state line is Great Basin National Park, home of the deservingly famous Lehman Caves. Less well-known is the fact that this park also houses some bristlecone pines — earth's oldest living things, plus Nevada's only glacier.
At the end of a steep 12-mile road are a couple of trails on my bucket list. My first choice would be the one leading through a bristlecone grove to the base of the Wheeler Glacier; but the mileage specs are a bit daunting at this time. Still feeling the effects of yesterday's marathon scramble in Zion, I opt for the shorter route.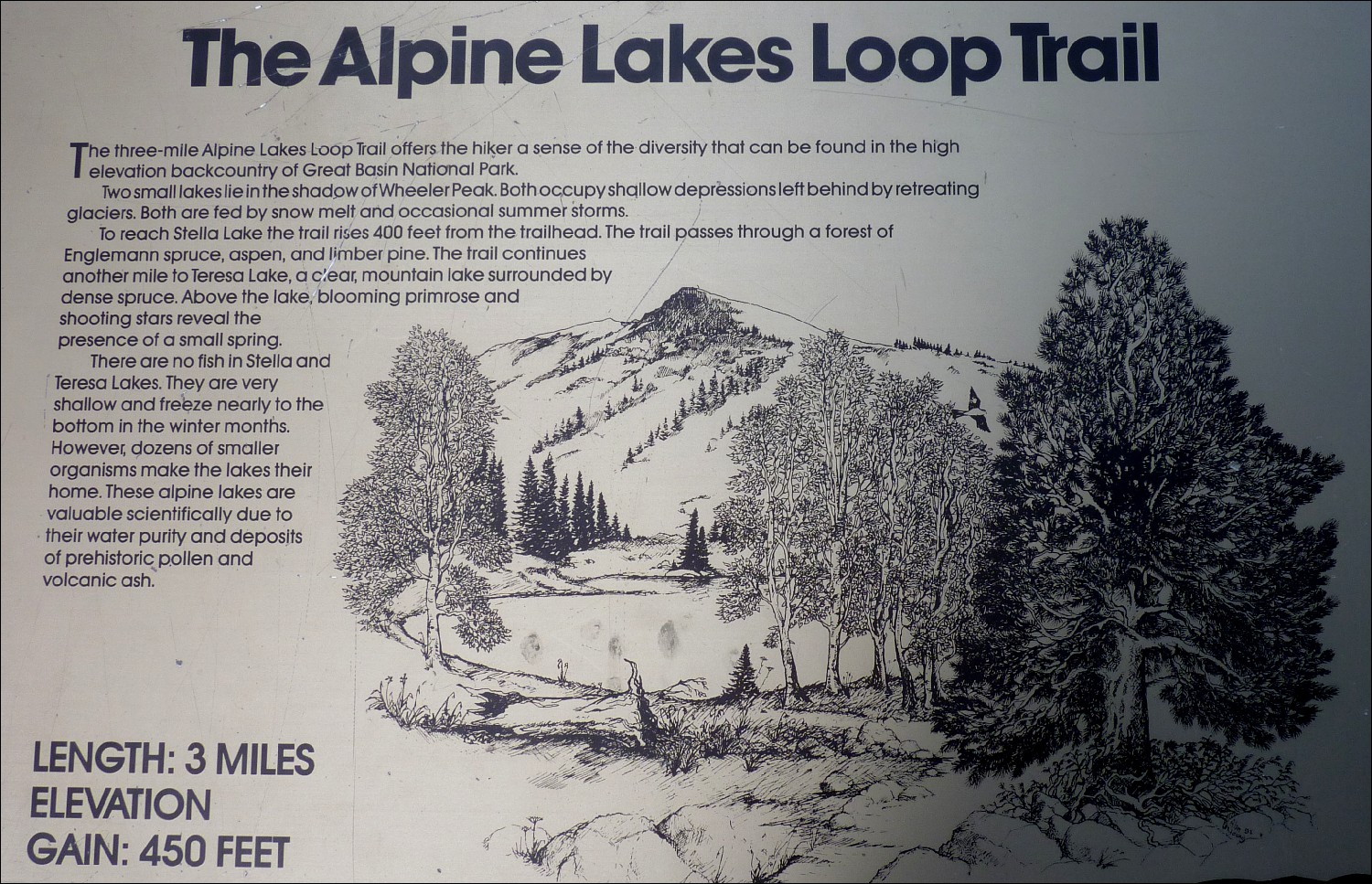 Another sign specifies a 600-foot elevation gain
I am pleased to see water flowing in Lehman Creek. The trail is well-constructed, with multiple provisions for dealing with snow runoff. Not far along the path are some colorful aspens, already in full splendor at this exalted elevation over 10,000 feet.
I am amazed at how much yesterday's canyoneering adventure took out of me. I certainly have been on rougher and longer outings than that one; but the ungodly heat did me in. I feel a bit tired again already, and my legs are stiff; but it is not far to the first lake.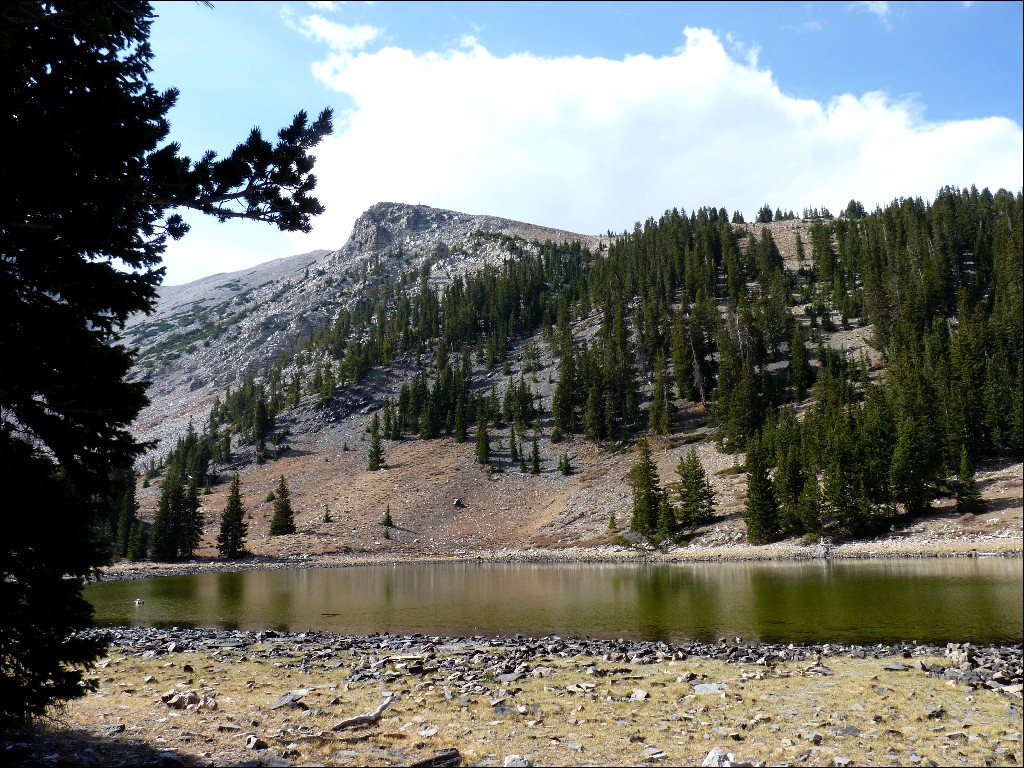 Stella Lake, or what is left of it
Well, I must say that this shallow pond has seen better times; for it is nearly empty. The Class-1 trail to the top of Wheeler Peak is right up on that ridge. I cannot see any hikers from here; but I know that they are up there, because I saw half a dozen cars at that trailhead.
Not even birds care about this place today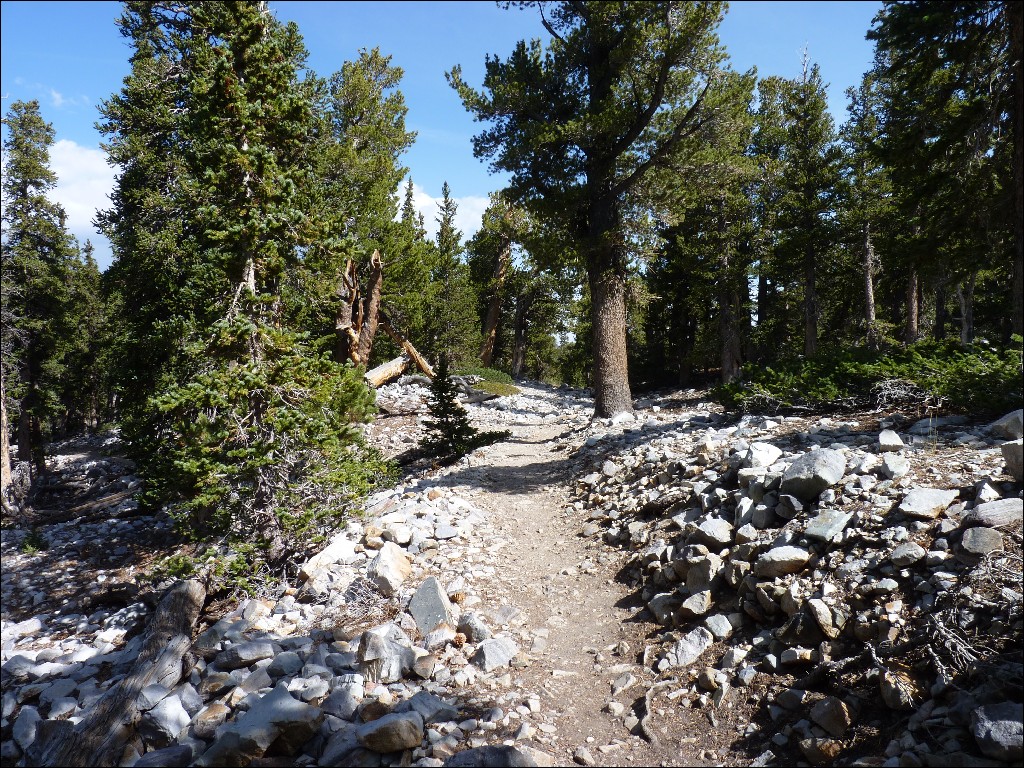 It is so dry here
Continuing the loop without ado, I spot what I imagine qualifies as a glacierette. The Wheeler Glacier itself cannot be viewed from this trail.
That certainly looks like a permanent snowpack
Presently the second lake appears, looking just like its twin sister around the corner. I suppose that these guys are pretty enough in mid-summer, when they are full and supported by wildflowers. They harbor no fish, however, at any time; although the water is pure, the lakes are quite shallow and they freeze over in the winter.
Teresa Lake
Wheeler Peak is the park's highest. Although many folks mistakenly consider it Nevada's ranking mountain, that honor goes to Boundary Peak near Bishop, California, which is 82 feet higher.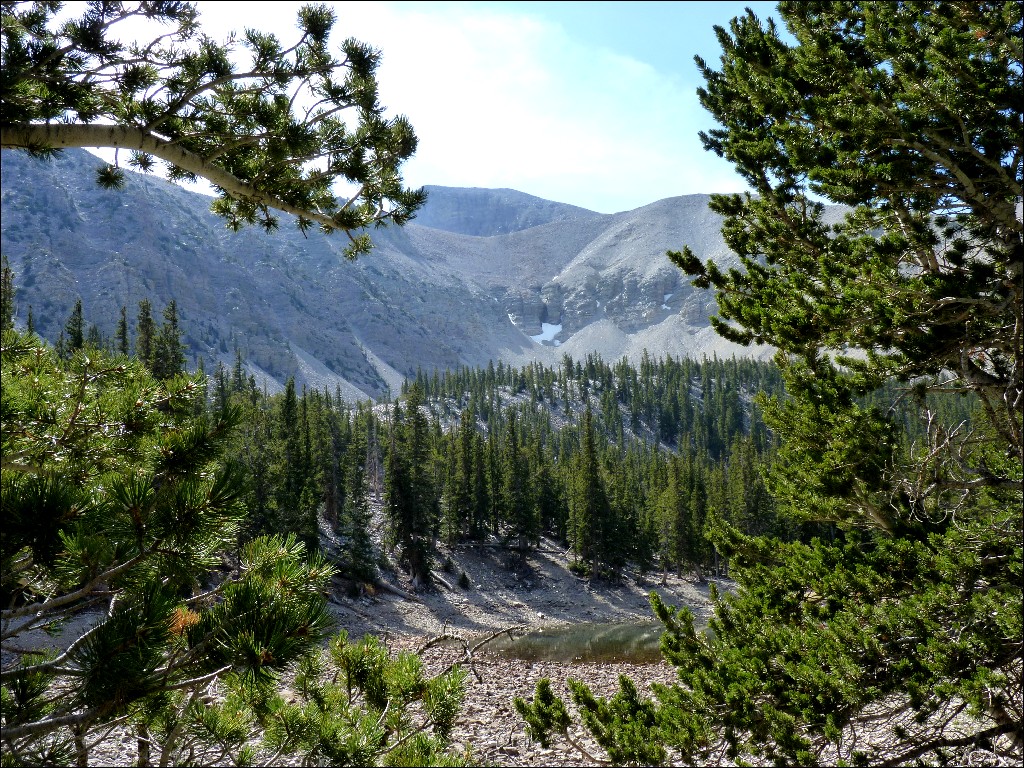 Wheeler Peak, 13063'
A couple of trailside attractions catch my interest, and the aspens are awesome.
Quartz always is fun to find
To the left of Wheeler Peak is Jeff Davis Peak, 12771'.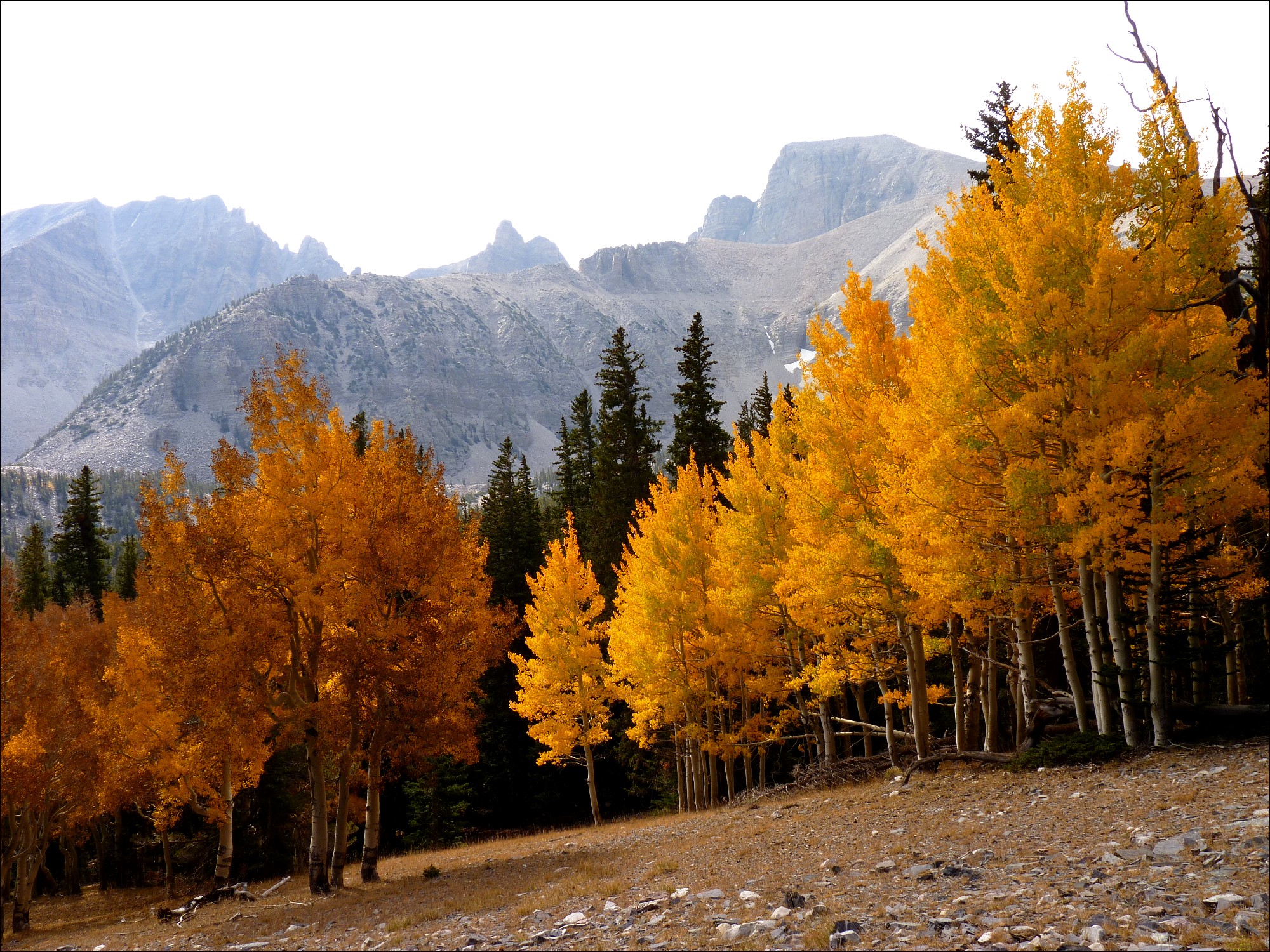 This is why I go hiking ⇔
Originally, the quaking aspen was Nevada's state tree. That designation was changed to the pinion pine, presumably because there are so many of them. Subsequently, the bristlecone pine has been elevated to equal status with the pinion. So now there not only are two state trees, but one of them exists only in tiny numbers. There are a hell of a lot more aspens in Nevada than bristlecones. Oh well, that thinking is analogous to Nevada's state bird, the mountain bluebird. It is so uncommon that you never will see one. Go figure.
Almost before I know it, I am back at the trailhead.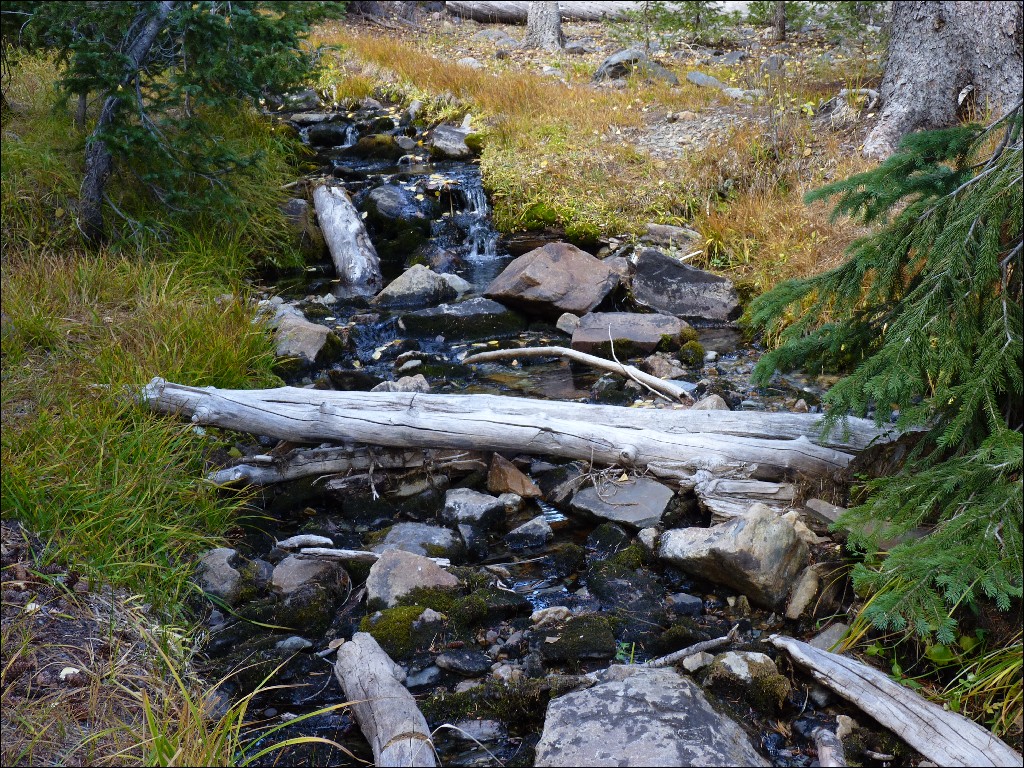 The only running water around here is in Lehman Creek

End of the line

§: In retrospect, I should have selected the other hike. I really wanted to see the glacier up close. Had I known that the two lakes would be so relatively unattractive, I would have gone the other way despite the extra distance.
I have upgraded this hike solely on the basis of the beautiful aspen groves which, however, I would happily have traded for some running water and a few flowers and grasses.
This trek did enable me to achieve an uncommon milestone: I went hiking in three different national parks on consecutive days! Life is good.
Trailhead: 12 miles from the park visitor center on Wheeler Peak Scenic Drive, 6 miles from Baker
Distance: 3 miles
Elevation: 10000' to 10500'
Hikers: 6
Rating: 5 (more in mid-summer)