Vernal Falls & Nevada Fall
Yosemite National Park
"It is by far the grandest of all the special temples of Nature
I was ever permitted to enter." — John Muir, about Yosemite
June 18, 2008
It has been seven years since my last visit to this, my favorite trail. Too long. The first 3/4 mile is on a paved walkway; it must have been resurfaced earlier this year, because the asphalt is in perfect condition. The trail ascends steadily to a footbridge across the Merced River, where there are restrooms, drinking fountains, and a first view of what lies ahead.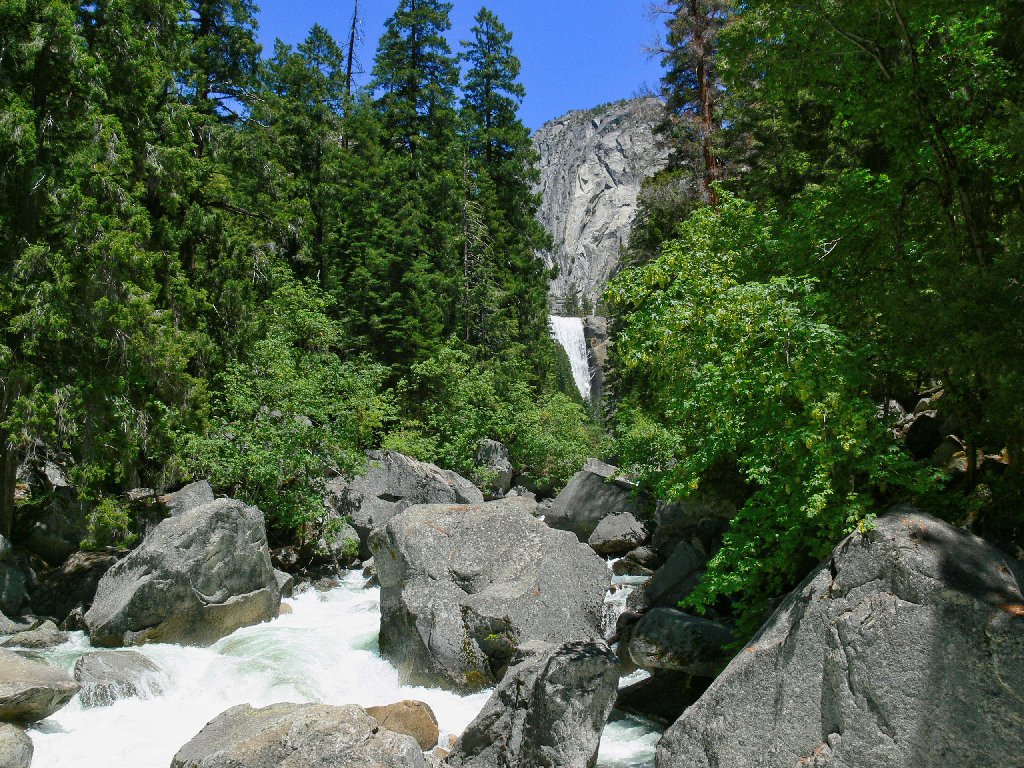 First look at Vernal Falls, 317'
I had hit the trail after 1 p.m. intentionally, one reason being the hope of avoiding some of the crowds. The last time I was here (July), it was like being on a freeway. My plan seems to have been partially successful, as there are lots more folks returning than going my way. It still is quite busy, however, on this most popular trail in the park.
Many folks do not venture beyond the bridge, which is their great loss, because this vantage point offers but a distant preview of coming attractions. The crowds thin out somewhat as I head up the vaunted Mist Trail — so named because in the early season one is guaranteed to become drenched by the spray from the falls.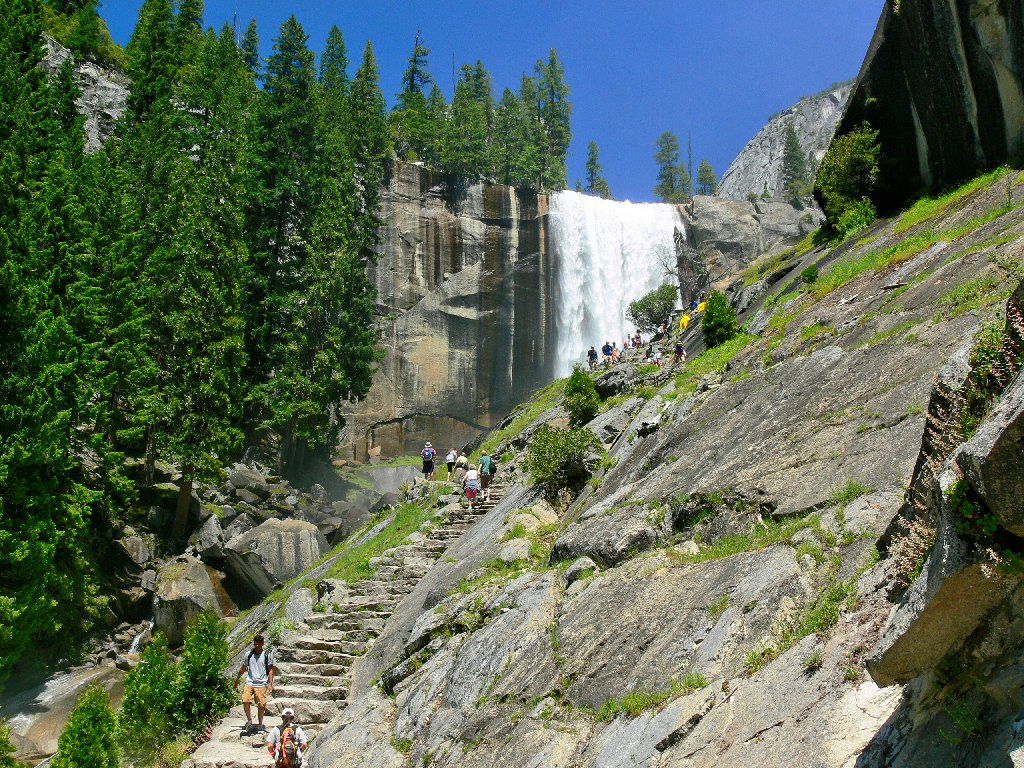 It's rush hour here
The principal feature of this trail section, impending bath notwithstanding, is the plethora of stone steps to negotiate. Depending upon which article one reads, there are somewhere between 300 and 700 steps altogether, which means that some of those writers made off-the-wall, meaningless guesses. The official National Parks website proclaims 600+ steps, so I'll go with that. Perhaps next time I will count them myself!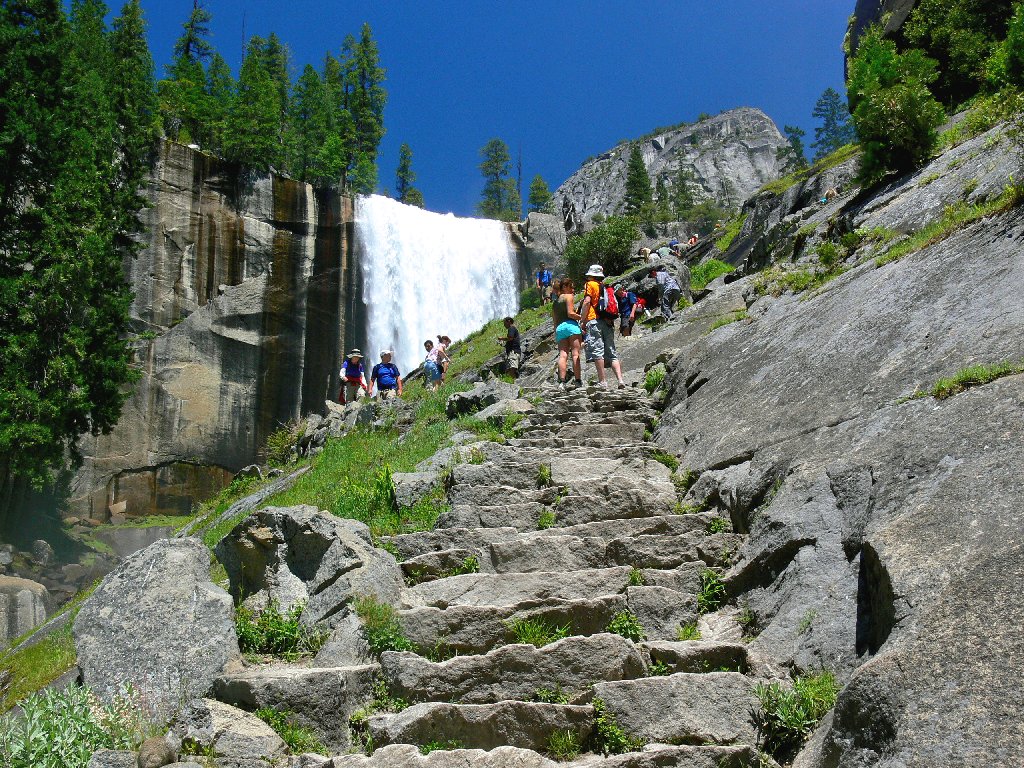 Stairway to Paradise
In any case, the early going is dry today; that has not always been the case. Up ahead are a couple of folks with fancy yellow rain gear; I tried wearing a poncho here once, but I probably would not choose to do it again. Although it is easier to keep one's camera dry that way, I found that covering up actually detracted from the overall experience. So I get wet. Big deal. It's easy enough to dry out in the warm sun soon afterwards.
Around the first corner the spray hits me in earnest, making it difficult to take good pictures. I really would like to do this spot justice, for it just happens to be my most favorite place in the whole world! Having spread my late wife's ashes here twenty years ago, I wouldn't mind a similar fate for myself.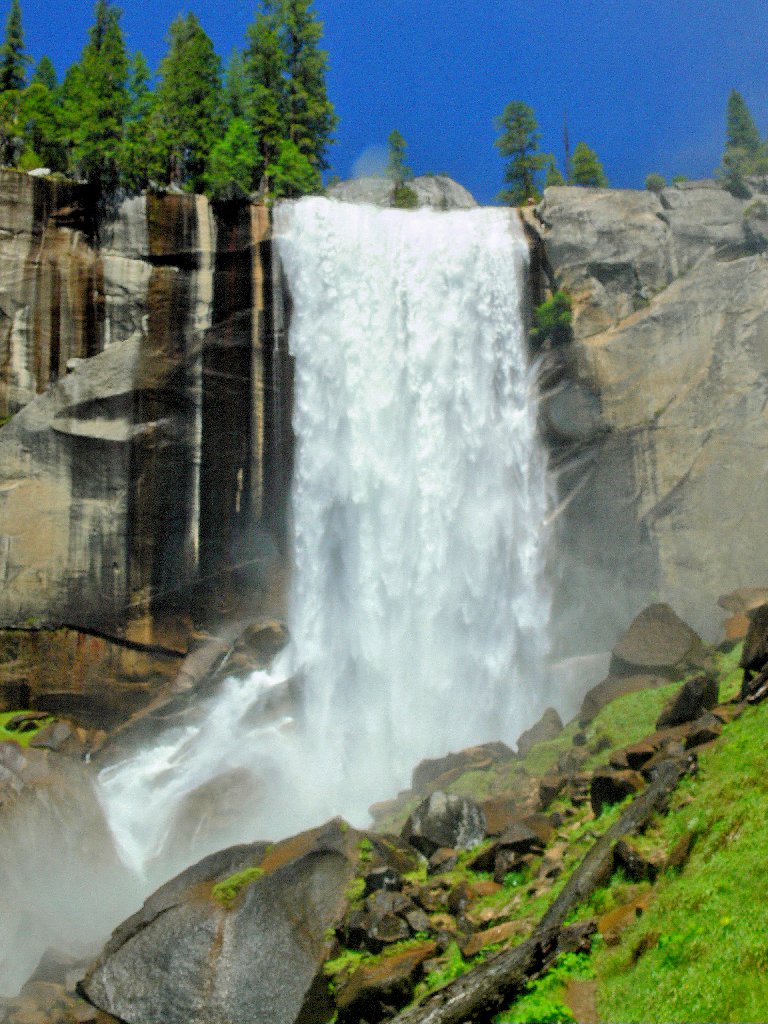 The world's most invigorating spot?
The slippery going necessitates careful footing. A particularly challenging section is a rock tunnel with cold spray breezing through it into my face, and a two-inch-deep puddle to negotiate. It is over soon, however; the spray from the falls dissipates as I approach the top of the stairway. The last section of trail is a short scamper up the cliff side aided by a metal railing that is quite necessary and welcome here. In the 1880s one was compelled to negotiate an elaborate and challenging series of wooden ladders in order to make this ascent.
At the top, there is a short incline down to the brink of the the falls — a good place to take a break and bask in the sun for a while.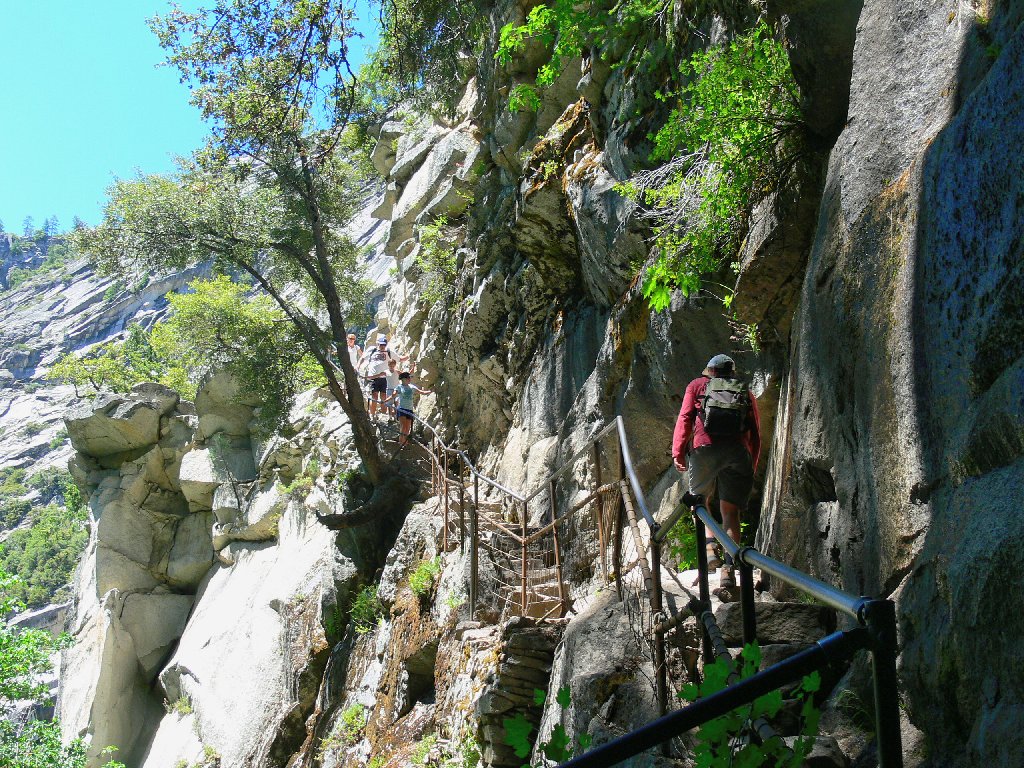 Not as scary as it might look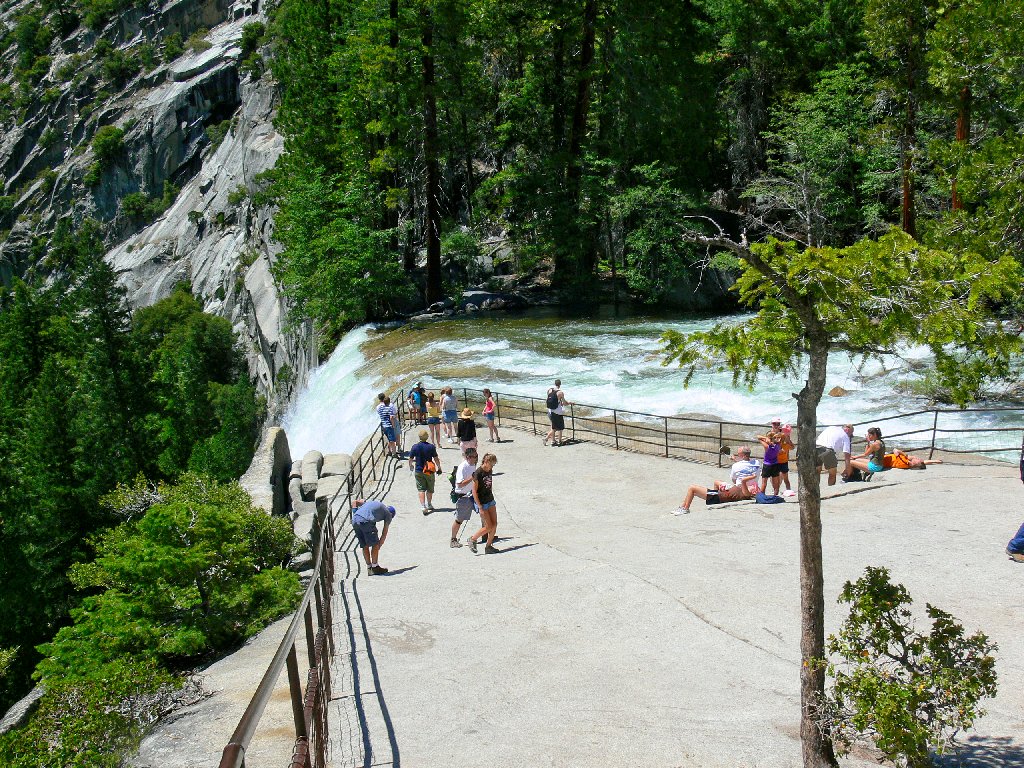 At the brink of Vernal Falls
It seems that not everyone heeds the warning suggested by the presence of a railing. Far too often somebody (invariably a male) did something macho around here and ended up at the bottom of the falls, which are higher than a football field is long. I just hope that someone else had the car keys.
Peering down from the brink affords a nice view of the Mist Trail and Merced River.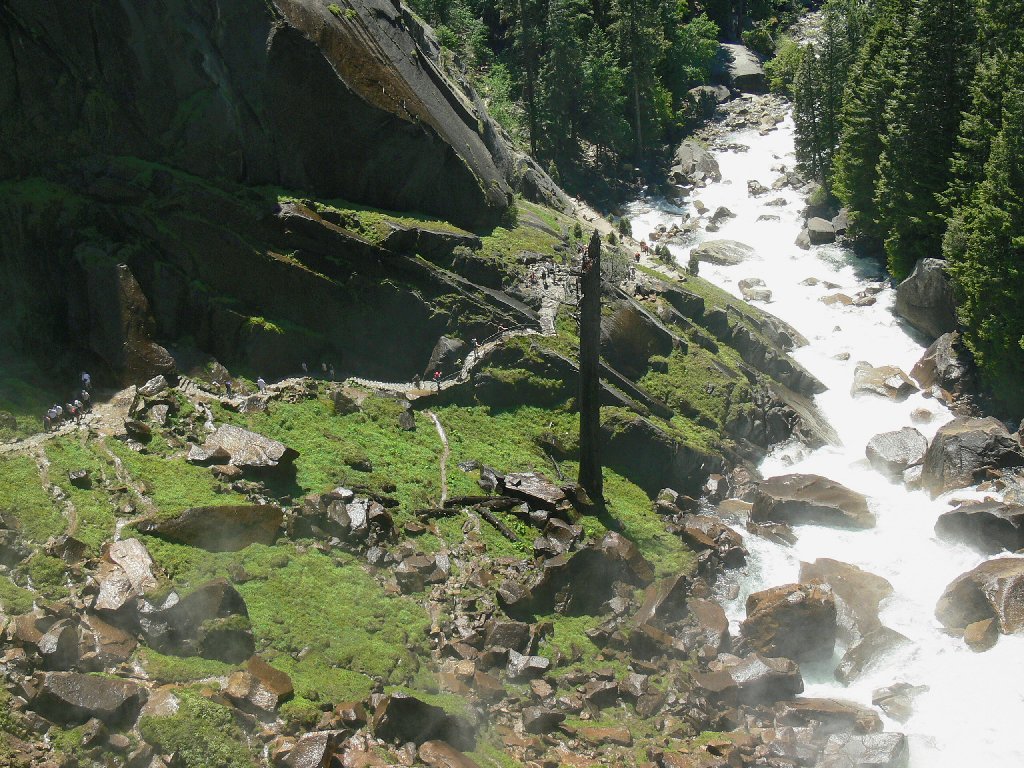 My favorite place
A short distance upstream is the beautiful Emerald Pool, which is fed by the beautiful Silver Apron. Swimming is popular here at times; yet it is dangerous even when the water is low and the pool appears to be calm. Today it would be foolhardy. In any case, Emerald Pool is officially off-limits to swimmers. Also, I have read that the Silver Apron is bumpier than it looks, and that sliding down it is a less than rewarding experience.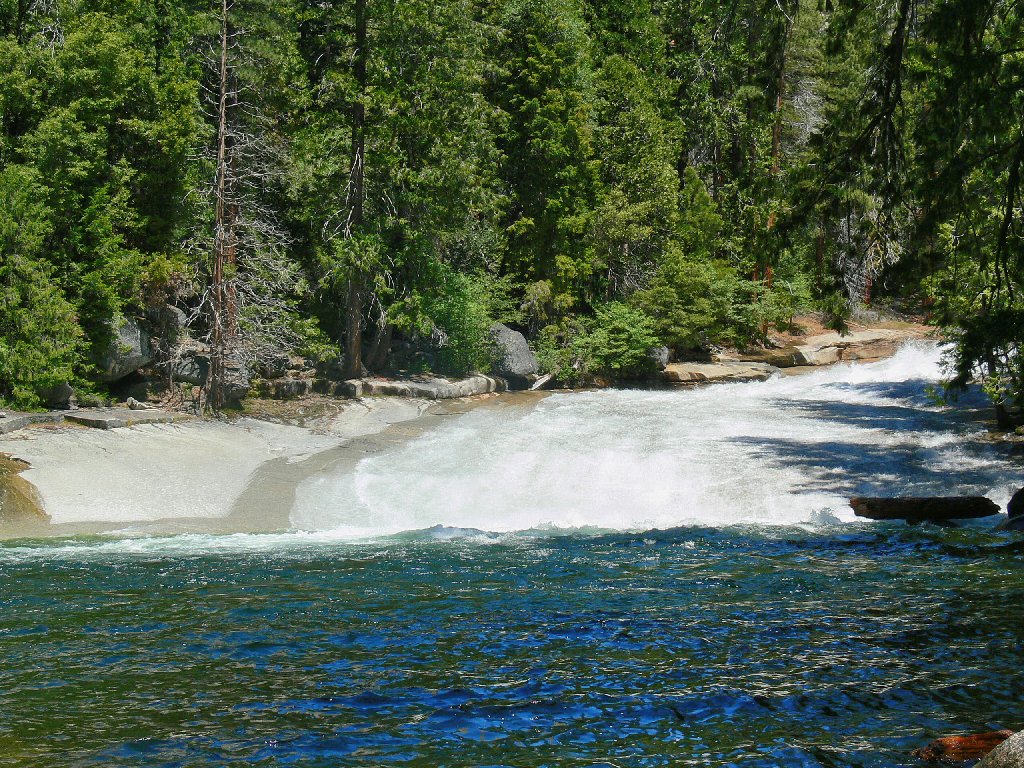 The Silver Apron rushes into the Emerald Pool
The first thousand feet of vertical ascent have largely worn me out; my other outings this year have been cakewalks by comparison. Am I getting too old for this stuff? Not yet, apparently, for I promptly set forth toward the next destination, which involves another thousand feet of climbing.
As expected, it is much less crowded past Emerald Pool. My objective soon comes into view. The roar of Nevada Falls is tremendous and exciting; and right now, nary another soul is in evidence. The masses who stop at Vernal Falls seem unaware of what another fifteen minutes of easy walking could do for them, even if they were to venture no farther than this world-class viewpoint.

Nevada Fall, 594'
The trail switchbacks some 650 feet up a talus slope to the left of the falls. One hiker returning from a conquest of Half Dome complains about the "smoothness" of the trail surface here, which in places does resemble a cobblestone walk. I appreciate his concern, for I made that one-day ascent in 1961, and my feet and knees were quite weak and weary toward the end of the 14-mile trek (of course, doing the round-trip in just seven hours — in tennis shoes, yet — probably didn't help). What the gentleman and perhaps many other returning hikers don't realize is that there is an easier (albeit longer) route available down to the valley floor.

Starting up the switchbacks
Once at the top, it is time to relax and munch some trail mix. The hard part is over. Last year's foot injury hasn't bothered me today, and the ankle that I twisted last week isn't complaining either. A nifty overlook provides a view straight down the falls to the river below. This is a neat place to be.

The brink of Nevada Fall
It is about now that I realize I am short on water. Even though I had replenished my standard 48-ounce supply at the bridge, the relative warmth of the day and strenuousness of the trek have taken their toll. I fully expect to run dry during the return loop. Should worst come to worst, I could drop a Halazone pill into some river water; but I don't expect to be that desperate while traveling downhill.
Across the footbridge above the brink, the path winds southward toward the nearby John Muir Trail. This verdant area features a number of tiny streams which trickle down the cliff beside the falls. On some previous visits there has been quite a bit more water here; but what it is, it is. Not only is this the most colorful section of the entire route, but I suddenly encounter a variety of flowers — the first I have seen today.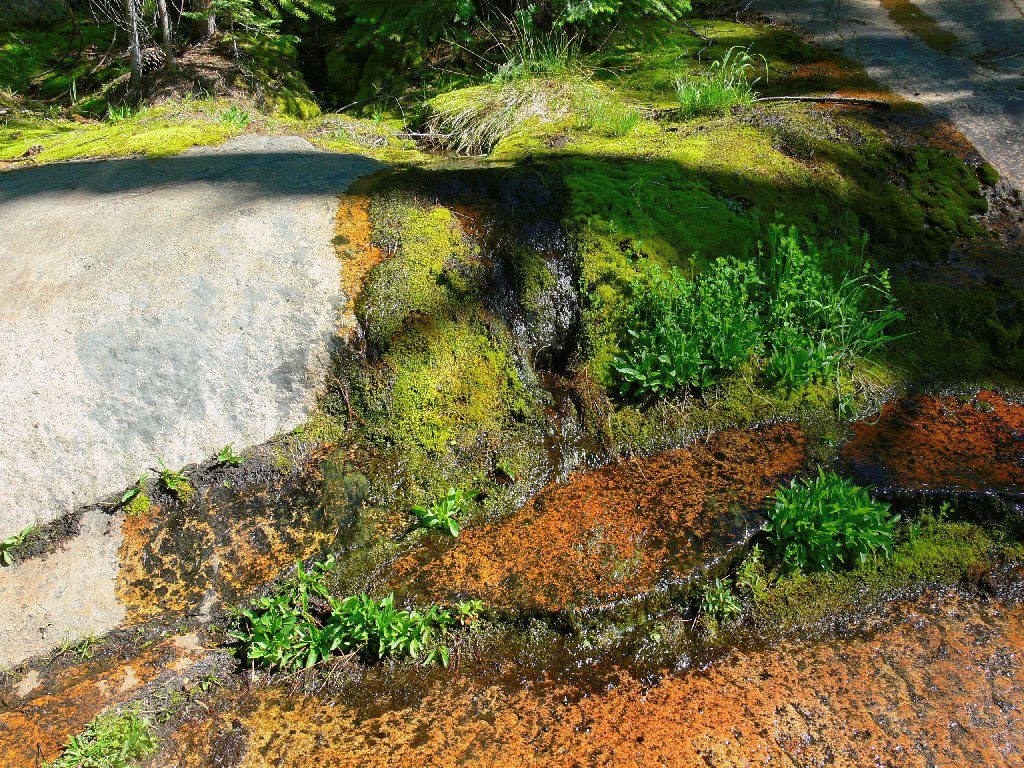 Nice colors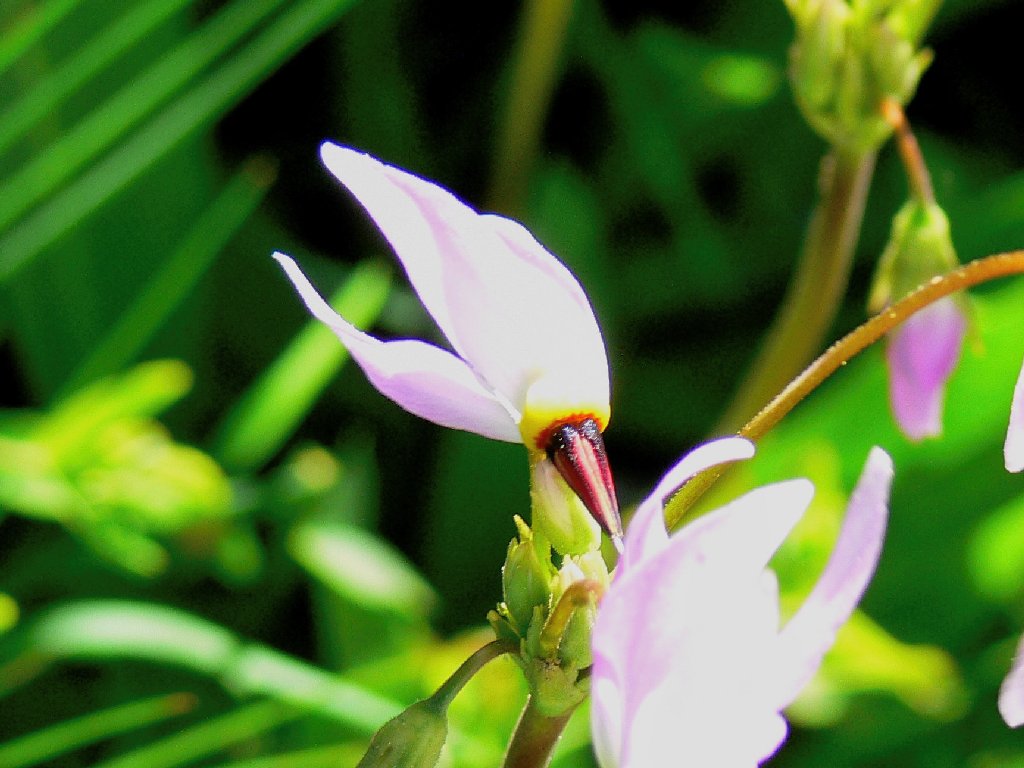 Sierra Shooting Star

Orgy on the Forest Groundsel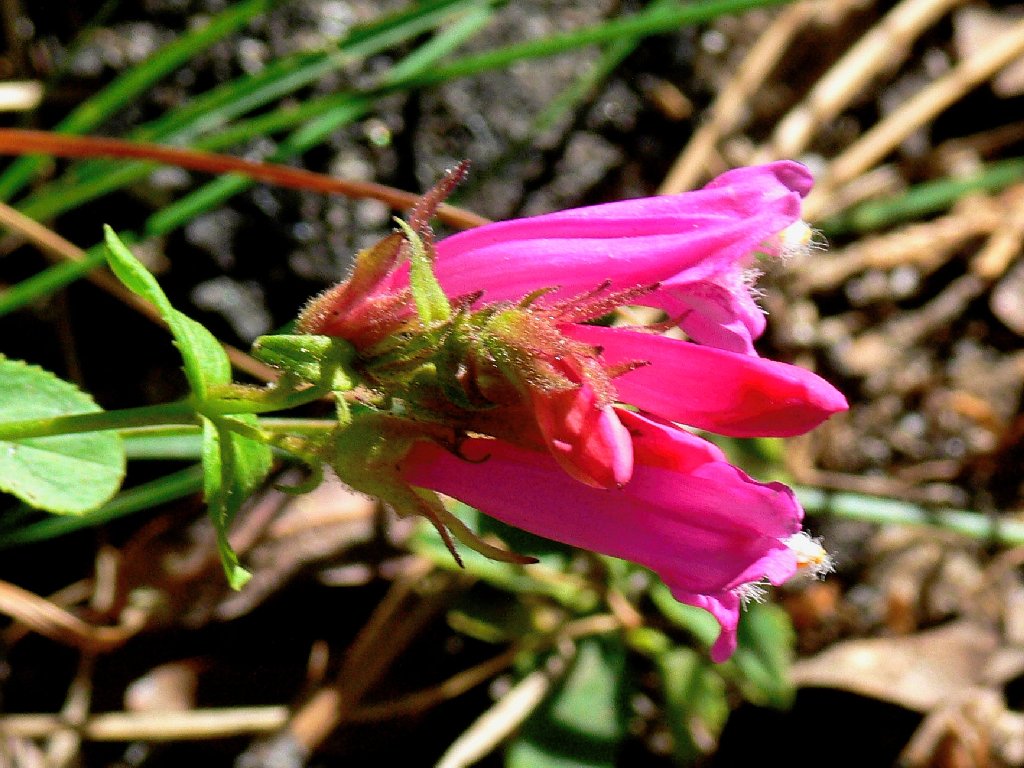 Mountain Pride
In the distance I can just make out a portion of the park's premier attraction.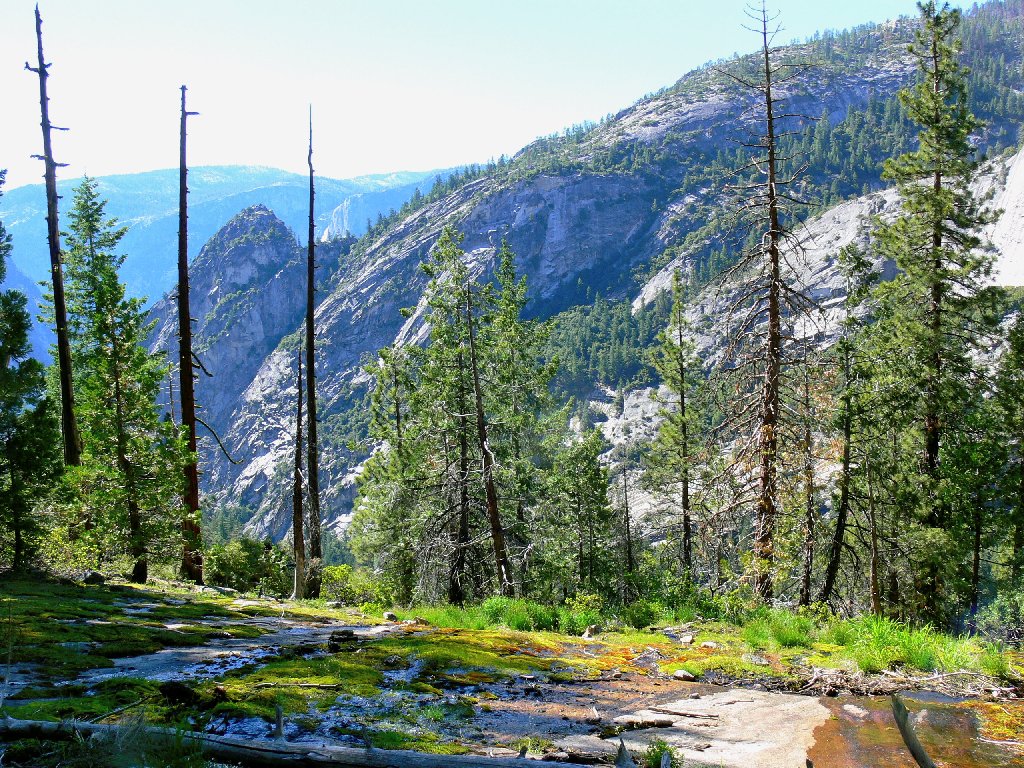 Upper Yosemite Falls is barely visible several miles away
At the trail junction the old telephone booth still is there, but the phone itself is not. I actually used that device in the 1970s to call home to Reno. From here the John Muir Trail continues for another 208 miles to the summit of Mount Whitney; but of course I opt to turn right and return to the valley, where my sweetie awaits me at the lodge.
This famous section of trail was hewn from solid rock in 1882-1884 by Scotsman George Anderson, largely at his own expense. He had had visions of opening a hotel at the northern base of Half Dome, which he was the first to climb, in 1875. This elevated pathway also offers the best views of both the falls and the markedly unspectacular back side of Half Dome.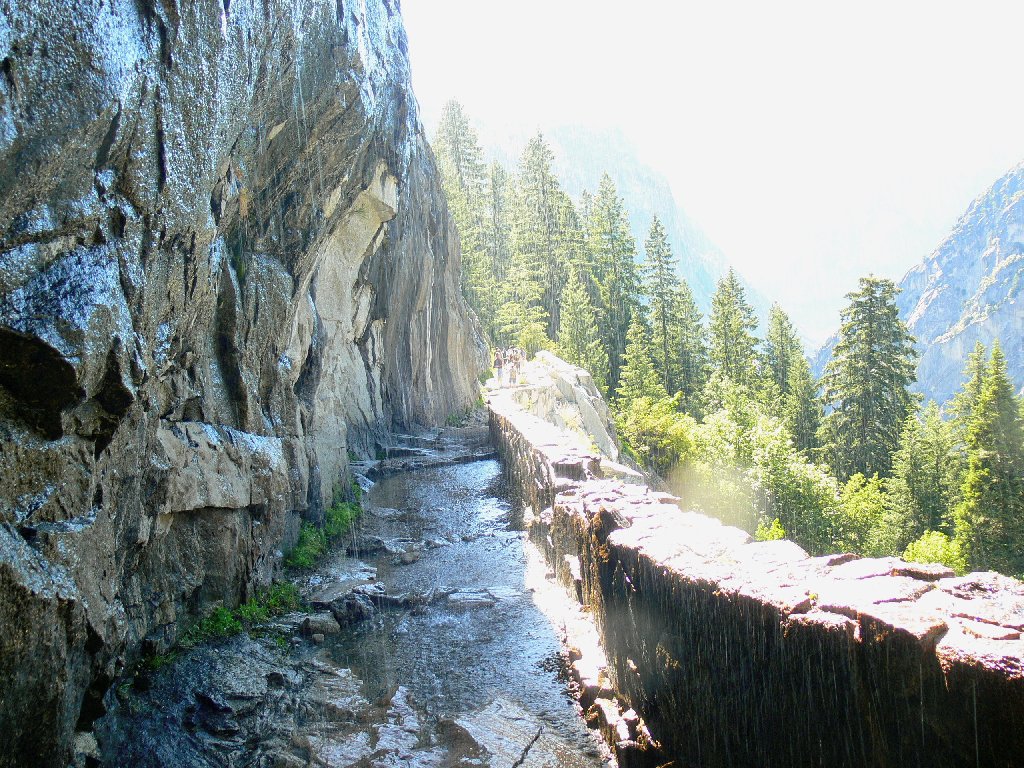 George Anderson's monumental achievement

Nevada Fall and Liberty Cap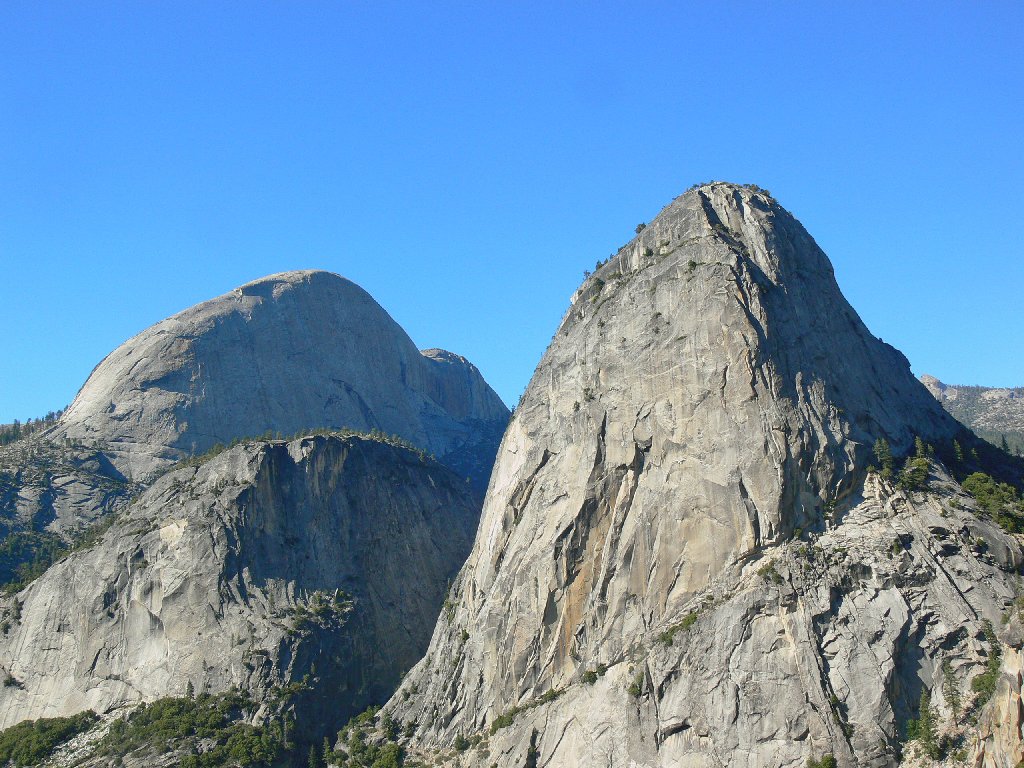 That's Half Dome on the left, above Mount Broderick
Not surprisingly, more flowers adorn the wet cliff. Moreover, for half an hour I actually have the trail to myself, which is unexpected but not unwelcome.

Clockwise Gilia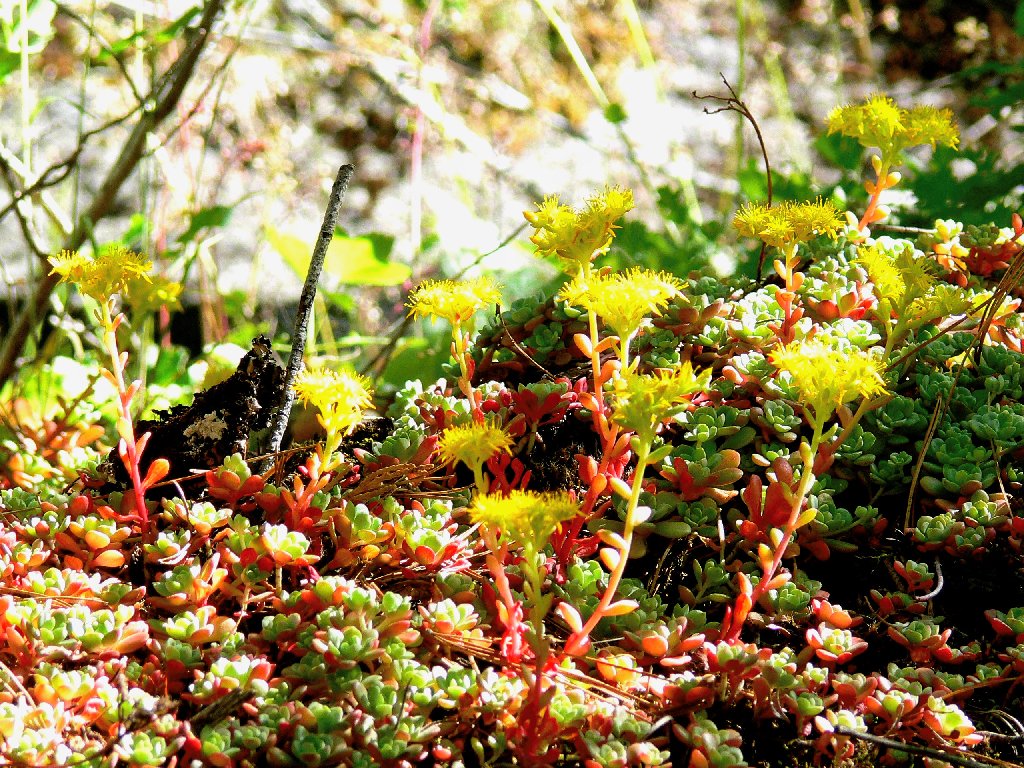 Pacific Stonecrop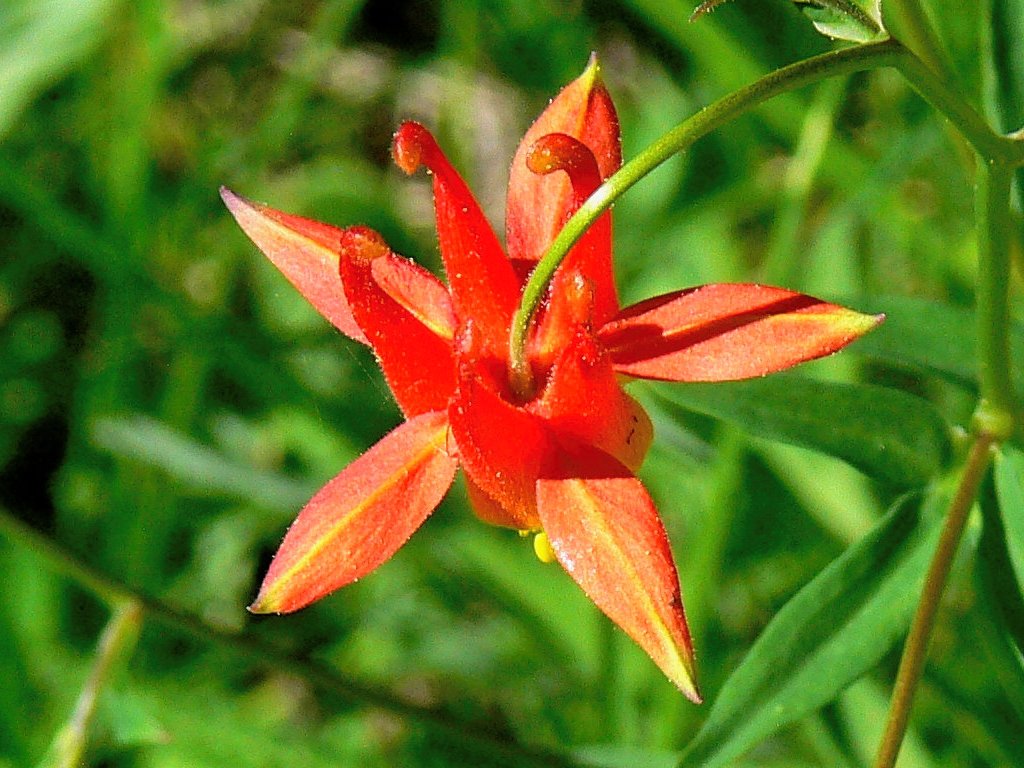 Crimson Columbine
Another junction offers the option to continue on the longer, but easier, John Muir Trail back to the Merced River bridge. Having another agenda, however, I opt for the spur that drops back down to Emerald Pool. Along the way is Clark Point, a lookout that provides an exquisite view of Vernal Falls. As per my plan, this also is the best time of day for photographs here — just before the sun goes away.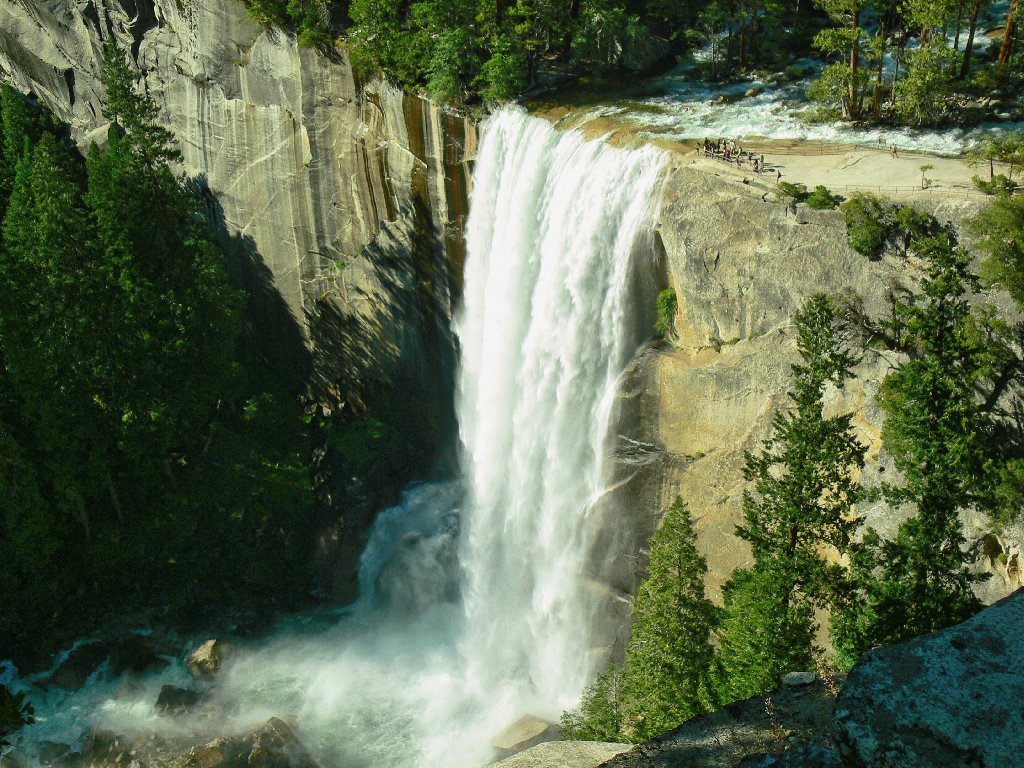 Words fail me here
Although I was not looking forward to a return trip down hundreds of wet stone steps, the episode proves quite pleasant. The spray, being at my back, is less hard on the body; and once again I am exhilarated by the incomparable beauty of the setting. In retrospect, I wouldn't have missed it.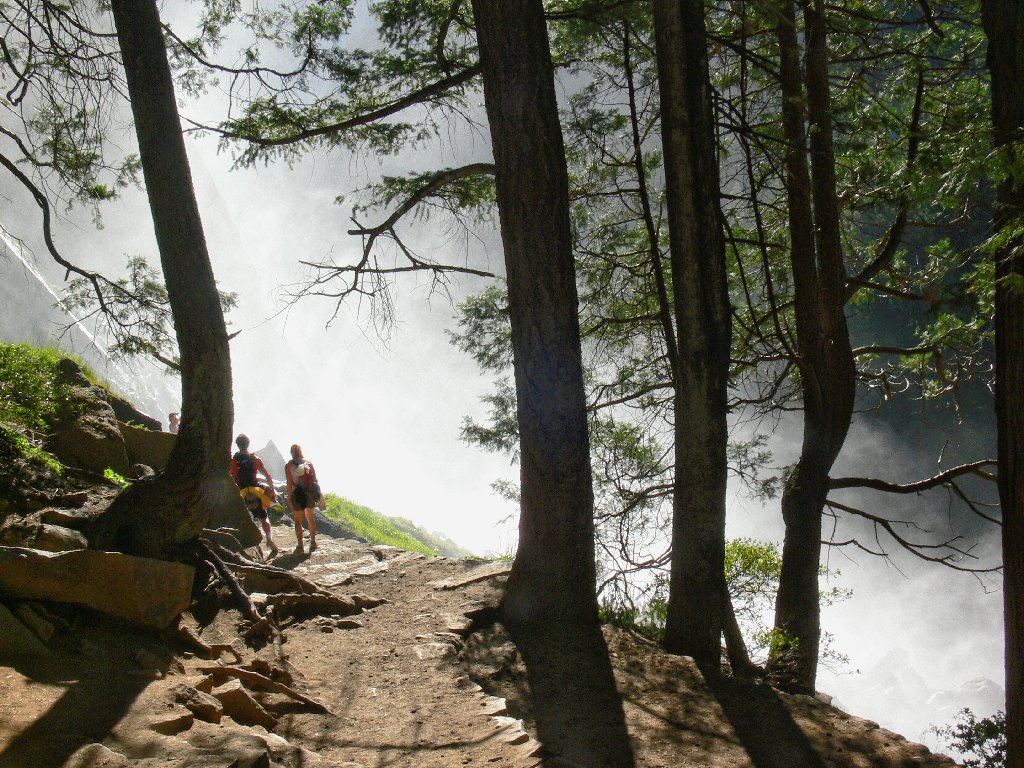 The Mist Trail beckons
At the big bridge I refill my water bottles, as I had indeed run out an hour ago. In July, 2001, our group opted to utilize the restroom wash basins for this purpose, because there was a prohibitively long line of thirsty walkers at the drinking fountains.
After torturing my legs all day, I am finding it difficult to walk quickly down the steep asphalt pathway. Although I pass other hikers on the short uphill segments, they pass me right back going downhill. Finally, a 20-minute shuttle trip from Happy Isles gets me to Yosemite Lodge just after sundown.

---
§: This hike is one of few that could ever merit a 10-rating. I fear, however, that its best time has passed — at least for the foreseeable future. Having to wait frequently for someone a foot ahead of you to take another step detracts significantly from the pleasure of any walk. It has become far too crowded here for maximal enjoyment; oh, for the 1960s! Also, I recommend hiking elsewhere any later in the season, for it just becomes hotter, drier, and more crowded here. Later May is best, ideally before school lets out.
Trailhead: Happy Isles, Yosemite Valley
Distance: 6½ miles
Elevation: 4020' to 5950'
Hikers: many hundreds
Rating: 9 (=10 if you don't mind stepping on other hikers)