East Side Beaches
Lake Tahoe, Nevada
"...surely the fairest picture the whole world affords." — Mark Twain
August 15, 2007
This outing was intended as just a swim; but exploration of half a dozen beaches caused the miles to add up, qualifying it as a full-fledged hike.
South of Sand Harbor State Park are two official parking facilities, as well as a number of roadside wide-spots. Much of this slender highway is off-limits to parking; but a few unsigned areas are wide enough to hold a number of cars, and beach-goers make good use of them. Each of these turnouts has one or more trails leading down toward the lake. Some of the paths are fairly well-maintained; being comprised of soft sand, all are easy on the feet.
Perhaps the easiest beach access is from the parking area 2½ miles south of Sand Harbor, which features restroom facilities.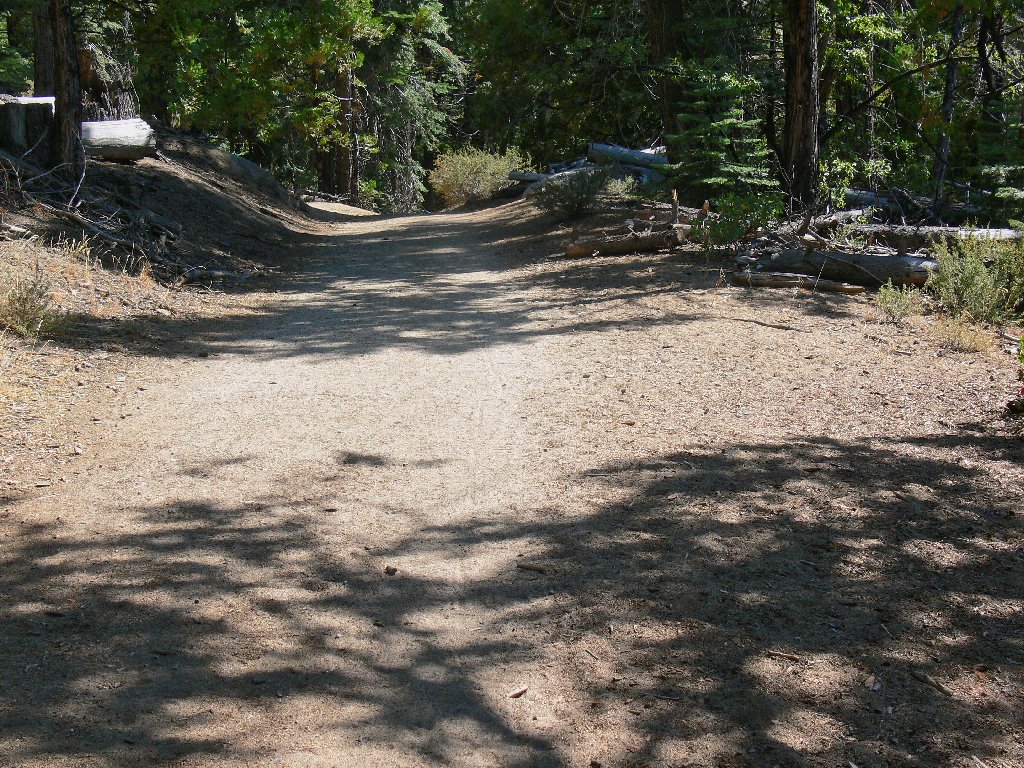 The fire road doubles as a handy trail
The first beach I encounter is a crowded, family-oriented venue; there must be a better option.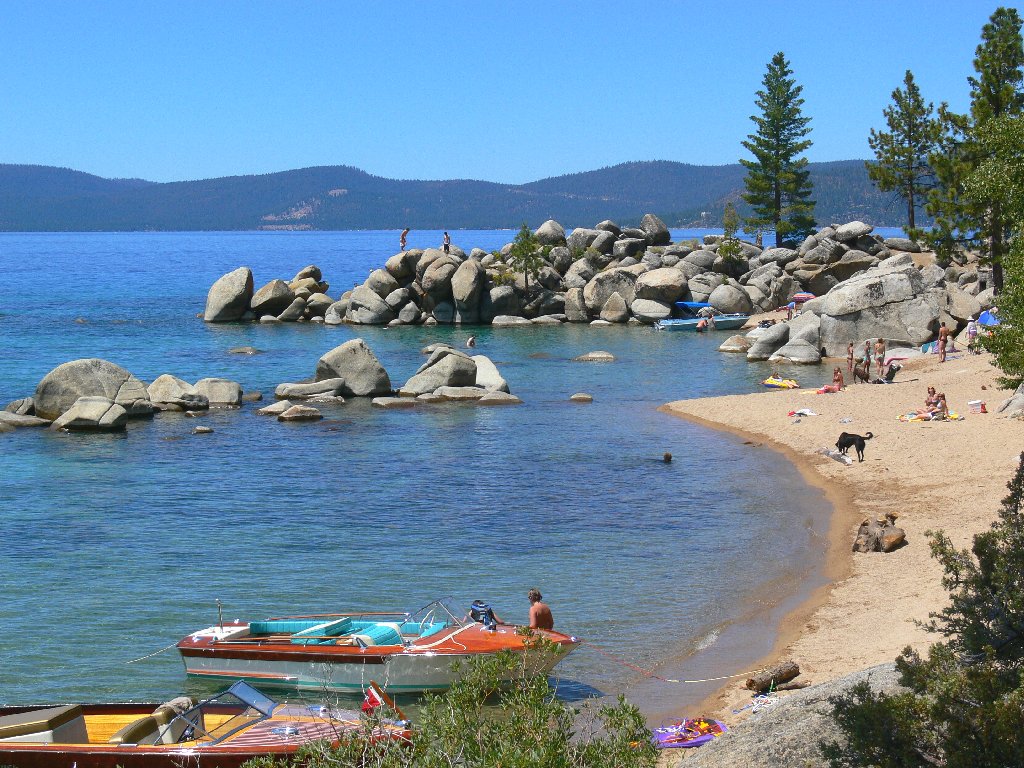 Chimney Beach is too close to the parking lot
Kayaks and small boats are out in force, together with rafters and snorkelers. It's a calm 75° — a perfect day.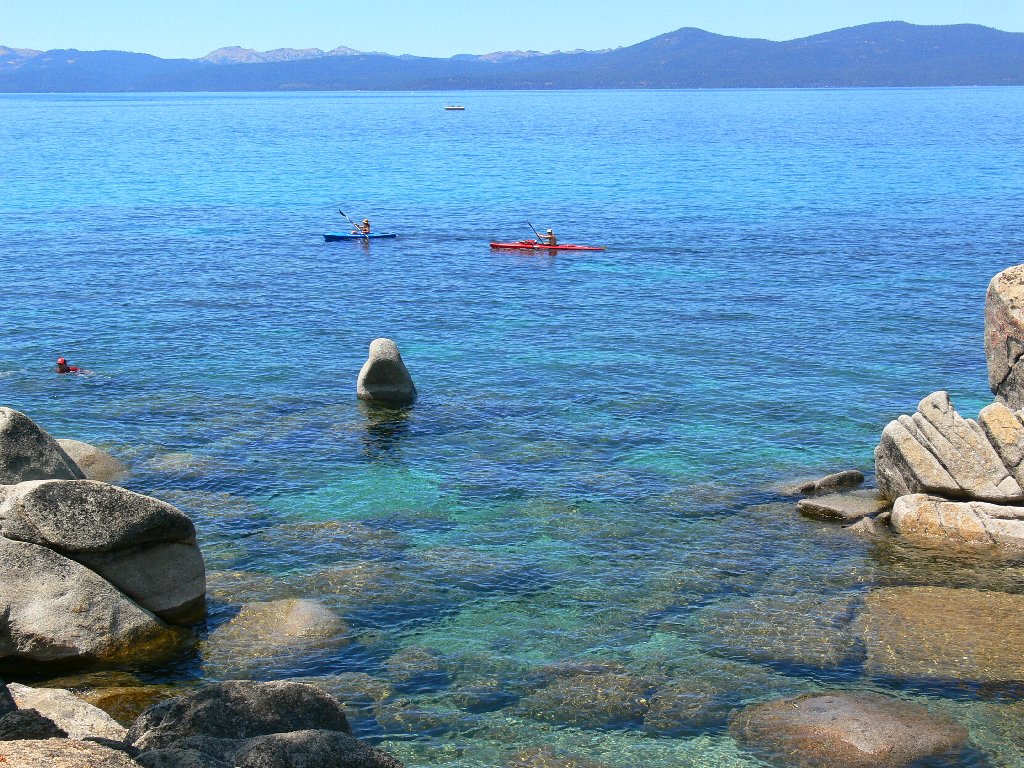 Kayakers
About half a mile from the parking lot I spot what appears to be a suitable stopping place. Scrambling down the spur trail, I hunt for a spot to throw down a towel. There are about twenty souls on the beach, most of whom have left their swim suits at home; this is ideal, for I don't even own such a garment.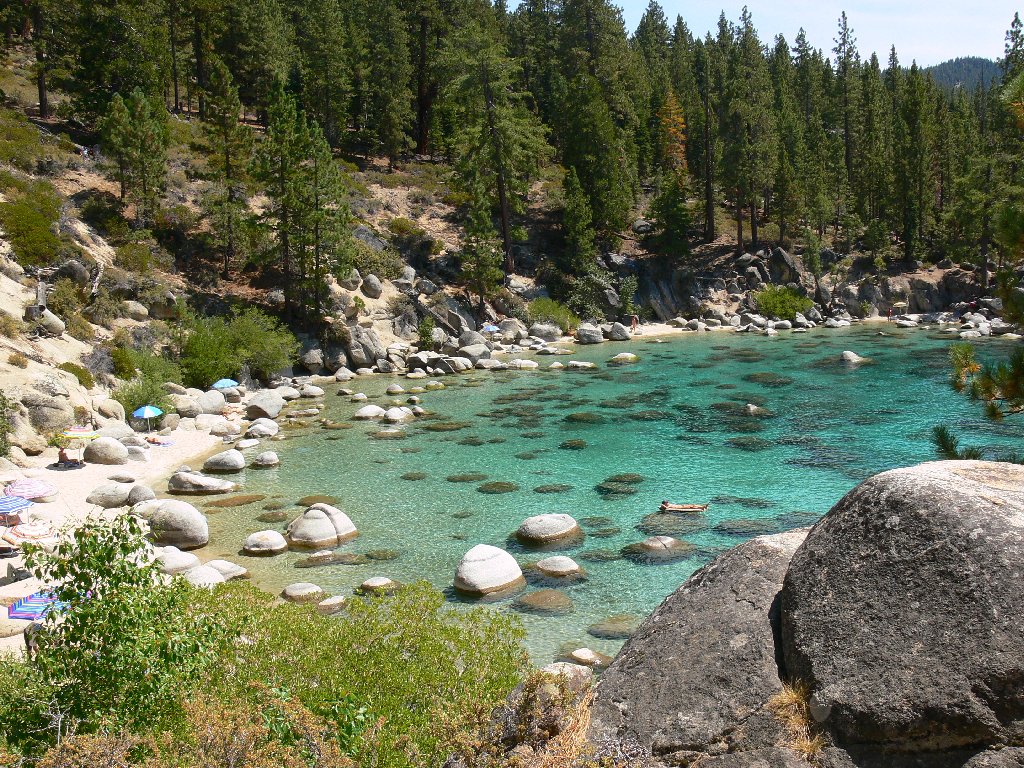 Idyllic Secret Cove
It is a shame that many folks' notions about swimming here take them no further than "cold." They simply don't understand that nowhere is there a more enjoyable place to swim than Lake Tahoe; apparently, they never have tried it. Yes, the water is predictably cool; but it doesn't take long to become acclimated. It is odorless and tasteless; the waves and granite boulders provide scenic interest; and the white lake-bottom sand imparts an exquisite greenish cast to the shallow water. One cannot fully appreciate this incomparable gift of nature without getting close to it, and that means into it.
A swim to the far side of the cove and back is sufficient to wear me out; it's a good thing that there were foot rests along the way that were less than six feet deep! Then it is time to soak up some rays and bask in the splendor of the surroundings.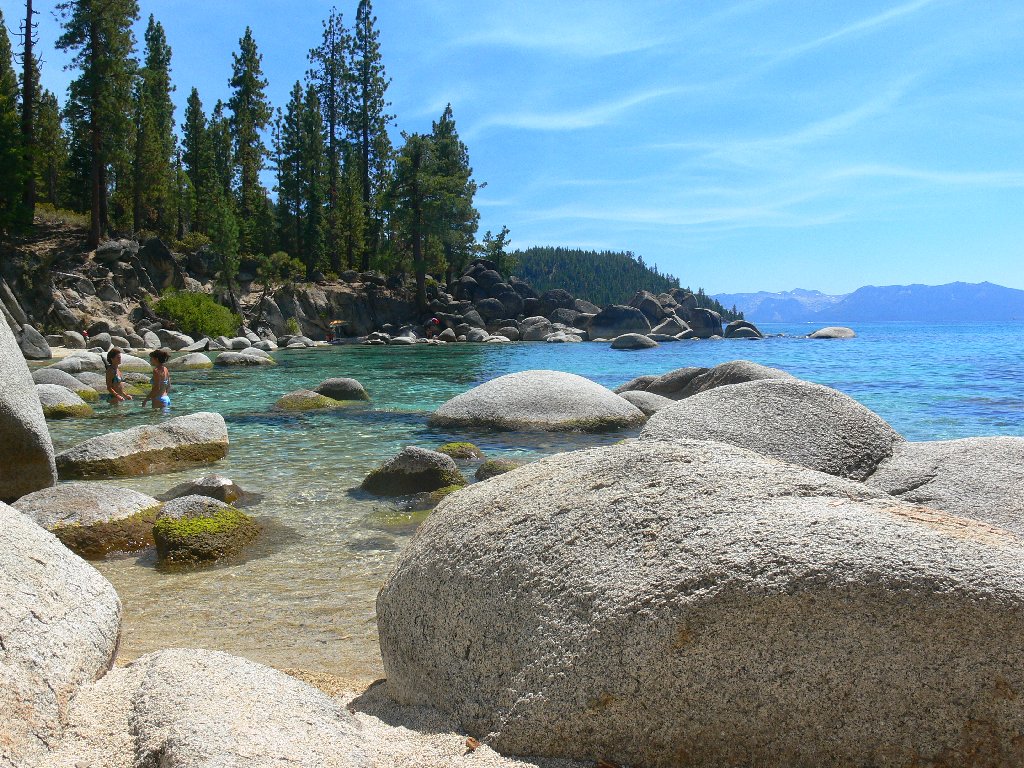 On the beach
Perhaps the best feature of clothing-optional settings is that they are so mellow — no noisy boats, no blaring boom-boxes, and better-behaved children. This entire stretch of land is under either state-park or national-forest jurisdiction. The laissez faire posture of the local rangers is commendable; nobody complains, and nothing bad happens. This is my kind of place.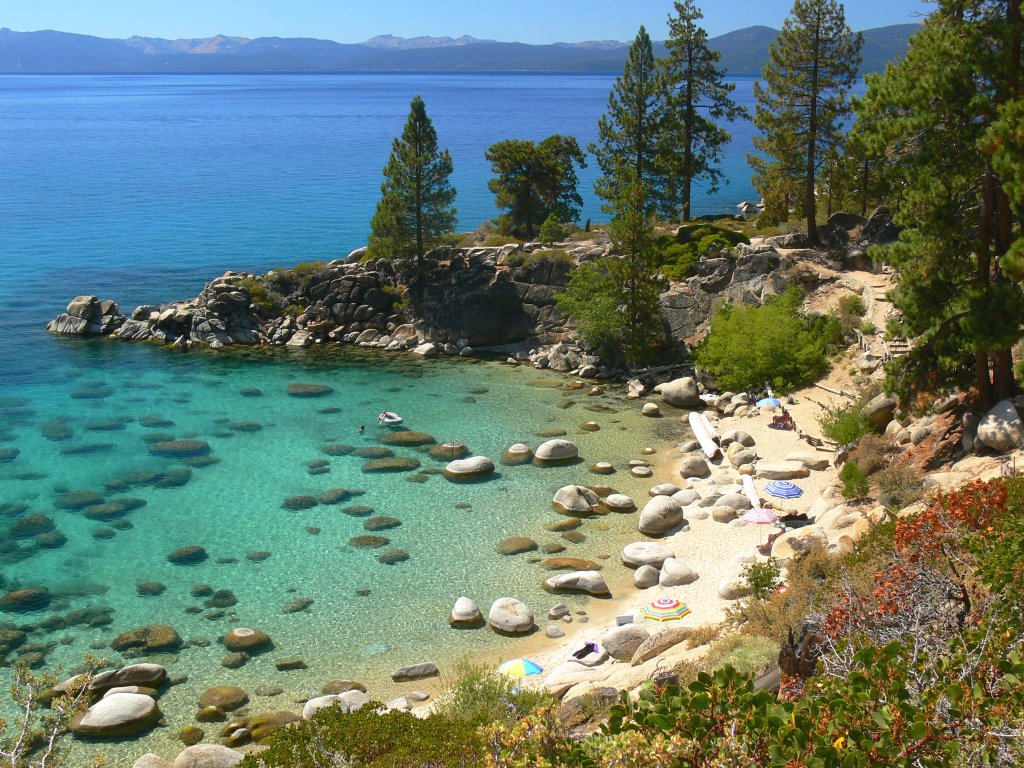 The prettiest beach at Tahoe?
After applying some more sunscreen and packing up, I continue southward for further exploration. The trail leads to Secret Harbor, the north end of which is known to locals as Boaters Beach; it is easy to see why.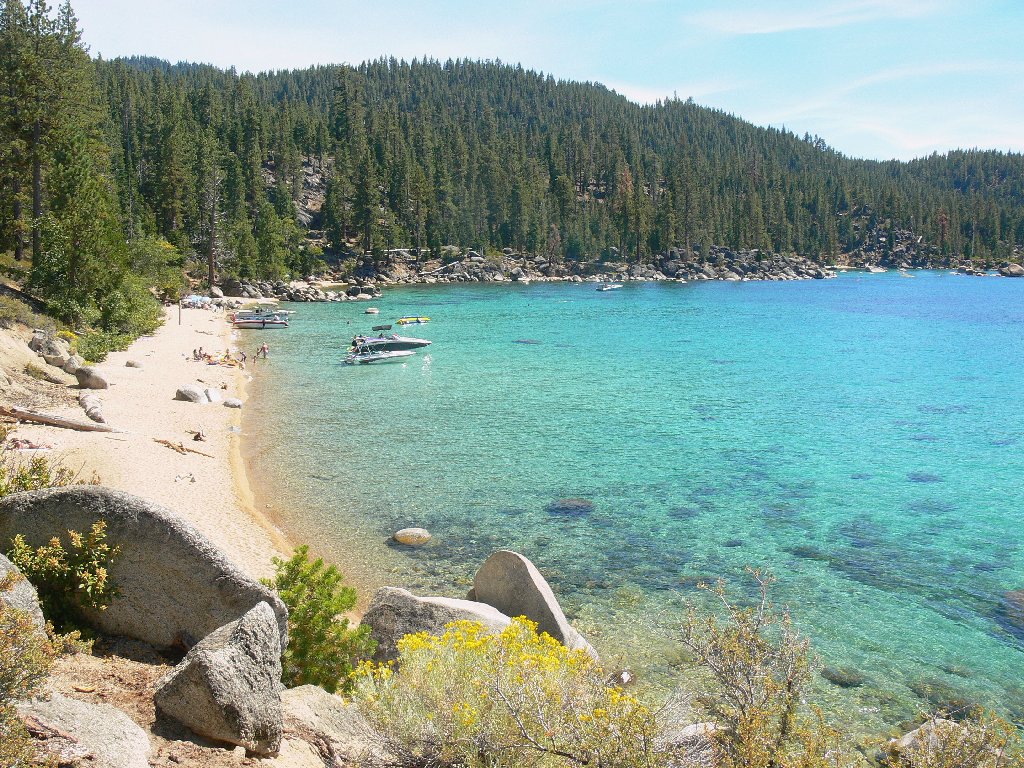 Boaters Beach at Secret Harbor
A girl sits astride a big rubber thingy; apparently up to six victims can hang onto the attached handles as a boat tows them along. On a prominent rock are a couple of resident sea gulls who also have elected to forgo bathing attire.

The 'training wheels' of water skiing?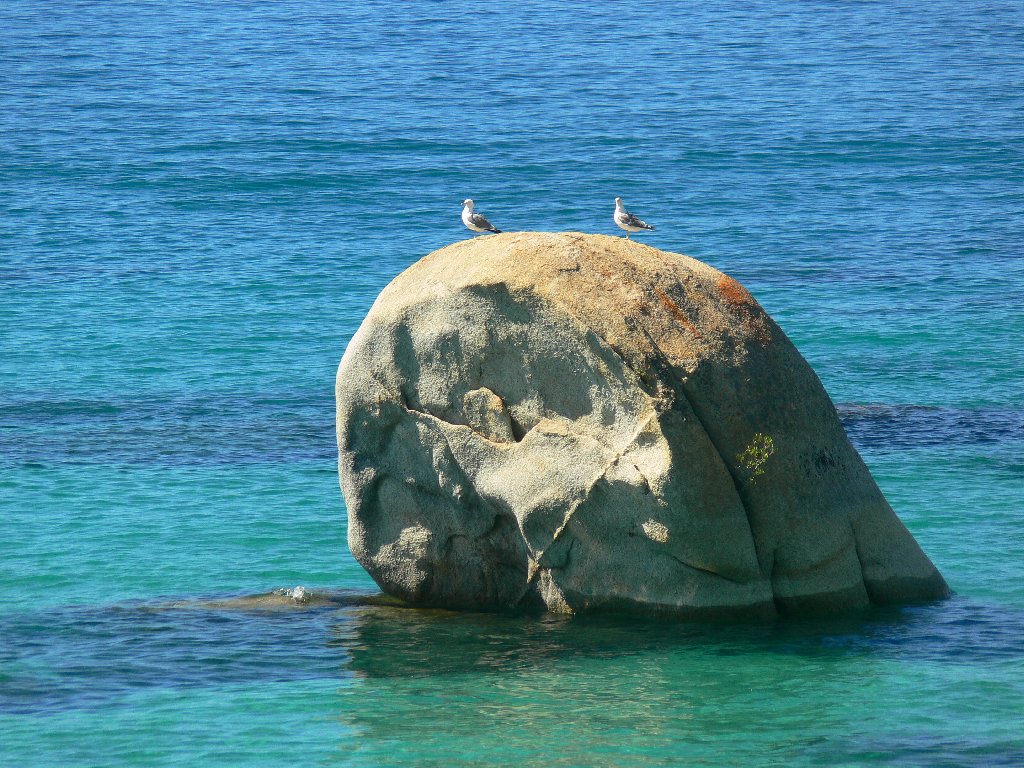 On the lookout for fishy behavior
There is another 'mellow' area adjacent to the speedboaters' haven, called Secret Harbor Creek Beach, or simply 'Creek Beach'. On weekends it reputedly hosts frisbee throwing, volleyball games, and barbecues. The fire road ends here, and no readily apparent usage trail runs farther south; a path must exist, however, as there are more beach areas just around the corner in that direction. The namesake creek flows under the fire road into the lake; on its bank is the closest thing to a flower that I would see on this walk.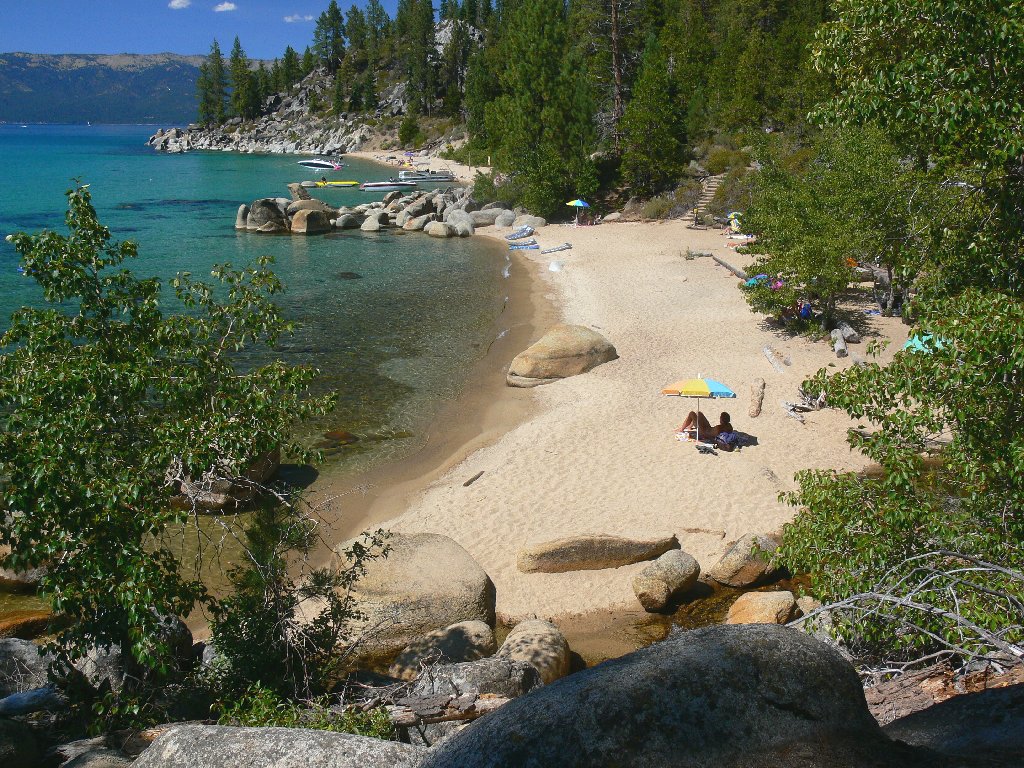 Secret Harbor Creek Beach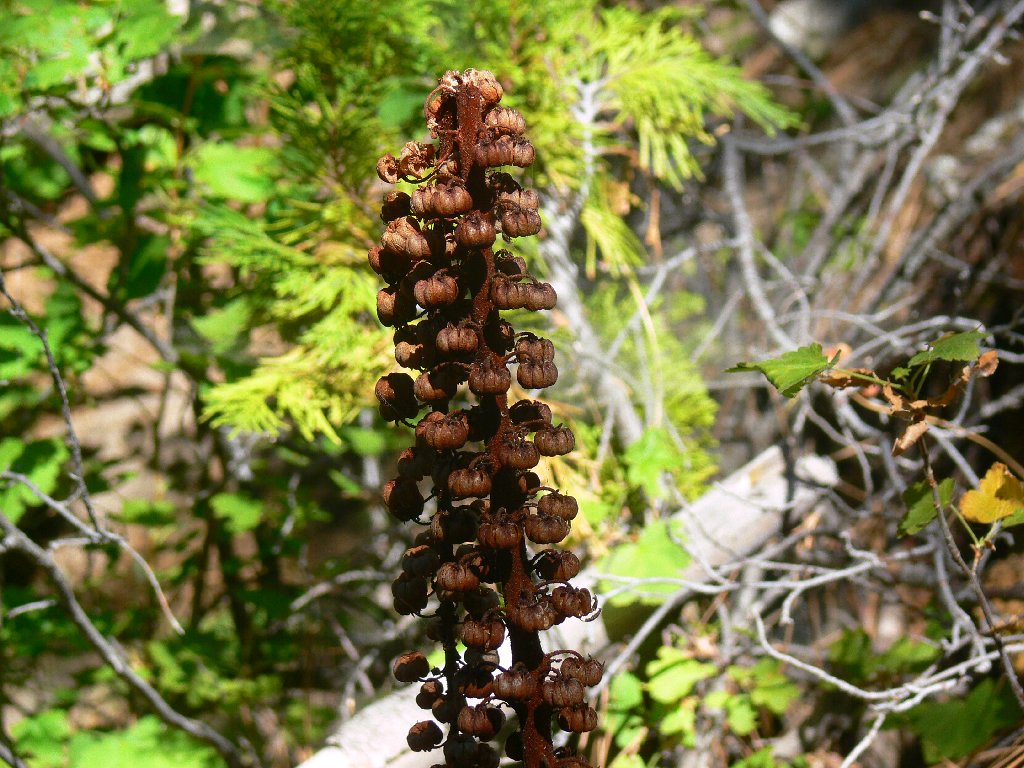 Pinedrops at creekside
It is just over a mile back to the trailhead; but a well-used diagonal route up the hill beckons. I opt for that, wanting to see where it terminates. A climb of 300 feet accesses the highway approximately half a mile closer than my starting point. Next time, I will park here.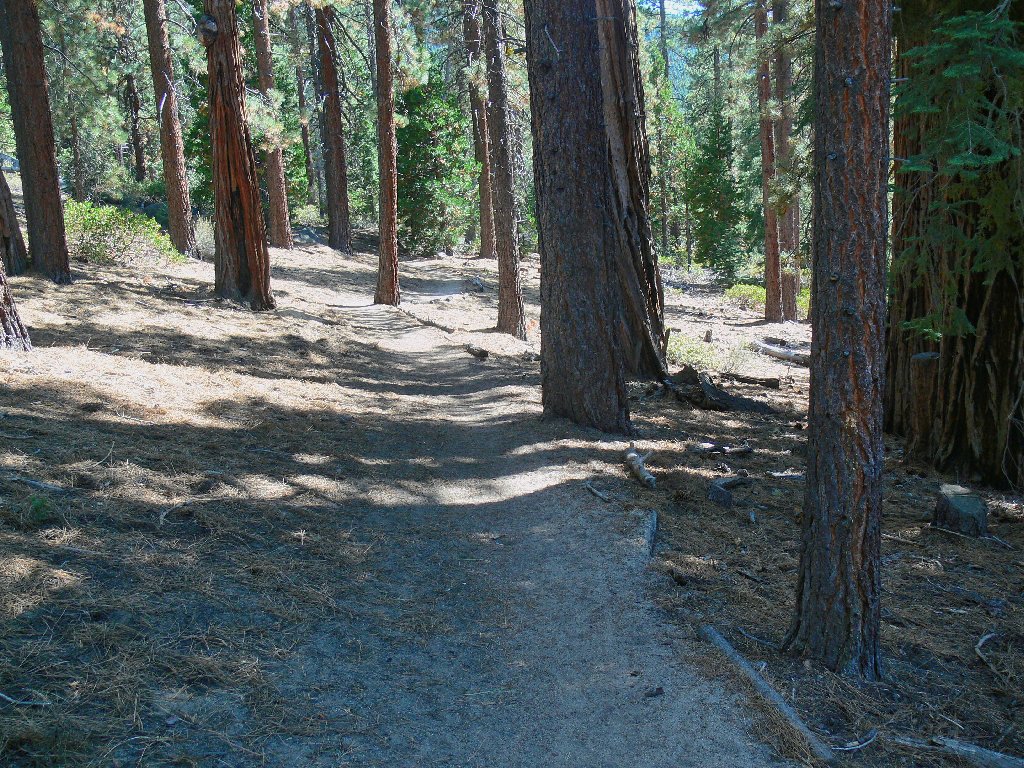 The foot-friendly return trail

§: You don't have to jump into the lake or even take off your clothes to benefit from this hike. It can be an equally beautiful walk in May or October, although the water temperature is unappealing to most at those times. The best swimming is in late afternoon, when the lake is warmest; it remains so until after sundown.
Trailhead: 6 miles south of Incline Village on Nevada SR-28
Distance: 3 miles
Elevation: 6550' to 6220'
Hikers: 10; Swimmers: 200
Rating: 6