Elephants Back
Mokelumne Wilderness
June 29, 2007
Today I am resolved to try something new. A mountain climb fills the bill — even a little one such as Elephants Back.
Weather conditions at the trailhead are less than ideal, as strong, gusty winds abound. Having driven more than 100 miles for this outing, however, I am not about to be dissuaded from a hike. Dispatching the $3 parking fee with a Golden Age Pass, I don a sweatshirt and headband and set out into the Mokelumne Wilderness — which is less of a wilderness than most such areas, for this is a popular place.
The initial mile to Frog Lake is on the Pacific Crest Trail. It provides a first view of photogenic Round Top, the area's most prominent landmark. Glancing over at Elephants Back on my left, I wonder whether it makes sense to try to scale it in these high winds.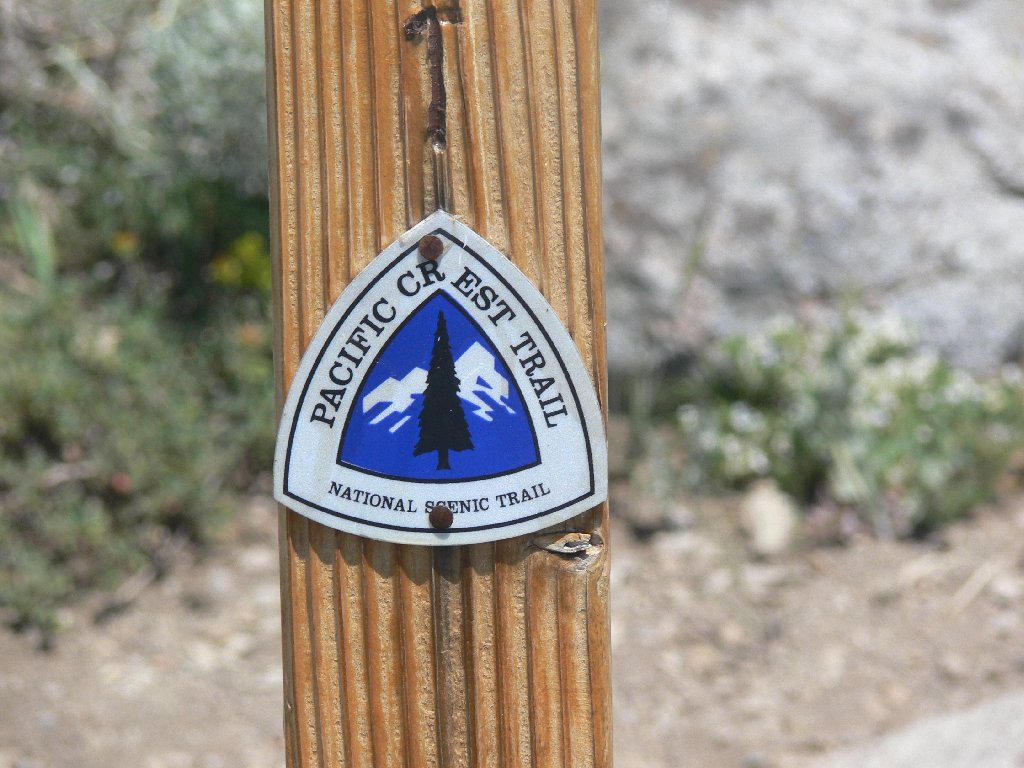 The first mile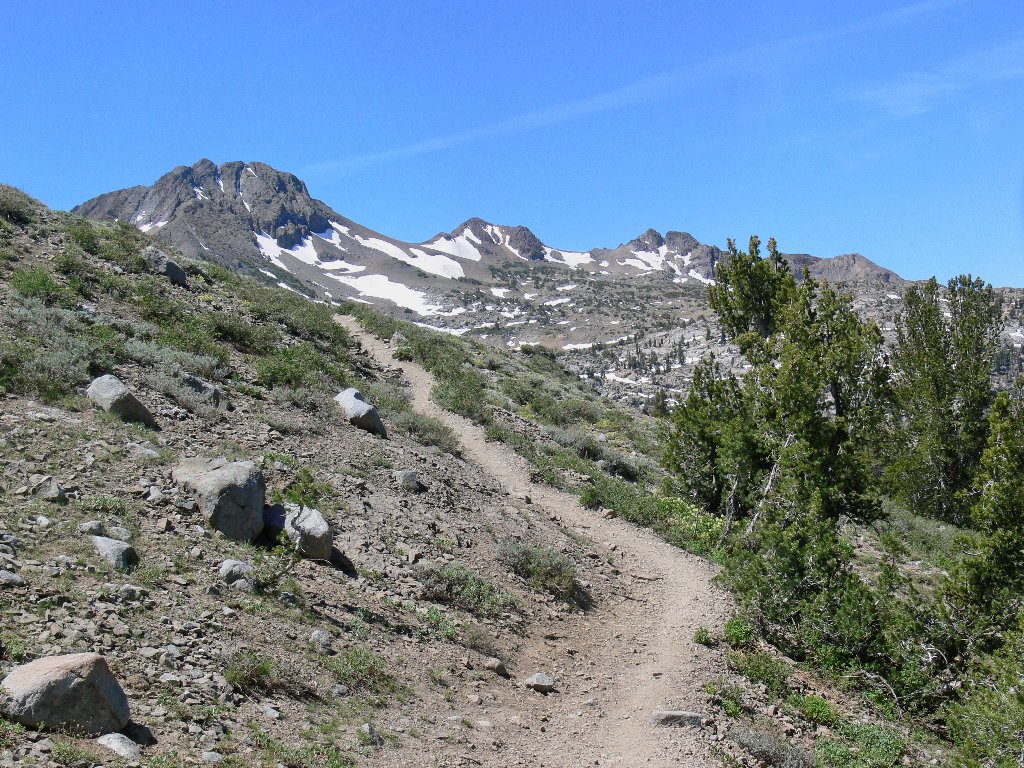 Round Top, 10381*, and The Sisters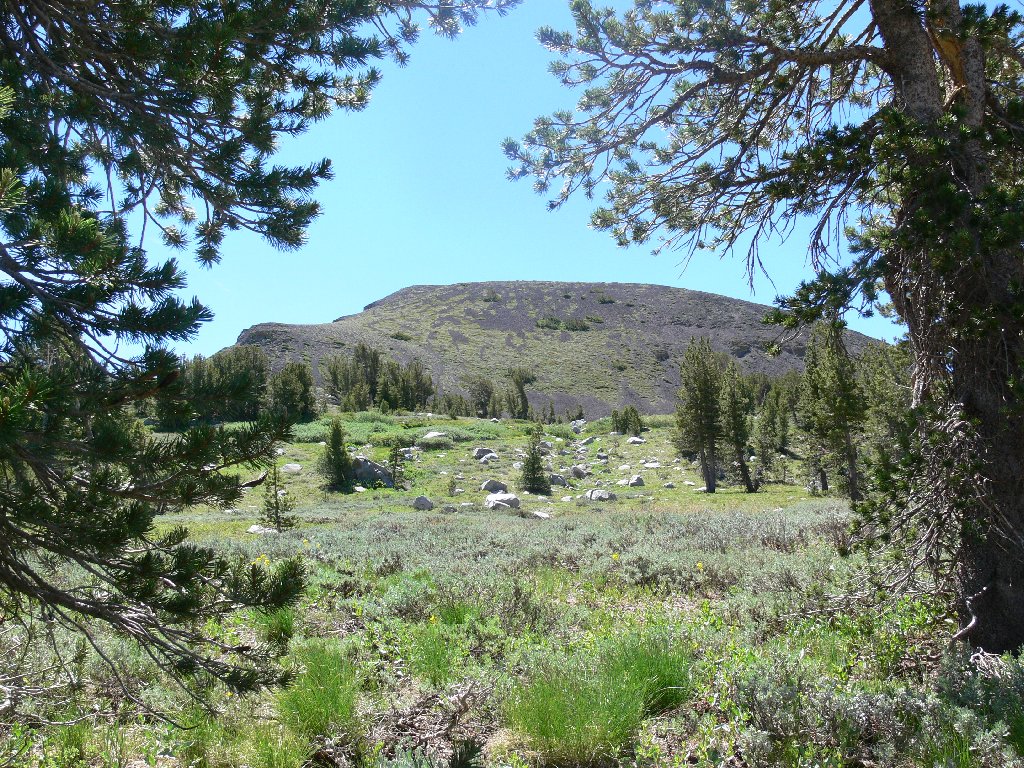 Elephants Back, 9585*
The water level at Frog Lake is well below the full mark, as expected. Although I had eagerly anticipated the next section of trail, which crosses a big spring-fed meadow, it proves to be something of a disappointment. Some of the usual suspects are there — paintbrush, mule ears, and even some red heather. There are sporadic, strangely beautiful, pale pink flowers called slendertube skyrockets. But the lupine, which in past times have been as tall as six feet here, are quite ordinary-looking today. And the usually plentiful cow parsnips hardly are in evidence at all. The hoped-for familiar lushness of the meadow just isn't there — at least, not yet.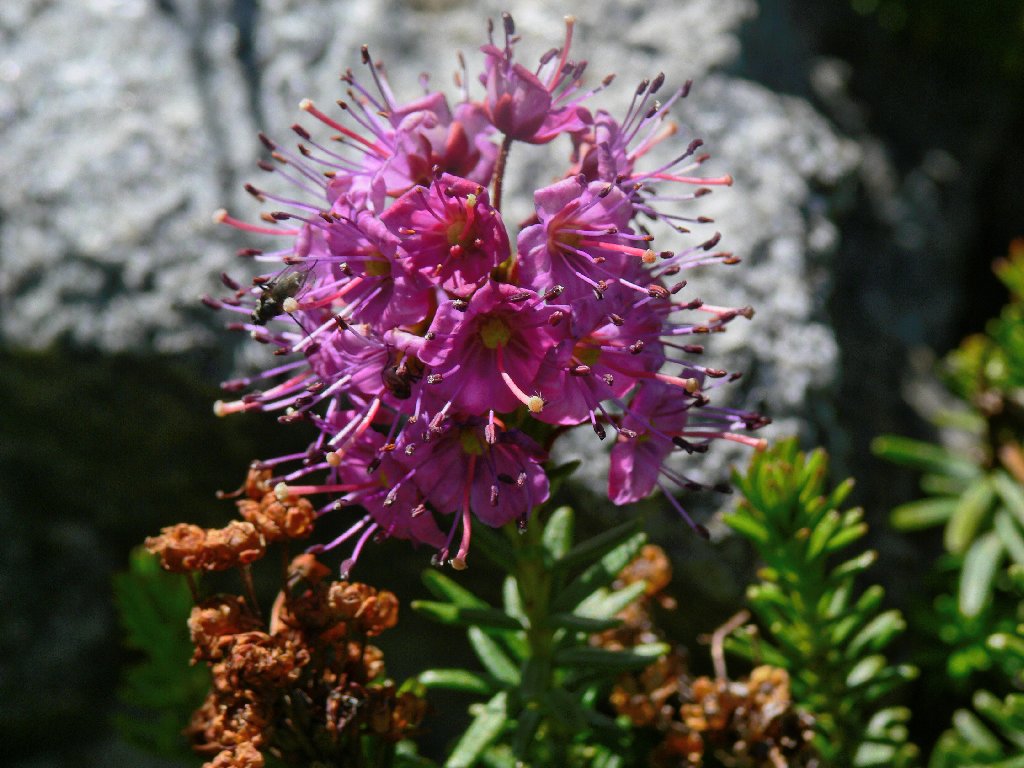 Red Mountain Heather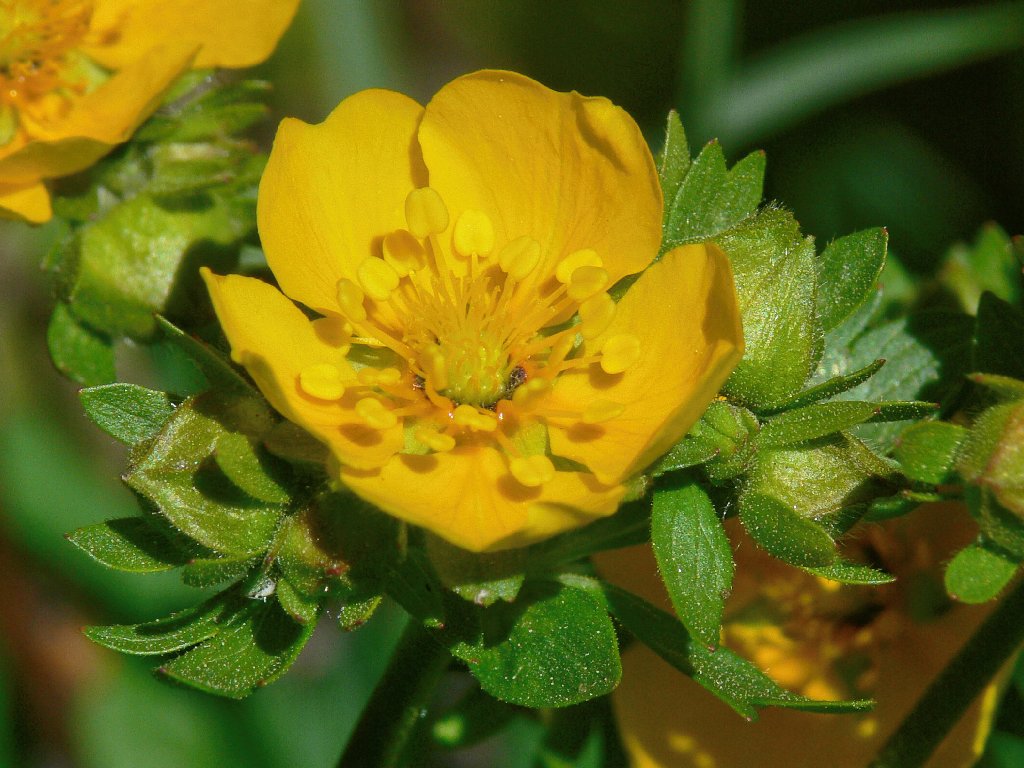 Fan-leaf Cinquefoil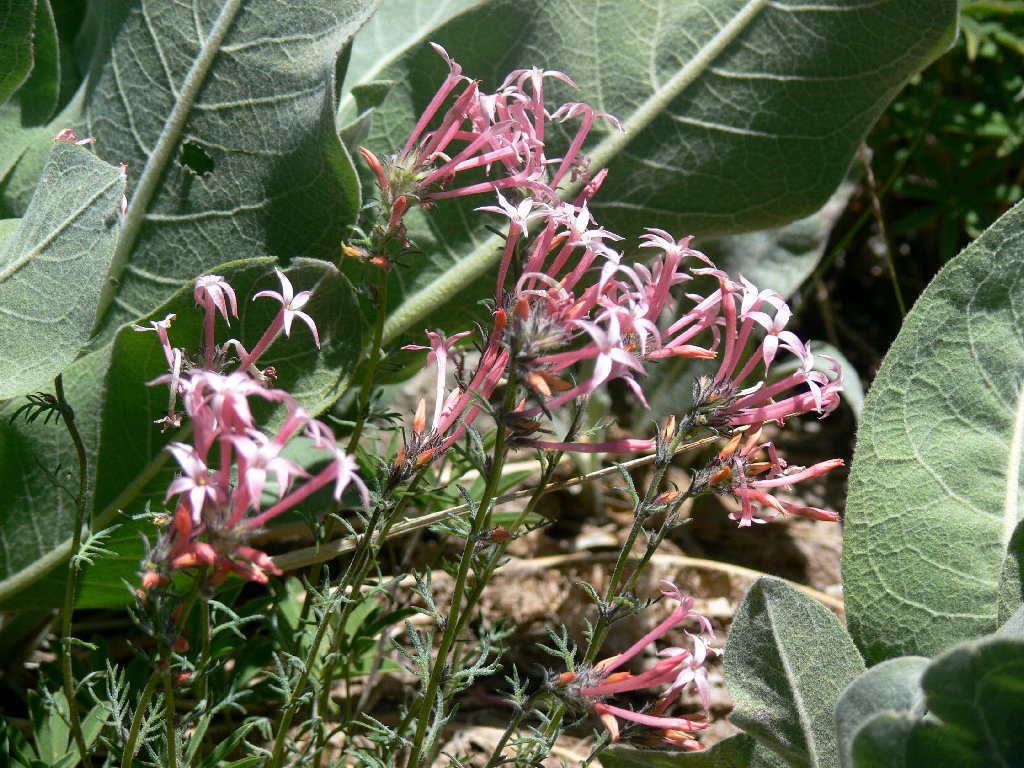 Slendertube Skyrockets have a highly distinctive color
A leather-faced hiker spots me crouched down, capturing closeups of some flowers. He asks whether I have seen any marmots, volunteering that he spotted a couple of them himself yesterday near Salina, Utah. Wow! That's about 500 miles away. This guy is dedicated; I wonder where he'll be tomorrow. Whatever his location, he'll be talking about himself.
Just past the meadow is spectacular Winnemucca Lake. As it is an uphill approach, the water is not seen until one is virtually upon it. On the far side is a beautiful grouping of small waterfalls unobserved on previous visits, probably because I never before have been here this early in the season.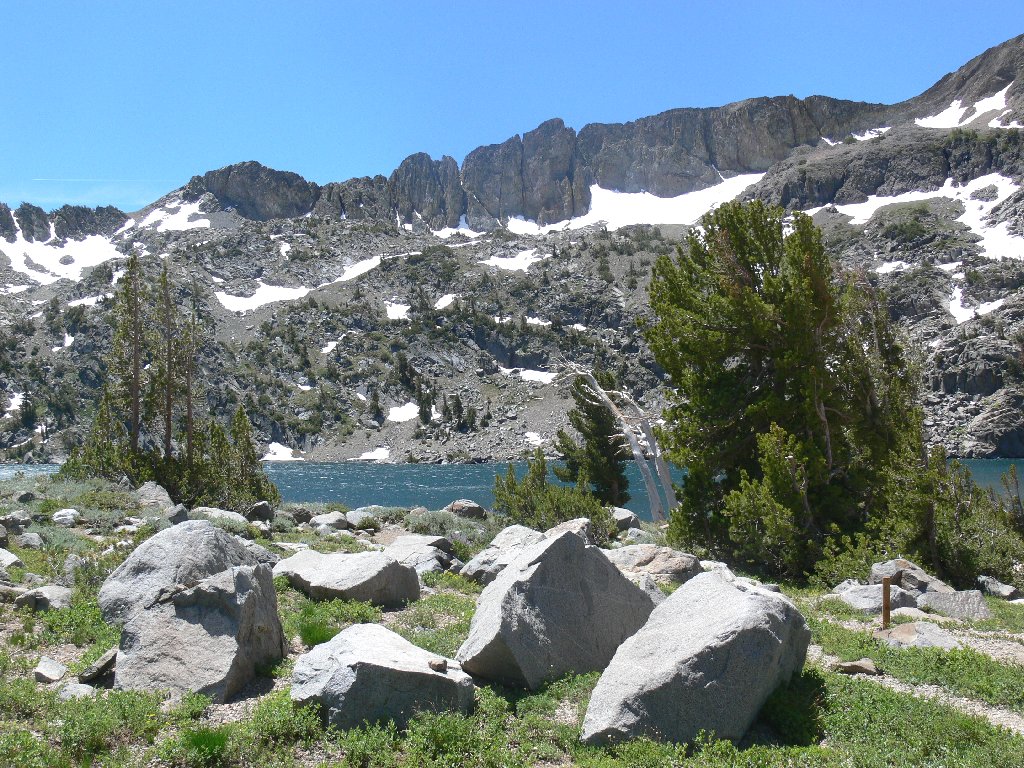 Winnemucca Lake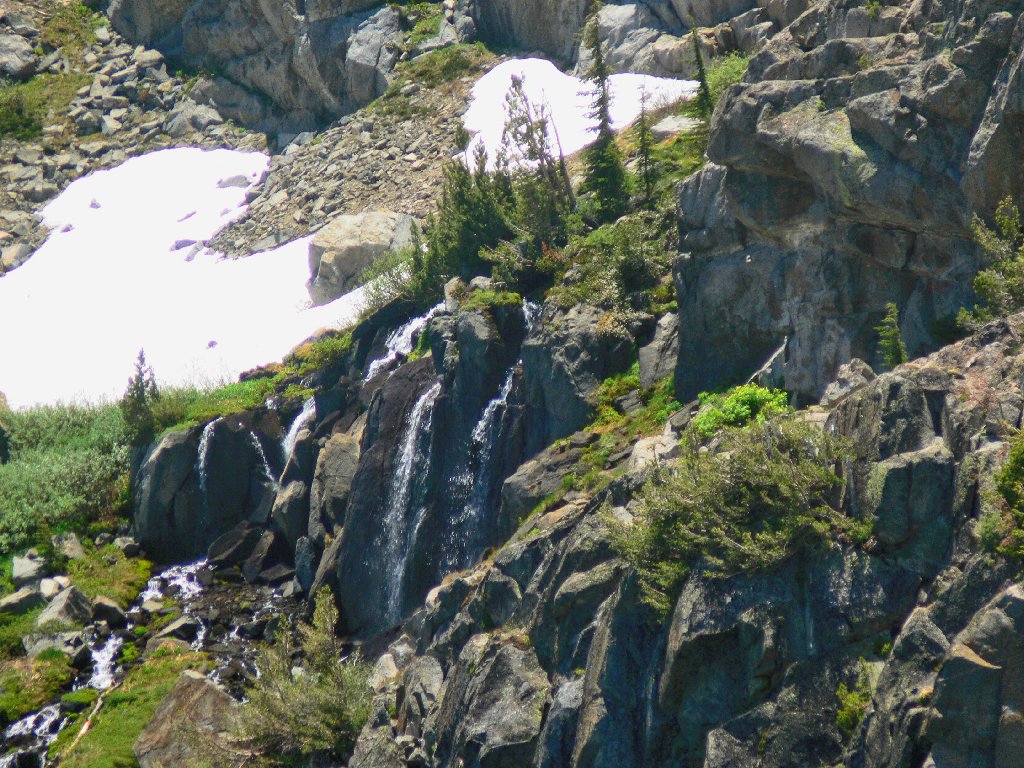 An elusive waterfall
I resolve to scramble over the talus slope for a closer look at the falls. To begin, there is a wall of rock to negotiate, but it doesn't look particularly difficult. Someone must be over there already, because a walking stick and a bottle of bilious pink liquid are sitting here together on a ledge. As I start to climb up the notch, however, a huge gust of wind convinces me to abandon the effort. Although I am game for virtually anything, this venture does not rate to be fun. Perhaps some nice photos will be available from across the lake. Meanwhile, cascading down from Round Top is a creek that begs to be explored. (Don't they all?)
Today, dozens of photographs are being spoiled by the near-gale conditions; nothing will remain still. My camera is set to take three exposures per click of the button in the hope that not all of them will be too blurry to keep.
Along the banks of the creek are multiple patches of white mountain heather, the cutest little flowers on the hill. The best I can manage, however, is a backside view of just one plant. Of more importance is a twenty-minute search for my prescription dark glasses, which doubtless have been left sitting beside some photogenic something or other. Finally my spectacles do reappear.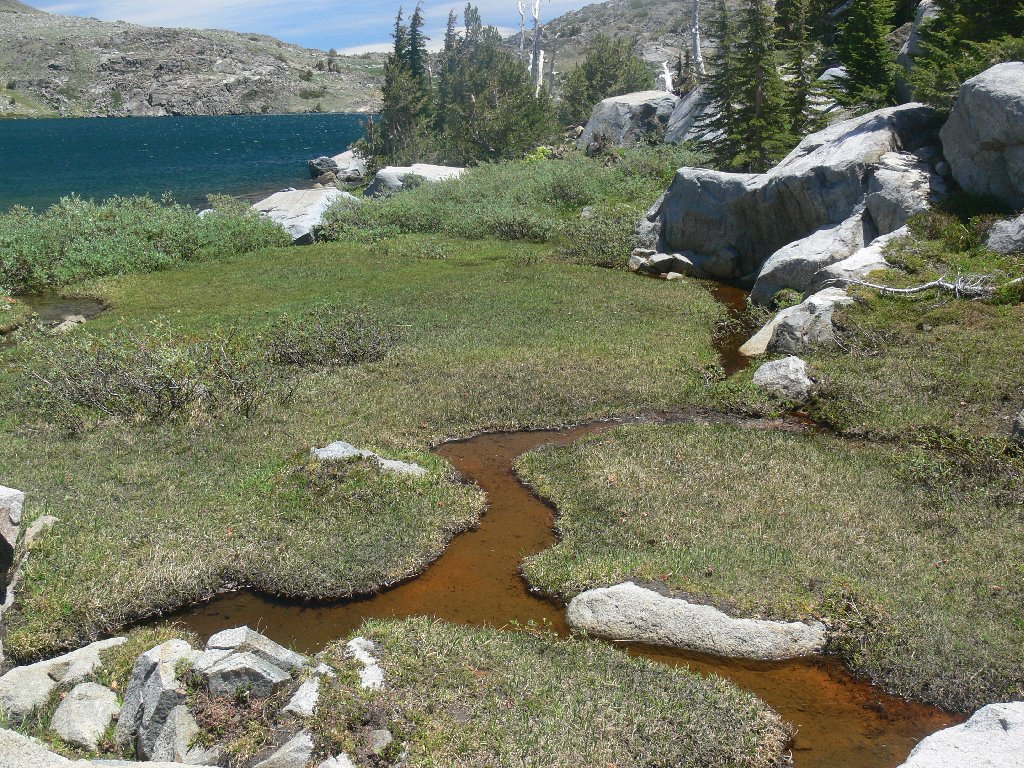 Minerals in the creek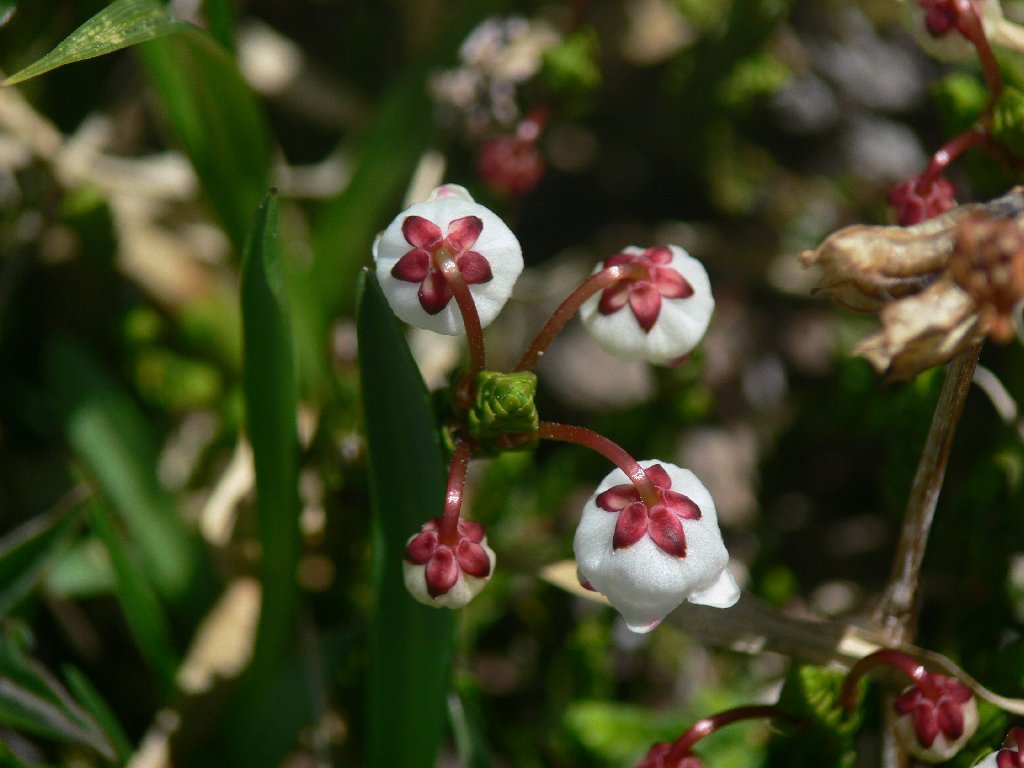 White Mountain Heather
Although Round Top Lake hovers some 400 feet above me just another short mile up the hill, that destination is not on today's itinerary. The map shows three little ponds along the northern shore of Winnemucca Lake that are not on the regular trail. A minimum of effort locates the first and smallest lake of the bunch, where I spot a crimson columbine — my first of the season. As I try to rearrange the flower for a good picture, its stem snaps off in my hand. Horrors! My dismay is mitigated, however, upon observing that there are hundreds more columbines all around.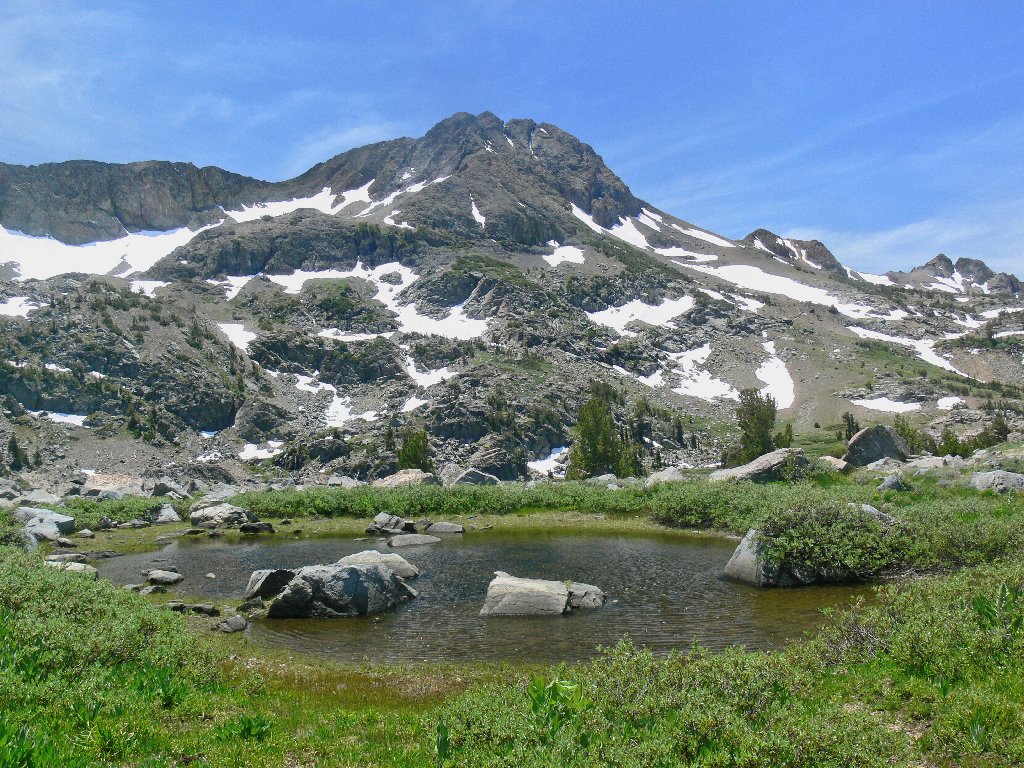 Hidden Pond #1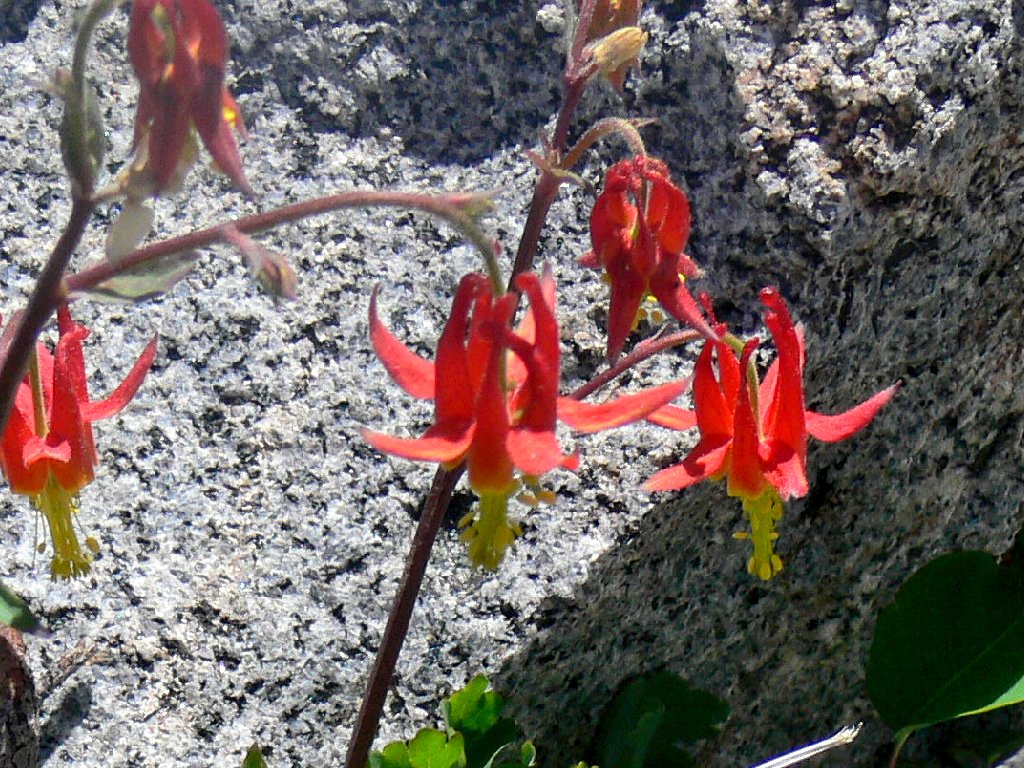 Crimson Columbines
A short search reveals the second pond, which is quite special. If only it were warm enough for a swim. Maneuvering through the jumbled rocks in this area is quite enjoyable — a combination maze and obstacle course. The third and biggest of the hidden lakes proves relatively uninteresting.
Only now do I glance in the other direction at the southern end of Elephants Back. It doesn't look so far away now, as I already have done some of the climbing. Apparently feeling resigned to my fate, I head up the mountain despite the strong winds, stopping in a thicket of gnarled old trees for a bite of lunch.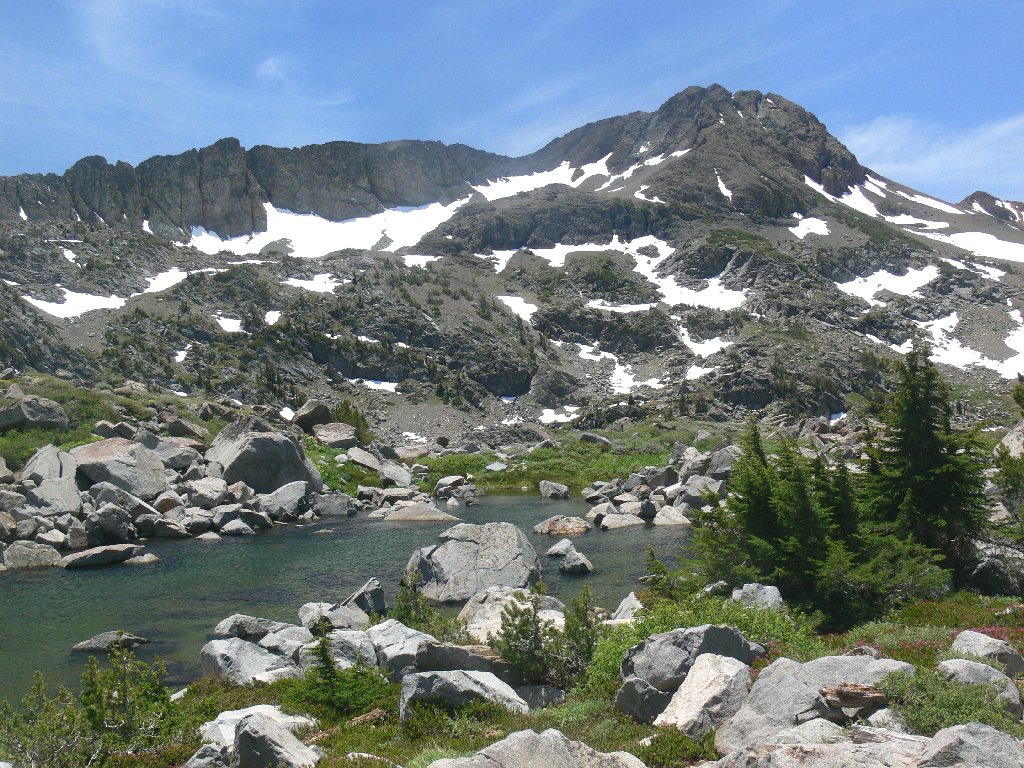 Hidden Pond #2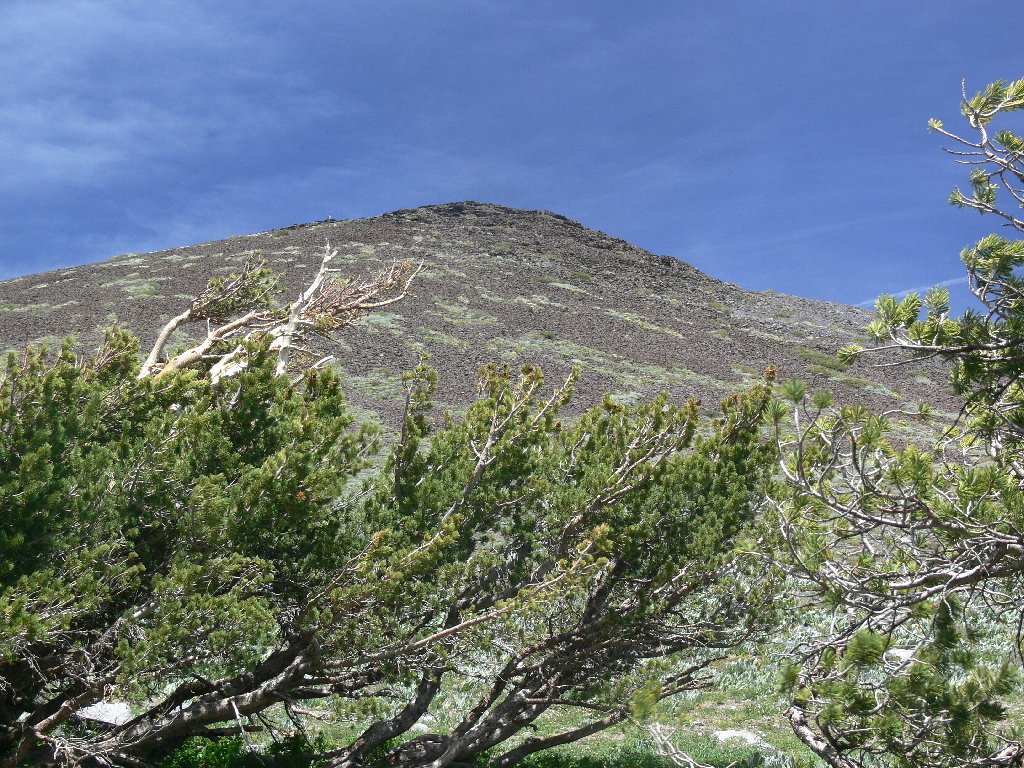 My objective, 400 feet above
As I make a final commitment and start upward, I am treated to marvelous vistas eastward. Markleeville Peak, Jeff Davis Peak, and The Nipple are in view, and two of the Blue Lakes can be seen in the distance. Out of sight a thousand feet below, the Pacific Crest Trail wends its way southward toward Ebbetts Pass.
Although there are hints of pathways in the scree, finding my own way up is easy enough. After a few rest stops, the interim top is reached. Around me are white patches of granite gilia not found at the lower elevations. After a quick picture of them, all that I can handle in the wind is a furtive shot back down the hillside.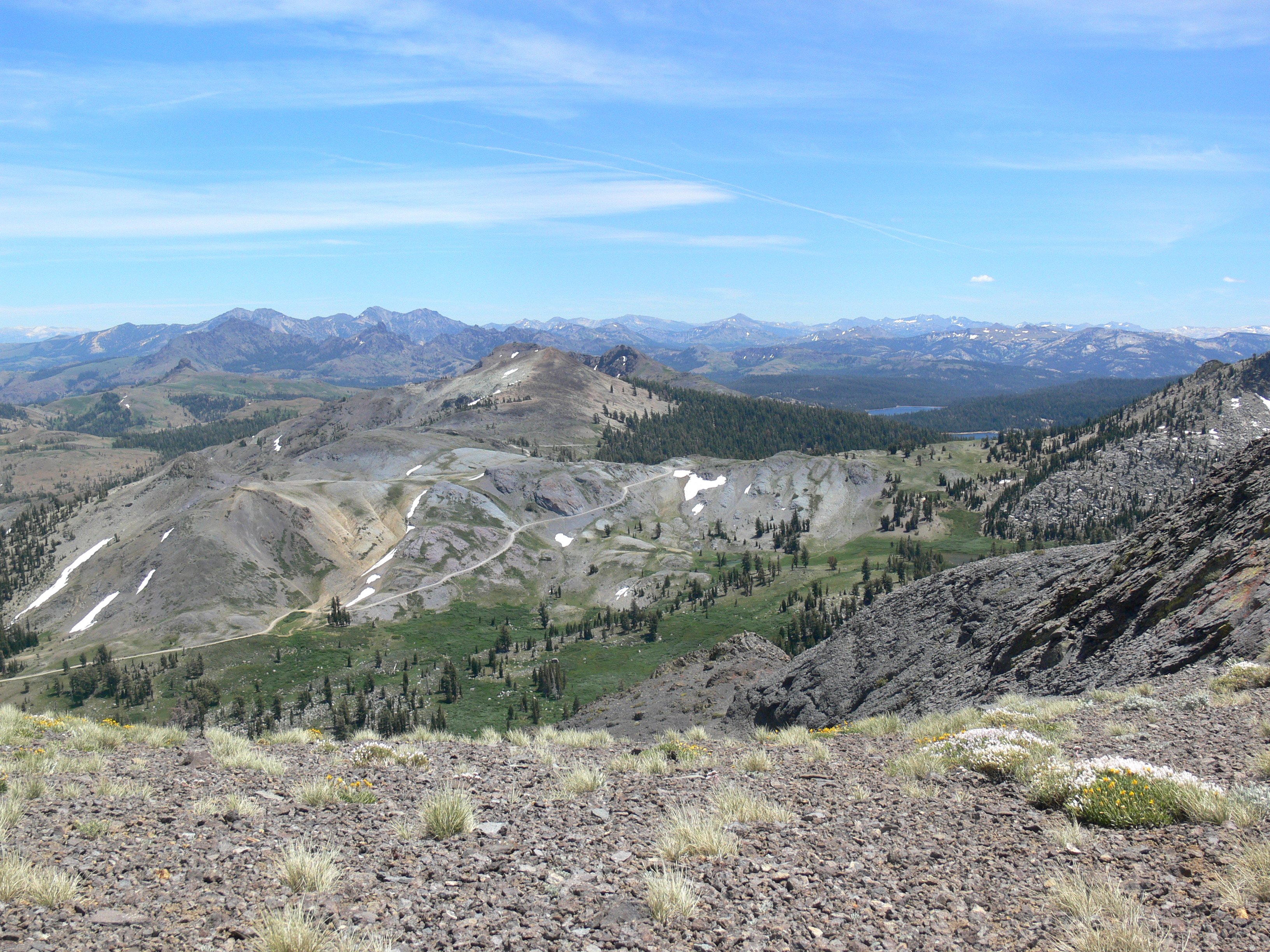 Eastward view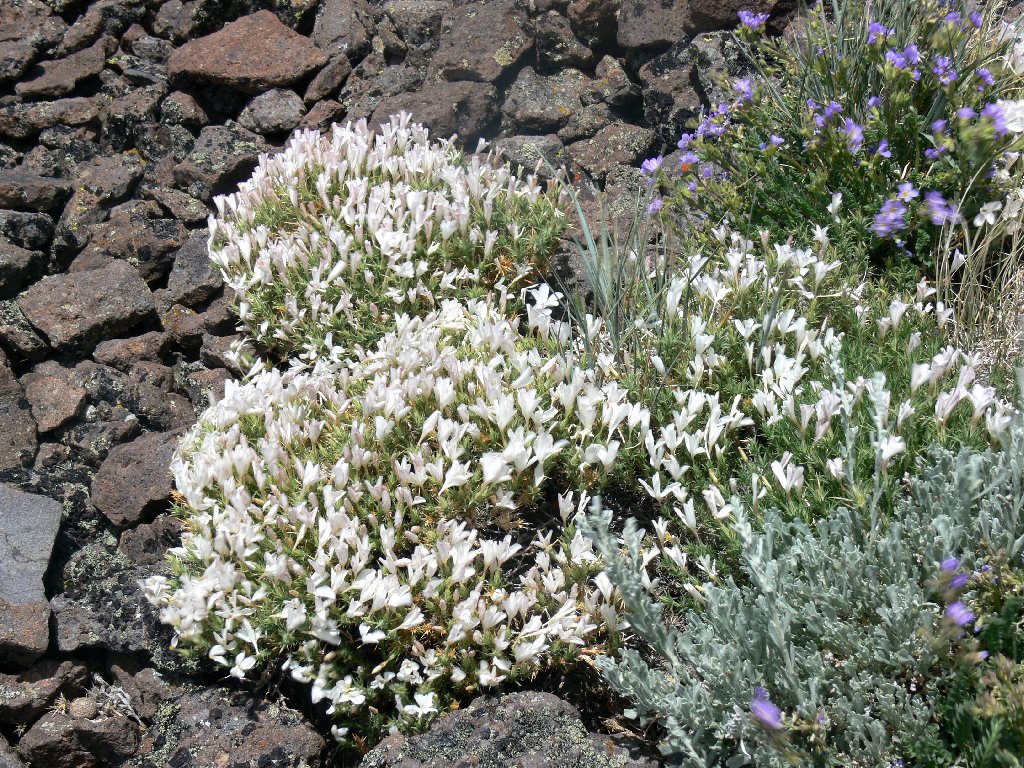 Prickly Phlox in the high rocks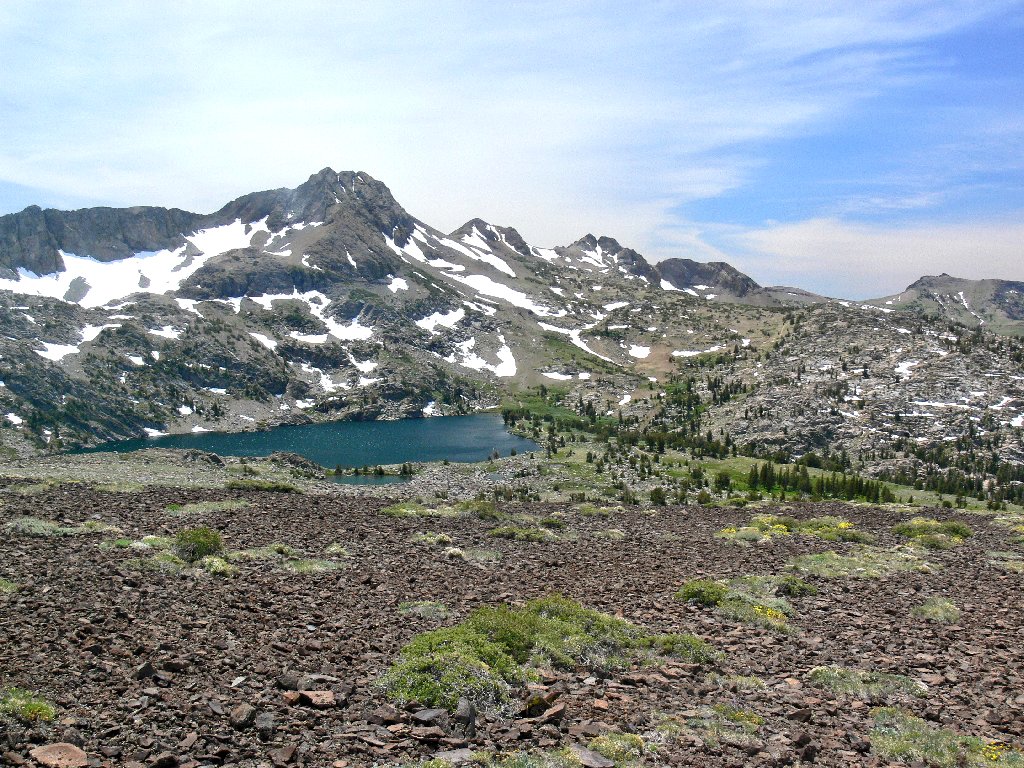 Hidden Pond #3 is visible in front of the big lake
The highest point on Elephants Back is at its northern end, right at the edge of a great cliff. After struggling most of the way toward the top, I finally give up. The summit marker is just a hundred yards away, but it is not much fun being up here right now. Several times I go down on my knees to keep from being blown over. While on the ground, I manage to snap a shot of Caples Lake and Woods Lake to the west. One final effort captures Red Lake Peak ovelooking Red Lake itself and Highway-88; to their right are Hope Valley and Freel Peak, the Tahoe area's highest.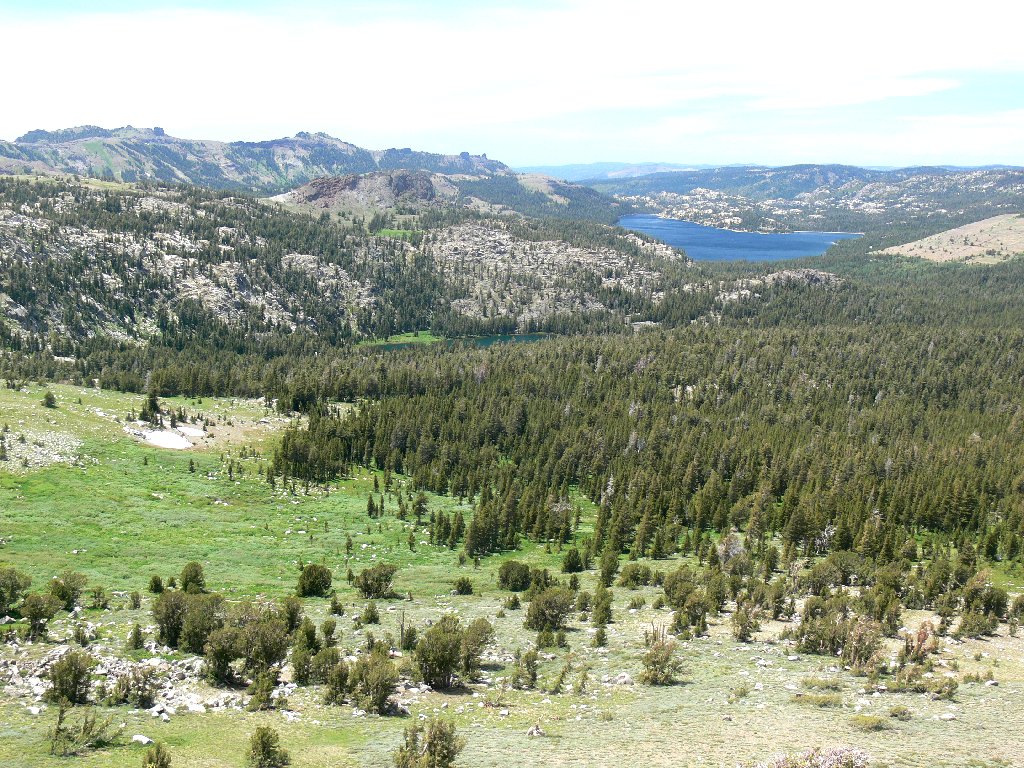 Barely visible Woods Lake is in front, with Caples Lake behind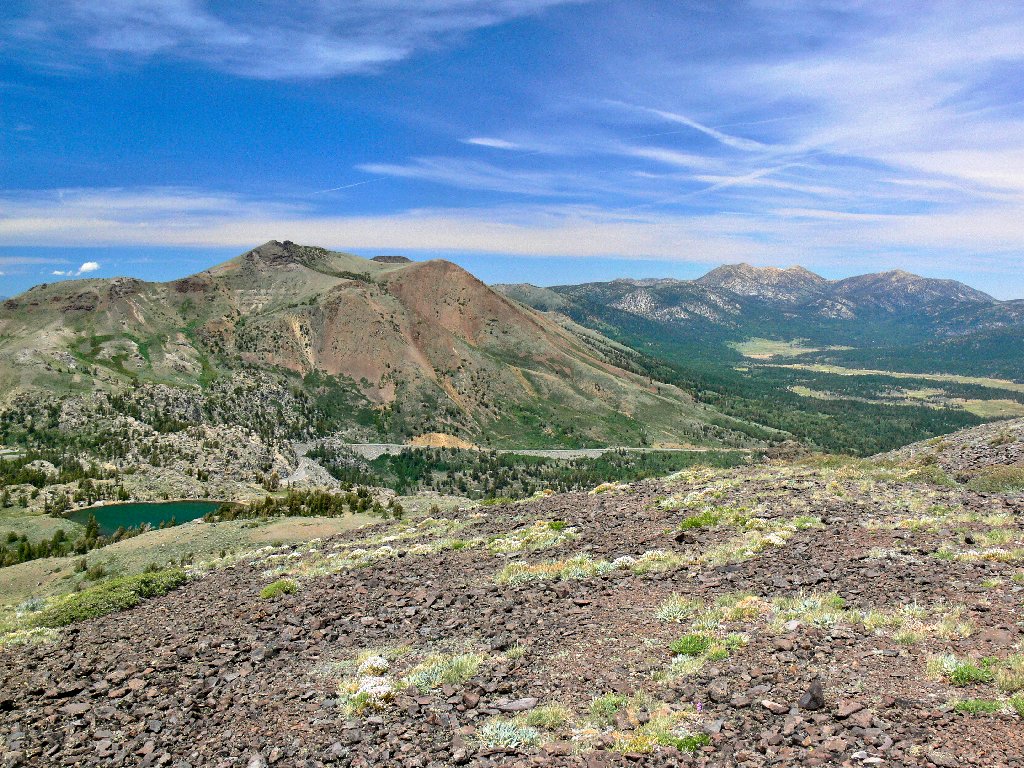 Red Lake Peak 10063', Frog Lake, Hope Valley, Freel Peak 10881'
What a magnificent vantage point this is! It also represents a significant drainage divide, being at the edge of the Great Basin. Waters on the west side of Elephants Back flow to the American River, thence into the Sacramento River and the ocean; the eastern side of the mountain drains into the West Fork of the Carson River, which terminates at Lahontan Reservoir near Fallon, Nevada.
Most important right now, however, is getting down the hill safely. It would save some mileage to head northward, as the PCT and Frog Lake are just below. But this end of the mountain is angled more steeply than the other, and the last thing that appeals to me is slipping, sliding, and possibly falling down the loose rock on the slope. Retracing steps toward the south end, I finally opt for a semi-shortcut that is more comfortable.
Once off the hill, it is time to relax. Compared to what has just been experienced, the remainder of the hike will be a cakewalk. There is an old usage trail that skirts the hillside for a ways; I enjoy following it while observing less adventurous hikers on the main trail about two hundred feet down the slope. This route leads directly back to Frog Lake, where I shake rocks out of my boots and munch some more ham and cheese.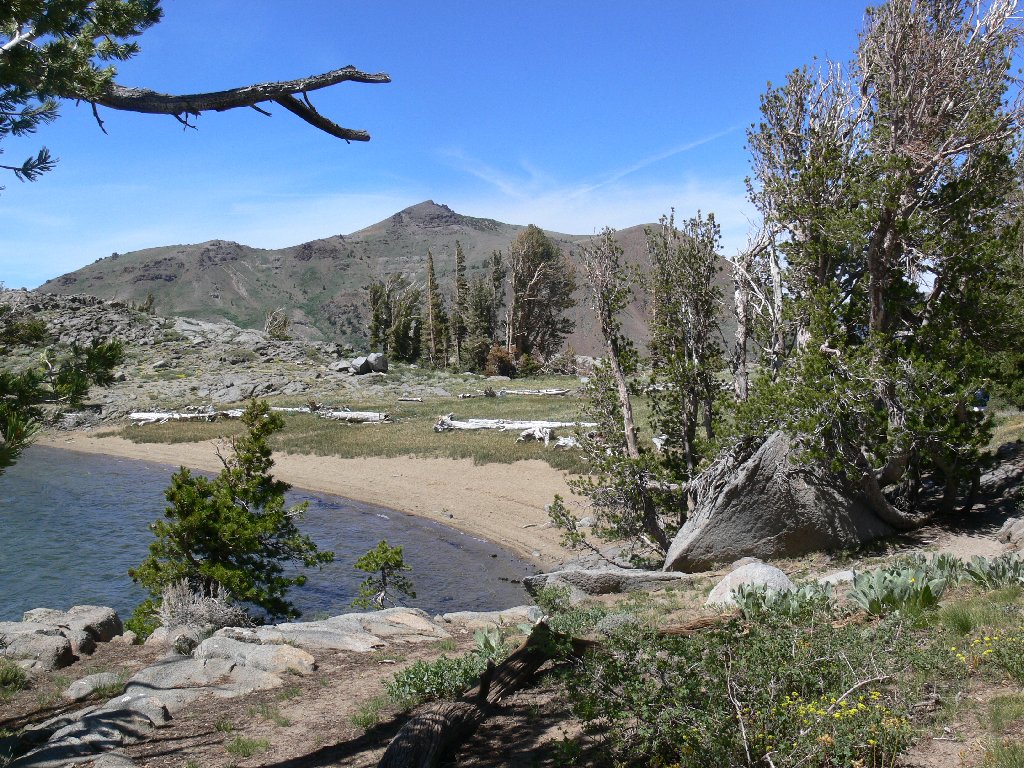 The back side of Frog Lake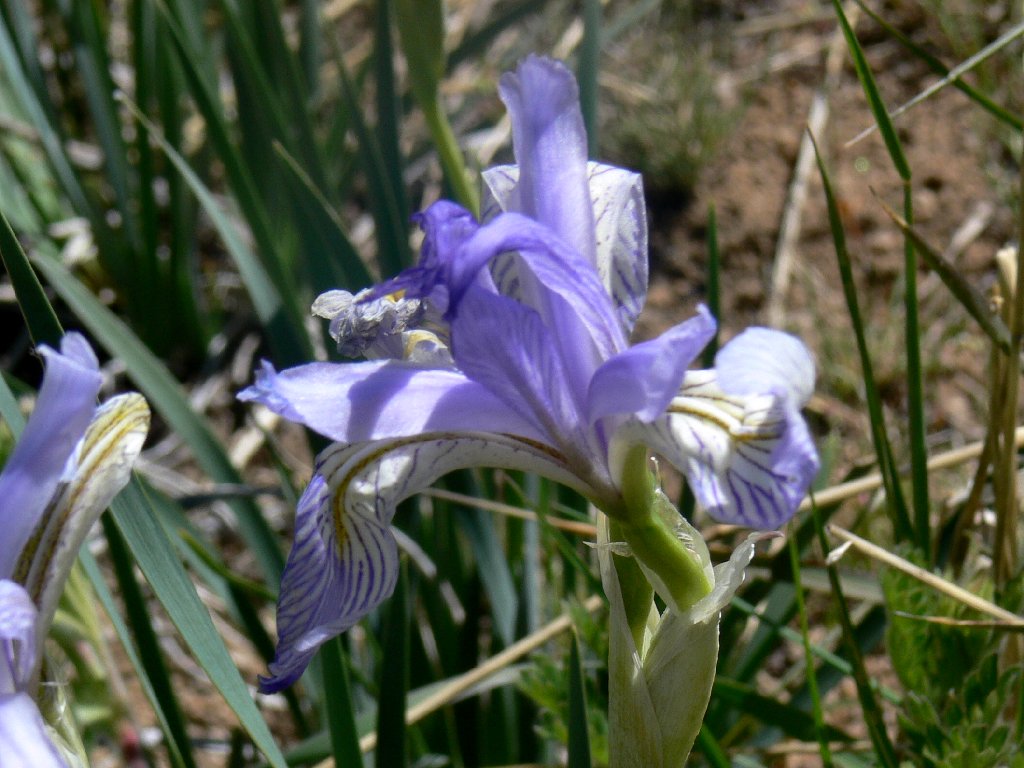 Wild Iris
The environs of this lake are amazingly different than those of the more alpine-feeling Winnemucca Lake just a short mile away. It seems right to explore the shoreline. Around the far corner of the lake I have cause to drop to my knees once again, but this time it is not due to the wind. Before me is a most colorful desert garden amid the rocks and sage. Kneeling in the sand, I am quite moved by the semi-arid splendor of this setting.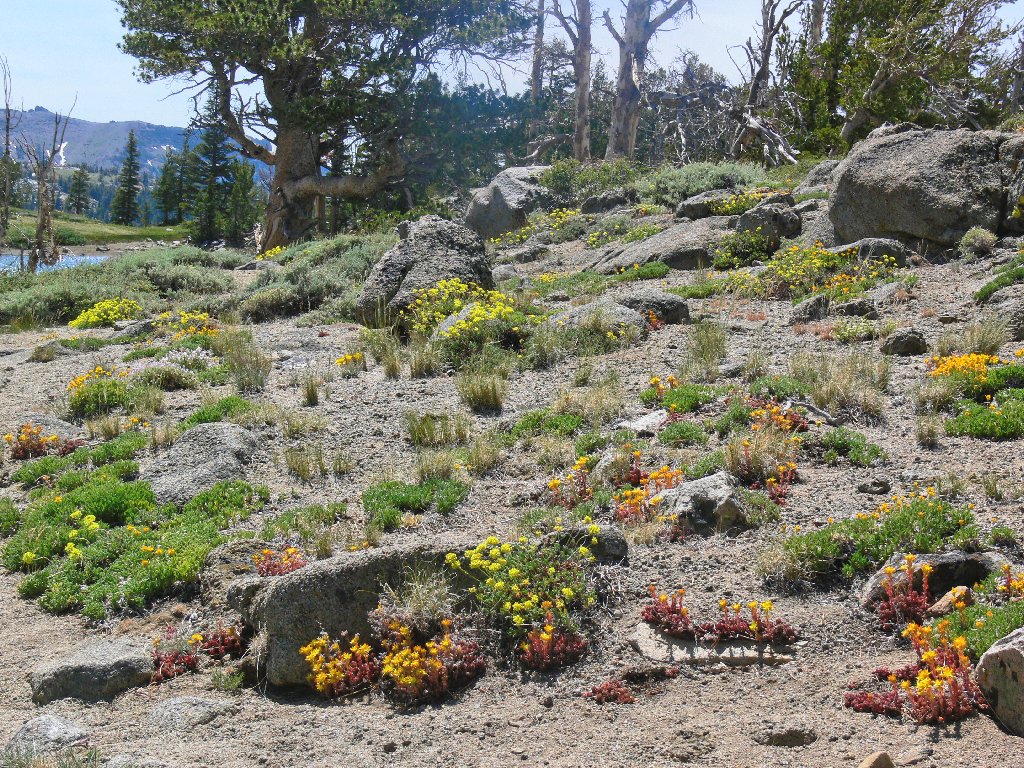 Spearleaf Stonecrop abounds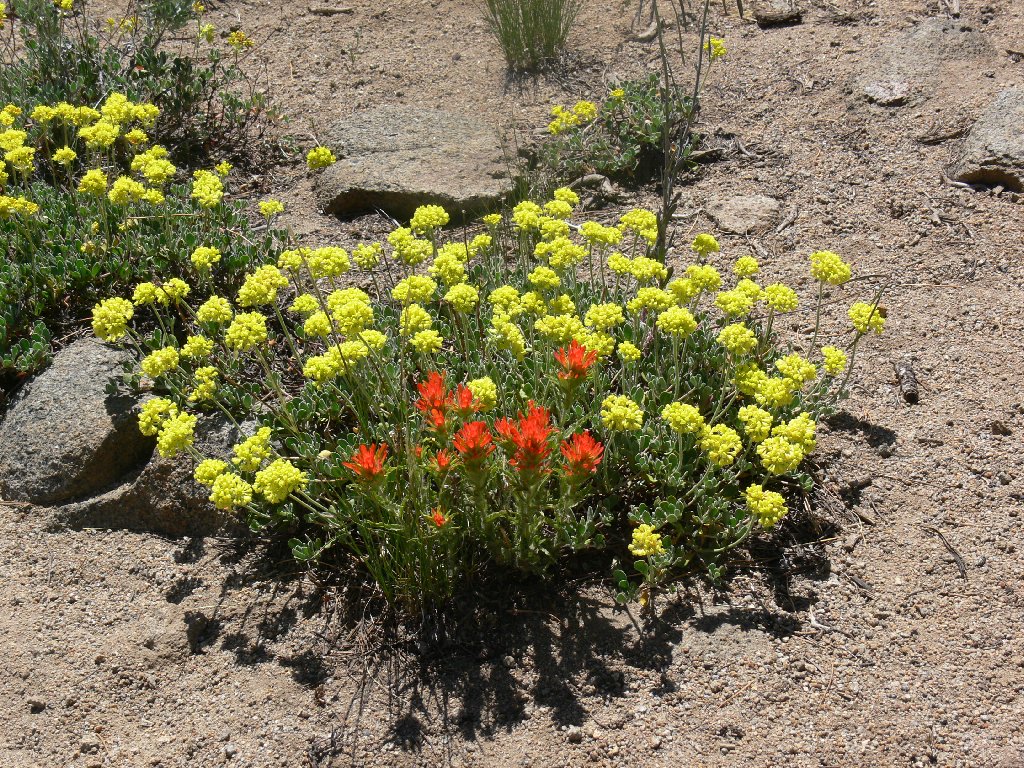 Paintbrush and Buckwheat
The lake circuit being finished, a final nostalgic look at Elephants Back prompts me to marvel that I actually was up there a short while ago. A fisherman at lakeside tells me that a wind speed of approximately 30 mph is necessary to generate whitecaps, which have been in evidence all day. I daresay the breeze at the mountain top was rather stronger than that.
An uneventful final lap to the trailhead completes my odyssey.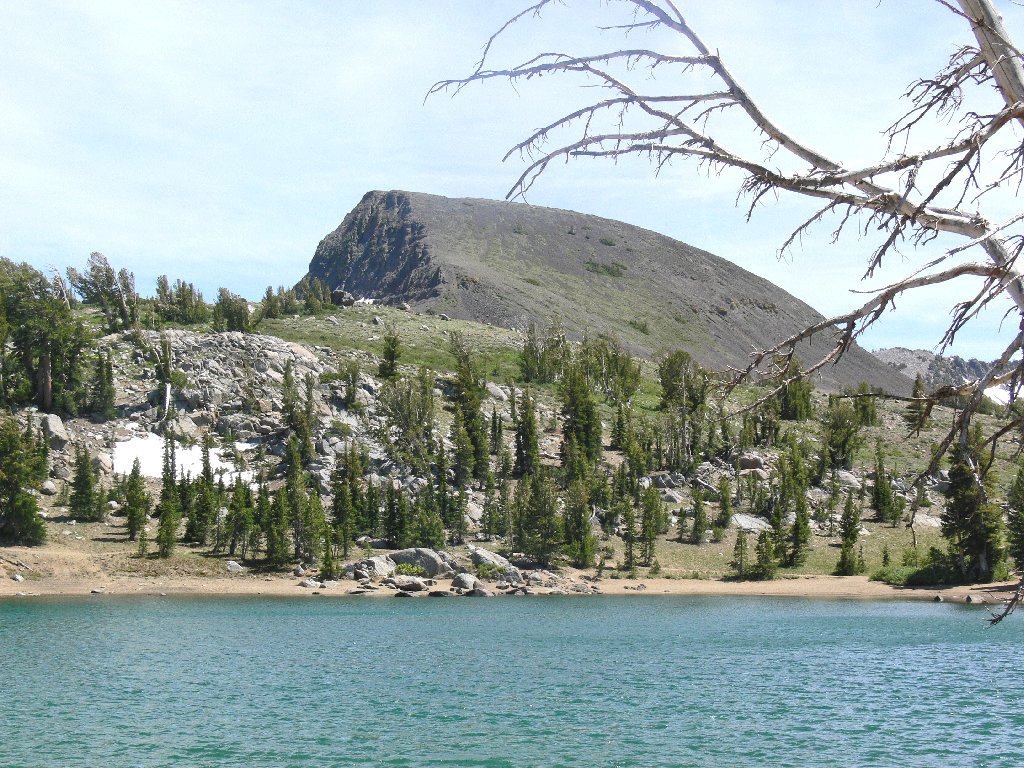 Frog Lake and Elephants Back

§: I have succeeded in my quest under adverse conditions. Will I go back up the mountain? Absolutely! Will I do it when strong winds are blowing? Nevermore.
Trailhead: Carson Pass, SR-88
Distance: 5 miles, half of which was cross-country
Elevation: 8570' to 9580'
Hikers encountered: several dozen
Rating: 7 (=8 without the wind)