Responding to a 15-17 Notrump – Part III
A Reader's Contribution

How Good Is: A . Kxxx . JT87x . xxx
After opening 1NT, your partner responds 2♦ over your Stayman inquiry. I believe that most players would follow up with an invitational 2NT. Let's see whether that is best: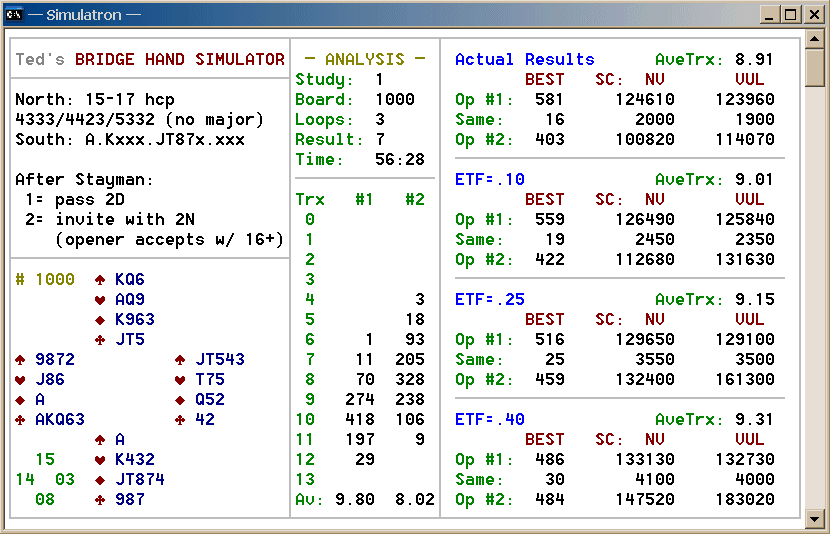 Nope. It appears that diamond contracts average nearly two tricks better than notrump. Passing 2♦, therefore, is a prohibitive matchpoint favorite. Of course, as has proved so frequently the case in other simulations, trying for the game bonus can be a substantial total-point winner — provided that your opponents donate their quota of tricks in the play!
Now suppose that opener responds 2♠ (denying hearts). Again, I daresay that most would try an invitational 2NT. An alternative would be to sign off in 3♦. Let's test that comparison: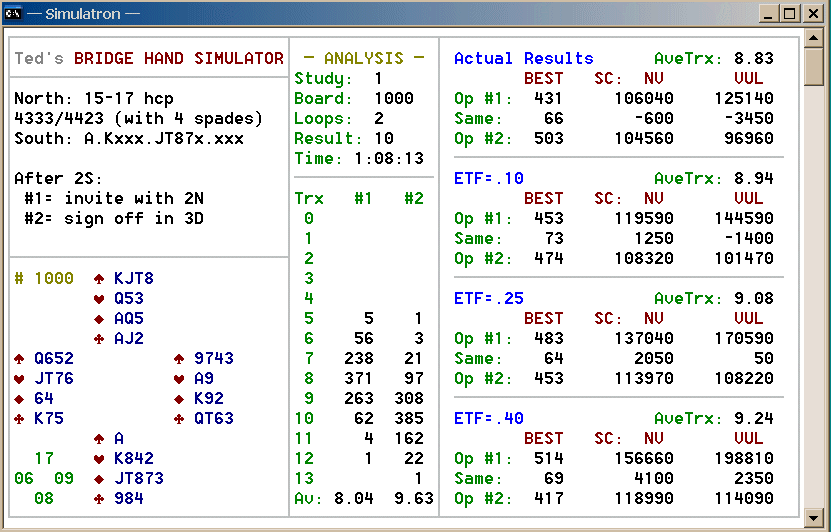 Even though the contract is a level higher this time, it still is better to play in diamonds at matchpoints. And it remains far better to invite game at imps.
* At matchpoints, play in diamonds when opener has no major.
* At imps, invite game.
Of course, opener might cooperate by rebidding 2♥. Now the question is whether we should invite game or simply bid it. Here is the answer: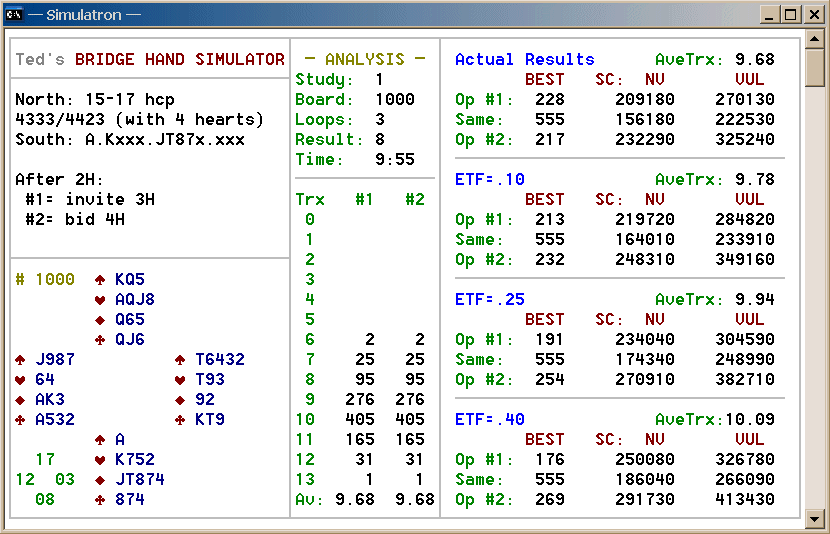 Okay, there is no news here: just bid the game, and come out ahead in the long run.
* With a 4-4 heart fit, go to game.
---
What about a general strategy for handling this hand? The following chart details a number of options, with their total-point expectations: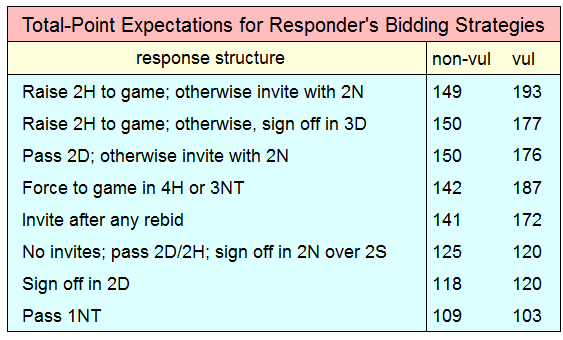 What? Sign off in 2♦? What system could even do that? The answer is: my own system supports such an exit (we don't play Stayman!); but that's another story. Take the ace or king away from this hand, and ♦ becomes the standout contract. The actual collection, however, is too good for such conservatism, as there is much game potential. Note, however, that 2♦ outscores 1NT even when opener might be long in one or both majors.
It appears that the best overall strategy is the one that perhaps most players would adopt:
* Raise 2♥ to game; invite in Notrump otherwise.
My thanks to reader Ed Judy for submitting this problem.