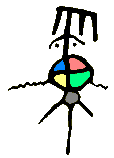 Pages created by Ted Muller of Sacramento, California
SITE FORMAT: With just a couple of noted exceptions, all writings and other preparation are my own. The mission is to feature unique and original material, presented with perfect spelling and relatively flawless grammar. Page construction is simple and uncluttered. For you this means no advertisements, no pop-ups, no frames or difficult-to-navigate sections, no "mystery meat", no redundant copyright warnings, and no hijacking of browser controls. Due to formatting issues, pages are constrained to a width of 1024 pixels. Within that framework, users can adjust text sizes with CTRL+ and CTRL-. There are no special accommodations for mobile devices.
SECURITY: Users are perfectly safe on this website. The only logged user-specific data are voluntary comments in the Guestbook. Any (currently inactive) financial transactions are securely handled though PayPal.
EMAIL: Constructive comments always are appreciated. If you find something interesting or useful, or should you encounter a factual error, an HTML error, or a downloading problem, I would be pleased to hear from you. If, however, you merely wish to be arbitrary or spout your own agenda, then I will defend to the death your right to... go away.
MY AVATAR: His name is Petey; he's an accurate-to-scale representation of a Paiute Indian petroglyph at the magnificent Lagomarsino Site in northern Nevada.

PIANO: I first took up the instrument at age five; presently I am a proud owner of a Kawai CP2 electric piano — a most powerful and addictive device!
BRIDGE: I have been playing and directing duplicate games since the 1960s. Play problems, analytical software, and creation of special movements are particular passions.
THE GREAT OUTDOORS: Virtually my entire life has been spent in proximity to the northern Sierra Nevada. Next to experiencing these mountains' wonders first-hand, visiting our nation's prettiest and most special places is the best thing. An added bonus is the opportunity to share my photographs of these outings.
THE SOAPBOX: This is my website; so I can rant and rave as I please.
GRAPHICS: The artwork and cartoons reflect the talent of my late wife, Pam deGaines. Fractal images were created with the open-source program, Fractint.
MATH RECREATIONS: I have spent a lifetime fascinated by numbers — exploring the wonders of such things as mental arithmetic and calculator mastery. While making no claim of original thought, I do hope that my findings have meaning for someone.
COMPUTER STUFF: As a programmer and former Novell Administrator, I also am a diehard BASIC aficionado. Having cut my teeth on GW-BASIC, I subsequently graduated to PowerBASIC and its industry-leading capabilities.
FUN & GAMES: Miscellaneous diversions not applicable to another category.

ABOUT THE PHOTOGRAPHS: Virtually all images were shot hand-held, and all are my own unless otherwise specified. Photos taken prior to the summer of 2006 were captured on 35mm film and scanned from prints. Little editing is done in the lab; in general, what you see is what was there.

SHAMELESS PLUG: My pages are compliant with the strictest standards of the World Wide Web Consortium (W3C). Very few websites are in such conformance, because the requisite time and effort are beyond the interests of all but a dedicated few for whom quality of workmanship is paramount. Most importantly, however, this configuration enables proper rendering of the pages by any modern browser.